Herman Cain Campaign On The Verge Of Collapse?
Is the Cain Train finally running out of steam?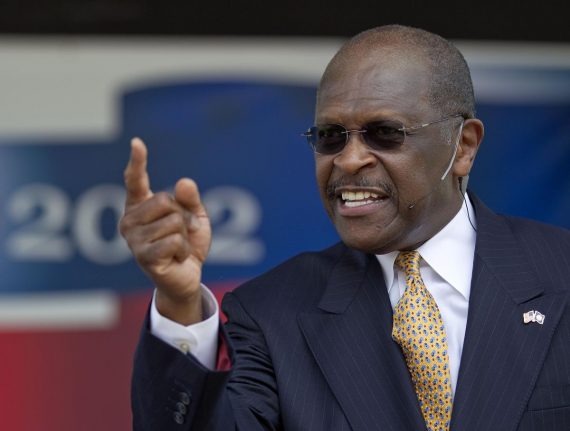 Herman Cain is sending mixed signals about how he intends to deal with the latest round of sexual wrongdoing allegations and the impact they are having on his campaign. To supporters, he's saying that he is the victim of character assassination, and acting in the kind of defiant manner one would expect from someone who fully intends to stay in the race. At the same time, though, he's also telling the press that he'll make a decision about continuing his campaign "in the next several days":
Dayton, Ohio (CNN) – Embattled Republican presidential candidate Herman Cain is keeping mum on whether he will remain in the race for the GOP nomination.

When asked by CNN if he is vowing to continue his campaign, Cain declined to give a direct response.

"We are reassessing and reevaluating," Cain said.

Cain said he would have a final answer about his future plans soon.

"We will be making a decision in the next several days," Cain said.
One could wonder what Cain is doing in Ohio, which is the next-to-last state to have a primary in 2012, rather than in Iowa or New Hampshire, where the contests are just about six weeks away. Of course, if you read through Politico's latest piece on the Cain campaign, you'll realize that there is no logic to these decisions when it comes to the Cain Train. Remember that disastrous interview with the Editorial Board of the Milwaukee Journal-Sentinel? Well it turns out that Cain was only in Milwaukee that day because his campaign manager wanted to go to the Packers game. I'm not kidding.
Meanwhile, Robert Stacey McCain is out with some news about what seems like utter chaos for the Cain campaign's New Hampshire organization:
Sources close to the Herman Cain presidential campaign in New Hampshire say that the candidate will be flying into a firestorm of trouble when he arrives in Manchester for events tonight.

Reporters for New Hampshire news organizations today contacted Cain campaign insiders in the state asking if they were aware that at least seven Republican members of the state legislature who had previously endorsed the Atlanta businessman were preparing to rescind their endorsements. These additional defections follow in the wake of reports yesterday that two GOP state legislators who had endorsed Cain had switched their support to former House Speaker Newt Gingrich.
We already know that two state representatives who had endorsed Cain were switching to Gingrich, if the rest follow then that would be particularly embarressing, especially considering that Cain himself is scheduled to be in Manchester tonight. When he arrives there, he may want to check on his campaign office in town, because yesterday it was shut tight and locked down with a sign saying "Out to Lunch," at 2:30 in the afternoon.
Meanwhile, prominent conservatives are starting to distance themselves from Cain. Congressmen Allen West, who draws support from the same Tea Party activists as Cain, said that Cain had become a distraction and that he needed to drop out of the race. Former RNC Chairman Michael Steele expressed concern that Cain's problems could cause trouble for the party as a whole, and that he needed to consider that and the impact on his family while he "reassess" his campaign. And conservative filmmaker Ladd Ehlinger laid into Cain in a strongly worded post that suggests that he has knowledge of Cain's private behavior:
Mr. Cain: you do NOT run for President in these times unless you are serious about it. It's flat-out apparent now that you aren't, weren't, and never will be. A serious candidate would have released all the dirt on himself before any of it dripped-dripped-dripped out.

But hey, you never thought that your con to sell your books would actually spark, did you? You never thought that good, decent, hard-working American people would actually believe what you said. Now here you are, trapped like a lying fly in amber, hoping to get the big brass ring without any other dirt coming out on you.

All you are doing is playing your friends, your supporters, and some of my very good friends for your own fame and glory. And drinking parties. Yes – you drink like a fish, you flirt all over the place, and everyone who's attended CPAC knows it. Nothing wrong with partying. Unless you lie about it. And try to deceive the public about it. If you want to be the American-Tea-Party Berlusconi, then be up front about it, don't be a damned coward.

You should be ashamed of yourself.

If you didn't have such a ridiculous ego that seems to only recognize television and radio celebrities as your equals (and no one else is worth your glorious time), you'd see that your behavior is destructive, pathetic, and shameful. You are not Presidential material. You are a quasi-conservative, shallow celebrity with a
I was at CPAC in February, and spent plenty of time at the after-hours parties and the hotel bar hanging out. I don't recall seeing Cain at any of these events, and I don't recall hearing any stories about the kind of things that Ehlinger insinuates here, a recollection which is supported by other CPAC attendees I've asked about this. Nonetheless, Ehlinger's post is just another sign that the right is (finally) moving beyond Cain whether he knows it or not.
For a normal campaign, all of this would be a sign that the candidate is about to drop out of the race, but the Cain Train is far from a normal campaign. He might end up dropping out, but that's only guessing at this point until something happens. One factor that was mentioned on MSNBC this morning is worth noting, though. The next round of matching funds from the Federal Election Commission comes in January. If Cain ends his campaign before then, he may jeopardize his eligibility for those funds, which he may likely need to cover debts the campaign has had to incur since ramping up operations over the past two months. Additionally, as others have pointed out, if Cain drops out now it's an admission that the latest allegations are true, but if he waits and drops out after Iowa, where he's sinking like a stone, he has a ready-made excuse to point to. Moreover, the last debate before Iowa is December 15th, after that many people are going to be paying attention to Christmas rather than politics, so there's arguably no reason for Cain to drop out before then, unless these allegations get worse.
So, in short, I suppose we'll have to wait and see what Cain does, but my guess now is that he stays in until Iowa.