Stop Trying To Make Mitt Romney Happen
It's not going to happen.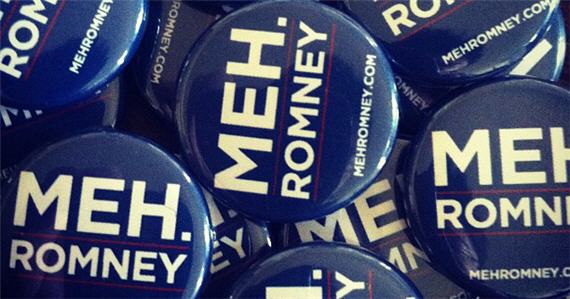 Erick Erickson, who has been one of the leading voices of the "Never Trump" movement among conservative activists and some members of the Republican establishment, thinks its time for Mitt Romney to rise up and take on Donald Trump as a third-party candidate:
Not only does Erick Erickson want Mitt Romney to restart a search for a third-party candidate to challenge Donald Trump, he also wants Romney to consider being that person.

The conservative blogger wrote for The Resurgent on Friday that he would "gladly work for a Romney Presidency given the choices between" Democratic front-runner Hillary Clinton and Trump.

Erickson, who has said he would never vote for Trump, opposed Romney during his previous presidential runs. On Wednesday, Yahoo News reported that Romney has ruled out an independent bid for president and is not trying to get any other Republicans to take up the mantle despite remaining hopeful for someone else to surface.

"I opposed Romney in 2008 and 2012, but I think the time has come for Mitt Romney," Erickson wrote. "I can't believe I'm even writing this. But seriously, Mitt Romney should run for President again and transcend party for the good of the country."
Let's leave aside the question of appealing to Mitt Romney for just a second, although we will return to that momentarily, to make clear the simple fact that it is quite simply too late for any candidate to launch an independent bid for the Presidency that would be anything other than a quixotic waste of time. First of all, as I've mentioned before, we've entered the period where deadlines for independent candidates to petition for ballot access are beginning to pass or fast approaching. The deadline for Texas, the largest cache of Electoral Votes that a Republican/conservative candidate can be assured of winning, for example, passed last week and other deadlines will start expiring in the coming weeks. Before long, it will be impossible for any independent candidate to get on the ballot in a sufficient number of states to even theoretically win 270 Electoral votes, at which point an independent run would be nothing but a waste of time. Second, it seems clear that the most that an independent candidate like Romney could be expected to do would be to make it even more likely that Hillary Clinton will win in November by making it easier for her to win in traditionally red states like North Carolina, Indiana, and Georgia, and conversely more difficult for Trump to win states that he needs to win in order to get to 270 Electoral Votes such as Florida, Ohio, and Virginia. Now, if you happen to be part of the "Never Trump" movement on the right, this isn't a bad thing, but that's hardly an inspiring message to build an already difficult third-party bid for the White House around. Finally, while there is some portion of the right that has dedicated itself to defeating Donald Trump in November, it's not at all clear that this would appeal to most of the Republican base. Polling conducted since Trump won the Indiana Primary and effectively if not officially clinched the Republican nomination when the remainder of his opponents dropped out of the race has shown that, for better or worse, the majority of Republicans are lining up behind Donald Trump, at least for the moment. If that remains the case through Election Day, than a "Never Trump" independent candidate may not be as successful as Erickson and others seem to hope.
Even beyond the increasingly silly idea of an independent conservative bid for the White House, the fact that attention is once again turning to Mitt Romney is really rather extraordinary. Despite the fact that he failed to catch fire in 2008 while candidates such as John McCain and Mike Huckabee saw electoral success and the fact that he rather decisively lost a bid for the Presidency after winning the Republican nomination in 2012, Republican insiders, conservative pundits, and the national news media have turned to him numerous times over the course of the 2016 cycle as if he were some kind of Republican White Knight. More than a year before campaigning for 2016 began, Romney's name was being mentioned as a potential 2016 candidate even though he would generally shoot down the idea rather effectively. Nonetheless, just based on what's been written here at OTB, we can see that the idea of 'Romney 2016' has been the subject of speculation as far back as February 2014, and then again in April 2014 and September 2014, While Romney politely shot down this speculation each time it came up, it was revived again in January 2015 when it was reported that Romney was telling members of his old donor network that he was at least considering the idea of entering the 2016 race after all. After several weeks of speculation, Romney ultimately decided not to run, but that didn't stop the speculation. As the end of 2015 approached and it appeared that stopping Donald Trump was not going to be as easy as some anticipated, there was another round of speculation that Romney would enter the race and take on Trump himself. While Romney did ultimately emerge to directly attack Trump in one of the blunter speeches he's ever given, he also made it clear that he was not running for President. Despite all of that, Erickson, Bill Kristol, and others, were floating the idea of a Romney candidacy as late as this month.
On some level, the nostalgia for Romney is rather amazing given the fact that he was largely thrown under the bus after the 2012 elections. Notwithstanding the fact that it is actually quite hard to defeat a popular incumbent President during a time when the economy is in relatively good shape, the idea in Republican circles in the immediate aftermath of November 2012 was that Romney should have won the election and that he only lost because of his own mistakes, because he wasn't conservative enough, or because he didn't attack President Obama enough. Given that, the fact that the party keeps turning to him is really quite strange. As it stands, Romney seems content with the role he has now as something of a GOP elder statesman, and as Jazz Shaw puts it, maybe Republicans and the media just need to accept that already:
Mitt Romney is a busy guy these days. He still shows up for any number of public speaking events and keeps his hand in the political world, but he's got plenty of other things going on. He's involved in plenty of charitable causes, even if it means getting punched by Evander Holyfield. He really enjoys running, a habit he picked up from his father. And in his role as grandpa, he's now up to 23 grandchildren to dote upon. At 69 years of age, after a lifetime of service in both the public and private sector, you'd think that he's earned some time to relax, enjoy the fruits of his labors and generally enjoy life.

(…)

But can you leave poor Mitt alone?
No, apparently they can't.