Trying To Make Sense Of The Boston Globe's Romney/Bain Capital Story
A new report on Mitt Romney's tenure at Bain Capital seems to be much ado about nothing.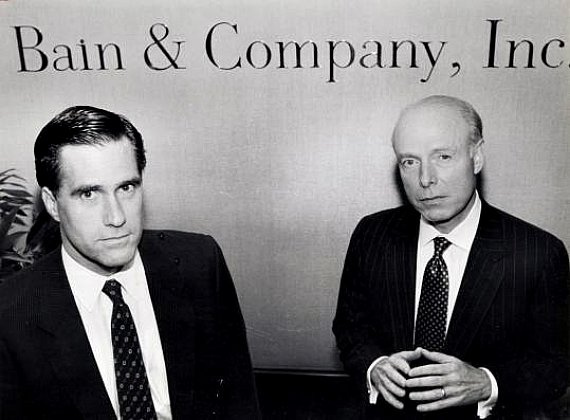 The big campaign story of the day, sitting at the top of Memeorandum for most of the day so far, is the report in today's Boston Globe which purports to establish that. contrary to his previous comments and statements he's made in disclosure forms, Mitt Romney remained in control of Bain Capital well after 1999:
Government documents filed by Mitt Romney and Bain Capital say Romney remained chief executive and chairman of the firm three years beyond the date he said he ceded control, even creating five new investment partnerships during that time.

Romney has said he left Bain in 1999 to lead the winter Olympics in Salt Lake City, ending his role in the company. But public Securities and Exchange Commission documents filed later by Bain Capital state he remained the firm's "sole stockholder, chairman of the board, chief executive officer, and president."

Also, a Massachusetts financial disclosure form Romney filed in 2003 states that he still owned 100 percent of Bain Capital in 2002. And Romney's state financial disclosure forms indicate he earned at least $100,000 as a Bain "executive" in 2001 and 2002, separate from investment earnings.

The timing of Romney's departure from Bain is a key point of contention because he has said his resignation in February 1999 meant he was not responsible for Bain Capital companies that went bankrupt or laid off workers after that date.

(…)

Bain Capital and the campaign for the presumptive GOP nominee have suggested the SEC filings that show Romney as the man in charge during those additional three years have little meaning, and are the result of legal technicalities. The campaign declined to comment on the record. It pointed to a footnote in Romney's most recent financial disclosure form, filed June 1 as a presidential candidate.

"Since February 11, 1999, Mr. Romney has not had any active role with any Bain Capital entity and has not been involved in the operations of any Bain Capital entity in any way," according to the footnote. Romney made the same assertion on a financial disclosure form in 2007, during his first run for president.

According to a statement issued by Bain Wednesday, "Mitt Romney retired from Bain Capital in February 1999. He has had no involvement in the management or investment activities of Bain Capital, or with any of its portfolio companies, since that time."

Evidence emerged last week in reports by Mother Jones that Romney had maintained an ongoing leadership role at Bain beyond February 1999. Citing SEC documents, the magazine said Romney had played a role in Bain investments "until at least the end of 1999" and that a 2001 document listed him as a member of the "management committee" of Bain funds. Talking Points Memo reported this week on additional SEC filings listing Romney's position with Bain in July 2000 and February 2001.

A former SEC commissioner told the Globe that the SEC documents listing Romney as Bain's chief executive between 1999 and 2002 cannot be dismissed so easily.

"You can't say statements filed with the SEC are meaningless. This is a fact in an SEC filing," said Roberta S. Karmel, now a professor at Brooklyn Law School.

"It doesn't make a whole lot of sense to say he was technically in charge on paper but he had nothing to do with Bain's operations," Karmel continued. "Was he getting paid? He's the sole stockholder. Are you telling me he owned the company but had no say in its investments?"
Of course, the SEC documents don't necessarily tell us anything about the day-to-day operations of Bain from February 1999 onward, and Factcheck.Org has conducted its own investigation of this issue after the Obama campaign challenged its assertion that Romney was not involved in Bain during the "outsourcing" era, That investigation concluded  that Romney ceased having any operation control over Bain from the time he left to go run the Salt Lake City Olympics:
In summary, the letter states there are "at least 63 filings with that agency after March 1, 1999 that list various Bain entities and describe them as 'wholly owned by W. Mitt Romney.'" That's true, but not relevant.

We have never disputed that Romney remained the owner of Bain while he was running the Olympics committee. The issue always has been, who was running Bain? Nothing in the SEC documents contradicts what Romney has certified as true.

On that point, the Obama campaign cites snippets of a few news clippings to make a case that Romney was still a part-time manager of Bain after he left to run the Olympics. But a close reading shows these news accounts don't contradict Romney either.

For example, the Obama letter quotes from a Boston Herald story ("Romney looks to restore Olympic Pride") that cites a partial quote from Romney saying that he intended to stay on at Bain as a part-timer. Here's the quote in a fuller context.

Boston Herald, Feb. 12, 1999: Romney said he will stay on as a part-timer with Bain, providing input on investment and key personnel decisions. But he will leave running day-to-day operations to Bain's executive committee.

First, the Obama campaign simply ignores Romney's stated intent to "leave running day-to-day operations" to others. And in any case, Romney's statement that he would remain a "part-timer" is merely a statement of intent, issued just as he was leaving for the Olympics job and before he knew how much time it would consume. It is not evidence of what actually happened.

And as to what happened later, the evidence is clear. According to an Associated Press story that ran just two months later, Romney quickly discovered that he was working 16-hour days on the Olympics, leaving no time for Bain (or even his own wedding anniversary).

The AP story goes on to say that Romney "immersed himself in books on sports management" and "has answered about two dozen e-mails and letters a day, spent a quarter of his time dealing with the media, and juggled meeting requests from city officials, board members and business owners."

It also quotes an accountant friend who was assisting Romney, Bob White, as saying "Right now he's doing two, maybe three full-time jobs" running the Olympics. Romney's wife, Ann, is quoted as saying that her husband had been working 112 hours a week at first, causing her to move to Salt Lake City to be with him. Since her arrival, she said, he had cut his Olympics work to 84 hours a week.

The Obama campaign's letter says a reporter learned in a 2000 interview with Ann Romney that her husband was "dividing his time between running Bain and running the Olympics," but in fact those words don't appear in the news clip it cites.

The Nov. 11, 2000 Boston Globe story (which we read in full via Nexis) paraphrases Ann Romney this way: "The [Olympics] project is running smoothly now, though still requiring so much of Mitt Romney's time that he has had to lessen his involvement with Bain Capital, his investment firm." And he did indeed "lessen" his involvement, giving up all management control according to what he has certified repeatedly. The Globe story goes on to quote Ann Romney as saying the couple is still living in Salt Lake City and that "[w]e're still coming home [to Boston] for Thanksgiving." Nowhere is she quoted as saying he has spent any time managing Bain.
Asked for comment today, Factcheck said that there was "little new" in the Boston Globe report and nothing in there that would change the conclusion there reached back on July 2nd when they first examined this issue. Indeed, it would appear that Factcheck and the Globe were largely looking at the same documents, so it's interesting that they came to completely different conclusions. Or, to be more appropriate, it seems fairly clear that the Globe is jumping to conclusions not necessarily supported by the documentary evidence. As I noted above, the SEC documents don't necessarily say anything about what Romney's role actually was in Bain's day-to-day operations, if any, and the fact that he spent the better part of 1999 and 2000 in Salt Lake City dealing with the Olympics argues strongly against the idea that he was intimately involved with the operations of a business whose headquarters were located some 2000 miles east.
Also jumping to conclusions would be the Obama campaign, which said this morning in a conference call that Romney was guilty of a felony for making false disclosures on federal forms. However, that seems to be a wild leap of the imagination as well since, again, we don't know what Romney's involvement in Bain was after February 1999 based on documents alone and both Romney and Bain have said that he ended operation involvement in the company after 1999. So far, there doesn't seem to me to be any conclusive evidence that contradicts those assertions.
The Washington Post's Glenn Kessler also doesn't find much in the Globe report that's very convincing:
The story seems to hinge on a quote from a former Securities and Exchange Commission member, which would have more credibility if the Globe had disclosed she was a regular contributor to Democrats. (Interestingly, "The Real Romney," a book on the former Massachusetts governor, by Boston Globe reporters, states clearly that he left Bain when he went to run the Olympics and details the turmoil that ensued when he suddenly quit, nearly breaking up the partnership)

We're considering whether to once again take a deeper look at this, though it really feels like Groundhog Day again. There appears to be some confusion about how partnerships are structured and managed, or what SEC documents mean. (Just because you are listed as an owner of shares does not mean you have a managerial role.)

To accept some of the claims, one would have to believe that Romney, with the advice of his lawyers, lied on government documents and committed a criminal offense. Moreover, you would have to assume he willingly gave up his share to a few years of retirement earnings — potentially worth millions of dollars — so he could say his retirement started in 1999.
Kessler also notes that Fortune is reporting today that it has obtained offering documents for Bain funds that were created after February 1999. None of those documents list Romney as one of the people involved in fund management or decision making. The contents of those offering documents are strictly regulated by the SEC and incorrect descriptions of fund management would have been considered a serious violation of the rules by Bain. So either Romney was still "in charge" at Bain when these fund offerings were made, or Bain knowingly violated SEC rules to conceal a fact that there would be no rational reason to conceal. As Fortune put it, "the contemporaneous Bain documents show that Romney was indeed telling the truth about no longer having operational input at Bain — which, one should note, is different from no longer having legal or financial ties to the firm."
So, based on the available evidence it doesn't seem to me that the Globe story proves much of anything in terms of either an actual crime, or a misrepresentation by Romney. However, I tend to agree with Andrew Sullivan that, politically, that doesn't necessarily matter, and that continued focus on this story is not in Romney's best interests:
It's another day when the focus is on his vast wealth, rather than on Obama's economic record; and even the best case in defense of Romney must argue that he got paid at least $100,000 a year for doing nothing. A lot of Americans may wonder how that can happen, how the rules they live by simply don't apply to people with Romney's massive wealth.
It's certainly true that any news cycle where everyone is focusing on, and the campaign is forced to respond to, stories like this one is not a good one for Romney. Whether it will matter in the end is hard to tell. After all, the real purpose of the Bain attacks is to reinforce the idea that Romney is disconnected from average Americans because of his wealth. However, a new Gallup poll says that the vast majority of voters, some 75%, say that a candidate's wealth is not relevant to their voting decisions, and I have to think that even that 25% who says that it is may be exaggerating slightly. If you say you're not voting for Romney because he's rich, the chances are that there are other reasons you're not voting for Mitt Romney, the wealth itself likely wasn't a deal breaker. Nonetheless, the Obama campaign and its surrogates are likely to keep pushing this line as long they think it's working.
Back in January when Newt Gingrich and Rick Perry began attacking Romney's record at Bain with rhetoric that made them sound more like Democrats than Republicans, I said this:
All of this is a difficult political argument to make, of course. It's far easier to empathize with the workers featured in the video embedded above than to wrap ones brain around the idea of creative destruction and accept the fact that progress often means temporary loss. Nonetheless, that doesn't mean that politicians should pander to mindless populism just to advance their own careers. I'm no Romney fan, but on balance I think these attacks based on his tenure at Bain are mostly ridiculous nonsense and its unfortunate that his opponents have chosen to take up the banner of mindless populism.
That's pretty much where we are now, I think, mindless populism combined with exaggeration and the assumption of facts that haven't been proven. In other words, politics as usual.