New Obama Ad Attacks Romney's Bain 'Job Creator' Record
A tough new Obama campaign ad highlights people who lost their jobs after a Bain Capital takeover--at a time Mitt Romney was not at Bain Capital.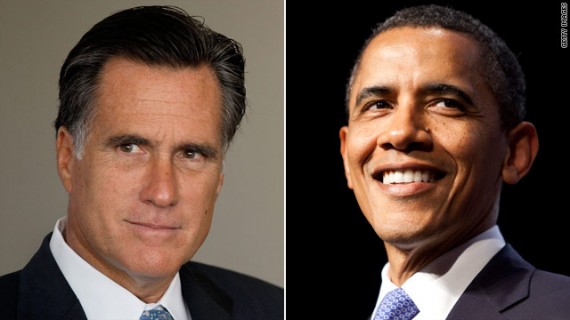 A tough new Obama campaign ad highlights people who lost their jobs after a Bain Capital takeover–at a time Mitt Romney was not at Bain Capital.
The ad, which I saw this morning on MSNBC's "Morning Joe," is brutal, if reminiscent of Newt Gingrich's ads during the primary campaign:
AP's Ken Thomas ("Obama seeks to undercut Romney's record on jobs") explains:
President Barack Obama is casting Mitt Romney as a greedy, job-killing corporate titan with little concern for the working class in a new, multi-pronged effort that seeks to undermine the central rationale for his Republican rival's candidacy: his business credentials.

At the center of the push – the president's most forceful attempt yet to sully Romney before the November election – is a biting new TV ad airing Monday that recounts through interviews with former workers the restructuring, and ultimate demise, of a Kansas City, Mo., steel mill under the Republican's private equity firm.

"They made as much money off of it as they could. And they closed it down," says Joe Soptic, a steelworker for 30 years. Jack Cobb, who also worked in the industry for three decades, adds: "It was like a vampire. They came in and sucked the life out of us."

The ad, at the unusual length of 2 minutes, will run in five battleground states: Iowa, Ohio, Pennsylvania, Virginia and Colorado. The campaign declined to describe the size of the ad buy though it's in the middle of running a $25 million, month-long ad campaign in nine states. A longer version of the ad was being posted online Monday.
The Hill's Justin Sink ("Obama targets Romney tenure at Bain Capital with new ad, website") adds:
President Obama is taking dead aim at Mitt Romney's record helming Bain Capital, debuting a new television ad, online video, and website that each depict the private equity firm as predatory and having engaged in "questionable business practices.

"The campaign is releasing a six-minute video featuring the story of GST Steel, which was purchased by Bain Capital and subseuently shuttered after more than 100 years of business. After purchasing the company, Mitt Romney and his partners loaded it with debt, closed the Kansas City plant and walked away with a healthy profit, leaving hundreds of employees out of work with their pensions in jeopardy," the campaign said in a statement.

In the commercial, former GST employees blast Romney as a "job destroyer" who looked to pad his own pockets by liquefying the steel company.

"It was like a vampire. They came in and sucked the life out of us," said Joe Cobb, one of the steelworkers featured in the ad.

The Obama campaign is planning a series of corresponding events in swing states where high-profile surrogates — including Vice President Joe Biden — are expected to criticize the presumptive Republican nominee's business record. In addition, the campaign is hosting a conference call with reporters with former employees of the steel company Monday morning.
This is a predictable and wholly legitimate tactic by the Obama campaign. Their guy is ahead on likability and empathy and even holds a lead in foreign policy, which is practically unheard of for the Democrat. Obama's chief vulnerability–and Romney's chief strength–is on the jobs front. So, naturally, they're trying to turn Romney's main asset against him.
Gingrich tried this in the primaries but he had the wrong target audience. For blue collar voters in swing states, however, the brutality behind creative destruction is an obvious issue. It not only undermines Romney's key asset but it further magnifies his main vulnerability–his seeming inability to connect with normal people.
From a purely analytic standpoint, however, the ad is unfair.
As Politico's Byron Tau points out ("Ex-Obama adviser: Latest anti-Romney ad is 'unfair'") the ad is getting push-back even from people on Obama's team.
Former Obama administration auto czar Steven Rattner said Monday that the Obama campaign's renewed attack on Mitt Romney's time in private equity was "unfair."

"I think the ad is unfair." Rattner said. "Mitt Romney made a mistake ever talking about the fact that he created 100,000 jobs."

[…]

But Rattner, who himself was a private equity investor before joining the administration, said it's unfair to hold Bain to the standard of creating jobs.

"Bain Capital's responsibility was not to create 100,000 jobs or some other number. It was to create profits for its investors," Rattner said.

"It did it superbly well, acting within the rules, acting very responsibly,' Rattner said. "This is part of capitalism, this is part of life. I don't think there's anything Bain Capital did that they need to be embarrassed about."
More importantly, as came out during the byplay between Rattner and show host Joe Scarborough, it's actually illegal for ownership to strip a firm of its assets and then sell it knowing they've doomed it to bankruptcy. There's simply no evidence that they did that here.
Moreover, as Katrina Trinko points out for NRO ("New Obama Attack Ad Features Steelworkers Blaming Bain for Job Losses"), there's a more significant problem: Romney had actually left Bain to run the Olympics two years prior to GS Technologies going bankrupt. Perhaps more to the point, it was hardly unusual for steel companies to go bankrupt in that era: 43 others did so, too.
As her colleague Robert Costa notes ("The Hypocrisy of Obama's Bain Bundler"), there's also the wee problem that Jonathan Lavine, a top Obama campaign bundler, was a managing director at Bain at the same time. I'm not sure that's likely to do much harm to Obama, though; the fact that he's just as much in bed with Big Finance as Romney may hurt him with the hard core Progressives in the base but they're not going anywhere. And to the extent voters care about the GST mess, they're certainly going to attribute more of it to Romney, Bain's founder and the man facing Obama on the ballot, than to some guy they've never heard of who works as an Obama money man.
A Reuters report ("Romney's steel skeleton in the Bain closet") from back in January is worth a read. It paints a very complicated picture that both critics and advocates for Romney, Bain, and venture capitalism can find solace in. Essentially, Bain took over a very troubled company, made substantial investments in it, but ultimately failed to make a go of it in an environment that was quite inhospitable to the American steel industry. At the same time, though, the investors made out pretty well while the workers got hosed.
The bottom line is that, while the ad's likely unfair, it's within the acceptable bounds of campaign spin. Whether it's effective remains to be seen.