Mitt Romney, Bain Capital, And The Politics Of Creative Destruction
Mitt Romney is taking heat for his role at Bain Capital. He shouldn't.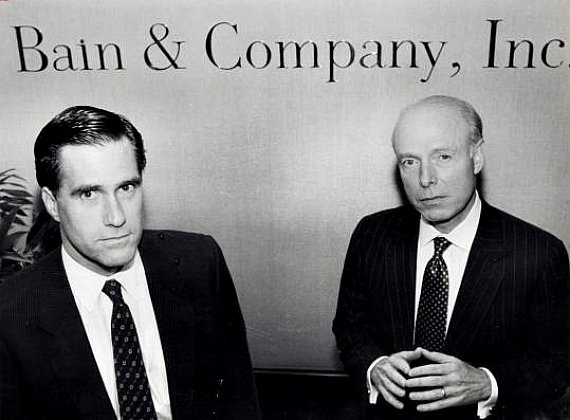 It was inevitable that Mitt Romney's involvement with venture capital firm Bain Capital would become a political issue at some point in 2012. After all, Ted Kennedy's campaign used it as an issue during their tougher-than-anticipated 1994 election fight and the prospect of the Obama campaign, or affiliated groups, focusing on the issue of people who had been laid off as a result of the restructuring deals that Bain Capital was a part of during the time that Romney was a partner there would be a part of the General Election Campaign was inevitable. What I don't think anyone expected, though, is that the first shots in the Bain Capital war would be fired by Republicans:
NASHUA, N.H. – The Democrats started it, and now Republican rivals are piling on. Mitt Romney is suddenly playing defense about his career as a venture capitalist–and in a Republican primary campaign, of all things.

The attacks on Romney's Bain Capital career from fellow Republicans may be coming too late in the game to knock him off his path toward the nomination. They may also be ineffective in a party that lionizes capitalism and the business sector that propels it. Raising hackles about Romney's flip-flops on abortion and other key issues and comparing his Massachusetts health law to "Obamacare" seems like safer ground.

And looking toward the general election, the GOP field is providing a cache of video that Democrats are no doubt already hoarding for use in a  in the likely event that Romney is President Obama's opponent.

Just on Monday, a super PAC bankrolled by allies of Newt Gingrich said it is planning a $3.4 million media blitz in South Carolina that attacks Romney as a ruthless corporate titan who profited on the backs of hundreds of laid-off workers.

In Concord, meanwhile, Jon Huntsman turned a Romney remark about liking to be able to fire insurance companies into a Bain reference. "What's clear is, he likes firing people; I like creating jobs," Huntsman said.

Rick Perry took up the anti-Bain attack at a campaign event in Anderson, S.C. "I have no doubt that Mitt Romney was worried about pink slips – whether he was going to have enough of them to hand out," he quipped, poking at Romney's attempt at a feel-your-pain moment on Sunday.

If the attacks on his career at Bain Capital sound familiar, it's because the Democratic Party has been waging them for weeks, trotting out bitterly unemployed people who blame Romney for their predicament.
It was Gingrich who was first among the Republican candidates pushing this line of attack, starting at the NBC Debate yesterday morning, and it is a pro-Gingrich SuperPac that is allegedly working on a 27 minute film about Romney's time at Bain Capital, a trailer version of which has already hit the Internet:
The SuperPac ad comes at the same time that Gingrich is confirming to reporters that he intends to push this issue in South Carolina, describing what he had planned as a "political bloodbath" to one reporter. Gingrich's attitude, it seems, has boiled down to not so much doing what he needs to do to win the nomination so much as doing whatever he can to destroy Mitt Romney even if that means putting the General Election in jeopardy. In other words, the old Newt is back and more vindictive than ever. If he and his supporters keep this up, who knows what shape Romney will be in by the time all this is over. As for the other candidates, I suppose one can hardly blame candidates like Perry and Huntsman for grabbing on to any issue they can to strike out at the seemingly unstoppable frontrunner. It is, however, a strange attack for Republicans to be making, and one that strikes me as being completely wrongheaded no matter what source it comes from.
For his part, Romney's defense of his time has gain has been two-pronged:
Romney's two-pronged response to the anti-Bain is emerging. The first approach is to pitch himself as a guy who puts on his pants one leg at a time, just like everybody else. "I know what it's like to worry whether you're gonna get fired," he told hundreds of people gathered in Rochester on Sunday. "There were a couple of times I wondered whether I was going to get a pink slip."

(…)

The second part of Romney's response is to punch back. At Sunday's debate, he lumped Gingrich with Obama and suggested that both are hostile to free enterprise. He told the business-friendly crowd on Monday morning, "Sometimes I don't think [Obama] likes you very much. I love you!"

The Romney campaign followed up with a statement expressing sympathy for the unemployed and repeating the comeback he used in the debate.

"It's puzzling to see Speaker Gingrich and his supporters continue their attacks on free enterprise," Romney's spokeswoman Andrea Saul said. "This is the type of criticism we've come to expect from President Obama and his left-wing allies at MoveOn.org. Unlike President Obama and Speaker Gingrich, Mitt Romney spent his career in business and knows what it will take to turn around our nation's bad economy."
The Wall Street Journal has a longish piece today about Bain's record while Romney was there, and it's quite honestly about what you'd expect for a venture capital firm in the 1990s, some big hits but also a lot of misses, but one is left with the overall impression that most of the companies Bain became involved with were already on their last legs well beforehand and that even a modest number of successes is a good thing:
Amid anecdotal evidence on both sides, the full record has largely escaped a close look, because so many transactions are involved. The Wall Street Journal, aiming for a comprehensive assessment, examined 77 businesses Bain invested in while Mr. Romney led the firm from its 1984 start until early 1999, to see how they fared during Bain's involvement and shortly afterward.

Among the findings: 22% either filed for bankruptcy reorganization or closed their doors by the end of the eighth year after Bain first invested, sometimes with substantial job losses. An additional 8% ran into so much trouble that all of the money Bain invested was lost.

Another finding was that Bain produced stellar returns for its investors—yet the bulk of these came from just a small number of its investments. Ten deals produced more than 70% of the dollar gains.

Some of those companies, too, later ran into trouble. Of the 10 businesses on which Bain investors scored their biggest gains, four later landed in bankruptcy court.
Of course, filing for bankruptcy protection is not necessarily an indication of business failure. Chapter 11 of the Bankruptcy Code covers reorganization of troubled businesses and, while the successful completion of a Chapter 11 Plan isn't an easy thing to do, it does happen with regularity. In addition, the Journal notes that most of the bankruptcies happened during the economic downturn in the early 2000s, so it's quite probable that what we're looking at there are firms that were already financially precarious who were overwhelmed by a recession and, in some cases, the collapse of the dot-com bubble. That's the most important thing to remember about a firm like Bain, I think. Any investment firm that concentrates on businesses that are financially precarious to begin with is going to have a mixed record of success at best. It's far easier to walk into a health company and take it over than it is to reorganize a firm that is in financial trouble and on the verge of total collapse. When that's your line of business, a high failure rate is going to be inevitable. What's important to remember, though, is that if it weren't for investors like the people who were part of Bain, none of those companies would have likely survived much longer and all of the people who worked for them would have been out of work, not to mention the damage that would be done to the companies that were their suppliers.
The focus of the criticism of Bain and Romney, of course, is the fact that in many of the cases where Bain stepped in there was not insignificant downsizing that caused people to lose their jobs. While these individual stories are tragic and deserving of sympathy, it's important to note that Bain was not in the business of creating jobs:
They were in it to make money for their investors and themselves. Then again, the same would go for Bill Gates, Steve Jobs, Michael Dell, Warren Buffett, and just about every other successful entrepreneur and investor you could name. But that is the miracle of free-market capitalism. The pursuit of profits by creating value benefits the rest of society through higher incomes, more jobs, and better products and services.
This has been what capitalism has been about from the beginning, and it is what's responsible for the advanced technological society we live in today. Joseph Schumpeter described the process as "creative destruction":
The opening up of new markets, foreign or domestic, and the organizational development from the craft shop to such concerns as U.S. Steel illustrate the same process of industrial mutation—if I may use that biological term—that incessantly revolutionizes the economic structure from within, incessantly destroying the old one, incessantly creating a new one. This process of Creative Destruction is the essential fact about capitalism.
W. Michael Cox and Richard Alm from the Dallas Fed describe the process in more detail, and the dangers inherent in trying to stop it:
Herein lies the paradox of progress. A society cannot reap the rewards of creative destruction without accepting that some individuals might be worse off, not just in the short term, but perhaps forever. At the same time, attempts to soften the harsher aspects of creative destruction by trying to preserve jobs or protect industries will lead to stagnation and decline, short-circuiting the march of progress. Schumpeter's enduring term reminds us that capitalism's pain and gain are inextricably linked. The process of creating new industries does not go forward without sweeping away the preexisting order.

(…)

Over the past two centuries, the Western nations that embraced capitalism have achieved tremendous economic progress as new industries supplanted old ones. Even with the higher living standards, however, the constant flux of free enterprise is not always welcome. The disruption of lost jobs and shuttered businesses is immediate, while the payoff from creative destruction comes mainly in the long term. As a result, societies will always be tempted to block the process of creative destruction, implementing policies to resist economic change.

Attempts to save jobs almost always backfire. Instead of going out of business, inefficient producers hang on, at a high cost to consumers or taxpayers. The tinkering short circuits market signals that shift resources to emerging industries. It saps the incentives to introduce new products and production methods, leading to stagnation, layoffs, and bankruptcies. The ironic point of Schumpeter's iconic phrase is this: societies that try to reap the gain of creative destruction without the pain find themselves enduring the pain but not the gain.
Of course, that's economics and it involves accepting what Bastiat called the idea of the seen and the unseen. Seeing the jobs that are lost when a venture capital firm comes in and reorganizes a distressed company is easy. Seeing the jobs that would be lost, and the other financial losses that would result if nothing were done is much harder. Yes, the restructuring is a risk, but if that risk isn't taken then it's quite likely that there would be nothing left and even more people would be hurt. Just like any businessman, the venture capitalist has to perform economic triage if he's going to save the company and make it profitable again.
None of this is to say that Romney, or the people are Bain are altruists dedicated to saving struggling companies for the good of America. They went into this business because they believed they could make money, the benefits that others accrue from their actions are, at least to them, purely incidental.  The same is true of Steve Jobs and Steve Wozniak when they started Apple, Bill Gates when he started Microsoft, Sergey Brin and Larry Page when they started Google, and Henry Ford when he started making cars. They were all interested in making a profit and, in doing so, they created things that benefited everyone. One doesn't have to believe that actors in the economy are altruists, though, or ignore the idea that they are primarily concerned with earning a profit to recognize the role that what they do plays in the process of economic progress.
All of this is a difficult political argument to make, of course. It's far easier to empathize with the workers featured in the video embedded above than to wrap ones brain around the idea of creative destruction and accept the fact that progress often means temporary loss. Nonetheless, that doesn't mean that politicians should pander to mindless populism just to advance their own careers. I'm no Romney fan, but on balance I think these attacks based on his tenure at Bain are mostly ridiculous nonsense and its unfortunate that his opponents have chosen to take up the banner of mindless populism.