Cory Booker's Kinsley Gaffe And The Relevance Of The Bain Attacks
Yesterday, Cory Booker committed the rookie mistake of saying what was on his mind.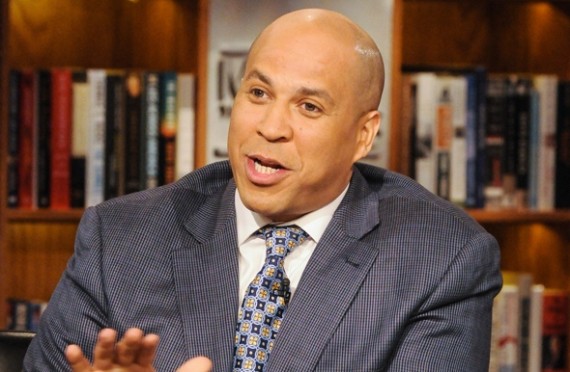 Michael Kinsley once famously said that, in politics, a "gaffe" occurs when "when a politician tells the truth — or more precisely, when he or she accidentally reveals something truthful about what is going on in his or her head." Yesterday on Meet The Press, Newark Mayor Cory Booker got his first lesson in the national political implications of a Kinsley Gaffe when he answered a question about the Obama campaign's attack on Mitt Romney's record at Bain Capital:
 Mayor Cory Booker of Newark, a prominent Democrat enlisted as a surrogate for President Obama's campaign, sharply criticized the campaign on Sunday for attacking Mitt Romney's work in the private equity firm Bain Capital.
Mr. Booker, speaking on the NBC program "Meet the Press," made his comments in response to a new television advertisement that the president's campaign unveiled last week portraying Mr. Romney, the presumptive Republican presidential nominee, as someone who eliminated jobs for the sake of profits during his years running Bain Capital.

"I have to just say from a very personal level I'm not about to sit here and indict private equity," Mr. Booker said. "To me it's just we're getting to a ridiculous point in America, especially that I know I live in a state where pension funds, unions and other people are investing in companies like Bain Capital. If you look at the totality of Bain Capital's record they've done a lot to support businesses, to grow businesses. And this to me, I'm very uncomfortable with."

"The last point I'll make is this kind of stuff is nauseating to me on both sides," he continued. "It's nauseating to the American public. Enough is enough. Stop attacking private equity. Stop attacking Jeremiah Wright."

In mentioning Mr. Wright, Mr. Obama's former pastor, Mr. Booker seemed to be referring to a report last week in The New York Times that Joe Ricketts, a billionaire who founded the brokerage firm TD Ameritrade, was considering a plan to finance a $10 million advertising campaign tying Mr. Obama to the controversial and racially tinged comments of Mr. Wright.

After Mr. Ricketts' plan was disclosed, it drew sharp criticism not just from Democrats and the Obama campaign but also from Mr. Romney.

"This stuff has got to stop, because what it does is it undermines, to me, what this country should be focused on," Mr. Booker said on "Meet the Press." "It's a distraction from the real issues. It's either going to be a small campaign about this crap or it's going to be a big campaign, in my opinion, about the issues that the American public cares about."
Not surprisingly, Booker's comments set off an immediate firestorm among pundits and election watchers, much like Vice-President Biden's comments about same-sex marriage did two weeks ago on the same program, largely because it seemed as if a Democratic politician who has attained something of a national following was directly criticizing the President's campaign. Booker's Twitter account, which has over a million followers, soon became the target of negative comments from many on the left. At least initially, Booker continued to defend his position, arguing that he was making a broader point about the "politics of personal destruction." Republicans, meanwhile, took Booker's comments and ran with them as you might expect them to, which is why it was no surprise that, only a few hours after he appearance on national television, Booker attempted to walk his comments back:
Newark mayor and rising Democratic star Cory Booker is walking back some critical comments he made about President Obama's campaign.

Booker, in a YouTube video released Sunday, said he was talking about the rhetoric on both sides of the aisle that appealed to the "lowest common denominator."

"I used the word 'nauseating' on Meet the Press because that's really how I feel when I see people in my city struggling with real issues and still feeling the challenges of this economy," Booker said. "I get very upset when I see such a level of dialogue."

In his Sunday evening video, Booker reversed himself, saying that Romney's Bain years were fair game because Romney himself has raised the issue of his business record.

"Mitt Romney has made his business record a centerpiece of his campaign — he's talked about himself as a job creator" Booker said. "Therefore, it is reasonable — in fact, I encourage it — for the Obama campaign to examine that record and discuss it."
Joe Scarborough and several of the other commentators on Morning Joe this morning, mostly jokingly, referred to Booker's Sunday evening video as a "hostage video," and it's rather obvious from watching it that the whole production was put together rather hastily, most likely after a very long talk between Booker and more than one prominent national Democrat telling him that he needed to walk back his comments, especially because he seemed to equate ads about Jeremiah Wright with ads about Romney's tenure at Bain Capital. At least one prominent Democrat, though, said this morning that Booker was right the first time and shouldn't have walked his comments back:
Former Tennessee Rep. Harold Ford Jr. said Monday that he would not have walked back New Jersey Mayor Cory Booker's surprising comments criticizing the Obama campaign for attacking private equity.

"I would not have backed off the comments if I were Mayor Booker," Ford, a Democrat, said on MSNBC's "Morning Joe." "The substance of his comments on 'Meet the Press,' I agree with the core of it. I would not have backed them out… private equity's not a bad thing. As a matter of fact, private equity is a good thing in many, many instances."
I tend to agree with the comment that Booker made in his Sunday afternoon video, which is similar to what James Joyner said when he wrote about the Obama campaign's Bain-focused ad buy last week. Mitt Romney has made his business record at Bain relevant to the campaign largely because he has pointed to it as his success at creating jobs. so that makes the impact of what he did at Bain with regards to jobs relevant. Now it's true, of course, that the manner in which the Obama camp is focusing on single anecdotal reports about individual business deals, some of which Bain remained involved in long after Romney had left, isn't really a fair and accurate way to examine Romney's business record. However, this is politics, and fair is a somewhat of a relative concept.
In some sense, Romney set himself up for these attacks by arguing that his time at Bain was evidence of his ability to create jobs, and that this experience at "creating jobs" was somehow relevant to what kind of President he would be. Quite honestly, I think that was a mistake for several reasons. First of all, Romney and his partners did not create Bain Capital to create jobs, they did so for the purpose of Romney, the partners, and their investors, making money. It's worth noting that the vast majority of Bain's investors both during Romney's tenure and afterwards, were pension funds operated by private and public employee unions, universities, and charities, but that still doesn't obviate the fact that the purpose of Bain Capital, as with any other business, is to make money. The way Bain did this was to invest in other companies, both new businesses and ones that were struggling such as the steel mill in Indiana that was the subject of one of the Obama ads. Many of these ventures succeeded, many of them failed, but that is the nature of all investment. In most cases, if it hadn't been for Bain or companies like it, there recipients of those investments either never would have existed at all, or would have gone out of business in the blink of an eye. Quite honestly, the fact that Bain was able to keep a domestic steel mill in operation at all was something of a miracle considering how the industry as a whole was suffering at the time.  For this reason, the attack on the entire idea of private equity investment that the Obama ad campaign represents is troublesome to say the least.
It's easy to understand why Democratic politicians like Booker and Ford would be uneasy about the attacks on private equity. In Ford's case, much of his post-Congressional career has been in the business world. In Booker's case, he is the Mayor of a city that has begun to prosper again largely because of the ability to attract new business, and Booker's own ability to persuade several financial firms to more some of their operations from Manhattan to the much less expensive confines of Newark. Additionally, to the extent Booker has a political future in mind, a politician in New Jersey who alienates the investor class is going to find it hard to go much of anywhere. As Jamelle Bouie points out in a piece at Greg Sargent's Plum Line, that's also a danger that the Obama campaign faces:
The danger is that the attack could alienate Democrats with a connection to the investor class, who are already uneasy with the administration. This includes politicians such as Cory Booker, who have a direct connection to Wall Street, as well as any other Democrat who relies on the finance industry for campaign contributions. What's more, the attack on Bain Capital comes close enough to the GOP charge of "class warfare" that it could harm Obama's standing with the affluent and college-educated voters that were crucial to his 2008 victories in Virginia, North Carolina and Colorado.
Of course, the temptation for politicians to pander to mindless populism and class envy is very strong, so one can assume that we'll be hearing more, mostly distorted, stories about Bain Capital from now until Election Day.