Romney's Campaign Is Mishandling The Politics Of The Bain Issue
Mitt Romney's campaign is mishandling their response to the Bain story, and hurting the candidate in the process.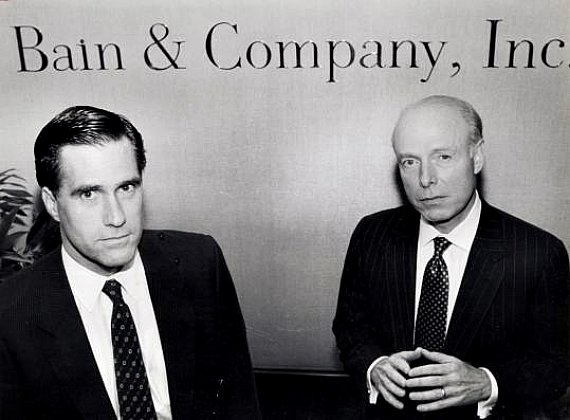 Yesterday, Mitt Romney did a round robin of interviews which each of major television networks, as well as Fox News Channel and CNN, in an effort to address the questions that persist regarding his involvement in Bain Capital and its related entities:
Mitt Romney aggressively counter-punched against reports that he controlled Bain Capital for three years longer than he has previously claimed, giving five separate television interviews on Friday defending himself and slamming President Barack Obama's campaign for alleging that he might be a "felon."

An animated and sometimes irritated Romney conceded that he continued to nominally headBain Capital — the subject of relentless attacks against him by Democrats — after 1999 and had the option to return to managing the daily operations of the firm when the Olympics was over. He also stuck to his guns regarding his tax returns, saying he would release two years' worth (2011 and 2010) and no more.

"I was the owner of an entity that is filing those information — that information, but I had no role whatsoever in the management of Bain Capital after February of 1999, not that that would have been a problem, to have said that I was with the firm beyond that, but I simply wasn't," Romney said on CNN.

On Friday night, Romney's answers had already proved unsatisfactory to the Obama campaign.

(…)

[T]he presumptive GOP standard-bearer insisted that he took no active role in the company following 1999. Kicking off the latest round in the Bain wars, the Boston Globe reported on Thursday that Romney's name appeared as CEO of Bain on Securities and Exchange Commission documents until 2002.

Romney took pains to try to distinguish owning the company from managing it, while at the same time not disparaging Bain.

"Well, there's nothing wrong with being associated with Bain Capital, of course," the Republican continued on CNN when pressed by interviewer Jim Acosta. "But the truth is that I left any role at Bain Capital in February of '99."

The GOP standard-bearer also demanded an apology from President Obama after deputy campaign manager, Stephanie Cutter, labeled him a possible "felon" for allegedly misrepresenting himself on government documents.

"He sure as heck ought to say that he's sorry for the kinds of attacks that are coming from his team," Romney said on ABC. "It's very disappointing on his part. It's beneath the dignity of the presidency of the United States to go out and say the kind of things that are being said and even Democrats are saying that."
The Obama campaign, however, doesn't seem inclined to apologize:
"The Obama campaign is not satisfied with Romney's answer. They still want to see Romney's tax returns as well as minutes from Bain meetings," NBC White House correspondent Kristen Welker reported. From Obama's camp, Welker said: "We expect the American people would want to see more information."

(…)

On Friday, Obama joined the chorus of those calling on Romney to explain his time at Bain.

"My understanding is that Mr. Romney attested to the SEC, multiple times, that he was the chairman, CEO and president of Bain Capital and I think most Americans figure if you are the chairman, CEO and president of a company that you are responsible for what that company does," Obama said in an interview with Washington D.C. television station WJLA, a sister company of POLITICO.

"If he aspires to being president, one of the things you learn is, you are ultimately responsible for the conduct of your operations, that's probably a question that he's going to have to answer and I think that's a legitimate part of the campaign."
The story that Romney told in last night's television interviews was not essentially different from what the campaign has been saying for most of this week ever since these questions started being asked — that Mitt Romney ceased all involvement in the day-to-day affairs of Bain and its related entity in February 1999 when he left Boston to go run the Salt Lake City Olympics, a job he continued at for the next three years. As far as how and why his name continued to end up on SEC documents for these entities, Romney's explanation seems to boil down to the fact that, even while he was in Utah, he remained the owner of, or a partner in, the various Bain entities. After Romney was finished with the Olympics, Romney and his partners wound down there relationship and went their separate ways.
That may all be true, and from everything I've been reading on the topic the suggestion that some on the left have made that there was something illegal going on here is largely baseless. The problem is that it is rather apparent that the Romney campaign isn't doing a very good job of explaining all of this to the public. To the average person, and indeed to me, it doesn't make sense that one would give up active control of a business and yet remain as the responsible party in SEC filings for the next three years, nor does it make sense that someone who isn't actively working for a company anymore would receive a $100,000 per year salary nonetheless. There may very well be explanations for all of this, even if they are a bit difficult to explain easily, but so far the Romney campaign hasn't done a good job at all of that, and neither did Romney in his interviews last night. As a result they're keeping this story in the news cycle far longer than it ought to be, to Romney's ultimate detriment.
The ironic thing is that we already have documents in front of us that would seem to provide the Romney campaign with something to point to that would go a long way toward taking the heat off, but they aren't using them at all. In addition, the campaign is causing problems for itself by trying to spin the Bain story in a way that doesn't seem to be supported by the documents when it seems fairly obvious that there is a completely reasonable, innocent, explanation for what happened at Bain after February 1999.
First of all, as I mentioned in my first post on this issue, we have the documents that Fortune obtained which showed that Romney's name had been removed from Bain prospectuses after he left. Legally, this makes sense because if Romney was no longer involved in the active operation of Bain and not involved in managing the new funds being set up after 1999, then it would have been a serious violation of the SEC's disclosure rules to represent otherwise to prospective investors. Thus, we have a contemporaneous document that actually supports Romney's assertion that, after he left for Salt Lake City, he was no longer actively involved in the management of Bain. Romney mentioned these documents in passing last night, but it was a vague reference to documents without any explanation as to what he was talking about. Granted, these were short interviews but this strikes me as a highly relevant fact that the campaign would have wanted to emphasize.
Second, we have a press release from July 1999 that talks about what was going on at Bain at the time:
A July 19, 1999 press release distributed on behalf of Regan Communications and Bain Capital described Mitt Romney as the "Bain Capital CEO" and said he was "on a part-time leave of absence to head the Salt Lake City Olympic Committee."

The press release, which announced the creation of a new private equity firm by two of Bain's managing directors, included a quote from Romney giving his blessing to the new venture. "While we will miss them," Romney said, "we wish them well and look forward to working with them as they build their firm."
Here's the relevant paragraph from the press release:
Bain Capital CEO W. Mitt Romney, currently on a part-time leave of absence to head the Salt Lake City Olympic Committee for the 2002 Games said, "Geoff and Marc have each made very significant contributions to the growth of our business, and have played important roles in furthering its success. In particular, Geoff, who helped us to start Bain Capital played a key role in building our franchise and led several of our highly successful transactions. Marc brought extensive capital markets expertise to the firm, where he co-headed our mezzanine efforts and played a critical role in conceiving and helping to start Sankaty Advisors, our high yield asset business, which now has over $ 2 billion under management. While we will miss them, we wish them well and look forward to working with them as they build their firm."
The idea that Romney took a leave of absence from Bain when he left to go take over the Olympics (something that happened, it's worth noting, on very short notice) is one that has been suggested before and, under the circumstances, it seems like the most reasonable explanation for what happened, at least in the beginning. Most likely, it seems to me, Romney started out on a leave of absence and then, as it became clear that his time in Salt Lake City was going to become a long-term commitment, the parties began developing plans for Romney's departure. Indeed, it was not until 2002, after the Olympics, that Romney's severance deal was finalized and the parties came to terms on a manner in which to most effectively divest Romney's ownership of the Bain entities.
So, why isn't the campaign pointing this out? Why are they insisting on making the hyper-technical, and to many people non-sensical, argument that Romney had ceased his active role in Bain in 1999 without explaining what they mean by that? Most people, I think, would understand quite easily what a leave of absence is all about, why it was taken, and how it evolved into an eventual departure. It's the kind of explanation that would make the SEC filings make perfect sense as well since, part-time or not, Romney was still CEO and still required to certify the filings to the SEC and the filing wouldn't be false at all since Romney was, in fact, still the CEO. Instead of this, though, the campaign is choosing to insist on a bright line "departure in 1999" story that is starting to make less and less sense the more documents are made public.
The obvious answer to these questions, of course, is that the Romney campaign responded to the Obama's "offshoring" allegations by saying that Romney had left Bain by the time those events had occurred, which just happens to be within the 1999-2002 time frame. Thus, here we are with people uncovering SEC documents and press releases trying to prove, 13 years after the fact, what Romney's role at Bain may have actually been. Personally, I don't think the whole "offshoring" issue is nearly the problem the Obama campaign and its surrogates make it out to be, but I can understand why the Romney camp would want to avoid having it hung around their neck, thus they drew a line in the sand. In doing so, however, they created another problem for themselves that they have yet to find an answer to. If they'd just been clear from the beginning, they likely wouldn't be in this situation
As I noted earlier this week, every day that the Romney camp has to spend answering questions about Bain Capital is a day that they don't get to spend talking about the economy or advancing their own campaign strategy. Yesterday's interviews by Romney were no doubt intended to put the issue to rest, but I'm fairly sure they didn't accomplish that, and that both the media and the Obama campaign will continue to peck away at this story as much as they can.  The Romney camp will either have to revisit this issue soon, and answer the questions completely, or they're going to find themselves stuck in the weeds of Bain Capital as we head into the two weeks of the Olympics when many people will put politics aside. After that, it's going to be much harder for them to get past first impressions.
I stand by the conclusion I reached Thursday that there's no real wrongdoing here, but the Romney campaign has handled this badly and they have only themselves to blame for the bad press they're getting.