Romney's Bain Lie
The real story of Bain Capital is impressive. Mitt Romney chose instead to present an origin story that's utter horseshit.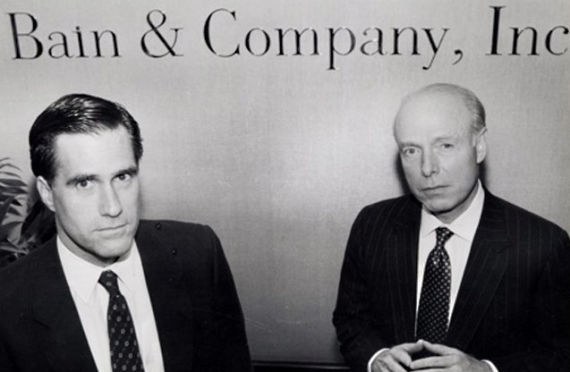 Overall, tonight was a great one for Mitt Romney. The speeches that preceded his demonstrated what an phenomenally decent human being he's been throughout his life. And his own speech was, if not the "grand slam home run" that most pundits said he needed, at least a stand-up double, hitting the right note and continuing the process of showing that the Republican nominee is what he is: a good husband, father, and citizen.
But he stepped on that message, at least to my trained ear, by telling an absurd lie about the origin of Bain Capital. I don't have the speech transcript available but, in essence, he claimed that, at 37, he and his colleagues risked everything to "bet on themselves." But, as everyone who's been following the campaign knows, that's utter horseshit. Romney was raking in the big bucks at Bain and Company and balked at risking his and his family's future on a new venture. As most of us would. Certainly, as I would have if I had five boys to support. Or, hell, if I was just raking in the big bucks and had only myself to support.  But he basically balked at taking a risk and insisted on a no-lose deal in which, if he succeeeded, he'd be rewarded handsomely but, if he failed, he'd go back to his old gig making the big bucks.
Again, there's no shame in that. If I were making big bucks at my job, there's no way in hell I'd risk my family's future on a bet that I'd make even bigger bucks. That Romney had the leverage to demand a sweetheart deal is an indication that he was an incredible asset to Bain. That's awesome.
But why in the hell would he tell us a lie that everyone listening would know is untrue? The true story is, after all, good enough.
UPDATE: Here's the transcription of the relevant portion:
When I was 37, I helped start a small company. My partners and I had been working for a company that was in the business of helping other businesses.

So some of us had this idea that if we really believed our advice was helping companies, we should invest in companies. We should bet on ourselves and on our advice.

So we started a new business called Bain Capital. The only problem was, while WE believed in ourselves, nobody else did. We were young and had never done this before and we almost didn't get off the ground. In those days, sometimes I wondered if I had made a really big mistake. I had thought about asking my church's pension fund to invest, but I didn't. I figured it was bad enough that I might lose my investors' money, but I didn't want to go to hell too. Shows what I know. Another of my partners got the Episcopal Church pension fund to invest. Today there are a lot of happy retired priests who should thank him. That business we started with 10 people has now grown into a great American success story.
Is there something I'm missing here? Was Bain Capital in a sink or swim situation even if Romney had the personal option of returning to Bain and Company whole? Here's the Wikipedia version of the origin story:
Bain Capital was founded in 1984 by Bain & Company partners Mitt Romney, T. Coleman Andrews III, and Eric Kriss, after Bill Bain had offered Romney the chance to head a new venture that would invest in companies and apply Bain's consulting techniques to improve operations.[5] In addition to the three founding partners, the early team included Fraser Bullock, Robert F. White, Joshua Bekenstein, Adam Kirsch, and Geoffrey S. Rehnert.[6] Romney initially had the titles of president[7] and managing general partner[8][9] or managing partner.[10] He later became referred to as managing director[11] or CEO[12] as well. He was also the sole shareholder of the firm.[13] At the beginning, the firm had fewer than ten employees.[14] When new employees were hired, they were generally in their twenties and top-ranked graduates from Stanford University or Harvard University, both of which Romney had attended.[15]

In the face of skepticism from potential investors, Romney and his partners spent a year raising the $37 million in funds needed to start the new operation.[16][17][14][18] Early investors also included members of elite Salvadoran families who fled the country's civil war.[19] They and other wealthy Latin Americans invested $9 million primarily through offshore companies registered in Panama.[20]

While Bain Capital was founded by Bain executives, the firm was not an affiliate or a division of Bain & Company but rather a completely separate company. Initially, the two firms shared the same offices – in an office tower at Copley Place in Boston[21] – and a similar approach to improving business operations. However, the two firms had put in place certain protections to avoid sharing information between the two companies and the Bain & Company executives had the ability to veto investments that posed potential conflicts of interest.[22] Bain Capital also provided an investment opportunity for partners of Bain & Company. Bain Capital's original $37 million fund was raised entirely from private individuals in mid-1984.[6] The firm initially gave a cut of its profits to Bain & Company, but Romney later persuaded Bill Bain to give that up.[23]

The Bain Capital team was initially reluctant to invest its capital. By 1985, things were going poorly enough that Romney considered closing the operation, returning investors' money back to them, and having the partners go back to their old positions.[24] The partners saw weak spots in so many potential deals that by 1986, very few had been done.[25] At first, Bain Capital focused on venture capital opportunities.[25] One of Bain's earliest and most notable venture investments was in Staples, Inc., the office supply retailer. In 1986, Bain provided $4.5 million to two supermarket executives, Leo Kahn and Thomas G. Stemberg, to open an office supply supermarket in Brighton, Massachusetts.[26] The fast-growing retail chain went public in 1989;[27] by 1996, the company had grown to over 1,100 stores,[28] and by 2008, over 2,000 stores.[29] Bain Capital eventually reaped a nearly sevenfold return on its investment, and Romney sat on the Staples board of directors for over a decade.[14][18][25] Another very successful investment occurred in 1986 when $1 million was invested in medical equipment maker Calumet Coach, which eventually returned $34 million.[30] A few years later, Bain Capital made an investment in the technology research outfit the Gartner Group, which ended up returning a 16-fold gain.[30]
Certainly, it seems like the founders of Bain and Company believed in Romney and friends, giving them a pretty decent stake; it wasn't a case of some crazy (37-year-old) kids with a wild dream throwing caution to the wind. But it does read as if that first year things weren't going well—although well enough that Romney still had the ability to return people's investments.