Romney Continues To Embrace Trump Despite Birtherism
Mitt Romney continues to keep Donald Trump close. It makes no sense, but it isn't likely to matter in the end.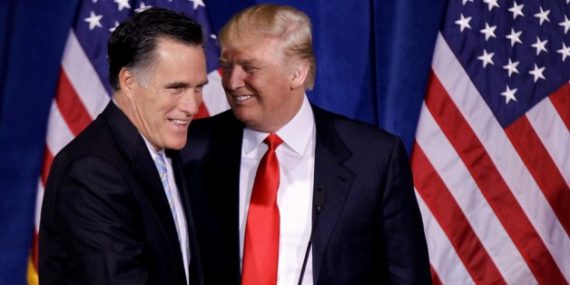 Mitt Romney is staying with his bizarre decision to associate with Donald Trump and use him as a campaign surrogate, notwithstanding all of the bizarre things that Trump says and the not inconsiderable amount of personal, business, and political baggage that "The Donald" brings along with him:
Mitt Romney did not distance himself from Donald Trump today, despite the reality TV and real estate mogul's continued skepticism about President Barack Obama's birth certificate.

A top Romney adviser said recently that the presumptive Republican presidential nominee believes Obama was born in the United States and the validity of his birth certificate, which has been released by the White House, should not be a campaign issue.

When asked about Trump's remarks last week questioning whether Obama was born in the United States, Romney said he doesn't agree with everything his supporters believe, but in the coming election he'll need their support.

"You know I don't agree with all the people who support me and my guess is they don't all agree with everything I believe in," Romney told reporters on an airplane before taking off for a campaign appearances Tuesday in Colorado and Las Vegas. "But I need to get 50.1 percent or more and I"m appreciative to have the help of a lot of good people."
The Obama campaign has started to hit the Romney campaign for the association with Trump:
In the latest surrogate-centered attack, the Obama campaign went after Mitt Romney's relationship with Donald Trump, the outspoken television personality who is apparently not sold on the validity of President Obama's birth certificate.

On Monday, the Obama campaign released a video that slams Romney for not dismissing Trump's comments on Obama's citizenship, compiling a montage of his greatest hits on this issue. At one point, the video points out that Trump said Obama was born in Kenya, raised in Indonesia, and is possibly a Muslim.

The ad opens by commending Sen. John McCain, R-Ariz., for standing up to his supporters who thought Obama was dangerous or, by one woman's account, "an Arab." But on Trump, the ad says, Romney has been silent.

Romney on Monday said that his campaign was not responsible for what every supporter says. "You know, I don't agree with all the people who support me and my guess is they don't all agree with everything I believe in," he said. "But I need to get 50.1% or more and I'm appreciative to have the help of a lot of good people."

The Romney campaign is currently holding an online fundraising drive to win a chance to "Dine with The Donald" at Trump's home in New York. Romney is also holding a fundraiser with Trump and former presidential candidate Newt Gingrich on Tuesday night in Las Vegas.

And it doesn't look as if Trump is switching his position on this issue. "I've never really changed," he said on Tuesday on CNBC. "Nobody's ever changed my mind."
Here's the Obama Campaign's web ad:
As I've noted before, Romney's decision to closely associate with Trump like this doesn't really make much sense, at least not to me. Several people pointed out over the weekend that Trump has helped raise money for Romney, campaigned via robocalls for Romney in Michigan, and hosted several fundraisers for the campaign including the one coming up today in Las Vegas. Even taking all of this as fact, though, I have to wonder whether it's all worth the headaches that a surrogate like Trump creates for the campaign. After all, whenever Donald Trump appears anywhere he's there for one reason and one reason alone, to promote Donald Trump. I'm not even sure he actually believes this birther nonsense that he has been spouting for the better part of a year. It gets him media attention, though, and he knows it. Since the job of a campaign surrogate is supposed to be to speak for the campaign, why would the Romney campaign get in bed with a guy who goes off-message the second he opens his mouth? Like I said, it makes no sense at all.
At the same time, though, I'm not sure how much all of this is going to matter in the end. Like many of the irrelevant distractions we've seen over the past several months — from the "Mommy Wars," to the Seamus story, to the fact that Obama once ate a dog, to something that Mitt Romney may have done some 50 years ago in High School — it strikes me that this is just another example of the political "silly season" nonsense that we are likely to see from now until Labor Day. People are no more likely to base their vote in the election on Donald Trump than they are on some silly story about a Romney family road trip with the dog. Partisans on each side will, of course, react to such stories in the manner that they are expected to, because that's what partisans do. In the end, much like most of what comes out of Trump's mouth, it's all sound and fury signifying nothing.