Prominent Romney Supporter: Obama Was Born In Kenya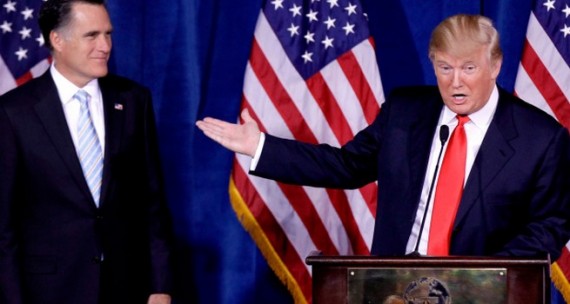 I suppose I don't have to tell you the "prominent Romney supporter" in question is none other than Donald Trump:
"Look, it's very simple," said Trump, who has spent the past 13 months questioning Obama's constitutional eligibility to occupy the White House (and only doubled downwith his stubborn skepticism after Obama produced a long-form birth certificate, certifying he was born on Aug. 4, 1961, in Hawaii, and then hilariously roasted him at the 2011 White House Correspondents Dinner. "A book publisher came out three days ago and said that in his written synopsis of his book," Trump went on, "he said he was born in Kenya and raised in Indonesia. His mother never spent a day in the hospital."

Actually, Obama's literary agency at the time, two decades ago, published a recently discovered catalogue of clients and their projects that included erroneous information about Obama and a prospective book about race that he ended up not writing. An agency assistant back then, Miriam Goderich, said last week that she was mistaken when she wrote that Obama was born in Kenya.

But Trump isn't buying it.

"That's what he told the literary agent," Trump insisted. "That's the way life works… He didn't know he was running for president, so he told the truth. The literary agent wrote down what he said… He said he was born in Kenya and raised in Indonesia… Now they're saying it was a mistake. Just like his Kenyan grandmother said he was born in Kenya, and she pointed down the road to the hospital, and after people started screaming at her she said, 'Oh, I mean Hawaii.' Give me a break."
This would be the same Donald Trump who endorsed Romney prior to the Nevada Caucuses, who will be co-hosting a fundraiser for Romney in Las Vegas, and who the Romney campaign is raffling off dinner with to supporters.
You're judged by the company you keep, Mitt.