Mike Huckabee: Barack Obama Grew Up In Kenya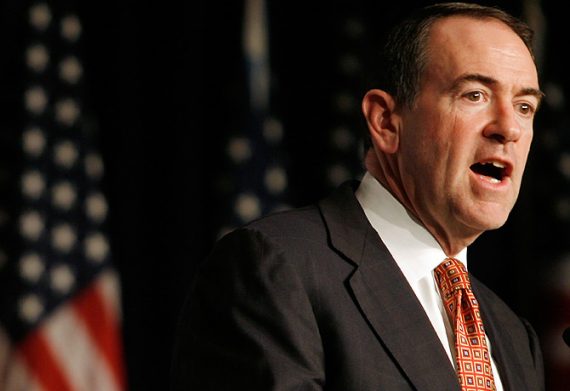 Reading through this story, I've got to think that Mike Huckabee wasn't exactly thinking straight when he said this:
Mike Huckabee seemed to suggest that Barack Obama grew up in Kenya, even though he indicated that the president's birth certificate is real.

In an interview with The Steve Malzberg Show on Monday, Huckabee talked about Obama's "having grown up in Kenya."

Huckabee's comment came in response the host asserting that Obama spent "millions of dollars in courts all over this country to defend against having to present a birth certificate."

"One thing that I do know is his having grown up in Kenya, his view of the Brits, for example, very different than the average American," Huckabee said in response.

"If you think about it, his perspective as growing up in Kenya with a Kenyan father and grandfather, their view of the Mau Mau Revolution in Kenya is very different than ours because he probably grew up hearing that the British were a bunch of imperialists who persecuted his grandfather," Huckabee added.
Huckabee went on to say that he believed that the President was born in Hawaii, so I've got to think that he was mistaking the fact that the young Barack Obama lived in Indonesia for a time with his mother and step-father for Kenya. I'm not sure where he got the idea that he was raised by his father, or by a grandfather who died before he was born Obama never met.
Care to clarify that one Mike?
Update: Via Mediaite, here's the audio of the relevant part of Huckabee's comments. Say what you will but it doesn't seem like Huckabee was tongue-tied here:
Also, Slate's David Weigel says Huckabee isn't a birther so much as he's, well, dumb (my word, not David's):
1) Barack Obama spent part of his childhood in Indonesia, with his Indonesian stepfather Lolo Soetoro.

2) His father was, of course, Kenyan, and Obama returned to Kenya in his 20s to understand his roots and inheritance. Obama never lived with him.

3) One of the conservative literary hits of 2010, like it or not, was Dinesh D'Souza's The Roots of Obama's Rage — you know, the one about how "Kenyan anti-colonial thinking" informs Obama's worldview.

I'll give Huckabee the benefit of the doubt and say he put a few different ideas in the blender. So he's not a birther; he does reveal an odd ignorance of the biography of the man he occasionally out-polls in the 2012 presidential election. (That said, I'm not sure if Obama could pass a pop quiz on the early years of Mike Huckabee.)
Fair point, but isn't it just a little disconcerting that someone who might run for President is this ill-informed?
Update: The Huckabee camp issues a clarification:
"Governor Huckabee simply misspoke when he alluded to President Obama growing up in 'Kenya.' The Governor meant to say the President grew up in Indonesia," Gidley told ABC News. "When the Governor mentioned he wanted to know more about the President, he wasn't talking about the President's place of birth — the Governor believes the President was born in Hawaii. The Governor would however like to know more about where President Obama's liberal policies come from and what else the President plans to do to this country — as do most Americans."
Umm, well, okay. Maybe next time, Huckabee should write "grew up in Indonesia" on his palm.