Gingrich Draws Fire For Remarks About Obama's "Kenyan Worldview"
Newt Gingrich is drawing fire for his comments about that the President has a "Kenyan world view." But, will Newt every pay the price for his inflammatory rhetoric ? Don't count on it.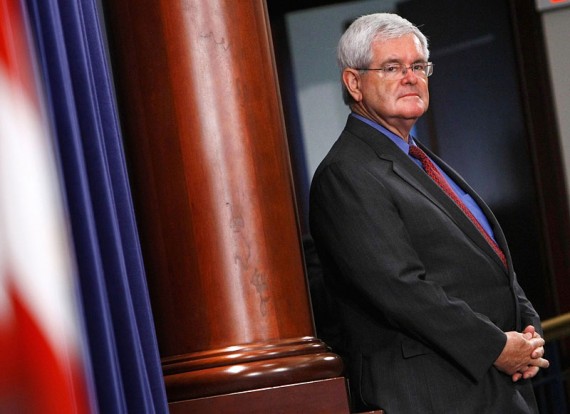 Newt Gingrich's comments that President Obama seems to possess a "Kenyan, anti-colonialist worldview," which I wrote about yesterday, is drawing fire from both sides of the political aisle. This morning on MSNBC, for example, former George W. Bush Chief of Staff Andrew Card blasted the remarks:
Former White House chief of staff Andy Card said Monday that Newt Gingrich's recent claim that Barack Obama has a "Kenyan, anti-colonial" worldview is not "helpful" to Republicans trying to win in November.

Gingrich floated the birther-like suggestion on Saturday in an interview with the National Review.

"What if [Obama] is so outside our comprehension, that only if you understand Kenyan, anti-colonial behavior, can you begin to piece together [his actions]?" the former GOP House speaker posited. "That is the most accurate, predictive model for his behavior."

Asked about the comment on Monday during an appearance on MSNBC's "Morning Joe," Card first tried to dodge the question before conceding that Gingrich's rhetoric is harmful to the party.

"I don't think they help," he said of the comments. "I don't think the statements that Newt Gingrich made are helpful, no."

Card tried to credit Gingrich with providing other good ideas to Republican politics, but when asked if he was "disappointed" by the former speaker's comments, the former Bush hand said, "Yes, I'm disappointed."

"I don't think I'm surprised because Newt has lots of opinions and he's not afraid to express them," Card said.
The White House and the Democrats were also fairly quick to strike back:
Mr. Gingrich's comments drew sharp rebukes from the Democratic National Committee, which accused him of stoking the false rumors about Mr. Obama's heritage and birthright.

"This crushes the hopes of those who thought Gingrich could bring ideas instead of smears to what the G.O.P. was offering," said Hari Sevugan, the committee's press secretary. "He's not a reasonable man that some thought he could be. He's proven he's just like the rest of them. With a worldview shaped by the most radical and fringe elements of the Republican Party, which are more dominant with each passing day."

The White House press secretary, Robert Gibbs, told George Stephanopoulos on ABC's "Good Morning America" that "I don't even have – quite frankly, George – the slightest idea what he's talking about."

Mr. Gibbs added that Mr. Gingrich "knows that he's trying to appeal to the fringe of people that don't believe the president was born in this country."

"You would normally expect better from somebody who held the position of speaker of the House," Mr. Gibbs said.
Of course, Gingrich has been a bomb thrower from the days when he was a back-bencher Congressman from Georgia with the idea of taking over the House GOP Caucus and putting the GOP in control of Congress, ideas which most would've thought insane at the time. Sometimes, it served him well. More often than not, as now, it just causes him to go off on topics with an air of pseudo-intellectualism.
In addition to the criticism directed at Gingrich, Dinesh D'Souza is also coming under fire for his comments in the Forbes article that started the whole controversy. Daniel Larison takes to his blog at The American Conservative to rip apart what he clearly considers an intellectually weak argument on D'Souza's part:
Dinesh D'Souza has authored what may possibly be the most ridiculous piece of Obama analysis yet written. He takes a number of decisions Obama has made on a grab-bag of issues, declares that they are "odd," and then proceeds to explain the "oddness" he has perceived by cooking up a bizarre thesis that Obama is a die-hard anticolonialist dedicated to his father's anticolonialist legacy. That must be why he aspired to become President of the world's remaining superpower and military hegemon-because he secretly loathes the exercise of Western power and wants to rein it in! It must be his deeply-held anticolonialist beliefs that have led him to escalate the U.S. role in Afghanistan, launch numerous drone strikes on Pakistan, and authorize the assassination of U.S. citizens in the name of antiterrorism. Yes, zealous anticolonialism is the obvious answer. Even for D'Souza, whose last book was a strange exercise in blaming Western moral decadence for Islamic terrorism, this is simply stupid. Perhaps most painful of all is D'Souza's condescending claim that ignorant Americans aren't familiar with anticolonialism, and that because he is an Indian he can educate all of us about it.

Even if Obama were anticolonialist, it wouldn't actually explain why he is "anti-business," but then you would have to believe that he is strongly anti-business in the first place. D'Souza's initial assumption that Obama is "the most antibusiness president in a generation, perhaps in American history" is not much more than assertion. Viewed from most places in the country, Obama does not appear anti-business at all, but rather he seems pitifully captive to business interests in the worst way. One can find this reassuring or disturbing, but that is the reality.

It is hardly necessary to delve deeply into the Kenyan past or trace the roots of anticolonialist thought to discern why Obama, a thoroughly conventional center-left Democrat, favors raising taxes on wealthier people. This is a standard part of the Democratic agenda and has been for the last decade. Having opposed tax cuts for wealthier Americans earlier in the decade, Democrats are continuing to be against them. This is not mystifying. What is a little mystifying is why so many conservative pundits and writers feel the need to construct preposterous, overly-complicated Obama theories to explain what is perfectly obvious and straightforward.
And, not surprisingly, Adam Serwer is even more harsh in his own assessment of the D'Souza/Gingrich argument:
D'Souza's grasp of policy is shallow as a puddle of piss in a dark alley, but it's safe to say that someone self-identifying as an "anti-colonialist" would not be escalating an American war in central Asia or claiming the authority to use the entire planet as a target range for flying robots armed with cruise missiles.

If Obama is a Kenyan anti-colonialist for supporting financial regulation, than Scott Brown is a Kenyan anti-colonialist. If Obama is a Kenyan anti-colonialist for supporting the proposed Islamic community center near Ground Zero, then Michael Bloomberg is a Kenyan anti-colonialist. If Obama is a Kenyan anti-colonialist for supporting health-care insurance reform, then Ben Nelson is a Kenyan anti-colonialist. The Center for American Progress is a Kenyan anti-colonialist think tank, MoveOn is a Kenyan anti-colonialist advocacy organization, and Peter Orszag is a Kenyan anti-colonialist intellectual.

All of which to say is there's no need to parse the ethnic origins or political philosophies of Obama's parents to understand the ideology of Barack Obama. He is a center-left Democrat who supports mainstream Democratic policies. But some conservatives don't want to talk about policy. They are unable to engage in an argument with liberalism on substantive terms; they know only argument by epithet. They want to talk about the fact that our blackety black president is blackety black. It has been two years since a black man was elected president of the United States, and for a group of conservatives clinging to their cultural superiority, this was a moment of apocalyptic existential crisis, a moment that refuted all they had come to know and understand about themselves, about black people, and about this country. D'Souza is writing for them, the same kind of audience he has always written for.
And Steve Benen points out why this is a big deal:
I care about this, not because Gingrich is a lunatic, but because Republicans and the media establishment continue to treat Gingrich as a sane, credible visionary. I think it's fair to say most reasonable people would charitably describe his attacks on America's leaders as idiocy, but the problem is, it won't make any difference.

Given the way the political establishment is "wired" for Republicans, there simply aren't any consequences for this kind of abject stupidity. In the first year of the Obama administration, the most frequent guest on "Meet the Press" was Newt Gingrich. Despite having left office more than a decade ago in disgrace, he remains a leading figure welcome in polite society.

There's literally nothing the man can say to lose his platform to spew nonsense.
As if to prove this point, Gingrich appeared on Fox News Sunday yesterday, and didn't get a single question about what is clearly a controversial statement.
Less than a month after equating an entire religion with Nazism, Gingrich has now fed into the hot racial climate surrounding some of the worst lies about the President. Why anyone still takes him seriously is beyond me.
Update: David Frum isn't buying the argument that Gingrich's words were just an example of him over intellectualizing:
Newt Gingrich no longer leads the congressional Republicans. Of course he wants to see Republicans elected (and to receive credit for helping to elect them). But as he prepares to run for president, he has other priorities – and other problems. Gingrich endorsed TARP. He has acknowledged that human activity is warming the globe. He attempted to work with Hillary Clinton on healthcare reform and with Al Sharpton (!) on education. He endorsed Dede Scozzafava in the NY-23 special election. As Speaker, he joined Bill Clinton to pass the S-Chip program, a big expansion of the healthcare entitlement. And then there is the tangled complexity of his personal life. Gingrich must feel very vulnerable to the kind of attack from the right that has slammed so many Republicans this year.

So it's his mission now to present himself as the most ferocious right-winger in the race. Confident (over-confident) that he can best Sarah Palin among business-minded and ideas-minded Republicans, he wants to deny her or some other Tea Party style challenger any footing to attack him as a compromise-minded moderate. Calling President Obama a Kenyan fits into that strategy.

As for the underlying D'Souza article that inspired Gingrich, what is there to be said? When last was there such a brazen outburst of race-baiting in the service of partisan politics at the national level? George Wallace took more care to sound race-neutral.

Here's the question, though, for the rest of us: Why do Forbes (which presumably has many choices of cover material) and Gingrich imagine that such a message will resonate with their conservative audience? Nothing more offends conservatives than liberal accusations of racial animus. Yet here is racial animus, unconcealed and unapologetic, and it is seized by savvy editors and an ambitious politician as just the material to please a conservative audience. That's an insult to every conservative in America.

Conservatives object to the Obama administration as too expensive, too regulatory, too intrusive, too beholden to Democratic special interest groups, and too apologetic about America's role in the world. It's a libel to claim that we object to the administration as too black or too alien. Bad enough when the libel is issued by liberals. Much worse when it is heard from our own writers, from magazines that speak to us, from political leaders who would speak for us.
Indeed