Dinesh D'Souza Pleads Guilty To Being A Really Stupid Criminal
Committing a crime is bad enough, committing a stupid crime in the dumbest way possible is orders of magnitude bad.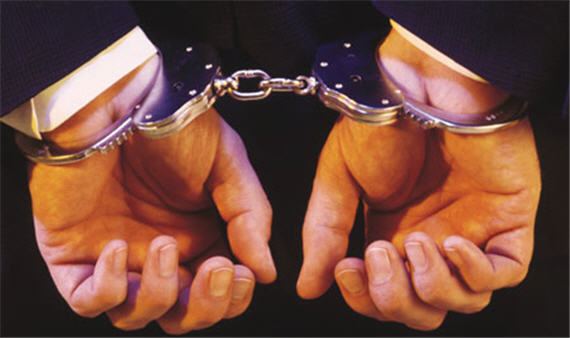 Last January, conservative firebrand Dinesh D'Souza, who has made a name for himself in conservative circles with his anti-Obama films featuring rhetoric that seemed out of character given some of his writing in the past, was indicted for violating Federal election laws. As alleged in the indictment, D'Souza had convinced two associates to donate $10,000 each to the campaign of Wendy Long, the Republican running a seemingly unwinnable race against New York Senator Kristen Gillibrand in 2012, and then reimbursing them for the full amount of their donations. In this manner, the indictment alleged, D'Souza was able to evade the 40 year old law that limits the amount that an individual can contribute to a political candidate. For his part, D'Souza and his supporters, a group which quickly dwindled after he was indicted, claimed that the entire prosecution was an example of political targeting by the Obama Administration and that D'Souza was only being prosecuted because of his criticisms of the President over the past five years.
The trial in D'Souza's case was supposed to begin in New York City today with jury selection. Instead, D'Souza has given up the ghost and plead guilty:
(Reuters) – Conservative author and filmmaker Dinesh D'Souza pleaded guilty on Tuesday to a campaign finance law violation, avoiding a trial that had been expected to begin the same day in a Manhattan federal court.

D'Souza, known for his biting criticism of President Barack Obama, pleaded guilty to one criminal count of making illegal contributions in the names of others. A second count concerning the making of false statements is expected to be dismissed once he is sentenced.

The plea came four months after Manhattan U.S. Attorney Preet Bharara charged D'Souza with using "straw donors" to give funds in 2012 to Republican Wendy Long's U.S. Senate campaign in New York. Long, who met D'Souza while they were students in the 1980s, lost to Democratic incumbent Kirsten Gillibrand.

"I knew that causing a campaign contribution to be made in the name of another was wrong and something the law forbids," D'Souza, 53, told U.S. District Judge Berman on Tuesday. "I deeply regret my conduct."

Prosecutors said D'Souza asked two friends and their spouses to contribute $10,000 each to Long's campaign and then reimbursed them. At the time, campaign finance regulations limited individual donations to a maximum of $5,000 during an election cycle.

One of the friends was Denise Joseph, who was engaged to D'Souza while he was still married to another woman. D'Souza resigned as president of King's College, a small Christian school in New York City, after the media revealed his relationship with Joseph in 2012.
The fact that this ended in a plea deal is not at all surprising. When I first read the indictment back in January it seemed pretty clear to me that the Federal Government had D'Souza dead to rights. Presuming that they could prove the essential facts of their case —- the donations by D'Souza's friends followed by his reimbursement to them — beyond a reasonable doubt, then there really wasn't any credibly defense that he could offer to the charges. That's one of the reasons that all we heard from him and his attorney for the past four months was the allegation that his prosecution was "selective" and motivated by his criticism of the Obama Administration. There was no other argument for his attorney to make. Of course, pushing the persecution meme is also in D'Souza's future financial interests as he will no doubt return to his life as an anti-Obama pundit after this case is finished, or even before it's finished. The inevitability of  a plea deal also became apparent last week when his attorney lost a motion to be allowed to make this so-called political targeting argument to the jury at D'Souza's trial. Once they no longer had that argument to go with, there was no rational reason for D'Souza to go to trial and risk a guilty verdict and sentence that would have been far more severe than whatever he is ultimately sentenced to.
There is one as yet unanswered question about this case, namely exactly how Federal investigators were tipped off to what D'Souza did. The fact that he reimbursed the two people who donated to Long would not have been apparent from any public records outside, possibly, of the transaction reports that the Federal Reserve receives when someone transfers $10,000 or more to a single person in a single transaction. Even then, though, someone would've had to know to look for a correlation between the donation and the money transfers. The most likely explanation to me comes in what was going on in D'Souza's personal life at the time of the donations. As noted above, one of the people who he convinced to "donate" to Long was the woman with whom he was having an affair with while still married to his wife. As it turns out, that woman, Denise Joseph, was also married at the time her relationship. If one estranged spouse or the other saw something fishy in the finances, it wouldn't take much for them to pick up their phone and make a phone call. The rest, as they say, is history.
Ultimately, though, this is, as Steven Taylor intimated in his post on the matter in January, an incredibly stupid crime. Leaving aside the facts of how he was caught, D'Souza apparently did nothing to hide what he was doing here, to the point of even telling the two people who made the straw donations what was happening. More importantly, though, outside of an apparent personal friendship with Long that dates back to their Dartmouth days, there's no rational reason why he would've done this. Long never polled above 27% in her race against Gillibrand and ended up losing the race by three million votes. An extra ten thousand dollars wasn't going to do anything for her campaign. So, in addition to pulling of his crime in the stupidest, most inept way possible, D'Souza did it for a stupid and inconceivable reason. As President Josaih Bartlet put it on The West Wing, "God, well… Some of the stupidest criminals in the world are working right here in America. I've always been very proud of that."