Dinesh D'Souza Avoids Prison In Campaign Finance Case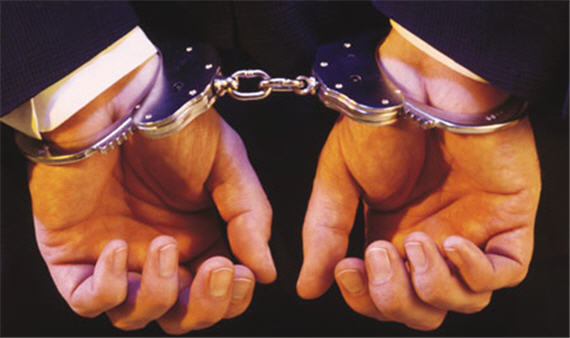 Conservative pundit Dinesh D'Souza won't have to worry about spending time in prison on his conviction for breaking campaign finance laws:
The conservative author and documentary filmmaker Dinesh D'Souza was spared prison time on Tuesday after pleading guilty earlier this year to violating federal campaign finance laws.

Judge Richard M. Berman of Federal District Court in Manhattan handed down a probationary sentence — including eight months in a so-called community confinement center — and a $30,000 fine, bringing to a close a high-profile legal battle that started with Mr. D'Souza's indictment in January for illegally using straw donors to contribute to a Republican Senate candidate in New York in 2012.

Mr. D'Souza, who has accused President Obama of carrying out the "anticolonial" agenda of his father, initially argued that he had been singled out for prosecution because of his politics. In April, his lawyer, Benjamin Brafman, filed court papers contending that Mr. D'Souza's "consistently caustic and highly publicized criticism" of Mr. Obama had made him a government target.

A month later, however, on the morning he was scheduled to go on trial, Mr. D'Souza pleaded guilty. "I deeply regret my conduct," he told the court.

Even with his fate hanging in the balance, Mr. D'Souza plowed ahead with his thriving career as a right-wing provocateur. Over the summer, while awaiting his sentencing, he published the book "America: Imagine a World Without Her," which reached No. 1 on The New York Times's nonfiction hardcover best-seller list, and a companion documentary film that has made $14.4 million at the box office.

(…)

When Mr. D'Souza entered his guilty plea, Judge Berman said he could face up to two years in prison. The federal sentencing guidelines call for 10 to 16 months, but the final decision is up to the judge's discretion.

"Judges are all over the map on these reimbursement cases," said Robert Kelner, a campaign-finance lawyer at Covington & Burling.

Mr. D'Souza's lawyers asked for leniency, arguing in a court filing that their client had "unequivocally accepted responsibility" for his crime. "We are seeking a sentence that balances the crime he has regrettably committed with the extraordinary good Mr. D'Souza has accomplished as a scholar, as a community member and as a family member," they wrote, requesting that he be sentenced to probation and community service at the Boys and Girls Clubs of Greater San Diego.

The government rebutted Mr. D'Souza's claims, highlighting both the seriousness of his offense and what it called "the defendant's post-plea failure to accept responsibility for his criminal conduct."
Given the fact that D'Souza had an apparently clean record before this, it's not all that surprising that he managed to avoid prison time here. Even without serving time in jail, he will still be faced with a lifetime as a convicted felon, which means among other things that he won't be able vote unless that right is restored under the applicable laws of whatever state he ends up living up in at some point. Regardless of what had happened, though, and notwithstanding that he had clearly broken the law, D'Souza had already achieved martyr status on the right so it's unlikely that his future earning capacity is going to be damaged to any significant degree.
One question that has been unanswered about this case is how Federal authorities became aware of D'Souza's scheme, which basically involved setting up dummy donations from friends to a candidate for Senate in New York who had no chance of winning to begin with. Given that one of the "contributors" was the woman he was having an affair with, I assumed that the revelation came either from her or from D'Souza's estranged wife. Now, it appears that it may have come from the candidate herself:
The government charged Mr. D'Souza, 53, with illegally arranging to have two people — an employee and a woman with whom he was romantically involved — donate $10,000 each to the campaign of an old friend from Dartmouth College, Wendy E. Long, with the understanding that he would reimburse them in cash for their contributions. Ms. Long was challenging Senator Kirsten E. Gillibrand, a Democrat.

According to prosecutors, Mr. D'Souza lied to Ms. Long about the donations, reassuring her that "they both had sufficient funds to make the contributions." Ms. Long pressed Mr. D'Souza on the issue after the election, and he acknowledged that he had reimbursed the two people, the government said, but told Ms. Long not to worry because she had not known about it.
However it came to light, though, the fact remains that Dinesh D'Souza ranks as one of the dumbest criminals ever.