Kirsten Gillibrand Enters The Race For President
New York Senator Kirsten Gillibrand is the latest Democratic entrant into the 2020 race for President.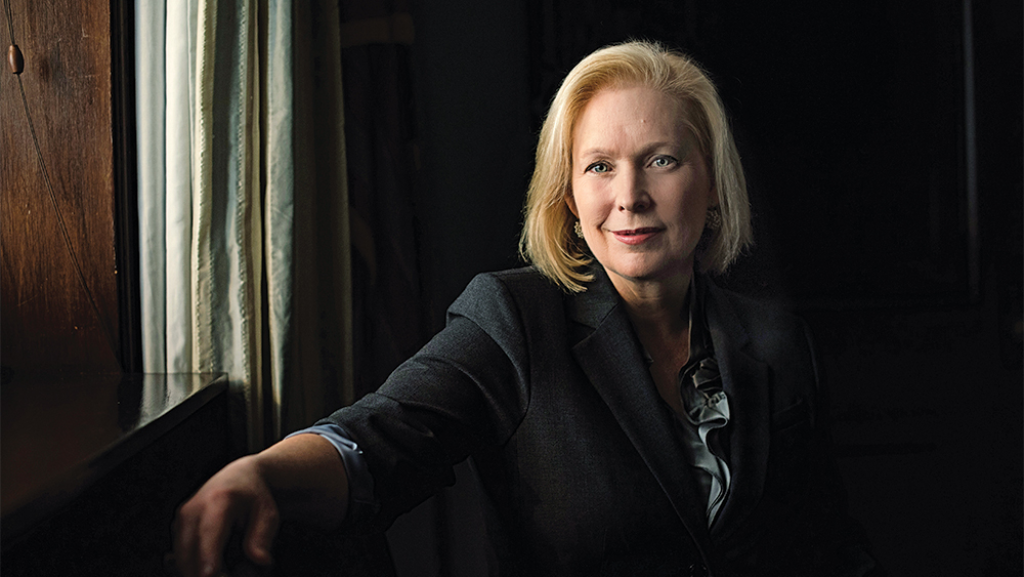 It was a busy weekend for Presidential announcements, formal and informal. Hawaii Congresswoman Tulsi Gabbard, California Senator Kamala Harris, and former HUD Secretary Julian Castro all announced their entry into the race, and others hinted to the media that their announcements could be coming soon. The tide continued last night when New York's junior Senator Kirsten Gillibrand announced on The Late Show with Stephen Colbert that she was forming a Presidential Exploratory Committee, the first step toward running for President:
Senator Kirsten Gillibrand, an outspoken advocate for women's causes and electing more women to office, is entering the 2020 race for the White House herself, becoming the latest candidate to join what is expected to be a crowded Democratic primary to take on President Trump.

In an appearance Tuesday on the "Late Show With Stephen Colbert," Ms. Gillibrand, a New York Democrat, said she was forming an exploratory committee to raise money and travel the country for her run. She is scheduled to start campaigning within days, with plans to spend the weekend in Iowa.

"I'm going to run for president of the United States because as a young mom I am going to fight for other people's kids as hard as I would fight for my own," she said.

Ms. Gillibrand has emerged as one of the most forceful critics of the Trump administration in the last two years. She has voted against nearly every significant nominee Mr. Trump has put forward, and rallied opposition to his congressional agenda. In the last two months, as she publicly considered a campaign, she has spoken repeatedly about the need to restore the "moral compass" of the nation.

But Ms. Gillibrand, a 52-year-old former corporate lawyer, has been criticized by opponents as a politician without a firm ideological bearing of her own, having transformed from a pro-gun, conservative upstate congresswoman with deep ties to Wall Street financiers to a crusading liberal who rails against guns and refuses corporate political action committee money.

Ms. Gillibrand's 2020 announcement was widely expected after weeks of presidential buildup, in which she secured office space for a headquarters in Troy, N.Y., and expanded her political staff.

Ms. Gillibrand is not the first woman or even the first female senator to announce her bid; Elizabeth Warren of Massachusetts formed an exploratory committee two weeks ago.

Other senators expected to enter the race soon include Cory Booker and Kamala Harris, while Senator Bernie Sanders, former Vice President Joseph R. Biden Jr. and former Representative Beto O'Rourke are weighing candidacies.

Ms. Gillibrand has registered little support in early presidential polls but she is still widely seen as a formidable candidate. Fiercely competitive and a prolific fund-raiser — she had more than $10.5 million in the bank as of late 2018 — she has invested heavily in recent years to build up a small donor network online, as well.

The 2018 midterms demonstrated the appetite among Democratic voters to elevate women into power, and Ms. Gillibrand is expected to make her advocacy for women's causes and candidacies a key part of her campaign. For years, she has raised money for female candidates through her political action committee, called Off the Sidelines, which is also the name of her memoir. That work has helped her develop a national network of female donors she is expected to tap into for 2020.

She has lined with the left flank of her party on policy positions, embracing economic populism, but she is not expected to run as explicitly ideological a campaign as rivals like Ms. Warren and, if he runs, Mr. Sanders.

Instead, Ms. Gillibrand, who has visited every county in New York each year of her Senate tenure, is expected to lean on her ability to connect with audiences on a personal level.
Here's the video of her announcement:
TONIGHT: @SenGillibrand stops by @colbertlateshow to announce that she is forming an exploratory committee to run for President of the United States! #LSSC pic.twitter.com/vPUpF1gs8z

— The Late Show (@colbertlateshow) January 15, 2019
This report comes on the heels of reports over the weekend that Gillibrand had told a group of supporters that she would be running for the Democratic nomination:
New York Sen. Kirsten Gillibrand on Saturday signaled to a group of about 20 influential women that she will run for president, according to a person familiar with the meeting.

Gillibrand made her intentions clear, said the source, who asked not to be identified to speak about the event. Gillibrand said that she needed their help if they would offer it to her. The closed-door gathering was attended by feminist Gloria Steinem, the source said. A second source reached by BuzzFeed News confirmed the meeting took place but would not elaborate on what was said.

The multiracial and multigenerational group came from the worlds of art, academia, business, tech, and literature, according to the source.

Although Gillibrand is not the only woman likely to run for president, she is the candidate whose campaign will most focus on gender. The New York senator's signature issues have been women's issues, such as how military sexual assault is prosecuted and #MeToo in politics; her outside group focuses on funding women candidates for office, something on display as a record number of women ran in 2018, when Gillibrand, herself, was reelected in New York.

A top Gillibrand aide earlier this week told BuzzFeed News that the senator would likely announce the launch of an exploratory committee in the "coming weeks," possibly in January. On Saturday, the aide declined to comment.

News of the meeting comes on the heels of the announcement that Gillibrand has hired Meredith Kelly, a seasoned communications hand who formerly worked for the Democratic Congressional Campaign Committee, and the report that Gillibrand's team has leased a 5,000-square-foot space in downtown Troy, New York, where she is from. Several plans for Gillibrand to visit early-voting states are also in place, according to multiple media reports.
Clare Malone at FiveThirtyEight, meanwhile, looks at whether Gillibrand has a path to victory:
Gillibrand's primary play lies with women voters, who make up almost 60 percent of the Democratic base. She has long made issues affecting women a centerpiece of her policy portfolio. Starting during the Obama administration, Gillibrand pushed to reform how the military handles instances of sexual assault in its ranks and consistently introduced bills for paid family leave during her tenure in the Senate. Her advocacy for women also broke through in a politically explosive way in 2017, when she was the first Democratic senator to call for fellow Democrat Sen. Al Franken to resign after allegations that he had groped women emerged.

"The lesson of 2018 is that the future of the Democratic Party is with women," a Gillibrand campaign official recently said. A historically high number of women ran for Congress in the midterms, and 116 won their elections — 100 of them Democrats. Such was the power of the "resistance," a loose collective of groups that one study found to be made up of just the kinds of voters Gillibrand is likely banking on: educated white suburban women.

White college-educated women have been voting for Democrats at increasing rates — 59 percent voted for a Democratic U.S. House candidate in 2018, up from the 51 percent who voted for Clinton in 2016. Gillibrand is a white college-educated woman herself (she attended Dartmouth for undergrad and UCLA for law school) and one who makes it a point to talk about motherhood and her own children often. So it's easy to see how Gillibrand might appeal to this newly politically activated demographic.

Gillibrand's politics have become increasingly left-leaning over her career, but she has maintained an appeal to the more moderate-to-conservative parts of her state, a trend that could bode well as she sets out on a national campaign. Gillibrand won re-election in 2018 with 67 percent of the vote, outperforming Democratic Gov. Andrew Cuomo, who won with 59.6 percent. Gillibrand also overperformed Hillary Clinton's 2016 vote share in New York; Clinton got 59 percent of the vote. New York is a state that is politically bifurcated by geography — its upstate counties, which Gillibrand calls home, are more conservative than the downstate New York City greater metropolitan area. This urban-rural split mirrors the rest of the country, and the fact that Gillibrand has performed well in rural counties — in 2018, she won counties that Clinton lost to Trump — could be positive for her.
Gillibrand has been the focus of attention as a potential Presidential candidate for some time now, not the least because of her leadership on issues such as sexual assault and harassment in the military and her advocacy for women both before and after the rise of the #MeToo movement. When she was running for re-election to the Senate last year, though, Gillibrand explicitly stated that she was not considering a bid for the White House amid charges from her opponent that she was merely viewing re-election as a stepping stone to higher office. After easily winning the election, though, she quickly changed her tune and said that she was not ruling out running for President and that she would likely make a decision early in 2019. In all honesty, it's unlikely that voters will hold this dissembling against here, indeed, it's unlikely that Gillibrand would have harmed herself at all if she had answered the 2020 question in the same way that Warren and Sanders did. As the election results indicate, her Republican opponent mounted what ended up being a token campaign in the end and its unlikely that many of the more than 3.7 million people who voted for her would have changed their votes based on the possibility that she might not stay in office depending on how the 2020 campaign turns out, or that she might be distracted from her duties as Senator by a Presidential run.
In any case, Gillibrand brings with her a resume that is somewhat sparse on elective office or Federal office experience outside of her time in the Senate. After graduating from Dartmouth College and Law School at the University of California, Los Angeles, she went to work for a top New York City law firm. While there, she became involved in politics in the Democratic Party. Later, she went to work for Andrew Cuomo during the time he served as Secretary of the Department of Housing and Urban Development under President Bill Clinton, serving as Special Counsel, a position that put her in charge of several department initiatives. Later, she went to work for the 2000 Senate campaign of Hillary Clinton, a position that brought her within the Clinton inner circle. After the campaign was over, she went to work for another New York City law firm, where she stayed until running for Congress from New York's 20th Congressional District in 2006. She won that election and served in Congress for two years before being appointed by New York Governor David Patterson to fill Hillary Clinton's Senate seat. Since then she has won a Special Election in 2010, re-election in 2012, and, most recently, re-election this past November.
As I noted above, Gillibrand has been particularly outspoken on the issue of sexual assault and harassment both in the military and elsewhere in society. As part of this, she was among the first Democrats to speak out against former Minnesota Senator Al Franken. Franken, of course, became involved in a sex scandal that began with Los Angeles news anchor Leann Tweeden who wrote and spoke on the air about an incident during a 2006 USO Tour she was on with Franken. Tweeden said Franken tried to forcibly kiss her and, later, appeared in pictures where he seemed to be groping her while she slept.  A few days after Tweeden's story became public, a second woman came forward alleging that Franken had groped her while posing for a photograph at the Minnesota State Fair in 2010. That same week, two more women came forward to make similar allegations against Franken, alleging incidents that happened during a second 2006 USO Tour and at a political event in Minnesota in 2007 while Franken was beginning to campaign for the Democratic nomination to run against incumbent Senator Norm Colemen. Then, similar accusations were made by two more women, including an Army veteran and an as-yet-unidentified political official from New England, both of whom say that Franken groped them. The day before he resigned, two more women came forward to claim similar actions by Franken during the 2006-2007 time period. After a seventh woman came forward with similar accusations, Franken announced that he would be resigning from the Senate.
As Politico the Franken scandal has boomeranged back against Gillibrand noted back in November, to some extent as some of his supporters believe he was treated unfairly:
Just a month after Al Franken formally resigned from the Senate amid sexual misconduct allegations, the former senator met with an intimate group of Bay Area supporters at the home of major Democratic Party financiers Mary and Steve Swig.

As Franken and his wife, Franni Bryson, made the rounds, thanking supporters in the philanthropists' San Francisco home at the February 2018 event, the conversation broke off into another subject: Sen. Kirsten Gillibrand. The New York Democrat had, in their opinion, pulled the rug out from under Franken, a Minnesota Democrat beloved by the group, forcing him out without any real vetting of the allegations facing him.

"It was said not in front of Al to impress him; it was said privately in a corner. A group of us were standing there talking about it. He was one of our best weapons against this administration, his presence on these committees. [Gillibrand] did the damage that Republicans could not do themselves," one of the attendees told POLITICO. "There were other people at this event who were saying the same thing. They said, 'Absolutely, I will never do anything for her.'"

Today, nearly a year after Gillibrand led the charge in calling for Franken's resignation, the anger is fresh on the minds of major donors across the country.

More than a dozen prominent West Coast, New York and national donors and bundlers — many of them women — said they would never again donate to or fundraise for Gillibrand or would do so only if she ended up as the Democratic presidential nominee.

Gillibrand has defended her approach by insisting she placed deeply held personal values over party loyalty. But the still-burning resentment among the donor class now confronts Gillibrand as she explores a presidential bid, cutting her off from influential and deep-pocketed contributors and their networks at a time when an expansive 2020 field will compete for their dollars.

Among those donors is Susie Tompkins Buell, a prominent Democratic fundraiser and co-founder of Esprit and the North Face clothing brands, who said the matter remains fresh in her mind and among those in her circles. The episode, she said, "stained [Gillibrand's] reputation as a fair player."

"I do hear people refer to Kirsten Gillibrand as 'opportunistic' and shrewd at the expense of others to advance herself, and it seems to have been demonstrated in her rapid treatment of her colleague Al Franken," she said. "I heard her referred to as 'She would eat her own,' and she seems to have demonstrated that. I know [Gillibrand] thought she was doing the right thing, but I think she will be remembered by this rush to judgment. I have heard [that] some of her women colleagues regret joining her."

The anger is at least in part a testament to donors' fondness for Franken, a comedian who rose to fame as a "Saturday Night Live" cast member and remains in the eyes of his supporters one the Senate's greatest champions for women — even after his resignation. Several of those who talked to POLITICO also spoke of an inner-party struggle to keep Franken from resigning, fearing he was swept up in a panic at the time. A Change.org petition opposing Franken's resignation had 75,000 signatures. Some blamed the media for rushing to publish allegations without a full vetting.

(…)

Gillibrand has stood her ground, never publicly backing down from the criticism, even when it came from the Democratic Party's most prolific donor, George Soros. In June, he told The Washington Post he blamed Gillibrand for cornering Franken into resigning, accusing her of doing so "in order to improve her chances" in 2020.

In August, Gillibrand responded specifically to Soros, telling HuffPost in a statement: "If standing up for women who have been wronged makes George Soros mad, that's on him."

Gillibrand's campaign recently pushed back against the criticism, asserting that the senator did the right thing by speaking up.

"Leadership means standing up for your values when it's hard. Kirsten has never been afraid to stand up for what she believes in and never will be. You can disagree with her views, but holding her accountable for someone else's behavior towards women is wrong, and her values aren't for sale," Gillibrand spokesperson Glen Caplin said in a statement to POLITICO. "One year later, after the special election in Alabama, the Kavanaugh hearings and the historic number of women who took back the House in the midterms, there is just no case to be made the Democratic Party would have been better off with a different outcome. We have to put our morals and the valuing of women ahead of party loyalty."

On Monday, Gillibrand herself sounded off on Twitter. "Silencing women for the powerful, or for your friends, or for convenience, is neither acceptable, nor just," she wrote above a link to this POLITICO story.

NARAL Pro-Choice America President Ilyse Hogue said "history will laud"Gillibrand for her actions.
So far at least, Franken himself has remained silent about Gillibrand but the resentment against Gillibrand for her role in forcing him out continues to hang over her. Whether it will impact her in the race for the Democratic nomination, though, remains to be seen.