Some Senators Are Calling On Al Franken To Reconsider His Resignation
Some Democratic Senators are suggesting that Al Franken should reconsider his decision to resign from the Senate.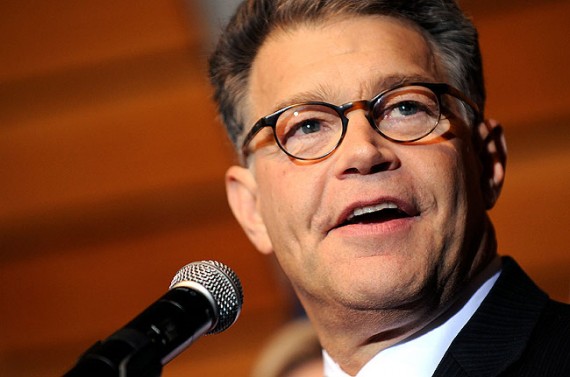 Several top Democratic Senators are suddenly urging Minnesota Senator Al Franken to reverse his decision to resign in the wake of sexual harassment allegations:
At least four senators are urging Al Franken to reconsider resigning, including two who issued statements calling for the resignation two weeks ago and said they now feel remorse over what they feel was a rush to judgment.

Sen. Joe Manchin (D-W.Va.), who urged Franken not to step down to begin with — at least not before he went through an Ethics Committee investigation — said the Minnesota senator was railroaded by fellow Democrats.

"What they did to Al was atrocious, the Democrats," said West Virginia Sen. Joe Manchin in an interview for POLITICO's Off Message podcast to post on Tuesday.

Franken's unusual timeline — in his departure announcement he said he'd go "in the coming weeks," without setting a date — has fed the fleeting hopes that there's still time to reverse course. However, Tina Smith, Minnesota's Democratic lieutenant governor, was named last week as his appointed successor.

People familiar with Franken's plans said he has not changed his mind and intends to formally resign in early January. He praised the selection of Smith and has begun working with her on the transition.

Manchin was among the few Democrats who did not call for Franken's resignation. The West Virginia senator stressed that he believes it would be appropriate for Franken to step down if the allegations are proved true.

Manchin ripped into the members who issued statements insisting that Franken resign — only to gather on the Senate floor the next day to watch him announce he was doing just that.

"The most hypocritical thing I've ever seen done to a human being — and then have enough guts to sit on the floor, watch him give his speech and go over and hug him? That's hypocrisy at the highest level I've ever seen in my life. Made me sick," Manchin said.

He added, "Here's a man, that all he said [was], 'Take me through the Ethics Committee. I will live by whatever decision and I will walk away thinking about this opportunity I've had while I was here. But you find out if I'm a predator.'"

Manchin said he hopes Franken reverses his decision, but even more that the senators who led the charge against him reconsider and call for the two-term senator to stay until the ethics process is complete.

"I hope they have enough guts … and enough conscience and enough heart to say, 'Al, we made a mistake asking prematurely for you to leave.'"

Sen. Patrick Leahy (D-Vt.), who issued a statement calling for Franken's resignation, has since told him privately that he regrets doing so, according to two people familiar with the conversation. Leahy declined to comment.

"I think we acted prematurely, before we had all the facts," said a third senator who has also called for the resignation, and has since expressed regret directly to Franken. "In retrospect, I think we acted too fast." The senator asked not to be named because of the political sensitivity of the issue among Democrats.

Two of the senators who issued resignation calls told POLITICO they felt rushed to weigh in, as they were focused on hearings and other meetings and pressure on Franken mounted. In retrospect they said they signed off on statements without the appropriate care and thought.

The feeling is not pervasive throughout the conference. Aides to several Democratic senators who called for Franken to step down, despite their conflicted feelings about doing so, said they remain comfortable with the move.

That includes Sen. Kirsten Gillibrand. The New York Democrat helped lead the charge against Franken the day that POLITICO published the account of a former Democratic congressional aide who said the former comedian tried to forcibly kiss her after the taping of a radio show in 2006.

Gillibrand has said that sending a clear message of zero tolerance is important, and that she was worried that the Ethics Committee process was being used as a shield.

"She has said, 'He was entitled to a process, but he was not entitled to my silence,'" said one person who has spoken to Gillibrand about the decision.

(…)

The feeling that Franken should reconsider has gained some steam outside of the Senate, too, among Democratic donors and others, including a former Republican governor of Minnesota, Arne Carlson.

"I and many other people — and specifically feminists — feel that it's not too late, that he should not resign, and that the rush to sweep him out was ill-conceived, and we think that he has been supportive of women and women's issues," said Emily Jane Goodman, a retired New York state Supreme Court judge who's helped start a Feminists for Franken group on Facebook. "Although we do deplore any kind of gender-based misconduct, we think at the same time he is entitled to a fair hearing."

The group directly counters Gillibrand's statement that there should be no gradations made in assessing problematic sexual conduct: "We believe it is crucial to make distinctions and to respond proportionally," the group's mission statement reads.

Manchin said he still holds out hope people will come around and call for Franken to go through the ethics process.

"That's the human and decent thing to do. If they have any decency in them, they'd do that," Manchin said in the podcast interview. "Every one of them that signed for him to go out —including Chuck Schumer — should do that."
Franken's resignation, of course, came in the wake of a series of allegations of sexual impropriety that he didn't entirely deny. It began with Los Angeles news anchor Leann Tweeden who wrote and spoke on the air about an incident during a 2006 USO Tour she was on with Franken. Tweeden said Franken tried to forcibly kiss her and, later, appeared in pictures where he seemed to be groping her while she slept.  A few days after Tweeden's story became public, a second woman came forward alleging that Franken had groped her while posing for a photograph at the Minnesota State Fair in 2010. That same week, two more women came forward to make similar allegations against Franken, alleging incidents that happened during a second 2006 USO Tour and at a political event in Minnesota in 2007 while Franken was beginning to campaign for the Democratic nomination to run against incumbent Senator Norm Colemen. Then, similar accusations have been made by two more women, including an Army veteran and an as-yet-unidentified political official from New England, both of whom say that Franken groped them. The day before he resigned, two more women came forward to claim similar actions by Franken during the 2006-2007 time period. This last set of charges came in the wake of the resignation of Congressman John Conyers amid a series of allegations of harassment and other inappropriate behavior on his part over a number of years, as well as the settlement of such claims using taxpayer dollars. In the wake of all of that, Democrats in the Senate led by New York's Kristen Gillibrand began to call on Franken to resign. By the end of the day before his resignation, the majority of the Democratic Caucus in the Senate, including Minority Leader Chuck Schumer, had issued such a call and it was clear that Franken had lost the confidence of his fellow Democratic Senators.
At the time Franken resigned, some were raising questions about whether or not the uproar against him had gone too far. Many outside observers suggested that calls for Franken's resignation may have been premature or even unfair and that the Senator had to some extent fallen victim to events outside the Senate and outside Minnesota that made it necessary for his fellow Democrats to basically abandon him. Many of these pundits pointed to the fact that Franken had not entirely disputed the claims made by the women in question, and that he had agreed to submit to an investigation by the Senate Ethics Committee and whatever discipline they deemed appropriate. As they pointed out, though, Franken's announcement came just days before the Special Election in Alabama, an election that of course was consumed at the time almost exclusively by the allegations of impropriety and assault being leveled against Republican candidate Roy Moore. It also occurred at the same time that we were hearing once again from the dozen or so women who had accused President Trump of sexual harassment and groping, reports that led Senator Gillibrand and some others to call on Trump to resign. In any case, these pundits suggested that the rush to call on Franken to resign was governed primarily by concerns about charges of hypocrisy against Democrats given their attacks on Moore and  Trump. Trump, of course, is not going to resign, and Moore is essentially a non-entity now thanks to the surprisingly strong win of Doug Jones last Tuesday. It appears that Manchin's comments, and those of other Senators, are motivated in part at least by the feeling that he was forced out for political reasons entirely out of his control.
Notwithstanding Senator Manchin's comments, as well as those from Senator Leahy and others, it doesn't appear to me that there's really much of an option left for Franken except to stick to his decision to resign. For one thing, while this Politico report does indicate that at least some of the Senators that initially called for Franken's resignation now seem to be changing their minds, there"s absolutely no indication that there's anywhere close to a landslide of such calls or that Franken would find much support in the Senate were he to change his mind. Secondly, Minnesota Governor Mark Dayton has already selected Lt. Governor Tina Smith to replace Franken once he does step down. If he reneges on his retirement announcement, Franken would be seen by many as blocking a woman from taking a seat in the Senate while he remains under an ethical cloud for mistreatment of women, hardly good optics for a Senator who stands accused of multiple incidents of sexual harassment. Given all of this, I don't expect Franken will reconsider his resignation decision at this point.