Manchin Shoots BBB Dead, Dead, Dead
The West Virginia Senator has taken the football from Charlie Brown and gone home.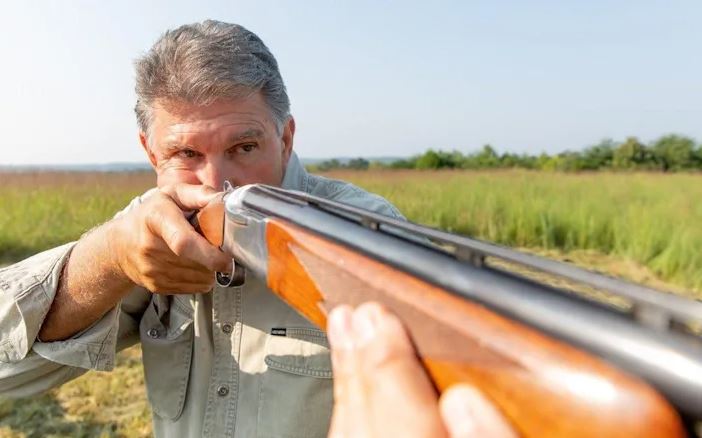 As anyone reading this knows by now, Senator Joe Manchin has finally declared that he will not support the Build Back Better bill, angering President Biden and the rest of the Democratic leadership.
WaPo ("Manchin says he 'cannot vote' for Democrats' $2 trillion spending package, drawing sharp White House rebuke"):
Sen. Joe Manchin III (D-W.Va.) on Sunday said he could not support Democrats' roughly $2 trillion bill to overhaul the country's health care, education, climate, immigration and tax laws, dealing a potentially insurmountable political blow to the final piece of President Biden's economic agenda.

The statement of opposition was the most forceful condemnation yet from the moderate Democratic holdout, who cited rising consumer prices, a growing federal debt and the arrival of a new coronavirus variant as reasons he could not supply his must-have vote.

Democrats across the Capitol quickly blasted Manchin, arguing that he had failed to negotiate in good faith, especially since Biden had painstakingly scaled back his original ambitions to win the senator's support. Illustrating its fury, the White House publicly attacked Manchin in an unusually personal statement, alleging he had misled the president in their private talks.

The political collision ultimately amounted to a death knell for the long-stalled proposal, at least in its current form. It also threatened to carry immediate economic consequences, since lawmakers had hoped as part of the proposal to extend a soon-expiring federal program that provides payments to more than 35 million American families with children.

The chain of events began early in the day, when Manchin appeared on "Fox News Sunday" and outlined his opposition to the proposal known as the Build Back Better Act, which borrows its name from Biden's own 2020 campaign pledge.

"I can't move forward. I cannot vote to continue with this piece of legislation, I just can't," he said.

"I tried everything possible," Manchin added. "I can't get there. … This is a no."
He did offer hope that he would support pieces of the bill:
In a separate statement, issued later Sunday, Manchin signaled that he still could continue negotiating with Biden and other top Democrats on a scaled-back version of the bill. But the senator otherwise said he could not "vote to move forward with this mammoth piece of legislation." He said the effort would "dramatically reshape our society in a way that leaves our country even more vulnerable to the threats we face," explaining that the country's rising debt would complicate its ability to respond to "geopolitical uncertainty."
This was all too much for the White House, which put out a blistering statement essentially calling Manchin a liar.
"Senator Manchin's comments this morning on FOX are at odds with his discussions this week with the President, with White House staff, and with his own public utterances," press secretary Jen Psaki said in a statement.

Coming from a White House that prides itself on collegiality, pragmatism and a we-can-work-it-out attitude, the statement was a remarkable rebuke of one of their own. It was similar in tone and substance to the fury directed at Manchin by House liberals, who worried aloud for months that Manchin couldn't be trusted.

On Sunday, Rep. Pramila Jayapal (D-Wash.), chair of the Congressional Progressive Caucus, accused Manchin of betraying the party: "He routinely touts that he is a man of his word, but he can no longer say that."

President Biden and his aides had studiously avoided that kind of rhetoric until now. If negotiations between Biden and Manchin were crumbling earlier this week, you wouldn't have known it on Wednesday when reporters asked the president what kind of progress he had made on Build Back Better. "Some," he replied.

In Sunday's White House statement on Manchin, Psaki shared behind-the-scenes details about negotiations, presumably to demonstrate just how close the White House thought it was to reaching a deal with him.

The legislation passed the House last month and the party was waiting on Manchin to sign off on a version of it so it could pass the Senate, too, with just Democratic votes.

"On Tuesday of this week, Senator Manchin came to the White House and submitted — to the President, in person, directly — a written outline for a Build Back Better bill that was the same size and scope as the President's framework, and covered many of the same priorities," Psaki said. "While that framework was missing key priorities, we believed it could lead to a compromise acceptable to all. Senator Manchin promised to continue conversations in the days ahead, and to work with us to reach that common ground. If his comments on FOX and written statement indicate an end to that effort, they represent a sudden and inexplicable reversal in his position, and a breach of his commitments to the President and the Senator's colleagues in the House and Senate."
And, indeed, his statement seemed to be a sudden turnabout from his public posturing.
Psaki is right that, at least publicly, Manchin sounded much more optimistic about the possibility of reaching a deal, perhaps before Christmas. As he left the White House on Monday for yet another meeting on the subject, Manchin told reporters: "Anything's possible here. I'm engaged. We're engaged."

Congress went home for the holidays, but Democrats were optimistic they would get a vote next month. Counseled by Biden, liberal Democrats had lowered their wish list by trillions of dollars, tossed a marquee climate program and were even willing to set aside paid family leave, all to get Manchin (and, to a lesser degree, Democratic Sen. Kyrsten Sinema of Arizona) to support it. "It was entirely rewritten to meet his demands. This is his bill more than anyone else's," a House Democratic aide said on Twitter.
In an analysis piece, WaPo's Sean Sullivan and Seung Min Kim describe "From charm offensive to scorched earth: How Biden's fragile alliance with Manchin unraveled."
WILMINGTON, Del. — As Democrats feuded over the size and scope of their sweeping social spending proposal this fall, President Biden invited Sen. Joe Manchin III (D-W.Va) to his home here for breakfast and a personal tour of the property he built.

The October visit, according to a Democrat familiar with the day's events, was part of a personal charm offensive by Biden to finally win over the man widely seen as the main obstacle to once-in-a-generation legislation to curtail climate change, and expand health care and education benefits, among other longtime priorities.

On Sunday, the charm offensive turned to scorched earth.

Hours after Manchin abruptly delivered what many saw as a potentially fatal blow to one of the centerpieces of Biden's agenda with his declaration that he "just can't" support it, White House press secretary Jen Psaki unleashed a blistering 712-word written statement accusing him of making a "sudden and inexplicable reversal in his position" and calling his comments a "breach of his commitments" to Biden and Democratic lawmakers, if he has decided to end negotiations.

The remarkable exchange reflected an abrupt turnabout between the two men, who had spent the first year of Biden's presidency engaging in a delicate yet largely cordial alliance as the conservative Democratic senator wielded decisive power in the 50-50 Senate.

While some White House officials suggested Biden could still work with Manchin, it was unclear late Sunday whether that alliance could be repaired, or if the sour feelings would impact other issues where Manchin plays a central role.

[…]

Manchin's decision to publicly oppose the spending plan came after a week of conversations with the White House, which included at least two personal phone calls between the president and the senator, as well as several follow-ups with White House aides.

On Tuesday, Manchin "came to the White House and submitted — to the President, in person, directly — a written outline" for a bill, according to Psaki's statement Sunday, "that was the same size and scope as the President's framework, and covered many of the same priorities. While that framework was missing key priorities, we believed it could lead to a compromise acceptable to all."

Two days later, Manchin huddled on the Senate floor for long conversations with Sens. Michael F. Bennet (D-Colo.), Cory Booker (D-N.J.) and Kirsten Gillibrand (D-N.Y.), who had each advocated for major programs that had been included in the version of the bill passed weeks ago by the House and that were at risk by Manchin's opposition.

But 24 hours later, the White House had made clear the bill would not be happening in 2021, and Manchin was no longer having lengthy floor conversations with Democrats. He instead turned his attention to Republicans, whom he is trying to sell on potential changes to Senate rules.

Manchin made up his mind only in the past day or two, according to a person familiar with the situation, concluding he had exhausted all negotiating options with the White House.

The senator also did not seem pleased with a written statement from Biden on Thursday evening that effectively pushed the negotiations into next year, which had referenced Manchin multiple times.

Manchin delivered the news on Fox News Sunday. He then issued a written statement citing concerns about the costs of the bill, its climate provisions, its impact on the deficit and the risks of enacting it amid rising inflation. Manchin also offered a sharp critique of his party's governing philosophy, stating, "My Democratic colleagues in Washington are determined to dramatically reshape our society in a way that leaves our country even more vulnerable to the threats we face."
Similarly, CNN's Kevin Liptak, Phil Mattingly and Kaitlan Collins examine "How months of talks between Biden and Manchin over Build Back Better broke down."
Manchin's move astonished and infuriated the President and his top advisers, people familiar with their reaction said, after having spent the past 12 months in talks with the senator — in Delaware, at the White House, on the phone and even aboard Manchin's houseboat. In an equally surprising step, the White House torched Manchin afterward in a statement bristling with resentment that shattered the amity Biden had sought to cultivate.

Biden personally signed off on the blistering statement issued by press secretary Jen Psaki after Manchin's announcement on Fox News, according to a source familiar with the matter. While staff drafted language addressing Manchin's specific concerns — on inflation, climate provisions and how the plan was paid for — Biden specifically instructed them to add that if Manchin stood by his comments, he had violated his word to the President.
The President learned his chief negotiating partner was pulling the plug from White House aides, who did not hear the news directly from the senator but from a member of his staff roughly 30 minutes before he went on air.

As of Sunday night, the two still had not spoken, according to a senior administration official.

It was a sudden end to a promising run of dealmaking that stretched back weeks. Four days before Biden was set to depart for high-stakes summits in Europe this fall, he did something he had never done before as president and hasn't done since: turn his home in Delaware into a venue for dealmaking.

With his entire domestic agenda teetering on the edge, Biden found himself that overcast Sunday morning haggling over breakfast and coffee with Manchin.

The men slogged through a discussion of top-line numbers and nitty-gritty details of a package Biden once hoped would define his early presidency. At one point, the President even walked the senator through his lakefront house to show him around.

The talks did not yield any major announcements at the time. But in Wilmington, Manchin did agree privately to one thing, according to the White House: he would support a framework of Biden's sweeping social and climate plan, and work over the next months to finalize the details.

Eight Sundays later, it was over.

Despite conversations last week that sent clear warning signs of Manchin's concerns, White House officials firmly believed they'd at least have the opportunity in the coming weeks to try and address Manchin's concerns and ideas."

It obviously wasn't going to be easy, but there was real policy work underway to see what we could bring to the table" to try and mollify Manchin, one official said Sunday.

Only five days earlier, Manchin had paid a secret visit to the White House to hand deliver a new framework proposal to Biden that had fueled at least some internal optimism that an agreement was possible. White House officials viewed it as a non-starter in its entirety, but believed it provided a potential map for how to thread the policy needle to meet Manchin's red lines.
It's still not clear to me whether Manchin was ever committed to getting a deal done, so long as it was on his terms, or if he was just jerking the President and his party leadership around. Regardless, this seems personal: Biden feels like he went above and beyond in meeting Manchin's demands and was betrayed. And Manchin seems to think that he's being bullied into supporting policies that simply won't fly with his West Virginia constituency (even if they'd likely benefit from them). And, even though he's very much brought it upon himself, he seems to resent being made the villain in the piece.
Shortly after the news broke yesterday, Megan McArdle tweeted, "Probably naive but I continue to not understand why Biden didn't just sit Manchin and Sinema down in a room, figure out what they could both live with, and make that the bill."
To which I replied, "I think Manchin and Sinema are both moving targets more interested in getting news coverage than passing a bill."
She retorted, "Manchin has made his list of demands pretty clear from the beginning, no?"
And I responded, "They seem to be constantly shifting. But it may just be the way they're playing out in the news coverage."
As best I can tell from my decidedly outside-the-room vantage point, Manchin has been pretty consistent on the need for the bill to be much smaller than its original size and for it to be "paid for" without gimmicks. It seems that he got most of what he asked for on the former and not so much on the latter.
But, even within that framework, Manchin hasn't been terribly consistent, at least in his public posturing. More than a month ago, WaPo video editor JM Rieger outlined "Joe Manchin's moving target on Biden's spending bills."
Unlike Sen. Kyrsten Sinema (D-Ariz.), whose position on Biden's reconciliation spending plan has remained unclear because of her lack of public statements, Manchin's position on the plan has often seemed like a moving target because of his public statements.

Over the past 10 months, Manchin has suggested that he could support 10-year infrastructure spending plans ranging from $1 trillion to $4 trillion and has given conflicting signals on whether he could support deficit spending to fund them.

Before Biden's social spending program was unveiled, Manchin told CNN on Jan. 10 that Democrats should look at spending $2 trillion or $3 trillion on infrastructure. Nine days later, Manchin told a West Virginia television station that he could support "$2, $3, $4 trillion over a 10-year period on infrastructure."

Democrats have now spent $1.2 trillion on a bipartisan infrastructure plan that the House signed off on last week, while still pursuing a separate spending bill, under the reconciliation process.

On June 27, Manchin told ABC News that he would be willing to spend up to $2 trillion on Biden's reconciliation plan, as long as it did not add to the national debt. On July 1, he told Fox News that he would never support $4 trillion to 6 trillion in new spending.

Fourteen days after Democrats unveiled their $3.5 trillion reconciliation package, Manchin privately set a top line of $1.5 trillion for the plan with Senate Majority Leader Charles E. Schumer (D-N.Y.). But days later, Manchin did not immediately shoot down the $3.5 trillion top line.

"Well, they're saying it's all paid for," Manchin told CBS News on Aug. 1 when asked about the $3.5 trillion proposal. "Now, if it's all paid for, you look at it in a different light, okay? There's a lot of great things in there."

By Sept. 12, Manchin said that he was a "hard no" on the $3.5 trillion proposal and that Democrats would use "some dynamic scoring" on the reconciliation plan, "but let's be responsible and reasonable about it."

(Republicans and Democrats used dynamic scoring in their budget projections for the bipartisan infrastructure plan, and Democrats previously criticized Republicans for using dynamic scoring to claim that the 2017 tax cuts would not add to the deficit.)

On Sept. 30, Manchin reiterated his top line of $1.5 trillion, before confirming Oct. 28 that Democrats had increased the top line to $1.75 trillion.

Manchin's office declined to comment on his shifting numbers, but there are some valid reasons for the numbers changing. Since March, Biden has spent more than $3 trillion on coronavirus and infrastructure legislation, which is roughly consistent with Manchin's calls in January to spend between $2 trillion and $4 trillion on infrastructure — depending on whether the coronavirus bill would be considered infrastructure. Whether Manchin will ultimately support Democrats' latest proposal remains to be seen.

Three days after confirming that Democrats negotiated a top line of $1.75 trillion, Manchin appeared to suggest that was not necessarily his top-line number, after all.

"As more of the real details outlined in the basic framework are released, what I see are shell games, budget gimmicks that make the real cost of the so-called $1.75 trillion dollar bill estimated to be almost twice that amount if the full time is run out, if you extended it permanently, and that we haven't even spoken about," Manchin said Nov. 1. "This is a recipe for economic crisis."
Several people jumped into the above-mentioned conversation with McArdle to chide me for questioning Manchin's motives, informing me that Manchin represented a conservative state where polls show overwhelming opposition to the bill in question. Which, shockingly, was not news to me.
As I've written numerous times over the last several months, I don't have any objection to Manchin voting his conscience or his interests on the bill. If he can't support the bill, that's his prerogative. Similarly, he has all the leverage here and I have no objection to his using it.
Hell, I'd go further than Megan and say that I'd be perfectly fine with Manchin and Sinema writing a bill together and presenting it to the Democratic leadership as a take it or leave it proposition. That's politics.
What I do object to is dishonesty. If he pledged to the President that he would support the bill at the level that the Senate version has gotten to, to suddenly renege on the basis that the number is suddenly too large, that's simply bad faith. He's allowed Biden to spend a significant amount of his time and political capital working on a bill that was never going to pass. That's simply dishonorable.
Alternatively, though, Manchin might simply be wishy-washy.
Karen Tumulty points to Manchin's declaration that "I have always said, 'If I can't go back home and explain it, I can't vote for it.'" It's not inconceivable that he never quite figured out what a bill that he could vote for looked like and finally decided that it simply wouldn't emerge from the process. If so, his long indecision has almost certainly permanently damaged his relationship with Biden and others in his party.
UPDATE: Alan Cole throws in with the Manchin has been consistent crowd.
Manchin has had a concrete position on the bill's structure for quite some time⁠—that its revenues should run concurrently with its spending. That position has simply been ignored by Democratic leadership, who have pushed a bill that is extraordinarily front-loaded and laden with expiring programs.

This is a well-known budget trick I call the frontload gambit. The idea: if you set up a bunch of expiring provisions and use up your budget space as fast as possible, you can hope for them to be extended by a future Congress.

At the behest of House progressives, the current version of the Build Back Better bill this budgeting trick aggressively. Expansions to the child tax credit end after one year, improvements to the Affordable Care Act after four years, and subsidies for childcare after six.

The problem is that this trick isn't particularly subtle. Anyone who doesn't notice it is deliberately choosing not to notice it. But Manchin cares about it, and he sees it right there in the CBO score.

The plan, as written, increases deficits in early years, and pays for them only after programs at least nominally expire. This is, in fact, the very outcome that deficit hawks dislike: you run up deficits, and then you have to pay for it later. If you write this into your bill, you haven't addressed their concerns⁠—if anything, you've made the outcome they dislike explicit.

For their part, progressives aren't really trying to hide their true motives. Indeed, many acknowledge that it would be disastrous to start a new preschool or day care program and then shut it down a few years later. They are gambling that these programs will prove popular enough that Congress will extend them before their scheduled expiration date.

[…]

There are plenty of reasons to be peeved with Manchin. His skepticism of the transition to clean energy seems retrograde, and his long-run debt concerns are overrated. But on this point, he obviously has the better end of the argument.
Interestingly, Cole thinks BBB is only mostly dead, like Westley in The Princess Bride, rather than all dead, like Monty Python's parrot.