Elizabeth Warren's 'Medicare For All' Plan Is Utopian And Probably Unconstitutional
Senator Elizabeth Warren released a more detailed version of her 'Medicare For All" plan late last week. It leaves much to be desired.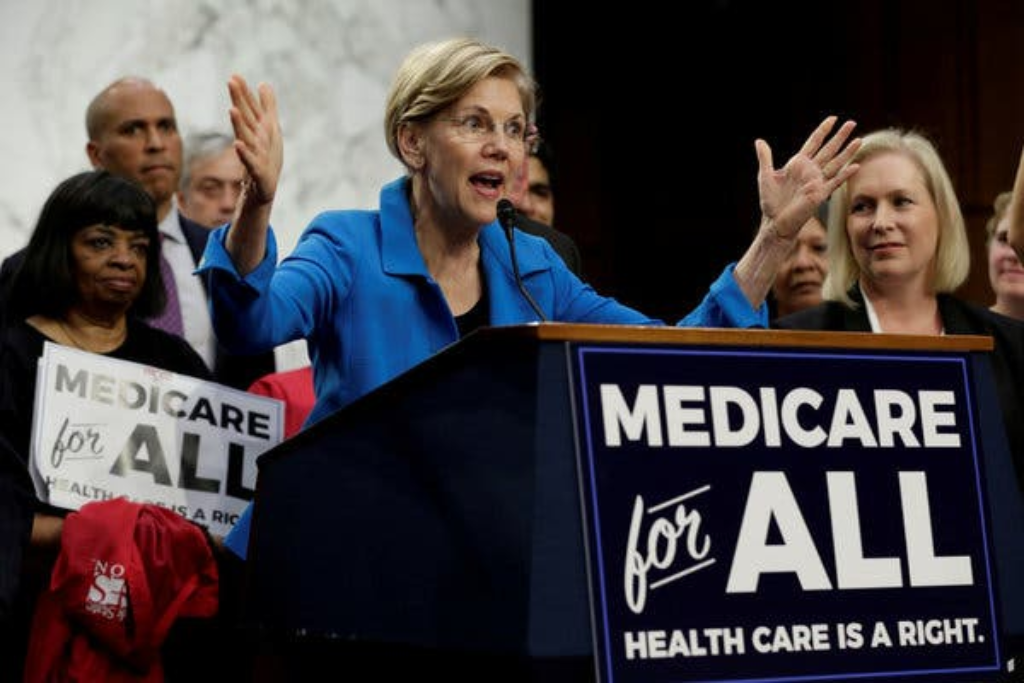 Senator and Presidential candidate Elizabeth Warren put forward a much more detailed version of her "Medicare For All" plan late last week, and it has proven to be so unrealistic that even many of her fellow Democrats are criticizing it:
WASHINGTON — Senator Elizabeth Warren on Friday revealed her plan to pay for an expansive transformation of the nation's health care system, proposing huge tax increases on businesses and wealthy Americans to help cover $20.5 trillion in new federal spending.

The plan represents a significant bet that enough voters will favor an approach that dismantles the current system and replaces it with "Medicare for all," a government-run health insurance program. And it comes after decades in which Democrats have largely tiptoed around policy proposals that relied on major tax increases and Republicans ran on tax cuts.

While the proposal allows Ms. Warren to say she is not raising taxes on the middle class, it opened her to renewed charges that her plan is too radical to pass through Congress. It represents an extraordinary embrace of the tax system to redistribute wealth and re-engineer one of the pillars of the American economy, with measures that would double her proposed wealth tax on billionaires and impose new levies on investment gains and even stock trades.

"This debate has moved so far and so fast within the Democratic Party, it makes your head spin," said Larry Levitt, the executive vice president for health policy at the Kaiser Family Foundation. "Ideas that used to be political third rails are now being proposed by one of the leading candidates for president."

(…)

Under Ms. Warren's plan, private health insurance — which now covers most of the population — would be eliminated and replaced by free government health coverage for all Americans. That is a fundamental shift from a market-driven system that has defined health care in the United States for decades but produced vast inequities in quality, service and cost.

Ms. Warren would pay for the new federal spending, $20.5 trillion over 10 years, through a mix of sources, including:

Requiring employers to pay the government a similar amount to what they are currently spending on their employees' health care, totaling $8.8 trillion over a decade.

Changing how investment gains are taxed for the top 1 percent of households, raising $2 trillion, and ramping up her signature wealth tax proposal to be steeper on billionaires, raising another $1 trillion.

Creating a tax on financial transactions like stock trades, bringing in $800 billion.

Beyond the $20.5 trillion total, she is also counting on states and local governments to contribute an additional $6.1 trillion to help pay for the system.

Like Mr. Sanders, Ms. Warren would essentially eliminate medical costs for individuals, including premiums, deductibles and other out-of-pocket expenses. But it is not clear if her plan would cover the costs of free health care for everyone. It relies on ambitious assumptions about how much it can lower payments to hospitals, doctors and pharmaceutical companies, and how cheaply such a large system could be run.

Several economists have said providing free health care would cost trillions more over a decade.

"We made different assumptions, because we didn't think these kinds of assumptions were realistic," said Linda Blumberg, a health economist at the Urban Institute, whose detailed assessment of Medicare for all found it would require $34 trillion in added federal spending.
This isn't the first introduction of Warren's health care insurance plan, of course, but it is the first to detail in any respect at all how she would pay for the plan. As pretty much everyone expected, that part of the plan involves higher taxes:
Ms. Warren's proposal shows just how large a reorganization of spending Medicare for all represents. By eliminating private health insurance and bringing every American into a federal system, trillions of dollars of spending by households, employers and state governments would be transferred into the federal budget over the course of a decade.

Ms. Warren tries to minimize fiscal disruption by asking the big payers in the current system to keep paying. Her tax on employers is meant to replace the amount that companies now pay directly to health insurers. (Small businesses would be exempt if they are not currently paying for their employees' health care.) She has also proposed that states pay the federal government what they currently spend to cover state workers and low-income residents under the Medicaid program.

But to help replace an estimated $11 trillion in health care spending that would be borne by American households over a decade — on premiums, deductibles and other out-of-pocket costs — Ms. Warren lays out a series of new taxes on corporations and wealthy people.

She would raise $3 trillion in total from two proposals to tax the richest Americans. She has previously said that her wealth tax proposal would impose a 3 percent annual tax on net worth over $1 billion; she would now raise that to 6 percent. For the top 1 percent of households, she would tax investment gains annually instead of when the investments are sold.

Ms. Warren is also counting on stronger tax enforcement to bring in more than $2 trillion in taxes that would otherwise go uncollected, as well as $800 billion in cuts to military spending. And she is banking on passing an overhaul of immigration laws — which itself would be a huge political feat — and gaining revenue from additional taxes paid by immigrants.
With all of this, Warren is insisting that she will not be required to raise taxes on the middle class notwithstanding the fact that it is questionable at best that her tax plan would be sufficient to pay for the increased costs that would be incurred by the Federal Government. For example, her estimate that she could increase Federal tax revenues by as much as $2 trillion dollars simply by being more aggressive in tax enforcement seems dubious at best. One reason for this is that many of the people who owe taxes to the Federal Government are already in a financial hole and, as the saying goes, you can't get blood from a stone. Additionally, such increased enforcement would require hiring more IRS employees and giving them more power, neither of which are politically popular regardless of who the President might be. Additionally, her proposal to tax the wealth, as opposed to the income, of the richest Americans is, to put it mildly of dubious Constitutional merit and would likely face a long court battle.
Specifically, Warren's tax plan suffers from the following Constitutional defects:
If a hypothetical President Warren ends up at the losing end of the court battle, then a significant part of her revenue stream will disappear into thin air. Finally, her attempt to get more than $6 trillion into Federal coffers by getting money from the states carries with it Constitutional and practical concerns and raises the prospect that even many of her fellow Democrats on Capitol Hill and in Governor's Mansions and state legislatures would oppose the plan. Additionally, such a demand would cause significant fiscal problems for the states that would reverberate across the country and, most likely, cause the biggest problems for blue states such as New York and California
Moreover, as Megan McArdle notes, Warren's math simply doesn't add up":
To wit: Warren says she can deliver a generous Medicare-for-all plan with only $20.5 trillion in additional federal spending. That's a quarter to a third less than any serious estimate of the plan from outside her campaign. How will she get there? Why, by slashing administrative costs and then mandating that everything else cost less. Warren is not exactly the first progressive reformer to have this same idea, and if she pushes forward with it, she will be but the next in a long line to discover that she can't make it work, politically or economically. As Philip Klein of the Washington Examiner dryly noted, Warren could just as well have written that Mexico was going to pay for her big, beautiful plan.

Warren's revenue ideas are, if anything, even more exquisitely incredible. Take her proposed wealth taxes — no, not the 3 percent ultra-millionaire wealth tax she has already pledged for other things, but an entirely new 3 percent tax on all wealth over $1 billion. The tax would, Warren says, raise $1 trillion over 10 years.

On another, more important level, the idea is ludicrous in terms of the tax code and basic common sense. After adding in the ultra-millionaire's tax and factoring in the other capital taxes Warren wants to levy — on financial transactions, on unrealized capital gains, on corporations — we'd be asking every billionaire to hand over more than two-thirds of their total wealth over a 10-year period. If the government actually managed to collect it, their fortunes would rapidly erode — and so would tax collections. The plan might be a good way to smash wealth, but it's a terrible way to fund the nation's health-care system.
This, of course, is the problem with all of Warren's plans, of course. Whether it's health care, or student loans, or whatever else you might point to. When it comes down to asking how she'd pay for it, it inevitably comes down to taking more and more out of what she calls the "ultra-wealthy." This will end in only two ways, either she'll get to the point where she can't get any more significant revenue from the so-called rich or she will create more and more incentives for these people to station their wealth outside the country in ways that would make it exempt from her new taxes. The end result? Either a hypothetical President Warren would be forced to admit that her promise of no new taxes on the middle class is a lie or she'd have to retool the entire plan.
As McArdle goes on to note, the saving grace of Warren revealing the details of her plan now is that even if she did become President it would effectively be dead in the water:
The best you can say for all of this is that none of it will happen. If Warren makes it to the White House, and tries to pass a plan, the Congressional Budget Office will eventually attach more reasonable numbers, with more defensible assumptions, sparking an even more spectacular political blowback than the one that greeted Friday's announcement. Outside of the progressive Twitterati, there isn't necessarily an enormous constituency for spending $20.5 trillion to herd every American into a national health insurance program; there would be even less support for spending what Warren's plan would actually cost.
This, in the end, is what makes Warren's plan the most unrealistic. For all her claims to "have a plan for that," Warren has yet to explain how she'd get all of this through Congress. First of all, as McArdles notes one of the first things that would happen after such a plan is introduced is that it would face scrutiny from the Congressional Budget Office, which will most likely work from far more realistic economic and taxation assumptions than Waren is working from. This is what happened to early versions of the Affordable Care Act, of course, and it led to major revisions to the plan to address the questions raised by those initial CBO scores. Second, it assumes that Warren could keep her own party united behind such a radical change to both health care, tax law, and the relationship between the Federal Government and the states. Third, it assumes that Democrats will gain control of the Senate and ignores the reality of the legislative filibuster which, despite the urging of progressives, is not going anywhere. Finally, it fails to even recognize that it would be competing for revenue with all of Warren's other ambitious "plans."
Taking all of that into consideration, it seems clear that, much like her other plans, Warren"s "Medicare For All" plan is unrealistic, probably unconstitutional in at least its taxation ideas, and politically impossible to pass into law.
Other than…….