Debt Deal Winners and Losers
Now that America's political leadership have probably averted a self-inflicted global economic calamity, it's time to assess the winners and losers.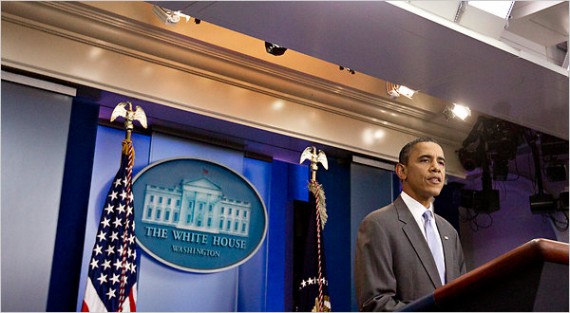 Now that America's political leadership have probably averted a self-inflicted global economic calamity, it's time to assess the winners and losers.
NYT ("Obama and Leaders Reach Debt Deal") provides the outlines of the deal:
The tentative agreement calls for at least $2.4 trillion in spending cuts over 10 years, a new Congressional committee to recommend a deficit-reduction proposal by Thanksgiving, and a two-step increase in the debt ceiling.

The announcement concluded a tumultuous 24 hours that saw hopes rise Saturday night over the prospect of a deal that might have concluded the budget stalemate. By Sunday, worry set in again as lawmakers and White House officials struggled to hammer out the fine points of an agreement that must clear a Senate controlled by Democrats as well as the Republican House.

If the deal is approved, establishing a special joint committee to explore deficit reduction, it will ensure that the size and scope of the federal government and the tension between spending and taxes will remain front and center in the Washington debate headed into the 2012 election.

[…]

On the conference call, Mr. Boehner sought to portray the new agreement as one heavily tilted toward the Republican call for no new revenue, and he said it met the goal of instituting cuts greater than the amount of the debt limit increase. In a presentation, he said the pact would prevent a "job-killing default" — a warning to lawmakers that failure to raise the limit could add to the bleak employment picture.

"Our framework is now on the table that will end this crisis in a manner that meets our principles of smaller government," said Mr. Boehner, who said he hoped to get the legislation onto the House floor as quickly as possible. Participants on the call, which lasted about an hour, said that the tone was cordial and that lawmakers expressed less resistance than had been anticipated.

At the same time, Representative Nancy Pelosi of California, the former speaker and current Democratic leader, was noncommittal about the plan, suggesting that Democrats might not rally behind it. "I look forward to reviewing the legislation with my caucus to see what level of support we can provide," she said in a written statement.

[…]

The plan that ultimately won the support of Congressional leaders was described by officials briefed on its outline. They said the debt limit would be increased by $900 billion in the first installment, subject to a Congressional vote of disapproval that Mr. Obama would be able to veto. To prevent a default, $400 billion would be added immediately. A second increase of $1.2 trillion to $1.5 trillion would be available subject to a second vote of disapproval by Congress. At the same time, a new joint Congressional committee would be created to find cuts roughly matching the increase in the debt limit.

If the evenly divided committee failed to agree on a plan, Congress would either have to approve a balanced budget agreement to the Constitution or accept an across-the-board cut in spending in line with the committee's goal, with 50 percent of the savings coming from the Pentagon beginning in 2013. Medicare would also sustain cuts, though the reductions would be capped; Social Security and other programs would be exempt.

The rationale for picking favored programs like the Pentagon for Republicans and Medicare for Democrats was to provide a strong incentive for the new committee to avoid a deadlock and deliver a deficit reduction plan that could clear Congress.
So, both McConnell and Boehner got their gimmicks–the ability for Republicans to vote against a debt increase but allow Obama to do it and take the political heat and a meaningless vote on a balanced budget amendment, respectively–and the agreed to restructuring is exclusively on the spending side. Presumably, though, the new joint committee could push through tax increases later if they could somehow find the votes.
More than anything, though, it seems to set up more fights just in time for the 2012 elections. TPM's Brian Beutler:
Democrats say they're confident that the enforcement mechanism is robust enough to convince Democrats and Republicans to deal fairly on the committee — to come up with a somewhat balanced package of entitlement reforms and tax increases. However, the White House assures them that if the committee fails to produce "tax reform" he will veto any attempt to extend the Bush tax cuts, which expire at the end of next year.

Unclear, though, is what happens if the committee does agree on tax reform, but in a way that produces insubstantial revenue. If such a plan passes Congress, Obama would be hard pressed to veto it, even if it took the expiration of the Bush tax cuts out of the equation.
At the end of the day, it will be the same Congress making these decisions. If Obama didn't have the votes to kill the Bush tax cuts before the 2010 elections radically changed the balance in favor of the Republicans, where will he find it now? And, really, he's going to veto the plan and force massive defense and entitlement cuts right before the election?
WaPo's Greg Sargent titles his post "GOP on verge of huge, unprecedented political victory."
Anything can happen, but it apppears the GOP is on the verge of pulling off a political victory that may be unprecedented in American history. Republicans may succeed in using the threat of a potential outcome that they themselves acknowledged would lead to national catastrophe as leverage to extract enormous concessions from Democrats, without giving up anything of any significance in return.

Not only that, but Republicans — in perhaps the most remarkable example of political up-is-downism in recent memory — cast their willingness to dangle the threat of national crisis as a brave and heroic effort they'd undertaken on behalf of the national interest. Only the threat of national crisis could force the immediate spending cuts supposedly necessary to prevent a far more epic crisis later.

[…]

Again and again, Dems drew lines in the sand that they promptly erased as the threat of default grew. A clean debt ceiling hike? Dropped. Cuts to Medicare benefits? They'll likely be in that committee's crosshairs. The insistence on revenue hikes? Withdrawn.

What make this all the more remarkable is that throughout this process, Republicans themselves conceded not just that a debt ceiling hike would be disastrous for America, but also that it was inevitable. Yet they were still able use the threat of default as leverage. How?

The simple answer: Dems weren't prepared to allow default — no matter what. Republicans, by contrast, treated the debt ceiling hike as a necessity, but one that had to happen on their terms. In a remarkable act of political cynicism, they recast the debt ceiling hike itself as a GOP concession — even though they had already agreed it had to happen to avert an epic national crisis. And Dems made this possible by accepting the dynamics of the situation as Republicans defined it. Whether there was another alternative for Dems is another question.
TNR's Jonathan Cohn ("Go Ahead and Scream") is only slightly more upbeat:
The debate played out as a microcosm of the debt ceiling debate as a whole: Republicans threatened to torpedo the whole deal if the trigger included new revenue, so Obama retreated. It appears he's agreed to substitute automatic defense cuts for automatic revenue increases.

The problem is that, these days, plenty of Republicans support cuts in defense spending. Or, at the very least, they don't find them as objectionable as they once did, notwithstanding the best efforts of defense contractor lobbyists. That would increase their leverage in the committee negotiations, making it more likely that the end result is substantial cuts to entitlements. (The media seems to be missing this point completely, at least based on what I'm reading and seeing right now.)
He holds out some hope that, since Democratic votes will be needed to get this passed, some last-minute concessions can be exacted. But he doesn't believe that any more than I do.
WaPo's Chris Cillizza hands out his "debt-ceiling deal winners and losers" awards. It bears some resemblance to the Special Olympics.
Winners

Mitch McConnell: The Kentucky Republican was like the Mariano Rivera of the debt deal. He waited until the game was in its final moments, came onto the field and helped close things down (in a good way). McConnell was also a voice of reason and frankness for Republicans, making clear that default would be a huge political loser for the party. In the end, he got a deal the way he wanted one — with him at the center of negotiations.

Tea party: There were major questions coming into the 112th Congress about who would blink first — the largely establishment-aligned leaders of the new Republican House majority or the tea-party-aligned freshman members. We got our answer to that question late Thursday as House Speaker John Boehner was forced not only to postpone his compromise bill but ultimately to add conservative sweeteners to get the 217 votes he needed. (He got 218.) The tea party — inside and outside Congress — will almost certainly be emboldened by the result of this fight.

President Obama: The president needed a deal of some sort to prove that he was capable of making the government work — even if it took until the eleventh (and a half) hour to strike the compromise. Liberals are likely to be deeply unhappy about the nature of the deal, which includes no increases in taxes or revenue. But remember that Obama's target constituency in 2012 is not his base but rather independent and moderate voters. And those fence-sitters love compromise in almost any form.

Congressional Budget Office: The CBO is largely the redoubt of fiscal policy nerds — and we say that with the greatest respect. But for the past week of negotiations, the CBO was a central player — particularly when Boehner's proposal came in under its proposed savings. Now that a deal appears to be done, the CBO will return to its relative anonymity (until the next budget fight).

Grover Norquist: With no revenue increases in the final deal, Norquist, the head of Americans for Tax Reform, appears to have held the line. His pledge — signed by hundreds of House members — not to raise taxes or revenue remains intact, as does his reputation as a "do not cross" member of the GOP establishment.

David Wu : Has a member of Congress forced to resign amid a sex scandal ever drawn less media attention? Somewhere, Anthony Weiner is grimacing.

Losers

Congress: Coming into this debt-ceiling showdown, Congress was about as popular as poison ivy. One can only imagine just how much further that discontent has spread after this high-profile demonstration of brinkmanship and intransigence. Lawmakers — bless their hearts — seem entirely unaware of just how bad they looked during this fight and will almost certainly spend the next few weeks (or months) congratulating themselves on their tremendous magnanimity.

Gang of Six : The group was supposed to put lie to the idea that true bipartisanship — in which both sides give somewhat equally — was dead. But the gang was never able to deliver its plans, amid departures and re-arrivals (Sen. Tom Coburn of Oklahoma, we're looking at you). And after a brief renaissance late in the game when Obama praised the group, it faded again — eclipsed by plans pushed by leaders in both parties.

Commissions: It seems as though the answer to every in­trac­table problem in Washington is to form a commission. Social Security insolvency on the horizon? Commission! Education failing our kids? Commission(s)! (There have been at least four.) Heck, we have already had a commission to deal with the debt problem. The likely formation of a super-commission to figure out what can and should be cut out of the federal budget may not be doomed to failure, but it has a lot of bad commission history to overcome.

Liberals: As the basic framework of the deal emerged, liberals began voicing their discontent about a bargain that left their side wanting more. With no revenue in the initial phase of the legislation and Medicare cuts on the table in the second phase, there's not much for the ideological left to celebrate.
I fully agree on Mitch McConnell. While I find the "we have to raise the debt ceiling but we can't be seen voting for it" ploy a galling display of political cowardice, it turned out to be the key to saving the Tea Party members from themselves. I'm not sure, though, that the Tea Party will think that they've won here, since they didn't get 100 percent of what they wanted. Indeed, they're unlikely to vote for the bill in large numbers.
Cillizza is right across the board on the losers, though. Sensible, bipartisan legislation has had a long vacation and does not seem to be coming back in style any time soon.
Certainly, liberals are none too happy with the deal. In addition to Beutler, Sargent, and Cohn above most progressive bloggers think their team lost and blame Obama. The NYT titles its lead editorial "To Escape Chaos, a Terrible Deal."
There is little to like about the tentative agreement between Congressional leaders and the White House except that it happened at all. The deal would avert a catastrophic government default, immediately and probably through the end of 2012. The rest of it is a nearly complete capitulation to the hostage-taking demands of Republican extremists. It will hurt programs for the middle class and poor, and hinder an economic recovery.

It is not yet set in stone, and there may still be time to make it better. But in the end, most Democrats will have no choice but to swallow their fury, accept the deal and, we hope, fight harder the next time.

For weeks, ever since House Republicans said they would not raise the nation's debt ceiling without huge spending cuts, Democrats have held out for a few basic principles. There must be new tax revenues in the mix so that the wealthy bear a share of the burden and Medicare cannot be affected.

Those principles were discarded to get a deal that cuts about $2.5 trillion from the deficit over a decade.

[…]

Democratic negotiators decided that the automatic cut system, as bad as it is, was less of a threat to the economy than another default crisis, and many are counting on future Congresses to undo its arbitrary butchering.

Sadly, in a political environment laced with lunacy, that calculation is probably correct. Some Republicans in the House were inviting a default, hoping that an economic earthquake would shake Washington and the Obama administration beyond recognition. Democrats were right to fear the effects of a default and the impact of a new recession on all Americans.

President Obama could have been more adamant in dealing with Republicans, perhaps threatening to use constitutional powers to ignore the debt ceiling if Congress abrogated its responsibility to raise it. But this episode demonstrates the effectiveness of extortion. Reasonable people are forced to give in to those willing to endanger the national interest.

Democrats can look forward to the expiration of the Bush tax cuts next year, and will have to make the case in the 2012 elections for new lawmakers who will undo the damage.
Paul Krugman ("The President Surrenders") is even more animated:
A deal to raise the federal debt ceiling is in the works. If it goes through, many commentators will declare that disaster was avoided. But they will be wrong.

For the deal itself, given the available information, is a disaster, and not just for President Obama and his party. It will damage an already depressed economy; it will probably make America's long-run deficit problem worse, not better; and most important, by demonstrating that raw extortion works and carries no political cost, it will take America a long way down the road to banana-republic status.

Start with the economics. We currently have a deeply depressed economy. We will almost certainly continue to have a depressed economy all through next year. And we will probably have a depressed economy through 2013 as well, if not beyond.

The worst thing you can do in these circumstances is slash government spending, since that will depress the economy even further. Pay no attention to those who invoke the confidence fairy, claiming that tough action on the budget will reassure businesses and consumers, leading them to spend more. It doesn't work that way, a fact confirmed by many studies of the historical record.

Indeed, slashing spending while the economy is depressed won't even help the budget situation much, and might well make it worse. On one side, interest rates on federal borrowing are currently very low, so spending cuts now will do little to reduce future interest costs. On the other side, making the economy weaker now will also hurt its long-run prospects, which will in turn reduce future revenue. So those demanding spending cuts now are like medieval doctors who treated the sick by bleeding them, and thereby made them even sicker.

[…]

Make no mistake about it, what we're witnessing here is a catastrophe on multiple levels.

It is, of course, a political catastrophe for Democrats, who just a few weeks ago seemed to have Republicans on the run over their plan to dismantle Medicare; now Mr. Obama has thrown all that away. And the damage isn't over: there will be more choke points where Republicans can threaten to create a crisis unless the president surrenders, and they can now act with the confident expectation that he will.

In the long run, however, Democrats won't be the only losers. What Republicans have just gotten away with calls our whole system of government into question. After all, how can American democracy work if whichever party is most prepared to be ruthless, to threaten the nation's economic security, gets to dictate policy? And the answer is, maybe it can't.
There are some dissenters.
Ezra Klein says "Democrats will lose now. But they can win later."
It's difficult to see how it could have ended otherwise. Virtually no Democrats are willing to go past Aug. 2 without raising the debt ceiling. Plenty of Republicans are prepared to blow through the deadline. That's not a dynamic that lends itself to a deal. That's a dynamic that lends itself to a ransom.

But Democrats will have their turn. On Dec. 31, 2012, three weeks before the end of President Barack Obama's current term in office, the Bush tax cuts expire. Income tax rates will return to their Clinton-era levels. That amounts to a $3.6 trillion tax increase over 10 years, three or four times the $800 billion to $1.2 trillion in revenue increases that Obama and Speaker John Boehner were kicking around. And all Democrats need to do to secure that deal is…nothing.

This scenario is the inverse of the current debt-ceiling debate, in which inaction will lead to an outcome — a government default — that Democrats can't stomach and Republicans think they can. There is only one thing that could stand in the way of Democrats passing significant new revenues on the last day of 2012: the Obama administration.
Alas, Obama correctly sees the problem with that silver lining.
Republicans — and even some Democrats — think that the Obama administration lives to collect revenue. The truth is closer to the opposite. Senior administration aides view the expiration of the Bush tax cuts as less of an opportunity than a chore. About four-fifths of the cuts go to households making less than $250,000 a year, and they don't want to raise taxes on those folks. They don't like the politics of the issue, either. It's an article of faith among Democratic strategists that debates on taxes inevitably favor Republicans, allowing Democrats to be hammered from the right and undermined from the left. White House aides would rather focus on "win the future" issues like infrastructure, education and energy.
The Bush tax cuts were sold as stimulus and, with the economy likely to still be in the toilet come election season, Obama is going to be hard pressed to win a fight on raising taxes that he couldn't win early in his term.
Peter Wallsten and David Nakamura think there may be a pony hidden beneath the pile. They muse, "Did Obama capitulate — or is this a cagey move?"
[F]or a White House eager to improve its standing with centrist independents who have been fleeing Obama, even a losing deal can be a winning strategy.

Most important for the president, the agreement struck Sunday averted a government default — an outcome that probably would have hurt the U.S. economy and added to voters' frustrations with Obama's leadership. The deal also allows the president to avoid another politically painful fight over lifting the debt ceiling before the 2012 election, with Republicans giving up their insistence on a second vote before then.

And Obama, branded a socialist by many Republicans for his big-spending stimulus program and his health-care overhaul, can declare himself a deficit hawk as he courts the political middle. As he put it in remarks late Sunday praising the agreement, the result of his negotiations would be "the lowest level of annual domestic spending since Dwight Eisenhower was president." An administration official told reporters later that "it's important to show the American people we are serious about deficit reduction."

Even an apparent capitulation by Obama helps present him to voters as a reasonable compromiser doing battle against rigid ideologues, his aides say. "In the short term, everyone suffers politically," Obama campaign strategist David Axelrod said in a recent interview. "In the long term, I think the Republicans have done terrible damage to their brand. Because now they're thoroughly defined by their most strident voices."

Obama and his aides insisted Sunday that the president has not given up his fight on taxes. The creation in the agreement of a bipartisan committee that will recommend the bulk of the deficit reduction later this year gives the president more chances to apply public pressure for tax increases on the wealthy.
But they see the flaw in their own analysis:
The trouble for Obama is that presidents generally do not want to turn their reelection campaigns into crusades for higher taxes. Polling data may show voters siding with Obama on the details, but in general Democrats lose when Republicans paint them as tax-and-spend liberals — which explains why the White House was so eager to avoid another debt-ceiling vote.
More importantly:
Democratic pollster Mark Mellman said the ongoing debate over taxes and spending would take Democrats, and the president, away from addressing voters' larger concerns about how to create jobs and stimulate the economy. "Everyday Democrats aren't talking jobs is a less-than-optimal day for us," Mellman said.
I think that's right. Further, as Bob Dole and others have demonstrated, trying to talk about process on the campaign trail is a loser. Railing about how the Republicans were willing to risk default in order to force spending cuts may appeal to some policy wonks but, to ordinary voters, the fact that there was no default will be what matters. That, and the spending cuts.
Obama will, though, have the ability to argue that the automatic cuts triggered by the deal are going to be too painful and that the only fiscally responsible alternative is to raise taxes. That'll be a harder sell in November 2012 than down the road, though.
In the longer term, though, we could have a sea change. Republicans have now gone back to their traditional position and repudiated Dick Cheney's aphorism that "deficits don't matter." After thirty years of giving the American people low taxes and high spending–the ideal package–they're now going to have to either sell fiscal austerity, move away from the most doctrinaire version of the "no new taxes" ideal, or repudiate their newfound love of balanced budgets after just having engaged in brinksmanship to fight for it.