Return Of The Debt Kamikazes
They're back.......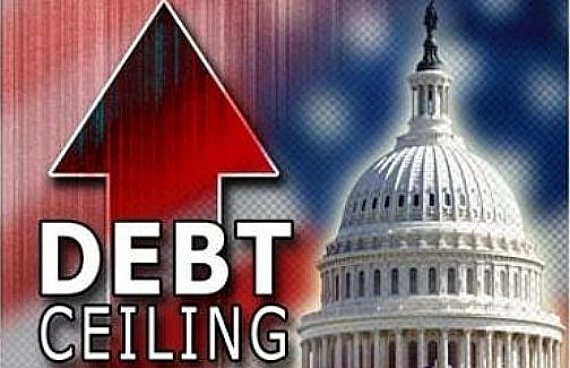 Back during the last time we went through a manufactured crisis over raising the debt ceiling, there was a sizable portion of the then-Freshman House GOP Caucus that questioned the very idea of whether or not we needed to raise the debt ceiling at all. Not surprisingly, most of the people taking this position publicly were either closely identified with the Tea Party or owed their elections in 2010 to support from the Tea Party movement. At some point during the controversy, someone gave these people the label "debt kamikaze" given the fact that they appeared to be entirely willing to let the Federal Government, and potentially the U.S. economy and world financial system, crash and burn to prove some kind of political point. At the time, I thought the label was quite appropriate and began using it on a regular basis. Based on this report from National Journal, it appears that it's time to dust it off and put it to good use again:
The White House is sounding alarms about the fast-approaching Oct. 17 deadline for raising the nation's borrowing limit. Failure to do so, President Obama and Treasury Secretary Jacob Lew have warned, could result in a first-ever default on America's debt and trigger global economic calamity.

But some Republicans in Congress aren't buying it.

Not only do some conservatives say Oct. 17 is an artificial deadline—"Nobody thinks we're going to default on Oct. 17th," said Rep. Tim Huelskamp, R-Kan.—but they also are attempting to narrowly define what would constitute default.

In interviews with more than a dozen GOP lawmakers, the Republicans rejected the notion that Washington could default on its debt unless a borrowing increase is approved before Oct. 17. For the United States to actually default, these Republicans argue, the Treasury Department would have to stop paying interest on its debts—something GOP lawmakers claim is inconceivable.

There's always revenue coming into the Treasury, certainly enough revenue to pay interest," said Rep. Justin Amash, R-Mich. "Democrats have a different definition of 'default' than what we understand it to be. What I hear from them is, 'If you're not paying everything on time that's a default.' And that's not the traditionally understood definition."

If this sounds familiar, it's because it has been Republicans' line of attack since their debt-ceiling battle with Obama in the summer of 2011.
These legislators aren't alone. Last week, Senator Rand Paul said that there was no need to raise the debt ceiling to prevent a default and Florida Congressman Ted Yoho said essentially the same thing. Perhaps the most surprising statement came today when Senator Tom Coburn, who has ordinarily been quite rational during the course of this years twin fiscal crises, joined the camp of those that dismissed the idea that default was a risk if the debt ceiling wasn't raised. Undoubtedly, there are plenty of other Republicans on Capitol Hill who feel the same way, and while some of them may just be saying this for public consumption (Coburn, for example, is someone I expect would vote for a "clean" debt ceiling hike if that became the only option), the fact remains that they are presenting the image of a party that seems largely unconcerned with an event that, by all accounts, could have serious implications for the economy going forward.
Part of what's going on here, of course, involves ignoring the fact that there are two different types of default that could happen if we breach the debt ceiling without raising it by October 17th.
The type of default that the media talks about the most, and indeed the most serious form, would be if the United States failed to make the payments on the interest due on its bond obligations or failed to have sufficient funds to pay off bondholders who wished to redeem their bonds when they reached maturity. According to reports, there will be at least two bond redemption/interest payment dates in October after October 17th. If the Treasury was unable to meet the obligations that the bonds set forth on either of those occasions then it would have serious and immediate consequences for world financial markets. Investors would likely start pulling assets out of riskier investments over concern on the implications that such a default would have, and interest rates on U.S. obligations, currently at or nearly a real rate of zero once inflation is taken into account, would likely skyrocket. Unless the situation were resolved immediately, it would, at least according to most major analysts, pose a serious risk of throwing the world economy into a crisis on a par with the 2008 financial crisis. (For a possible breakdown of how such a crisis could unfold, this detailed timeline by Reuters is an excellent guide.) One financial analyst has projected that a default could cause U.S. stock markets to lose between 20 to 30% of their value in a relatively short period of time.
While this is a nightmare scenario in many ways, it's one that most financial analysts don't seem to be all that concerned about right now, at least now publicly. Raymond McDaniel, the CEO of rating agency Moody's explains why:
The CEO of credit rating agency Moody's ruled out the chance of a U.S. government default, even if an agreement over raising the debt ceiling is not achieved by mid-October.

As the U.S. government shutdown looked set to continue for a sixth day on Monday, concerns that the ongoing political stalemate will cause the Treasury to miss its October 17 deadline for raising the $16.7 trillion borrowing limit, remained at fever pitch.

If the U.S. government defaults on its debt, it could have negative consequences for financial markets worldwide.

"It is extremely unlikely that the Treasury is not going to continue to pay on those securities," Moody's CEO Raymond McDaniel said in an interview with CNBC.

"Hopefully it is unlikely that we go past October 17 and fail to raise the debt ceiling, but even if that does happen, then we think that the U.S. Treasury is still going to pay on those Treasury securities," he added.

(…)

McDaniel attributed the markets' seemingly complacent reaction to the relatively fresh memory of the 2011 political stalemate over the debt ceiling issue, which was ultimately resolved.

"[It] feels a lot like we've seen this movie before," said McDaniel. "Ironically because we have had this experience in the recent past [it] gives people more of a sense of calm than perhaps they should have."

"The fact that the market is reacting more calmly is good, but to the extent that policy makers are going to act when stress or distress reaches a certain level, the market can play a role in indicating that," he added.
Of course, stock and bond market investors have lost billions of dollars over the years making assumptions that turned out to be untrue and, if it turns out to be untrue that the Republicans and Democrats will come up with some kind of last minute solution to this latest crisis, then you can expect to see markets start to react accordingly. This would seem to be especially probably as we get closer to the Treasury Departments "drop dead" date of October 17th. Indeed, there seem to be some political analysts who are almost hoping that the markets do start reacting negatively in the coming days in the hope that it will force some kind of action out of a Congress that seems exceedingly unwilling to act promptly.
Let's assume, though, that it's true that the U.S. Government will be able to avoid defaulting on our sovereign debt obligations after October 17th. Technically, as the Reuters analysis linked above notes, it would be possible given the fact that there would seem to be enough revenue coming into the government in October and November to allow those obligations, along with others, to be paid at least on a near-term basis. While it leaves open the probability that even mere uncertainty over whether or not a U.S. sovereign debt default might occur would wreck havoc with financial markets, it does take the worst case scenario somewhat off the table. That only solves half the problem, though, and it by no means removes the probability that failure to raise the debt ceiling could have a serious impact on the economy.
Interest obligations on the national debt and paying off redeemed bonds is only one of the many payments that the Treasury Department is required to make on a regular basis. In addition to those payments, there's everything from salaries for Federal Employees, Social Security payments to beneficiaries, Medicare payments to providers, obligations owed to contractors who have provided services and supplies to the Federal Government, and any number of other obligations that the Federal Government owes that come up on a regular basis. As a simple matter of mathematics, it is quite often the case that the money that the Federal Government owes under all of these obligations is more than the amount of revenue (from tax payments and other sources) that comes into Federal coffers. Under ordinary procedures this isn't a problem because the Treasury Department regularly floats new bonds to cover ongoing obligations.
If the debt ceiling is not raised, the Treasury Department's authority to issue new debt to cover these already-incurred obligations would would be in serious legal doubt to say the least. Some have argued that the provision of the 14th Amendment which states that the public debt of the United States "shall not be questioned," authorizes the President to order Treasury to issue new debt. However, as I noted in two posts that examined the issue (see here and here), that issue is by no means settled and it would appear that the most this provision would authorize Treasury to do is to issue sufficient new debt to ensure that it can meet its obligations to pay existing debt, not that it could issue new debt to cover obligations that don't fall under the category of "public debt." Furthermore, even if that interpretation of the law is correct, it would still have the potential to create vast legal uncertainty about the validity of any debt obligations issued after the debt ceiling is breached. For financial markets, uncertainty like that would be nearly as bad as an actual default.
So, that leaves us with the probability that tens of thousands of Federal obligations that don't fall under the "sovereign debt" category would go unpaid if the nation went along for an extended period of time without raising the debt ceiling. That means, potentially, Social Security and pension recipients not being paid, Federal employees not being paid or being paid late, and Federal contractors and suppliers not being paid. For better or worse, the Treasury Department will be forced to make choices about who gets paid and who doesn't, and those who don't get paid are going to suffer real economic harm even if it just means that there is a delay in receipt of payment. The economic implications of this should be blindingly obvious. Cut off payments to the contractors, and they won't have money to pay their employees, who won't have money to pay their own bills or spend money in their community. Delay or cut off payments under Social Security, Medicare, or to Federal employees to cover salaries, and the same thing will happen. The economic chaos would, to borrow a phrase, "trickle down" and, absent a quick resolution, would quite obviously do real harm to the economy.
There is, I would submit, a valid argument to be made that raising the debt ceiling is an appropriate time for a debate about how to bring about a longer term plan that reduces the growth of National Debt and the Federal Budget Deficit. However, the suggestion that we don't need to worry about not raising the debt ceiling is an absurd enough idea that anyone who advances it as a serious proposal doesn't really need to be taken seriously.