Congressional Leadership And Obama Reach Deal To Raise Debt Ceiling
We have a deal in Washington. Now, the leadership just has to make sure it can pass Congress.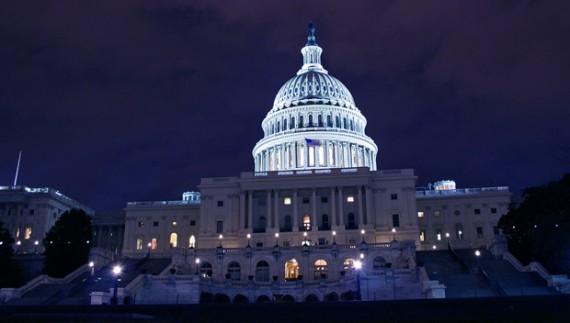 After a day of back and forth rumors, it looks like the framework for a deal to raise the debt ceiling and cut spending has been reached:
WASHINGTON – Congressional leaders of both parties and President Obama said they have agreed to a framework for a fiscal deal that they will present to their caucuses Monday morning, moving Congress closer to taking up a measure that could pass both the House and Senate with bipartisan support and be signed by President Obama, averting a fiscal calamity.

The two Senate leaders, Harry Reid of Nevada and Mitch McConnell on Kentucky, announced the agreement on the Senate floor and President Obama a few moments later. He indicated he would support it, although it was not his preferred approach.

"It will allow us to avoid default," he said.

All afternoon, after Senate Republicans, as expected, blocked progress on a Democratic plan, Senate Democrats and House Republicans had worked feverishly with White House officials Sunday to iron out the final components of a deal to avoid imminent default, negotiating the design of a mechanism that, after an initial round of spending cuts and debt relief this year, would help force the hand of Congress when the time comes for a second round next year.
As always, the devil is in the details and those details have not been released yet. However, this is what the framework appears to looks like:
There seemed to be broad agreement that any deal reached would include at least $2.5 trillion in spending cuts over the next 10 years, of which $1.2 trillion would be approved now. But there was intense jockeying over the terms governing the next steps, including the work of a new bipartisan Congressional committee whose members would be charged with finding more deficit reductions in time for a second increase in the debt ceiling in just a few months.

Failure by that committee would trigger automatic cuts in programs beloved by Democrats and Republicans, respectively, unless Congress later this year passed a Constitutional amendment requiring balanced budgets.

Strong balance-the-budget language has been the linchpin of support for any new fiscal plan among many House Republicans, who forced their leaders to include it last week in a bill to raise the debt ceiling, but it is anathema to many Democrats in the Senate, and in any event requires two-thirds approval in each house to take effect.

The negotiators appeared to be having a hard time defining what kind of cuts would occur at the end of the year 2012 if Congress failed to act on the committee's recommendations.

Under the framework that negotiators were discussing today, half of those cuts would come in defense spending, while the other half would be a combination of other domestic spending, like discretionary programs and farm subsidies. Cuts to Medicare would not make up more than 3 percent of the non-military cuts. While many Republicans are loath to risk such cuts to defense, some of the more Tea Party-influenced freshmen members are less concerned with that than with getting big spending cuts overall while avoiding tax increases at all costs.
It's no "grand bargain," and it's certainly not Cut, Cap and Balance, and even before the deal was announced it was already being criticized:
"This deal trades people's livelihoods for the votes of a few unappeasable right-wing radicals, and I will not support it," said Rep. Raul Grijalva (D-Ariz.), speaking for many liberals who head into the final hours feeling like their interests were ignored.

But Democratic discomfort doesn't necessarily equate to Republican glee — and House Speaker John Boehner (R-Ohio) isn't willing to push a deal through his chamber on the strength of a coalition heavily tilted toward Democrats, even if the deal leans heavily toward Republican goals.

"It's going to be insufficient, clearly," said Alabama Sen. Jeff Sessions, the top Republican on the Budget Committee. "I don't like all these secret talks. We have not done anything publicly."

Sen. Lindsey Graham (R-S.C.) said on ABC's "This Week" that he doesn't "see many conservatives getting behind this."

"It is fair to say we've achieved a significant change in the way Washington works by paying for the debt ceiling increase and not passing it on to the credit card. We have not achieved entitlement change," Graham said. "We have not reduced the size and scope of government. We're going in the wrong direction at a slower pace, and for a lot of people, that is not winning."

Sen. Jeff Merkley (D-Ore.) said Sunday in the Capitol that "if the rumors are accurate, it's very troubling." He cited "absence of any effort to review and trim programs for the wealthy and well connected."

Sen. Saxby Chambliss (R-Ga.), a member of the Gang of Six and a close friend of Boehner's, said he has "not been satisfied with what they've been talking about."
Dissatisfaction from both sides is probably an indication that they've struck a middle-of-the-road compromise here, but the problem is going to be getting it passed if some of these opponents really dig in their heals. The Senate doesn't seem like it will be a problem now that Mitch McConnell is on board; he'll deliver enough votes to overcome cloture and probably to let the bill pass with as many as 70-75 yes votes. The problem will come in the House where defections on the left in the Democratic caucus and on the right in the Republican caucus are likely to make putting together a winning coalition difficult.
Starting tomorrow morning, both parties will present the details of the legislation to their respective caucuses. Then the pundits will start weighing in as well and, depending on how things go, it could be a rough road a head for the Republicans and Democrats in charge of whipping votes in the House. If they think they can get it done fast, we'll likely see a vote tomorrow. If they don't then it may wait until Tuesday.
For now, though, I guess we can all be cautiously optimistic. At least until we see the details of this thing.