Democrats Growing Skeptical Of 'Medicare For All'
Even as candidates like Elizabeth Warren and Bernie Sanders continue to base their campaigns on it, Democrats appear to be growing skeptical of 'Medicare For All.'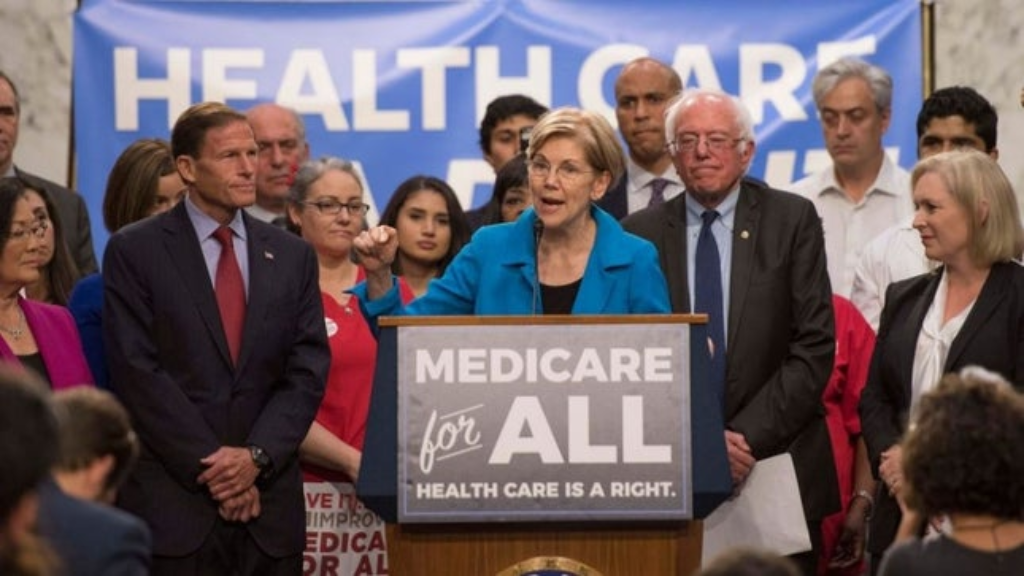 Even as it continues to be the centerpiece of the campaigns of two of the top four candidates for the Democratic Presidential nomination, Democrats appear to be becoming more skeptical of the idea of "Medicare For All":
Prominent Democratic leaders are sounding increasingly vocal alarms to try to halt political momentum for "Medicare for all," opting to risk alienating liberals and deepening the divide in the party rather than enter an election year with a sweeping health care proposal that many see as a liability for candidates up and down the ballot.

From Michigan to Georgia, North Dakota to Texas, Democratic elected officials, strategists and pollsters are warning that the party's commitment to the Obama-era Affordable Care Act — widely seen as critical to electoral gains in 2018 and 2019 — could slip away as a political advantage in 2020 if Republicans seize on Medicare for all and try to paint Democrats as socialists on health care.

"When you say Medicare for all, it's a risk. It makes people feel afraid," said Gov. Gina Raimondo of Rhode Island, who headed a successful national effort as chairwoman of the Democratic Governors Association, to win governor's mansions in Kentucky and Louisiana this month. "We won in Kentucky and Louisiana, barely, in part, because we won on health care. I don't think we can afford to lose on health care."

While Democrats won the House in 2018 by decrying Republican efforts to undercut popular provisions in the Affordable Care Act, the Democratic presidential primary race has turned in large part on whether to replace that law with a more expansive, single-payer system, financed by higher taxes and linked to an end to private health insurance.

The two liberal candidates pushing Medicare for all, Senators Bernie Sanders and Elizabeth Warren, have highly energized supporters who want this form of universal health care, and collectively garner about 40 percent of the vote in most polls. More moderate leaders in the race, like Joseph R. Biden Jr., the former vice president, and Pete Buttigieg, the mayor of South Bend, Ind., support adding a public health care option to the current law. While the primary race is fluid and unpredictable, Medicare for all has steadily driven much of the Democratic discussion of health care.

A determination to shift those conversations is now spurring top Democratic officials to speak out more forcefully against Medicare for all, playing to the anxieties of Democrats who fear their party could once more lose crucial Electoral College battlegrounds like Pennsylvania, Michigan and Wisconsin to Mr. Trump if they push for a nationwide overhaul of health care coverage and benefits.

Warnings are being issued at all levels of the Democratic Party, from union members who fear losing hard-won benefits, to candidates running in swing districts, all the way up to former President Barack Obama, who offered a pointed warning about the risks of overreach at a gathering of donors in Washington, D.C., this month. People close to the former president said his remarks were rooted in his experience passing the health care law, which prompted his concerns about how willing voters would be to embrace an even more sweeping change.

House Speaker Nancy Pelosi was even more critical this month: "I'm not a big fan of Medicare for all," she told Bloomberg Television.

Privately and publicly, party strategists focused on the nation's most competitive House and Senate seats next cycle are frustrated that conversation in the Democratic presidential race often devolves into arcane debates about Medicare for all, rather than last year's easier-to-grasp message about protecting people with pre-existing conditions. Many are gravely concerned about the impact that having a presidential nominee who backs Medicare for all at the top of the ticket would have on the most vulnerable Democratic candidates.

(…)

"The politics are horrible for the Democratic Party, that's my judgment," said Ms. Heitkamp, who lost her seat representing North Dakota last year and is now heading up an effort to win rural voters. "We're making the issue about our plan rather than what the president has or has not done."

Senator Sherrod Brown of Ohio, who has said it would be a "terrible mistake" for the party nominee to support Medicare for all, is urging Democrats to embrace a more unified message against Mr. Trump. That feels unlikely in the midst of a heated primary campaign where health care has emerged as a significant difference between the candidates.

"Democrats need to start talking about the contrast with Trump on this," said Mr. Brown, who has not endorsed a candidate in the primary race. "The conversation should not be Democrats fighting over the path to universal coverage."
The growing skepticism about Medicare for All as a mandatory program is something that has largely grown out of the debate among the candidates themselves rather than being something that was generated out of external criticism from pundits. Initially, the competing proposals by Senators Warren and Sanders, which are more similar than they are different, seemed as though they would take over the field of play. Slowly but surely, though and thanks in large part to candidates such as former Vice-President Joe Biden, Mayor Pete Buttigieg, and Senator Amy Klobuchar, the questions about the Warren and Sanders proposals began to take center stage and it became clear that neither Senator had effective responses for the criticism that was being leveled against their respective plans.
The former Vice-President was the first to openly question the "Medicare For All" idea, largely because he set himself out to be the candidate in the field was going to promote the popularity of the Affordable Care Act. Indeed, from the start of his campaign, Biden has essentially characterized Medicare For All as a plan that would undo the advances that were made with the ACA, Like Buttigieg and Klobuchar, he also pointed out that the Warren/Sanders plans would result in people currently covered by employer-provided plans that they liked losing their preferred coverage and being forced to adopt a plan that may be worse than what they might have now. Other candidates, such as Buttigieg, Harris, Klobuchar, and others have suggested that the answer is the have something akin to "Medicare for All" available as an option for those who might want it but to stop short of making it a mandatory program. This would not be dissimilar from the "public option" that was being debated at the time the ACA was being debated in Congress.
Because of all of this, critics of the Warren and Sanders plan have argued that tying the party to a mandatory "Medicare For All" plan would likely be a political disaster for the party that could result in Donald Trump once again pulling off another narrow win by exploiting fears over what, to most voters, clearly comes across as a radical idea once you get past the simplistic slogans and star looking at the details.
In addition to this political argument, several of the opponents to Warren and Sanders have brought up the issue of how such a program would be funded For their part, the two Senators have claimed that they could fund the program through a combination of increased taxes on the wealthy and taking advantage of the alleged costs savings that would result from eliminating the "middle man" of private insurance companies. As several of their opponents, most notably Senators Kamala Harris and Amy Klobuchar, have noted, the idea that a program as ambitious as what Warren and Sanders are proposing could be financed without increasing taxes on the middle class simply doesn't add up.
One impact of this skepticism appears to be a reversal of political fortunes for Senator Elizabeth Warren:
Sen. Elizabeth Warren's once-ascendant presidential campaign has begun to dim. And among her fellow Democrats, including those in the field, there is a universally agreed upon culprit for the stall in the polls: her embrace and handling of Medicare for All.

The senator's decision to back single-payer health care has long been considered by establishment Democrats as a self-inflicted wound, one that would prove to be a massive weight on her in a general election should she get there. One senior Democratic Party member—who is philosophically supportive of Warren's candidacy—said he was "dumbfounded" by her decision to align herself so closely with the proposal. "She's completely boxed herself in," the member said. "I just don't see why she did it or how she gets out of it."

Both Warren supporters and Medicare for All advocates have dismissed such prognostications as the bed-wetting cynicism of a timid—and corporate-influenced—consultant class. And through it all they've had an easy rejoinder to the collective freakout: Beyond the moral argument for Medicare for All, polling has continually showed it to be popular.

But that now appears to be changing. A new national Quinnipiac University poll of the Democratic primary field showed Warren slipping dramatically, down 14 percentage points from their survey one month prior. And tucked into the survey was a possible explanation as to why. The pollsters tested support for Medicare for All and found that only 36 percent of the public said it was a good idea (52 percent said it was bad) compared to March 2019, when 43 percent said good idea, while 45 percent said bad.

Singular polls are bad barometers for the state of elections or politics in general. But other polling paints a similar picture. The Kaiser Family Foundation, which has been tracking public opinion on health care policy closer than anyone else, has recorded a majority support for a national health care plan—styled as Medicare for All—for years. But they noted that "the level of support has narrowed in recent months." And the most recent data found that "more Democrats and Democratic-leaning independents would prefer voting for a candidate who wants to build on [Obamacare] in order to expand coverage and reduce costs rather than replace [Obamacare] with a national Medicare-for-all plan."
This can be seen in a recent national poll that shows Warren's support dropping significantly:
Sen. Elizabeth Warren's support among Democratic primary voters nationwide plunged 50 percent over the past month, according to a new Quinnipiac University poll, signaling that the shake-ups in the primary field are far from over.

Former Vice President Joe Biden has retaken the lead in the poll after an autumn that saw him surrender his solid frontrunner status, climbing 3 points to earn 24 percent in the poll. Mayor Pete Buttigieg of South Bend, Ind., surged into second, rising 6 points to 16 percent, with Warren and Sen. Bernie Sanders not far behind at 14 and 13 percent, respectively.

But Warren's plummet — 14 points since the previous Quinnipiac poll taken a month ago — represents a brutal dive as the first nominating contests of 2020 inch closer. Warren has come under fire over the past few months since a summertime ascendance lifted her into the top tier of the primary field. She has received particularly intense scrutiny for her "Medicare for All" plan, including how she would pay for it.
Warren's declining fortunes can also be seen in the RealClearPolitics national poll average which shows Warren's numbers dropping after having jumped higher earlier in the fall:
This drop, of course, has come during roughly the same time that Medicare for All has come under scrutiny. Given that, rather than boosting her campaign, it would appear that that Medicare For All is becoming Warren's albatross:
INSERT CHART
Viewing this from outside it seems clear that what this all reflects is the fact that defeating DonaldTrump is the top priority for Democratic voters and the assessment that hitching the entire Democratic campaign to mandatory Medicare For All would be far more likely to be a losing issue than a winning one.