Federal Budget Deficit Heads Back Up Under Republican Rule
Nearly two years into Republican control of Washington, the budget deficit is headed back up.
President Trump and the Republicans have been in power for just twenty-two months, and they're already breaking records when it comes to budget deficits:
America's budget deficit ballooned to $779 billion in 2018, the federal government said on Monday, as higher spending and stagnating tax revenue pushed the nation's debt burden higher.

The approximately 17 percent jump in the federal deficit came despite strong growth in the overall U.S. economy, an unusual instance in which the economy and the deficit are expanding at the same time. Typically, strong economic growth translates into lower deficits as the government collects more from taxpayers.

"What's going on is revenues are not rising when they otherwise would be," said Marc Goldwein, senior vice president of the Committee for a Responsible Federal Budget. "The economy is growing by 5 to 6 percent, and revenue is basically flat."

Business tax revenue was depressed in part because the Republican tax law passed in the fall of 2017 reduced the corporate tax rate from 35 percent to 21 percent, among other changes.

The federal deficit was $665 billion in 2017, according to the Congressional Budget Office.

Federal spending also rose in 2018, with increases in spending on Social Security, the military and interest payments, among other key expenses, according to Goldwein.

Real wages grew by 1.4 percent, and household income grew by 1.8 percent, according to the report released by the Treasury Department and Office of Management and Budget.

The federal deficit is a measure of the gap between the amount of money the nation spends and the amount it takes in. Closing the federal deficit requires either raising taxes, cutting the defense budget or lowering spending on social programs that protect the poor and elderly, such as Medicare and Social Security.

This year's budget deficit was the highest in six years. Annual deficits topped $1 trillion from 2009 to 2012 under President Barack Obama, driven by greater spending on social-safety-net programs and economic stimulus, as well as slumping tax receipts as the economy cratered.

Treasury Secretary Steven Mnuchin said in a news release that President Trump had "proposals to cut wasteful spending" that would eventually put the nation on sustainable fiscal footing. The Republican tax law signed by Trump is expected to add at least $1.9 trillion to the federal debt, including interest payments, according to the Congressional Budget Office
More from CNN:
There are two things that can expand a deficit: Decreased tax revenues and increased spending. Right now, we have both.

The federal deficit rose 17% in 2018, to $779 billion — the highest since 2012, thanks to a bigger military budget, rising interest costs, and a giant tax cut.

But Republicans, who have historically decried fiscal irresponsibility, only want to talk about spending.

"It's very disturbing ," said Senate Majority Leader Mitch McConnell on Bloomberg TV on Tuesday, on the newly released deficit numbers. "And it's driven by the three big entitlement programs that are very popular, Medicare, Social Security, and Medicaid."

Is that true? Let's look at the Treasury tables. In fiscal year 2018, which ended on September 30, overall spending increased by 3%, or $127 billion. The largest spending increases came from interest on the debt ($65 billion) and the Social Security Administration ($39 billion). Then came defense spending, at $32 billion — increases President Donald Trump and other Republicans demanded in budget negotiations. Medicare and Medicaid — programs Trump has promised not to touch — rose by $17 billion total.

What about the tax side? Budget receipts were basically flat overall. Individual non-withheld and self-employment taxes rose by $89 billion, as they should in a good economy when more people are working. Most of that increase came in April, when taxpayers were filing returns for 2017 — before the Trump tax cuts took effect. Congress' Joint Tax Committee has forecast the overall revenue impact of the individual tax cuts to be much larger in 2019, knocking collections down by $189 billion.

Corporate taxes only constitute about 9% of the government's $3.3 trillion in 2018 collections, but they plunged by $93 billion from last year. According to the Congressional Budget Office, about half of that drop came after June, when companies began paying estimated taxes for the 2018 tax year, at the lower post-tax-cut rate. If there had been no tax cut, collections would have been higher.

Translation: Tax cuts played a key role in boosting the deficit in 2018, and are expected to contribute to deficits in the coming years, contrary to claims from the White House and Congressional Republicans that they would "pay for themselves." Treasury Secretary Steven Mnuchin has said that lower tax rates will boost collections when businesses have had enough time to reinvest their savings in growth, but that's not what's happened after previous tax cuts, and it's not what nonpartisan analysts like the Tax Policy Center think will happen after this one.
This chart from the CNN post makes clear what the problem is: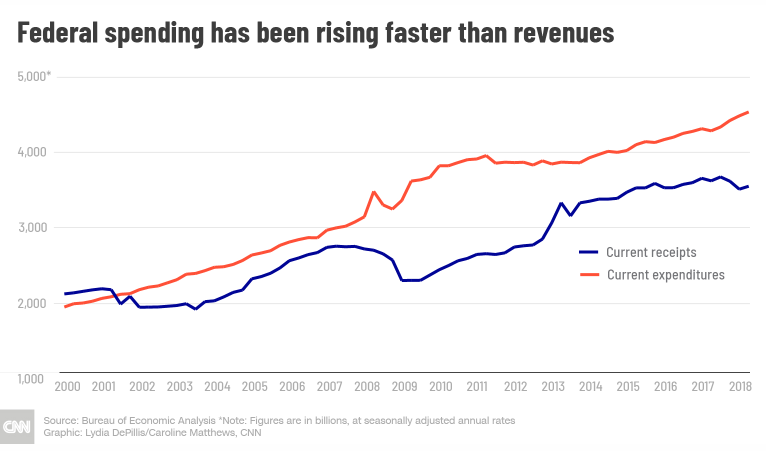 This news is hardly surprising and is, in fact, consistent with the path that the Federal budget has been on since Republicans took over control of the White House and the Congress. Last December, for example, that control resulted in the passage of a tax reform package that, in addition to apparently cutting back the amount of revenue coming into the Federal Government notwithstanding the projections made by Republicans, is also projected to add some $1.5 trillion to the national debt over the course of ten years. Earlier this year, when the Republican Congress and President combined forces to get a budget passed in the wake of January's government shutdown, it became clear that we would see a return to the era of trillion dollar budget deficits. We last saw deficits at this level, of course, during the early years of the Obama Administration when the economy was still clawing its way out of the hole created by the Great Recession. The difference this time was that these record-setting deficits would be occurring in the middle of a recovery that has been moving forward since the summer of 2009 at a time when financial markets are becoming sensitive to increased debt and interest rates.  When the final budget deal was put forward in mid-February, it included massive spending increases in almost every budget category that busted through the controls that had been put in place by the Budget Control Act of 2011. As The New York Times noted at the time, this effectively means that Republicans have learned to love the deficits and debt they once claimed to abhor. In other words, the Republican Party, which had spent the Obama years railing about spending and deficits, had become the party of deficits and debt. By April, the Congressional Budget Office had officially forecast that we'd be seeing trillion dollars deficits by the end of Fiscal Year 2019 and just a few months later, the national debt crossed a new benchmark and was north of $21 trillion.
In response to all of this, Republicans who have been known as deficit hawks have largely silent and Senate Majority Leader Mitch McConnell denied that the increased deficits were a Republican problem:
Senate Majority Leader Mitch McConnell blamed rising federal deficits and debt on a bipartisan unwillingness to contain spending on Medicare, Medicaid and Social Security, and said he sees little chance of a major deficit reduction deal while Republicans control Congress and the White House.

"It's disappointing, but it's not a Republican problem," McConnell said Tuesday in an interview with Bloomberg News when asked about the rising deficits and debt. "It's a bipartisan problem: unwillingness to address the real drivers of the debt by doing anything to adjust those programs to the demographics of America in the future."

McConnell's remarks came a day after the Treasury Department said the U.S. budget deficit grew to $779 billion in Donald Trump's first full fiscal year as president, the result of the GOP's tax cuts, bipartisan spending increases and rising interest payments on the national debt. That's a 77 percent increase from the $439 billion deficit in fiscal 2015, when McConnell became majority leader.

McConnell said it would be "very difficult to do entitlement reform, and we're talking about Medicare, Social Security and Medicaid," with one party in charge of Congress and the White House.

"I think it's pretty safe to say that entitlement changes, which is the real driver of the debt by any objective standard, may well be difficult if not impossible to achieve when you have unified government," McConnell said.

(…)

The Office of Management and Budget has projected a deficit in the coming year of $1.085 trillion despite a healthy economy. And the Congressional Budget Office has forecast a return to trillion-dollar deficits by fiscal 2020.

During Trump's presidency, Democrats and Republicans agreed to a sweeping deal to increase discretionary spending on defense and domestic programs, while his efforts to shrink spending on Obamacare mostly fell flat.

Republicans in December 2017 also passed a tax cut projected to add more than $1 trillion to the debt over a decade after leaders gave up on creating a plan that wouldn't increase the debt under the Senate's scoring rules.

At the time, McConnell told reporters, "I not only don't think it will increase the deficit, I think it will be beyond revenue-neutral." He added, "In other words, I think it will produce more than enough to fill that gap."

Senate Minority Leader Chuck Schumer of New York responded Tuesday by saying McConnell and other Republicans "blew a $2 trillion hole in the federal deficit to fund a tax cut for the rich. To now suggest cutting earned middle-class programs like Medicare, Social Security and Medicaid as the only fiscally responsible solution to solve the debt problem is nothing short of gaslighting."
McConnell isn't incorrect to say that we are long past the point where a responsible Congress should have begun addressing the issue of entitlement reform. Speaking strictly from a demographic point of view, we are quickly approaching the point where an increasingly small number of workers will be required to sustain programs like Social Security and Medicare for an increasingly large number of recipients who, thanks to advances in medicine will be living longer. This is not sustainable and will eventually have to be addressed at some point, and the sooner the better. That being said, though, it is simply false to blame the current rise in the budget deficit on entitlement spending. In part this is because much of what is spent on these programs fall outside the regular budget, and in part it's because Republicans in the House, the Senate, and the White House have passed budgets that exploded spending across the board and passed a tax cut bill that will inevitably reduce Federal Government revenues without being followed up by commensurate spending cuts. This from the so-called party of fiscal responsibility.
Meanwhile, The New York Times reports that Republicans are barely mentioning spending or the deficit on the campaign trail:
In 2010, Representative Paul D. Ryan issued an ominous threat about the nation's deficit, one repeatedly echoed by Republican candidates as they marched toward a decisive takeover of the House that year.

"Unprecedented levels of spending, deficits and debt," Mr. Ryan, Republican of Wisconsin, wrote, "will overwhelm the budget, smother the economy, weaken America's competitiveness in the global 21st-century economy, and threaten the survival of the government's major benefit programs."

The deficit has once again ballooned, a byproduct of increased spending, large tax cuts and the inexorable rise of Social Security and Medicare expenditures that Congress has repeatedly failed to contain. But alarm bells about this issue have become as passé as vuvuzelas, the Black Eyed Peas and other cultural remnants of 2010.

Republicans heading into the midterm elections have instead turned to boasting about low unemployment or their national security credentials, or attacking Democrats, as well as insisting that the $1.5 trillion tax cut will ultimately pay for itself. The deficit — which the Treasury Department said on Monday had swelled to $779 billion in the 2018 fiscal year, up from $666 billion the previous year — has been reduced to a thing to be ignored, like a loud dinner party guest no one has the gumption to silence.

"The Tea Party wave of 2010 was animated by federal spending, but that has definitely subsided," said Tim Chapman, executive director of Heritage Action for America, a conservative lobbying group that helped fuel the Tea Party movement that year, when the deficit had grown to roughly $1.2 trillion.

Even groups like Tea Party Express have moved on in message. Incumbents who made the deficit a central issue of their first campaigns in 2010 now focus on the strength of the stock market, which has struggled in recent days. Nary a one talks about the government's projection that the deficit will top $1 trillion before the 2020 presidential election.

While the deficit problem has many fathers, its exorcism from the Republican agenda has one: President Trump. "The focus of Trump's campaign was not on federal spending," Mr. Chapman conceded. "He wanted to focus on national security and tax cuts and making America great again. When he said that, a lot of the Republican base went with him."

Indeed, the dismissal of debt was one of the earliest and most central components of Mr. Trump's reconfiguring of the entire Republican agenda once he got to Washington. "This is definitely one of the major issues that has transformed the Republican Party under Trump," said Rory Cooper, who served as an aide to former Representative Eric Cantor of Virginia, the majority leader in 2011. "Free trade, Russia, the deficit and frankly the size and scope of government have all fallen to the wayside."
Jennifer Rubin comments:
The annual deficit continues a pattern of fiscal recklessness that Trump and Republicans have established since they took office in January 2017. USA Today's fact check reported, "The federal debt held by the public stood at nearly $15.8 trillion at the last count on Oct. 10 — nearly $1.4 trillion higher than when he took office. That's a 9.4 percent increase under Trump. And that figure will go up even more quickly in coming years unless Trump and Congress impose massive spending cuts, or reverse course and increase taxes."

Whatever temporary bump we got from a massive tax cut for the rich, the debt will eventually drag down growth. As the Federal Reserve raises interest rates, the housing market will face "headwinds" and the tax cut-induced sugar high will end. The stock market hit the skids last week precisely because investors got spooked by interest rate hikes and their ensuing impact on growth.

Trump blamed the Fed for sparking the stock market pullback, but, as Jared Bernstein wrote, "If he wants to see one big reason rates are up, both at the Fed and elsewhere, he should look in the mirror. When you add this much fiscal stimulus to an economy already closing in on full employment, you're playing with, if not fire, then at least heat." He added, "In this regard, his Fed rants are his just usual operating procedure of finding someone to blame in case what he did goes wrong."

When the next economic downturn hits, we will face it with a mound of debt and relatively low interest rates, meaning that we will have fewer fiscal and monetary tools at our disposal to dig ourselves out of a recession. And we will have a downturn — at some point. ("What if the Fed overreacts to the heat and moves from brake tapping to brake slamming? What if the trade war escalates? At least, that what they were worried about," Bernstein wrote.)

Republicans used to worry about debt — as recently as 2016, when President Barack Obama was in office. Too bad we don't have a responsible center-right party to demand that we stop passing on huge debt to our kids.
Rubin is, of course, completely correct here, but the behavior of the Republican Congress here isn't without precedent. Republicans controlled at least one house of Congress for all but the last two years of the Presidency of George W. Bush and, while they were in power, they did virtually nothing to bring spending under control. Indeed, they did quite the opposite. Early in the Administration, of course, they passed tax cuts on a largely party-line vote that had a real impact on government revenue in superseding years. While there's nothing wrong per se with tax cuts, there is most assuredly something wrong with cutting tax revenues while failing to cut spending, but the Republicans did worse than that. In addition to passing a tax cut that had a measurable impact on revenue, they also significantly increased spending not only on a military budget needed to pay for simultaneous wars in Afghanistan and Iraq, but also massive increases in non-defense discretionary spending and entitlements, such as the massive expansion of Medicare's prescription drug coverage known as "Part D." Again, even if you can make a case that these individual programs were a good idea from a policy point of view, the idea of massively increasing spending while simultaneously reducing revenue is utter insanity. We should have learned that lesson in the first decade of this century, but here we are repeating it again.