The Era Of Trillion Dollar Deficits Is Set To Return, And Republicans Don't Seem To Care
With Republicans fully in control in Washington, their concerns about the budget deficit seem to have disappeared.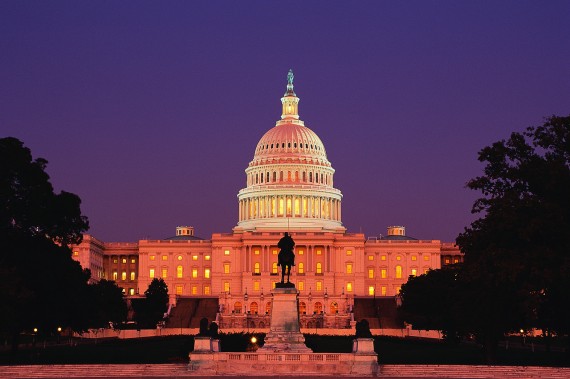 In both the closing years of the George W. Bush Administration and the early years of the Obama Administration, the Federal Government saw several years where the annual budget deficit exceeded $1 trillion dollars per year, a phenomenon that both placed serious restraints on the ability to either party to increase spending on pet projects and led to significant increases in the national debt to the point that it increased some $6 trillion during Obama's first term. In part, of course, these numbers were due to the impact of the Great Recession and the fact that the much weaker economy it left behind resulted in serious reductions in tax revenues for an extended period of time. It was in part because of the size of these deficits, of course, that Republicans were able to have success in the 2010 midterms to the point where they gained some 65 seats in the House of Representatives and regained control of that body after losing control just four years before. In the years after that, the various fiscal showdowns between Republicans and the Administration led to measures such as the budget sequestration deal that had a real impact on holding down at least some of the discretionary spending in the Federal Budget. That deal, contained in the Budget Control Act of 2011, are technically still in effect, but can easily be disposed of by Congress if they chose to do so. In any case, those cuts and the caps on spending that followed, combined with the fact that the recovery that began in 2009 which led to increases in tax revenue, helped to reduce the annual budget deficit significantly over the remaining years of the Obama Presidency, although it obviously didn't eliminate it entirely.
Now, with Republicans in full control of both the Executive and Legislative Branches of the Federal Government, it looks like we're set for a return of those trillion dollar budget deficits:
WASHINGTON (AP) — The era of trillion-dollar budget deficits is about to make a comeback — and a brewing budget deal could mean their return comes just next year.

Talks on a budget-busting spending pact that would give whopping increases to both the Pentagon and domestic programs have been inching closer to an agreement, aides and lawmakers said.

GOP defense hawks are prevailing over the party's depleted ranks of deficit hawks while Democrats leverage their influence to increase spending for domestic priorities such as combating opioid misuse.

Details are closely held and subject to change. But at issue is a two-year deal to increase crunching caps on spending set by a failed 2011 budget deal. Republicans have pushed for defense increases in the neighborhood of $80 billion a year and have offered Democrats nearly as much — $60 billion or so per year — for nondefense programs.

Add in $80 billion to $90 billion worth of hurricane aid for Texas, Florida and Puerto Rico, health care funding and money for President Donald Trump's border security plan, and the final tally could total close to $400 billion. The potential cost, over the 2018-19 budget years, would rival the deficit impact of last year's tax measure over that period.

"Republicans for years have made all of these bold promises to rein in spending," said Brian Riedl, a budget analyst at the conservative Manhattan Institute. "And they're doing the opposite."

The negotiations are bipartisan since it takes votes from Democrats to lift the budget caps and advance a follow-up omnibus spending bill, whose overall cost is likely to exceed $1.2 trillion. That means domestic programs get their due, despite the opposition of conservatives.

"Right now, everything I'm hearing grows the size of government at 13 percent," said Rep. Mark Meadows, R-N.C., citing back-and-forth budget offers. "And that's a nonstarter for conservatives."

Still, Republican deficit hawks stepped aside during last year's tax debate, and it's not looking like they'll mount a stand now. Instead, GOP defense hawks worried about lagging readiness, training and weapons procurement are carrying the day, even if it means placating Democrats with spending elsewhere.

"This budget dysfunction has a human cost, and our military is bearing the brunt of it," said Mac Thornberry, chairman of the House Armed Services Committee, citing a spate of casualties from training accidents last year.

The potential agreement would significantly exceed Trump's request for a $54 billion increase in defense spending — to $603 billion before adding war funds — above the current cap. Thornberry, R-Texas, said negotiators are "very close to a budget agreement."

The budget talks are closely held and occurring as lawmakers struggle to sort through a solution to protect younger immigrants soon to be at risk of deportation with Trump's elimination of the Deferred Action for Childhood Arrivals program, called DACA, established by President Barack Obama. House Minority Leader Nancy Pelosi, D-Calif., has linked progress on the budget with action to address DACA, but other Democrats are beginning to agitate for delinking the two, lest the opportunity for a budget pact be lost.

A trade of offers on Thursday represented progress, aides said, but an agreement didn't appear imminent. The aides, both Democrats and Republicans, spoke on condition of anonymity because the talks are secretive.
In addition to the efforts by defense hawks to increase defense spending by an amount higher than even what the Trump Administration is asking for and things such as disaster relief for the areas impacted by last year's trifecta of Hurricanes in Texas, Florida, Puerto Rico, and the U.S. Virgin Islands, there are a number of other factors that seem destined to lead to increased budget deficits in the years to come. In the near future, for example, the White House is set to unveil the details of its proposal for infrastructure spending, a bill that is expected to add up to at least a trillion dollars. Given the fact that this would be the kind of bill that would have an impact on essentially every state and the vast majority of Congressional Districts, it's likely to receive enthusiastic support from bipartisan majorities in both the House and the Senate, and its likely that members on both sides of the aisle in both bodies will seek to add projects to the bill that will increase the final price tag substantially. There will be similar motivations for members to largely support the effort of defense hawks in the House and Senate to increase the Pentagon's budget by number even higher than what the President is asking for, and to put defense spending on a course where spending in that area is likely to increase substantially over the next several years at least even though the need for such increases isn't entirely clear. Finally, of course, there is the tax bill passed by Congress and signed into law by the President in December which the Congressional Budget Office and other analysts have estimated will add somewhere close to $1.5 trillion to budget deficits over ten years even under the most optimistic of assumptions about the direction of the economy. Of course, the impact of all of this could be magnified in the event of some crisis that has an impact on the economy, or in the event that we hit even a brief recession in the next several years.
All of this is happening, of course, at a time when the Republican Party has full control of the Executive and Legislative Branches of government, and much of the pressure that seems destined to drive deficits up is coming from Republicans and the policies they are advocating and passing into law. If this were occurring during a time when Democrats were in control of Washington, or even where there was a Democrat in the White House, the GOP would no doubt be using much the same rhetoric it did during the early years of the Obama Administration. Now that they actually have control of Congress, it seems clear that this Obama-era rhetoric was merely partisan rhetoric and a tool that the party could use as a cudgel against the Administration in general and against President Obama specifically. Additionally, conservative pundit and outlets such as Fox News Channel would be waging war against what they'd no doubt call the fiscal irresponsibility of Democrats who would be doing exactly the same things they're doing now. With power in Washington now fully in Republican control, it seems clear that, except for a small cadre of deficit hawks in the House and Senate, most Republicans are willing to look the other way while the Federal Government continues to spend far more than it can afford to at a time when the risk of a future recession is far more likely than it was in the early years of the Obama Administration. The hypocrisy is both apparent and entirely unsurprising.