Seventh Woman Alleges Al Franken Groped Her As Calls For His Resignation Mount
A seventh woman has come forward to accuse Senator Al Franken of having groped her as calls mount from his Democratic colleagues for him to resign.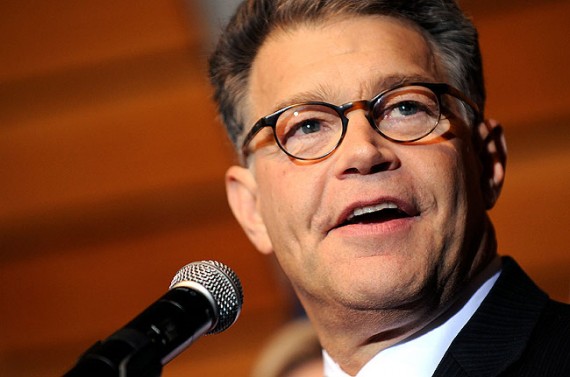 Al Franken is facing more charges of sexually inappropriate behavior toward women and this time it is being followed up by calls on him to resign by several of his fellow Democratic colleagues:
A former Democratic congressional aide said Al Franken tried to forcibly kiss her after a taping of his radio show in 2006, three years before he became a U.S. senator.

The aide, whose name POLITICO is withholding to protect her identity, said Franken (D-Minn.) pursued her after her boss had left the studio. She said she was gathering her belongings to follow her boss out of the room. When she turned around, Franken was in her face.

The former staffer ducked to avoid Franken's lips. As she hastily left the room, she said, Franken told her: "It's my right as an entertainer."

"He was between me and the door and he was coming at me to kiss me. It was very quick and I think my brain had to work really hard to be like 'Wait, what is happening?' But I knew whatever was happening was not right and I ducked," the aide said in an interview. "I was really startled by it and I just sort of booked it towards the door and he said, 'It's my right as an entertainer.'"

The former staffer, who was in her mid-20s at the time of the incident, said she did not respond to Franken.

(…)

Franken, who has been accused by six other women of groping or trying to forcibly kiss them, denied the accusation.

"This allegation is categorically not true and the idea that I would claim this as my right as an entertainer is preposterous. I look forward to fully cooperating with the ongoing ethics committee investigation," Franken said in a statement to POLITICO.
The woman in question also said that Franken said to her that it was his "right as an entertainer" to go after her in this manner, and the report has led at least six of Franken's Democratic colleagues to call on him to resign:
A half dozen Senate Democratic women called for Senator Al Franken to resign Tuesday as a sixth woman came forward to charge that the Minnesota Democrat had made an improper advance on her.

"Enough is enough," declared Senator Kirsten Gillibrand of New York.

She was joined by Mazie Hirono of Hawaii, Claire McCaskill of Missouri, Patty Murray of Washington, Kamala Harris of California and Maggie Hassan of New Hampshire, who issued statements in a coordinated effort that is likely to jeopardize Mr. Franken's political future.

As elected officials, we should be held to the highest standards — not the lowest," Ms. Gillibrand wrote on Facebook. "The allegations against Sen. Franken describe behavior that cannot be tolerated. While he's entitled to an Ethics Committee hearing, I believe he should step aside to let someone else serve."

Mr. Franken, a Democrat of Minnesota, has apologized for his behavior, but the senators said his admissions are not enough.

"I have been shocked and disappointed to learn over the last few weeks that a colleague I am fond of personally has engaged in behavior toward women that is unacceptable," Ms. Gillibrand said. "I consider Senator Franken to be a friend and have enjoyed working with him in the Senate in our shared fight to help American families. But this moment of reckoning about our friends and colleagues who have been accused of sexual misconduct is necessary, and it is painful. We must not lose sight that this watershed moment is bigger than any one industry, any one party, or any one person."
The charge made public today comes in the wake of the resignation of Congressman John Conyers amid a series of allegations of harassment and other inappropriate behavior on his part over a number of years, as well as the settlement of such claims using taxpayer dollars. It also comes on the same day that Time Magazine had chosen women who have come forward to speak out about being sexually harassed as the "Person Of The Year." The allegations against Franken began less than a month ago when Los Angeles news anchor Leann Tweeden revealed an incident that occurred during a 2006 USO Tour she was on with Franken during which she claimed he tried to forcibly kiss her and, later, to appear in pictures where he appeared to be groping a sleeping Tweeden while the two were on an airplane during the tour. Just a few days later, a second woman came forward to allege that Franken had groped her while posing for a photograph with her at the Minnesota State Fair in 2010 after he had become a Senator. That same week, two more women came forward to make similar allegations against Franken and alleged incidents that had happened during a different USO Tour in 2006 than the one Tweeden was part of and at a political event in Minnesota in 2007 when Franken was beginning his campaign for the United States Senate. Most recently, similar accusations have been made by two more women, including an Army veteran and an as-yet-unidentified political official from New England, both of whom say that Franken groped them. With today's report, there are now seven women accusing Franken of sexually inappropriate behavior, all within the relatively recent time period of 2006 to 2010.
Here is Gillibrand's Facebook post, along with social media statements be several other Democrats, including Tom Perez, the Chairman of the Democratic National Committee:
Joe is calling for Senator Franken to resign. pic.twitter.com/ff5i1rnhJs

— Senator Joe Donnelly (@SenDonnelly) December 6, 2017
Sen. Al Franken should step down. Everyone must share the responsibility of building a culture of trust and respect for women in every industry and workplace, and that includes our party.

— Tom Perez (@TomPerez) December 6, 2017
It is clear that Al Franken has engaged in a pattern of egregious and unacceptable behavior toward women. He should resign.

— Sen. Maggie Hassan (@SenatorHassan) December 6, 2017
Al Franken should resign.

— Claire McCaskill (@clairecmc) December 6, 2017
Today, I am calling on my colleague Al Franken to step aside. I've struggled with this decision because he's been a good Senator and I consider him a friend. But that cannot excuse his behavior and his mistreatment of women. (thread)

— Senator Mazie Hirono (@maziehirono) December 6, 2017
I join my colleagues in calling for Senator Franken to step aside and resign. Sexual harassment is unacceptable, completely inappropriate and cannot be tolerated.

— Ed Markey (@SenMarkey) December 6, 2017
We must commit to zero tolerance – which is where I believe we as a country and Congress should be – and that means Senator Franken should step down. Full statement: pic.twitter.com/4qrZB0mBTo

— Sen. Heidi Heitkamp (@SenatorHeitkamp) December 6, 2017
In the time since I began writing this post, the number of Democrats who have stepped forward in light of this latest allegation to call on Franken to resign has increased to thirteen, and that number is only likely to increase as the day goes on. So far, Franken's office has been quiet outside of the denial that he issued last night, but it's clear that this isn't going to be sufficient for Franken's colleagues, or for his constituents. The most recent poll in Minnesota has shown that an increasing number of voters think that the Senator should step aside and his job approval numbers have plummeted in the weeks since the allegations came out. Franken was overwhelmingly re-elected in 2014 and does not face re-election until 2020, so theoretically he could refuse to leave office and ride this out until then. While he does face a Senate Ethics Committee investigation in the wake of these reports, it seems unlikely that the Senate would move to expel him, a move that would require the assent of two-thirds of the members of the Senate although it's possible that could change if additional charges come out but the investigation would effectively end if Franken were to step aside. If Franken does step aside, though, it will not have an impact on the partisan composition of the Senate since his immediate replacement would be named by the state's Democratic Governor. Additionally, given the nature of the state, it's likely that a Democrat would win any Special Election.
These new allegations also come in the wake of several similar accusations that have swept across Capitol Hill since the issue of sexual harassment and assault has come to the forefront. California Congresswoman Jackie Spier, who recently shared her own story of having been sexually harassed in the past, stated that she is aware of at least two currently serving men on Capitol Hill, one from each party, who have been accused of sexually inappropriate contact toward female staffers or other women.  Alabama Republican Senate candidate Roy Moore, of course, has been accused of several instances of sexually inappropriate behavior, including two women who accuse him of having sexually assaulted them when they were under sixteen years old.Additionally, Texas Congressman Blake Farenthold is under pressure to resign after it was reported that he had used $84,000 in taxpayer dollars to settle a sexual harassment claim by a former female staffer. Undoubtedly, there are more such allegations to come and more sitting members of the House and Senate are likely to face pressure to step aside as decades of silence are broken.
Update: An eighth woman has come forward with an allegation against Franken:
Another woman came forward Wednesday with an allegation of sexual misconduct against Sen. Al Franken (D-Minn.), who is facing calls to resign from a majority of Democratic senators.

Tina Dupuy said Franken groped her while posing for a photo during a party for the liberal media watchdog group Media Matters to celebrate Barack Obama's first inauguration as president. Dupuy, who said she'd been married for two years at the time, said she approached Franken for a picture, after which he inappropriately touched her.

"We posed for the shot," she wrote in a piece for The Atlantic. "He immediately put his hand on my waist, grabbing a handful of flesh. I froze. Then he squeezed. At least twice."

Dupuy said the incident "shrunk" her down from feeling like a person to a mere ornament. "He wanted to cop a feel and he demonstrated he didn't need my permission," she wrote.

Dupuy said the event occurred after a recount had been called for in a Senate race that Franken would go on to win to gain his seat in Congress.

The allegation emerges as Franken faces a firestorm of calls from Democratic officials in his own chamber to resign. An overwhelming majority of Democratic senators, spearheaded by a group of female lawmakers Wednesday morning, called for the Minnesota lawmaker to step aside amid numerous allegations of sexual misconduct.

"While Senator Franken is entitled to have the Ethics Committee conclude its review, I believe it would be better for our country if he sent a clear message that any kind of mistreatment of women in our society isn't acceptable by stepping aside to let someone else serve," Sen. Kirsten Gillibrand of New York said in a Facebook post.
Additionally, Franken will hold a press conference tomorrow at which he will address these latest allegations and the calls for his resignation:
Sen. Al Franken (D-Minn.) will make an announcement on Thursday as he faces growing calls from his colleagues to step aside over sexual misconduct allegations.

Franken's office, in a note to reporters, said he "will be making an announcement tomorrow."

The notice didn't specify what the announcement will be about or what Franken will say.

But the announcement comes as a growing number of his Democratic colleagues call on him to resign after another woman accused him of trying to forcibly kiss her in 2006.

Roughly a dozen Democratic senators have called on Franken to step aside on Wednesday. The new pressure for Franken to leave the Senate started after six female senators released statements in quick succession.

The calls for Franken to resign are a shift from even last week when Democratic senators dodged questions by noting that they wanted to wait for the Ethics Committee investigation.
According to some reports the announcement will come in Minnesota, where Franken is reportedly returning. More tomorrow, I'm sure.