Senator Al Franken Accused Of Groping A Woman In 2006
A Los Angeles reporter says that Minnesota Senator Al Franken groped her and engaged in other inappropriate conduct during a 2006 USO tour.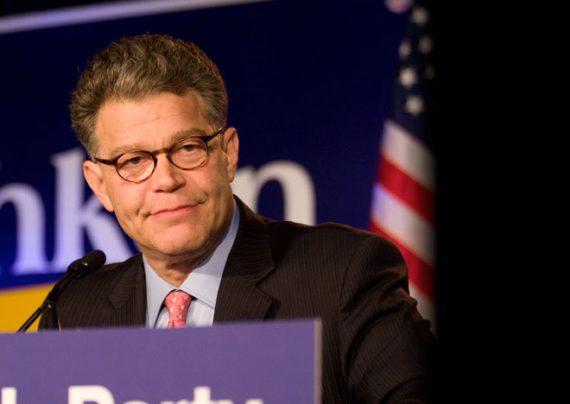 Minnesota Senator Al Franken is being accused of sexually inappropriate behavior during a 2006 USO tour by a performer who was part of that tour and performed in several skits with Franken:
WASHINGTON — A growing national outcry over sexual harassment reached the Senate on Thursday, when a radio newscaster accused Al Franken, Democrat of Minnesota, of kissing and groping her without consent during a 2006 U.S.O. tour of the Middle East before he took public office.

Mr. Franken almost immediately released an apology to the newscaster, Leeann Tweeden, who said that Mr. Franken forcibly kissed her during a rehearsal and groped her for a photo as she slept.

"I certainly don't remember the rehearsal for the skit in the same way, but I send my sincerest apologies to Leeann," Mr. Franken, who has been mentioned as a possible presidential candidate, said in a statement. "As to the photo, it was clearly intended to be funny but wasn't. I shouldn't have done it."

Senator Mitch McConnell of Kentucky, the majority leader, wasted no time before forwarding the matter to the Senate Ethics Committee.

"As with all credible allegations of sexual harassment or assault, I believe the Ethics Committee should review the matter," he said in a statement. "I hope the Democratic leader will join me on this. Regardless of party, harassment and assault are completely unacceptable — in the workplace or anywhere else."

Ms. Tweeden published a first-person account of the incident on KABC Radio in Los Angeles on Thursday. She wrote that it occurred in December 2006, not long before Christmas, when she was a performer for the tour alongside Mr. Franken, then a well-known comedian.

She also presented evidence, including a photograph of Mr. Franken, his head turned toward the camera, with his hands placed over Ms. Tweeden's breasts as she slept.

According to Ms. Tweeden's account, Mr. Franken wrote a bawdy script that included a kiss for the two to perform onstage. When it came time to rehearse the skit, she wrote, Mr. Franken insisted on kissing despite her protestations.

"I immediately pushed him away with both of my hands against his chest and told him if he ever did that to me again I wouldn't be so nice about it the next time," Ms. Tweeden wrote. "I walked away. All I could think about was getting to a bathroom as fast as possible to rinse the taste of him out of my mouth."

"I felt disgusted and violated," she added.

Ms. Tweeden said that no one else witnessed the kiss, and she did not tell the tour's organizers. She said Mr. Franken retaliated against her with insults and, she learned after the trip ended, the compromising photograph.

Ms. Tweeden said the photograph was taken while she was asleep on a flight back to the United States from Afghanistan and that she saw it only later, after the trip ended.

"I felt violated all over again. Embarrassed. Belittled. Humiliated," she wrote. "How dare anyone grab my breasts like this and think it's funny?"

Ms. Tweeden wrote that she had been compelled to share the story after an on-air conversation with Representative Jackie Speier, Democrat of California, who has been a leading voice sounding alarms about sexual harassment on Capitol Hill in recent weeks.

Speaking on air on KABC Thursday morning, Ms. Tweeden, a former model, said that women were too often blamed for provoking male aggression based on their looks or clothing.

"You're just a girl in a man's world anyway to begin with," she said. "You are always going to be overpowered by a man who is on SNL and going into a political world. The guy always gets unscathed in those situations."
You can read Tweeden's account of what happened here, and here is the audio of what Tweeden had to say on the air this morning:
And here's a copy of the picture that Tweeden references in her statement: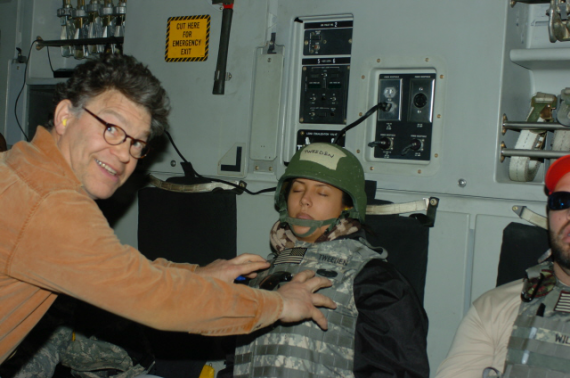 Tweeden's post comes just days after the current wave of reports about sexual harassment, unwanted advances, and unwanted physical/sexual actions on Capitol Hill has become an issue and amid an ongoing series of reports about similar behavior involving Hollywood figures ranging from producer Harvey Weinstein to actors such as Kevin Spacey and George Takei. It also comes amid similar reports by women who have alleged that they were the subject of unwanted advances and assault by Alabama Senate candidate Roy Moore. Two days ago, California Congresswoman Jackie Spier, who recently shared her own story of having been sexually harassed in the past, stated that she is aware of at least two currently serving men on Capitol Hill, one from each party, who have been accused of sexually inappropriate contact toward female staffers or other women with whom they have interacted. In response, Spier and New York Senator Kristen Gillibrand have introduced legislation that would address the issue of sexual harassment in Congress more stringently and several of their male colleagues have joined them in the effort. Given this context, and the #MeToo campaign that has been popular on Twitter in the time since the Weinstein story broke as a way for women to share their own stories have having been sexually harassed or groped in either a professional or some other context, the fact that stories such as Tweeden's are finally starting to become public.
In response to Tweeden's charges, Senate Minority Leader Chuck Schumer released a statement saying that sexual harassment must never be tolerated and called on the Senate Ethics Committee to investigate the charges against Franken. Missouri Senator Claire McCaskill has also released a statement calling for an ethics investigation as did Minnesota's senior Senator Amy Klobuchar. Senate Majority Leader Mitch McConnell has made a similar statement. Initially, Franken released a statement saying he didn't recall the incident that Tweeden related, but that he nonetheless apologized for any inappropriate behavior. Franken himself, meanwhile, has released a revised statement in which he repeats the apology noted above and echoes the call for an ethics investigation:
Sen. Al Franken (D-Minn.) is calling for an ethics investigation into his own behavior after a woman accused him of groping her.

Franken in an expanded statement on Thursday apologized for the incident, in which he groped television host and sports broadcaster Leeann Tweeden while she was asleep on a military plane during a 2006 USO tour.

"I understand why we need to listen to and believe women's experiences," he said. "I am asking that an ethics investigation be undertaken, and I will gladly cooperate."

In a piece on KABC, Tweeden published a photo of Franken groping her breasts while they were both on a USO tour. She also wrote that Franken forcibly kissed her while they were rehearsing a sketch for a performance.

Franken initially issued a brief, three-sentence statement, in which he said he didn't remember the rehearsal for the skit "in the same way."

In that statement, he wrote that he sent "my sincerest apologies to Leeann," and said he should not have taken the photo, which he described as "clearly intended to be funny."

The second statement came after Franken faced criticism from across the political spectrum that his first statement did not represent a real apology.

"The first and most important thing—and if it's the only thing you care to hear, that's fine—is: I'm sorry," he wrote in the new statement.

"I respect women.  I don't respect men who don't," Franken continued. "And the fact that my own actions have given people a good reason to doubt that makes me feel ashamed."

Franken doubled down on his claim that he does not remember the rehearsal for the skit "in the same way" as Tweeden.

But he said Tweeden "deserved to be heard."

"The truth is, what people think of me in light of this is far less important than what people think of women who continue to come forward to tell their stories," Franken said. "They deserve to be heard, and believed. And they deserve to know that I am their ally and supporter. I have let them down and am committed to making it up to them."
What impact this story has going forward depends on what happens next. There have not been any other claims about inappropriate behavior on Franken's part prior to this, but if there are any such claims it's likely that they will come out now in the wake of Tweeden's disclosure. If that happens and this turns out to be some kind of long-standing pattern on his part during the time before his political career began, then it could end up being a huge political headache for Minnesota's junior Senator, who is next up for re-election in 2020. Even if Tweeden is the only example of such behavior on Franken's part that comes to light, it could still end up becoming a political problem for him given his own long-standing outspokenness in support of women who have come forward to report past instances of sexual harassment and abuse. As The Washington Post's Aaron Blake put it in a column early this afternoon, Franken's past comments on the issue leave him vulnerable to charges of hypocrisy that would seem to be entirely valid under the circumstances.
More broadly these charges, and any others against Franken should they materialize, could have a real impact on Franken's political future beyond the Senate. For several months now, there has been at least some speculation that Senator Franken could be a potential challenger for President in the Democratic Party in 2020. Franken himself has denied that he's interested in running for President, but that has not stopped the speculation itself. These allegations are likely to at least cool that speculation down significantly for the time being, and if there are further charges against Franken in the future then it would seem clear that would be the end of any Presidential ambitions on Franken's part.