Two More Women Say Al Franken Groped Them
More troubles for Minnesota Senator Al Franken.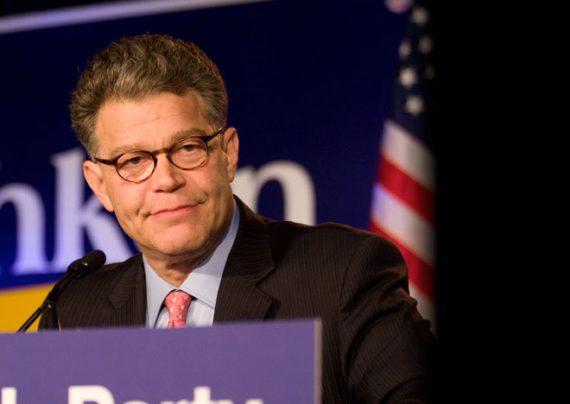 In a story that dropped shortly before the end of the day on Wednesday, The Huffington Post is reporting that two more women have come forward to accuse Minnesota Senator Al Franken of groping them:
Two more women have told HuffPost that Sen. Al Franken (D-Minn.) touched their butts in separate incidents.

These are the third and fourth such allegations against Franken in the past week. Leeann Tweeden, a radio host, wrote last week that Franken had kissed and groped her without her consent during a 2006 USO tour. On Monday, Lindsay Menz

The two additional women, who said they were not familiar with each others' stories, both spoke on condition of anonymity. But their stories, which describe events during Franken's first campaign for the Senate, are remarkably similar — and both women have been telling them privately for years

In a statement to HuffPost, Franken said, "It's difficult to respond to anonymous accusers, and I don't remember those campaign events."

The first woman, who spoke to HuffPost on condition of anonymity because she's worried she'll be harassed online for making the allegation, said Franken groped her when they posed for a photo after a June 25, 2007, event hosted by the Minnesota Women's Political Caucus in Minnea"My story is eerily similar to Lindsay Menz's story," the first woman said. "He grabbed my buttocks during a photo op."

The second woman told HuffPost that Franken cupped her butt with his hand at a 2008 Democratic fundraiser in Minneapolis, then suggested the two visit the bathroom together. She spoke on condition of anonymity out of fear that the allegation could affect her position at work.

"My immediate reaction was disgust," the second woman said. "But my secondary reaction was disappointment. I was excited to be there and to meet him. And so to have that happen really deflated me. It felt like: 'Is this really the person who is going to be in a position of power to represent our community?'"

"I can categorically say that I did not proposition anyone to join me in any bathroom," Franken told HuffPost.
It's safe to say that when a politician has to issue a statement like that, their not in a very good situation at all. Ideally, there would not be any reports about any such propositioning. Additionally, while it's possible that these types of accusations can be false or mistaken, the fact that we're now dealing with similar accusations from four women about events that occurred within several years over other including both before and after Franken became a Senator suggests strongly that there is some truth to the accusations and that it's likely that there are other women who have yet to come forward. In any case, these new accusations, even though they came over a weekend in which most Americans are unlikely to be paying much attention to politics, are likely to prove problematic for the Senator, especially since they all seem to be rather similar.
More from The Huffington Post
The first woman, a 38-year-old book editor who was living in Minneapolis at the time, told HuffPost that she had just finished performing with a feminist choir at the Women's Political Caucus event, which Franken and his wife, Franni Bryson, attended. After the ceremony, she and other members of the choir approached him for photos.

"My mother loves Al Franken. She listened to Air America [on which Franken had a radio show] every day," the first woman said. "I saw him and asked if we could take a photo together for my mother, and we stood next to each other … and down his hand went."

HuffPost spoke to two sources close to the first woman who corroborated her account.

One fellow choir member, Sarah, remembers not only being there for the groping incident but hearing another choir member say that Franken wouldn't stop looking at her chest.

Ten years ago, it was easier to shrug off predatory behavior as "boys being boys," Sarah said, especially when that predatory behavior came from a political ally.

At the time … people weren't as willing to speak against people they felt like were on their side," Sarah said. "It's really disappointing. And it's crappy. Ten years ago we were also at an age where there was still a feeling of powerlessness, or that boys will be boys."

The first woman's best friend, who likewise wished to remain anonymous, remembers hearing about the groping incident the day after it happened.

"She was in this all-women's choir and he was at an event where she performed, and she told me that he basically grabbed her ass," the best friend said. "It was a 'Can you believe this happened to me?' kind of thing.

The first woman wanted to tell her story because Franken is "a serial groper," she said.

"Only two people have come forward, and people are saying that this is a right-wing conspiracy," she said. "It's not. I'm a liberal person. … I voted for him after this happened."

(…)

The second woman, who said she was groped at a fundraiser, told HuffPost it took place in the fall of 2008 at the Loft Literary Center in Minneapolis. She was excited about attending the event and meeting someone she wanted to support.

"I had never attended anything like that," she said.

She and her friends found Franken and introduced themselves to him.

"I shook his hand, and he put his arm around my waist and held it there," the second woman said. "Then he moved it lower and cupped my butt."

"I was completely mortified," she added.

In order to escape the situation, the woman excused herself to go to the bathroom. At that point, she said, Franken leaned in and suggested that he accompany her. She grabbed her friend and fled to the bathroom without him.

The second woman told several people ― including one of the reporters for this story, Zachary Roth ― about the incident some years ago, but didn't want it reported then. She said she didn't tell anyone at the time of the incident because inappropriate behavior from men was not that unusual to her or her friends.

"Sexual harassment happens so often, you have to learn how to move on," she said, describing her thinking at the time.

Several other factors also left her feeling powerless.

"I felt like I didn't have a voice," she said. "This man had all of the power, all of the authority. In addition, he is a white man and I am a woman of color. I was 21 years old. And I was afraid that he would use all of those privileges to discredit me, to make me feel even smaller than I already felt."

Today, she said, she feels more confident, in part thanks to the flood of women who have come forward over the last month to share stories of sexual harassment by powerful men.

"I couldn't see all these other women come forward and not walk the walk myself," she said. "I wanted my report to be a way for other women to say, 'Yes, that happened to me and I don't have to be afraid.'"
As noted, this isn't the first report about sexually improper behavior on Franken's part. The first report came earlier this month when a Los Angeles news anchor who was part of a USO tour that Franken headed in 2005 before he became a candidate for office said that she was the victim of inappropriate conduct on Franken's part. In that case the anchor, Leann Tweeden said that Franken forced his tongue down her throat while the two were rehearsing a skit in which he was supposed to kiss her and she also produced a photograph that seems to show Franken grabbing or appearing to grab her breasts while she was asleep during a flight while on the tour.  Franken initially responded to that report by saying he didn't remember the incident the way that Tweeden did, but followed that statement up with an apology that appears to acknowledge that the incident did unfold in the manner she claims. In the second report, a woman named Lindsay Menz said that Franken groped her in much the same manner as the two women claim in this Huffington Post report while her husband took a photograph of the two at the Minnesota State Fair in 2010 after Franken became a Senator. This now makes four accusers pointing a finger at Franken, suggesting that as with other prominent men who have found themselves caught up in the emerging cycle of women coming forward to talk about incidents of sexual harassment or abuse that happened in the past, a trend that started with  Persons such as Hollywood producer Harvey Weinstein and actors such as Kevin Spacey and George Takei. It also comes amid similar reports of women who have come forward to talk about similar conduct by people such as political pundit Mark Halperin as well as accusations that such activity has been common on Capitol Hill for years. For example, California Congresswoman Jackie Spier, who recently shared her own story of having been sexually harassed in the past, stated that she is aware of at least two currently serving men on Capitol Hill, one from each party, who have been accused of sexually inappropriate contact toward female staffers or other women.  It has also inspired the #MeToo campaign that has been popular on Twitter in the time since the Weinstein story broke as a way for women to share their own stories have having been sexually harassed or groped in either a professional or some other context. Most infamous, of course, have been the accusations against Alabama Senate candidate Roy Moore, but these are in a category all their own given that they involve potentially criminal activity such as sexual assault of a minor while he was an Assistant District Attorney in the 1970s.
All of this has left Franken in something of a politically precarious position. A poll taken after the first two reports about the Senator, for example, showed that only 22% of Minnesotans said he should resign, while 30% said he should resign immediately and 36% said that decision should await the results of an investigation. In that regard, it's already been announced that the Senate Ethics Committee will be investigating the charges against Franken, although it's unclear when that investigation will begin or how long it will take. It's also not clear what will happen to Franken's committee assignments during the time the investigation is pending. In the past, it hasn't been uncommon for members of the House or Senate to be be temporarily suspended from certain committee assignments while ethics investigations have taken place, though, so it's possible this could happen here. At the same time, it's worth noting that the Senate Ethics Committee has often be criticized for being 'toothless," leading Meredith McGhee, and opinion writer at The Hill to call it a committee a "black hole." All of this led Franken to take the somewhat unusual step of issuing a statement yesterday addressing the new claims and responding to questions about his political future:
WASHINGTON - Sen. Al Franken plans to stay in the U.S. Senate and try to win back Minnesotans' trust.

The Minnesota Democrat, who has been accused by four women — two of them anonymously — of inappropriate contact, issued a Thanksgiving afternoon apology and pledge. He wrote that he "feels terribly that I've made some women feel badly." He called himself "a warm person" who likes to hug people when they're being photographed with him, but clearly, his embrace "crossed a line for some women."

Although his statement did not directly address the question of whether he might resign, he vowed to move ahead with an effort to regain the trust of his constituents. A spokesman for Franken said Thursday that the senator has no plans to resign.

The accusations, which have left Franken facing a Senate ethics investigation, have touched off a fierce debate among his progressive supporters over what level of sexual misconduct should force a politician with a record of support for women's rights to resign from office.

"Because he happens to be a good guy on some other issues, people are confused," said Erin Vilardi, head of VoteRunLead, a national group that aims to elect more women to public office. It held a national convention in Minneapolis last weekend.

Vilardi spoke after the first two accusations against Franken and before Wednesday's Huffington Post report of the third and fourth allegations. The website cited two unidentified women who said he grabbed their buttocks in separate incidents. Each spoke on condition of anonymity about events they said occurred during Franken's first Senate run.

(…)

In Thursday evening's statement, the senator wrote:

"I've met tens of thousands of people and taken thousands of photographs, often in crowded and chaotic situations. I'm a warm person; I hug people. I've learned from recent stories that in some of those encounters, I crossed a line for some women — and I know that any number is too many.

"Some women have found my greetings or embraces for a hug or photo inappropriate, and I respect their feelings about that. I've thought a lot in recent days about how that could happen, and recognize that I need to be much more careful and sensitive in these situations. I feel terribly that I've made some women feel badly and for that I am so sorry, and I want to make sure that never happens again.

"And let me say again to Minnesotans that I'm sorry for putting them through this and I'm committed to regaining their trust."
Where all this leads is unclear at this point. The initial poll numbers for Franken out of Minnesota don't look good, but he doesn't have to run for re-election until 2020 unless forced from office so it's possible he'll just true to ride this out. At the very least, though, this would seem to indicate that the previous speculation about Franken being a potential 2020 candidate for the Democratic nomination for President will come to an end, probably permanently. Whether it goes further than that depends on how the investigation goes and whether it goes further than these for women.