Two More Women Accuse Al Franken Of Sexually Inappropriate Conduct
Senator Al Franken faces new charges of sexually inappropriate conduct on the same day that House Democrats are beginning to pressure one of their members to resign.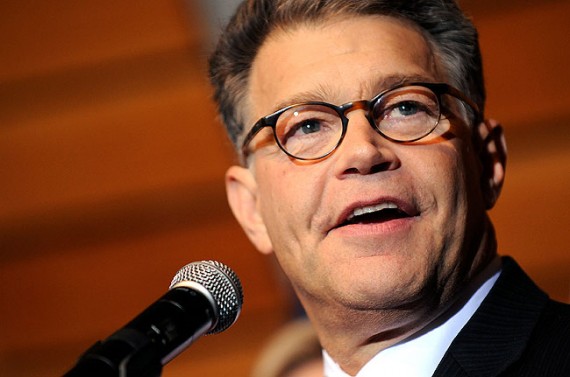 Al Franken is facing two more charges by women who say that he acted inappropriately toward them, bringing to six the number of women who have accused the Minnesota Senator of such conduct.
The first new report came this morning from an Army veteran who says that Franken groped her during a USO tour in 2003:
An Army veteran says Sen. Al Franken groped her in December 2003, telling CNN that while she was deployed in Kuwait, the Minnesota Democrat cupped her breast during a photo op.

Stephanie Kemplin, 41, of Maineville, Ohio, is the fifth woman in two weeks to accuse Franken of inappropriate touching, and the second person to allege that such behavior took place while Franken was on a USO tour. Three of the five women have been identified by name.

Kemplin said while she was stationed in the Middle East during the Iraq War, she met Franken — at the time, a comedian and writer — as he was visiting American troops with the USO. A longtime fan of "Saturday Night Live," Kemplin got in line to take a photo with Franken.

"When he put his arm around me, he groped my right breast. He kept his hand all the way over on my breast," Kemplin said in an interview. "I've never had a man put their arm around me and then cup my breast. So he was holding my breast on the side."

Kemplin repeatedly used the word "embarrassed" to describe her immediate reaction at the time.

"I remember clenching up and how you just feel yourself flushed," she said. "And I remember thinking — is he going to move his hand? Was it an accident? Was he going to move his hand? He never moved his hand."

She added: "It was long enough that he should have known if it was an accident. I'm very confident saying that."

Kemplin estimated that the touching lasted anywhere from five to 10 seconds. She said she eventually turned her body to shift Franken's hand off her breast before the picture was taken.

In a photo shared with CNN, Kemplin — who was 27 at the time and a military police officer — is smiling widely with the left side of her face pressed against Franken's right cheek. Franken's right arm is wrapped around Kemplin's back and his hand is on her side at chest-level, and does not appear to be on her breast in the photo.

Looking back at the picture, Kemplin said she recalls feeling frozen and numb: "I did not process it in those split seconds."

A Franken spokesperson told CNN Wednesday night: "As Sen. Franken made clear this week, he takes thousands of photos and has met tens of thousands of people and he has never intentionally engaged in this kind of conduct. He remains fully committed to cooperating with the ethics investigation."

In one of multiple lengthy phone calls with a CNN reporter this week, Kemplin repeatedly broke into sobs.

"I was in a war zone… You were on a USO tour — are you trying to boost the morale of the troops or are you trying to boost your own?" she said. "I just feel so sorry for that young girl in that picture."

Kemplin said she did not say anything to Franken at the time.

"You're immediately put on the spot. What are you going to do? What are you going to do? Your mind goes a mile a minute," she said. "Who was I going to tell?"

She also doesn't recall telling any fellow soldiers about the incident afterwards because she felt ashamed and did not have peers she felt she could confide in. But she discussed it with multiple family members and relatives, including her sister, as well as an ex-boyfriend. CNN interviewed both.

Amy Muddiman, Kemplin's older sister, said she remembers Kemplin being excited that Franken was coming to visit because she had grown up watching SNL.

"I just remember her telling me that he grabbed her breast and that she was so shocked about it," Muddiman said. "My sister is pretty bold and assertive and she said that she didn't know what to do."

One of Kemplin's ex-boyfriends was also in the Army and he and Kemplin dated after the two of them returned to the United States. He asked not to be named to protect his privacy. He told CNN that while he did not remember all of the details of what Kemplin described of her encounter with Franken, she said "he went to put his arm around her and copped a feel."
Another report comes from an as-yet unidentified election official from New England who said Franken gave her a wet open-mouthed kiss at an event in 2006:
Jezebel has reported that a sixth allegation of sexual misconduct has been levied at Minnesota Sen. Al Franken, coming mere hours after CNN reported on a fifth.

The accuser is a former New England elected official, though she remains anonymous. The woman stated that Franken attempted to give her a "wet, open-mouthed kiss" onstage at an event in 2006. The incident, which is alleged to have happened just before Franken ran for Senate, left the woman "stunned and incredulous."

"I want my name associated with my own accomplishments," she said, addressing her decision to remain anonymous, "and not publicly linked to a man's bad behavior."

The alleged victim told Jezebel that, after appearing onstage with the now-Minnesota Senator, she tried to shake his hand. Franken, she said, had another idea.

"I reached out my hand to shake his," she said. "He took it and leaned toward me with his mouth open. I turned my head away from him and he landed a wet, open-mouthed kiss awkwardly on my cheek."

"I felt demeaned. I felt put in my place," she said, noting that this happened in front of many people, most of whom did not notice. "It was insidious. It was in plain sight and yet nobody saw it."

"The other women's accounts of him grabbing their buttocks in front of their mothers and husbands, I believe them."

(…)

"My intent in coming forward is not to negate the good work he's done or smear his name," [the woman] said. "I want him to take personal responsibility for his actions, learn from this, not repeat the behavior, and go forward with respect in all his interactions with women."
At their base, these charges have much in common with the previous reports that have come out regarding Franken over the past two weeks. The report of the most recent accuser, for example, is similar to the one made by Los Angeles news anchor Leann Tweeden, who says that Franken attempted to stick his tongue down her throat during a USO tour in 2006. The claim by the former soldier, meanwhile, is similar to those made by a woman named Lindsay Menz and two other woman, who say that Franken groped them while they were being photographed with them during various public events both before and after Franken was elected to the Senate. These new revelations also come just days after Franken issued a statement acknowledging the claims and, most importantly, not denying the facts of any of the accusations. In that statement, Franken reiterated his previous statement that he did not intend to resign in response to the charges and saying that he would cooperate with what appears to be an impending investigation by the Senate Ethics Committee, a process that could end with any number of possible sanctions being recommended including the suggestion that the Senate should consider a vote to expel Franken. Such a move would require the affirmative support of two-thirds of the members of the Senate.
The news about Franken comes on the same day that Democrats on the House side of Capitol Hill are dealing with accusations of sexual misconduct and harassment by Congressman John Conyers, the longest-serving member of the House of Representatives. In Conyers case, the past week has seen reports of several claims by women that have reportedly been settled out of court with agreements that purport to preclude the women from talking about their accusations. Conyers himself was apparently hospitalized for stress this morning, but that hasn't stopped the calls for his resignation from coming forward. As of the time this post is being written, all of the members of the House Democratic Leadership team — Minority Leader Nancy Pelosi, Maryland Congressman Steny Hoyer, and South Carolina Congressman Jim Clyburn — have called on Conyers to resign. In Conyers case, at least some of the accusations appear to be coming from women who have worked for him, or who worked on Capitol Hill and interacted with the Conyers on a regular basis. in that sense, the charges against him are arguably more serious since they involve an employer-employee relationship. For the time being, though, Conyers seems unlikely to leave.
The new revelations about Franken and Conyers also come amid growing rumors that have been circulating regarding similar accusations will soon become public regarding other members of the House and Senate and both sides of the aisle, something that would be consistent with news that has already come out of Capitol Hill. For example, California Congresswoman Jackie Spier, who recently shared her own story of having been sexually harassed in the past, stated that she is aware of at least two currently serving men on Capitol Hill, one from each party, who have been accused of sexually inappropriate contact toward female staffers or other women. Given this, the idea that we're just seeing the tip of the iceberg when it comes to the revelations about sexual misbehavior on Capitol Hill, in Hollywood, and in the media. If anything, I doubt we've even reached the end of the beginning.