Clinton Keeps Pulling Ahead Heading Into Second Presidential Debate
As we head into the second Presidential debate, Hillary Clinton looks to be in very good shape.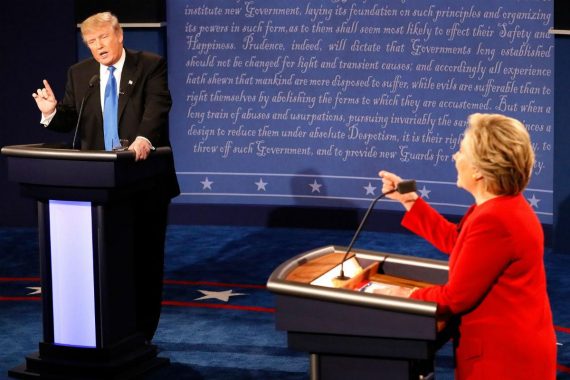 As we head into the second Presidential debate tonight, the race for the White House appears to be at a turning point that could have an impact up and down the ballot, and it's all thanks to Donald Trump. First, there was a clearly bad debate performance on Trump's part that included questions about disparaging comments he made about a Miss Universe pageant that caused him to go off on a week long tirade that completely diverted the campaign from whatever message it may have intended to push in the wake of the debate. Shortly after that, The New York Times published a story indicating that Trump has suffered a nearly $1  billion loss in the mid-1990s that likely meant he ended up paying no taxes for at least eighteen years thereafter, a story which also sent Trump off onto a tirade. The biggest story, though, came late on Friday when audio from 2005 of Trump talking to Access Hollywood host Billy Bush about women in a lewd manner that has caused numerous Republicans to call on Trump to step down, and even for his own Vice-Presidential nominee it was a step too far. While it's clear that the calls on Trump to step aside as the GOP nominee, or for the GOP to replace him, are little more than fantasy, it's also clear that Trump's fellow Republicans are on the verge of abandoning him completely and putting their resources into an effort to protect down ballot races for the Senate, House, Governor's Mansions and state legislatures. In other words if things were difficult for Trump heading into this final month of the campaign, they may be on the verge of becoming impossible, especially if Republican voters follow the lead of their representatives and turn their back on Trump.  All of this happened, of course, as what was possibly the worst possible time for Trump, After several weeks of tightening in the polls, it became apparent last week that the tide seemed to be turning in Hillary Clinton's favor both at the national and the state levels..
At the national level, Hillary Clinton began pulling away from Trump in a manner that suggests that this race may become one that the GOP cannot win thanks to Trump's comments. With the exception of the Los Angeles Times poll, which has been heavily weighted in Trump's favor from the beginning. Other polling, though, clearly showed Clinton pulling ahead of Trump and halting the momentum that he had developed over the previous month or so. That trend continued in the wake of the first debate and what turned out to be a rather uneventful Vice-Presidential debate and puts Clinton in an excellent position to shut the door on Trump in the near future. The RealClearPolitics National Average for a two-way race, for example, showed Clinton (47.5%) with an average lead of 4.6 points over Trump (42.9%), a significant improvement over the 3.8 point lead she had last week as well as two weeks ago when her average lead was at 2.3 points and three weeks ago when it was at 1.3 points. In a four-way race that includes the major third-party candidates, Clinton stands at an average of  43.7% compared to Trump's 40.9%, giving her a 3.2 point lead. Libertarian nominee Gary Johnson stands at 6.5% and Green Party nominee Jill Stein stands at 2.3%, giving Clinton an average lead of 2.6 points, which compares favorably to where it stood two weeks ago when it was at 1.5 points and three weeks ago when it stood at 1.1 points. Pollster shows similar improvement in both a two-way and a three-way race.
You can also see signs of Clinton's upward tick in the RCP Charts: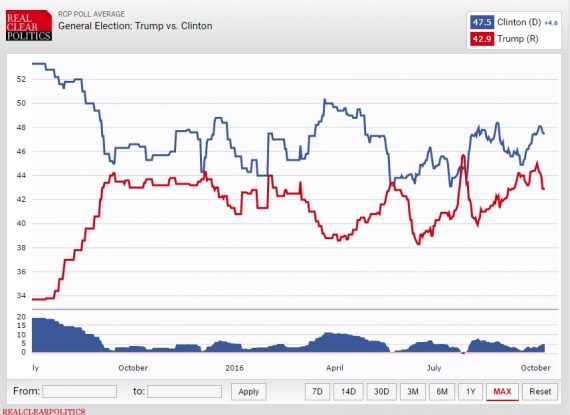 and, the four-way chart: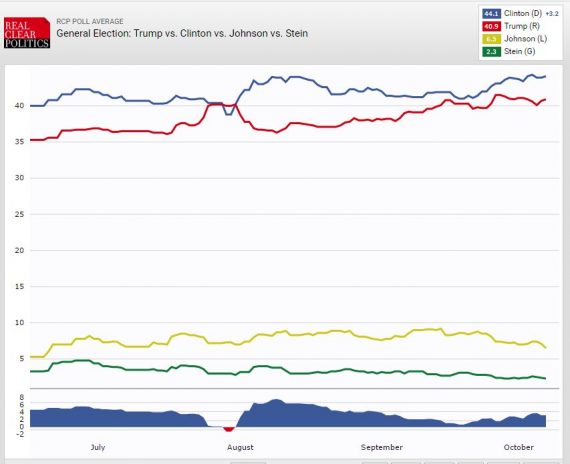 The past week has also seen Clinton largely put a halt to Trump's momentum and, potentially, push back against  Trump in states where Trump was showing signs of strength.. For example, we've seen Clinton's numbers improve in states such as Pennsylvania and Virginia, where she was already leading albeit by smaller margins than in the past, and to make inroads in states like Ohio, Florida, North Carolina, and Iowa where Trump seemed to be showing good news for Trump. As a result, the RCP Electoral Vote Map now gives Clinton 260 Electoral Votes compared to 165 for Trump and 113 grouped among nine states as being toss-ups. Without toss-ups, and if the RCP averages are taken as indicative of the final results, Clinton would have 340 Electoral Votes to 198 for Donald Trump.
Turning to the projections, Clinton's turnaround continues to be reflected there as well. Nate Silver's polls-only forecast, for example, projects a 81.3% likelihood of a Clinton victory and a  18.7% chance of a Republican victory while the 'Polls-Plus' forecast gives Clinton a  77.1% chance of winning versus 22.9% for Donald Trump and the "Now-cast," which purports to project would happen if the election were held today, showing a 85.3% chance of a Clinton victory and a 14.6% chance of a Trump victory. These are all significant improvements over where Clinton was over the past two weeks. As was the case last week, Clinton fares slightly better in Sam Wang's forecast and in Larry Sabato's forecast. The New York Times, meanwhile, gives Clinton a 83% chance of winning the race while DailyKos gives Clinton a  93% chance of winning. These are also an improvement over Clinton's position last week.
The question going forward, of course, is what impact the latest revelations about Trump's past statements about women, as well as his performance in tonight's penultimate debate, will have on the race. For Trump's core supporters, I tend to doubt that even these comments will be enough to turn them away from a candidate that they have invested their emotions in for the past sixteen months or more. However, Trump was never going to win the election with just the support of those core supporters. To do that, he needs to attract support from independents and other voters who weren't already in his camp, and he needs to drastically improve his position among women and younger voters. Is it possible that Trump can show enough contrition to stop the bleeding from last week's revelations? I suppose it is, but it doesn't seem as though it's very likely this will happen. First of all, Trump's supporters are refusing to admit that the comments are as bad as they obviously are, and many of them seem to think that the best way to respond to questions about what Trump said is to regurgitate arguments from the 1990s regarding Bill Clinton's sexual past, including the allegations that he had sexually assaulted several women going back to the time when he was Governor of Arkansas. The problem is that those stories were largely litigated 20 years ago and it seems unlikely that most Americans are going to want to hear about the yet again.. Second, it just isn't in Trump's nature to be apologetic and we already know that he is easily goaded into putting his foot in his mouth. In the last debate, for example, all Hillary Clinton had to do was mention the Miss Universe comments and Trump took to the issue like someone who can't help himself when it comes to attacking people. Finally, the fact that this is going to be a "town hall" style debate means that it will be much harder for him to go on the attack against Clinton. Given all that, the odds that Trump will be able to turn things around seem to be quite low.
Previous posts:
With Eleven Weeks To Go, Hillary Clinton Appears To Be Unstoppable
Ten Weeks Out: The Presidential Race Tightens A Bit, But Clinton Still Lead
With Nine Weeks To Go, Clinton's Post-Convention Bounce Seems To Have Disappeared
With Eight Weeks To Go, A Tighter Race But It's Still Advantage Clinton
Presidential Race Continues To Tighten With Seven Weeks To Go
Presidential Race Remains Tight Heading Into First Debate
With Five Weeks To Go, Clinton Appears To Have Momentum