Presidential Race Remains Tight Heading Into First Debate
With just hours before the first debate, and six weeks until Election Day, the race for President remains tight.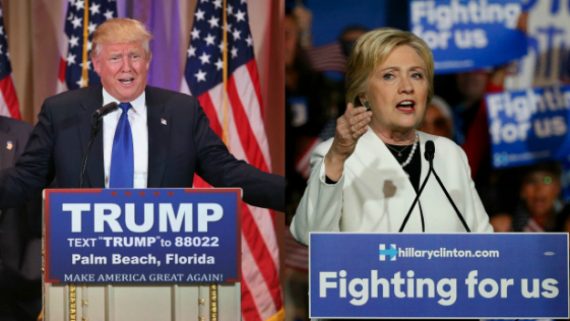 With just over six weeks weeks to go until Election Day, we've come today to what could be the first real turning point in the race for President between Donald Trump and Hillary Clinton, and one which could go down in history as a particularly important moment on a par with similar moments during the elections in 1960 and 1980. I'm referring, of course to the first Presidential debate between two of the best known, most polarizing figures to ever run for President. Based on the number of people who tuned into the Presidential primary debates last year and over the early months of the primary race, some media experts are estimating an audience between  60 and 70 million people for tonight's first debate, with some even stating that we could see viewership numbers approaching 100 million viewers, which would shatter all previous records. Much of the past week has been quiet on the campaign trail as the candidates prepared for tonight's clash, with Clinton taking the traditional route of studying briefing books and holding mock debates with a Trump stand in while Trump, well, prepares in his own way. Things did get a bit personal over the weekend as the Clinton campaign suggested that it would invite Mark Cuban, who has been a strong critic of Trump for several years now, as a guest in the debate audience and Trump countering that he might invite Gennifer Flowers, the woman that Bill Clinton was accused of having an affair with while serving as Arkansas Governor in the 1980s. Later, Trump's campaign denied that it had issued an invitation to Flowers and the Commission on Presidential Debates stepped in to make clear that neither campaign would be permitted to play mind games with its debate invitations and seating arrangements in the audience.
Taking one last look at the polls prior to the debate, we see that very little has changed although there are some signs that Hillary Clinton has started to turn around the dip in the polls that began roughly five weeks ago. So far this has shown up mostly in a handful of national polls that continue to show Clinton in the lead while only the Los Angeles Times tracking poll, which continues to be the only poll to show Trump in the lead. In the RealClearPolitics head-to-head poll, for example, Clinton (45  7 %) has a 2.3 point lead over Trump (43.4%), which is actually an improvement over last week when her lead was down to 1.3 points. In a four way race, Clinton stands at 42.4% while Trump stands at 40.9%. giving her a 1.5 point average lead, which again is an improvement over last week but well below where the race stood five weeks ago. In that four-way race, Libertarian Party nominee Gary Johnson stands at 7.1% and Green Party nominee Jill Stein stands at 2.4%. The Pollster average shows a slightly larger lead for Clinton in both a two-way race and a three-way race that includes Johnson,
As the RealClearPolitics charts show, though, while Clinton's numbers have improved somewhat at the national level, the overall trend hasn't changed very much, possibly because many voters are waiting until after at least this first debate to commit to one candidate or another.
Here's the two-way chart: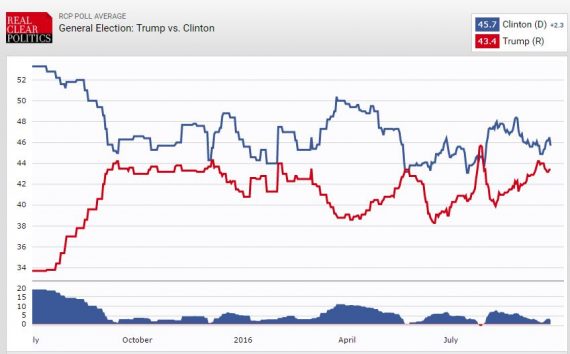 And the four-way chart: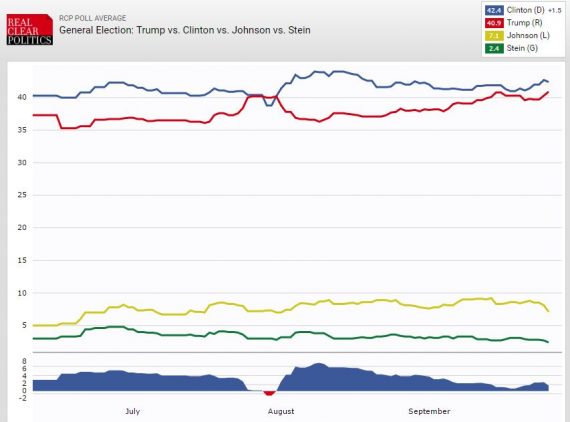 While the national race has remained relatively stable, the race has tightened even more at the state level to the point where it is becoming noticeable in the Electoral College projections. In no small part, this is due to the fact that Trump has managed to continue performing strong in states such as Ohio and Florida while Clinton has slipped in states such as Pennsylvania and Colorado that she ultimately is likely to win, but where the voters seem to be stepping back a bit before backing a candidate. As a result of this movement, we have a RealClearPolitics Electoral College Map that gives Clinton 198 Electoral Votes while Donald Trump has 165 Electoral Votes, with 13 states and one Congressional District in Maine totaling 175 Electoral Votes listed as toss-ups. With no toss-ups, Clinton still has a majority at 272 Electoral Votes to Trump's 266. This is the best that Trump has done in the Electoral College projection at RCP since it started being tracked and reflects a trend at the state level that continues to be favorable to Donald Trump.
The tightening of the race is also reflected in other projections. Nate Silver's polls-only forecast, for example, projects a 57.8% likelihood of a Clinton victory and a  42.2% chance of a Republican victory while the 'Polls-Plus' forecast gives Clinton a  57.1% chance of winning versus 42.9% for Donald Trump and the "Now-cast," which purports to project would happen if the election were held today, showing a 56.0% chance of a Clinton victory and a 44.0% chance of a Trump victory. As was the case last week, Clinton fares slightly better in Sam Wang's forecast and in Larry Sabato's forecast, but her numbers there have tightened a bit as well. The New York Times, meanwhile, gives Clinton a 70% chance of winning the race while DailyKos gives Clinton a  64% chance of winning.
All of this is a snapshot in time, of course, and much of it could change depending on how tonight's debate goes, which is really anyone's call. Given her experience with the format, Clinton obviously seems as though she would be favored headed into the debate but that doesn't necessarily tell us anything at all. Four years ago, the expectation was that Barack Obama would blow Mitt Romney out of the water. Instead, the nation saw an uncharacteristically weak performance from the President that ended up temporarily throwing the race into chaos as Mitt Romney seemed to gain momentum in the wake of a strong debate performance. Ultimately, of course, President Obama ended up winning easily, but that even was a reflection of the fact that anything can happen in a debate format such as the one we'll see tonight. Additionally, expectations are going to play a huge role in the impact tonight's debate has on the race, and that could inure to Trump's benefit. To some degree, his performance in the Republican debates as well as overall public opinion suggest that Trump could end up adding to his current momentum with a strong performance tonight that would, at the very least, cause a whole new set of headaches for the Clinton campaign going forward. Given all of that, where the race is a week from now is an area where your guess is as good as mine, although I'll admit that the most likely possibility is that Clinton will start to close the deal with voters and reverse the downward momentum that has plagued her over the past month. It's all up to the voters.
Update: Since I posted this article this morning, Nate Silver has updated his forecasts. The  polls-only forecast, for example, now projects a 53.6% likelihood of a Clinton victory and a  46.4% chance of a Republican victory while the 'Polls-Plus' forecast gives Clinton a  53.4% chance of winning versus 46.6% for Donald Trump and the "Now-cast," for the first time since the party conventions, has Donald Trump in the lead, showing a 50.1% chance of a Trump victory and a 49.9% chance of a Clinton victory. Much of this is likely to change after the debates and especially after the first round of post-debate polling.
Previous posts:
With Eleven Weeks To Go, Hillary Clinton Appears To Be Unstoppable
Ten Weeks Out: The Presidential Race Tightens A Bit, But Clinton Still Lead
With Nine Weeks To Go, Clinton's Post-Convention Bounce Seems To Have Disappeared
With Eight Weeks To Go, A Tighter Race But It's Still Advantage Clinton
Presidential Race Continues To Tighten With Seven Weeks To Go