A Final Look At The Polls
With just one day to go, Clinton's paths to victory continue to look far more realistic than Donald Trump's.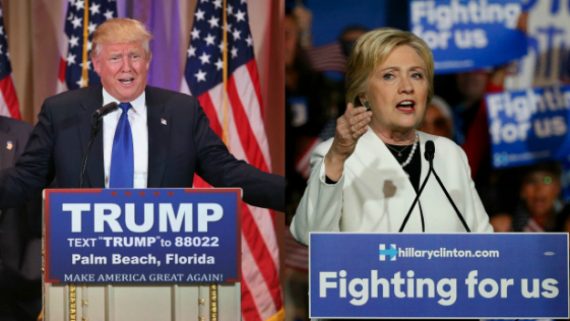 It may be hard to believe folks, but we're finally here. 719 days after the 2016 Presidential campaign season started with former Virginia Senator Jim Webb becoming the first candidate to announce the creation of a Presidential Exploratory Committee, we're now less than twenty-four hours from the polls opening and about thirty-six hours or so away from finding out the identity of the 45th President of the United States. Without question, it has been one of the most raucous, controversial, and disheartening campaigns in recent memory, and one that could have a lasting impact on American politics with consequences that won't be fully sorted out for years to come. Over the course of one year, 11 months, and 19 days we've seen some of the worst aspects of American politics play out on our television screens, in social media, and, quite often, in one on one discussions between friends and family members who found themselves on opposite sides of the political fence in a year when our politics seemed as if it was more polarized than it had been in quite some time.
The past week, for example, was marked by seemingly non-stop coverage of what seemed to be a politically disastrous reopening of the F.B.I. inquiries into Hillary Clinton's use of a private email server as was announced in a letter that F.B.I. Director James Comey had sent to Congress at the end of last week. For several days, the polls at both the national and local level began to close at what likely seemed like an alarming pace for the Clinton. Additionally, notwithstanding Clinton's advantage in the Electoral College and the fact that Trump's paths to victory remained no easier at the end of the week than they were at the start, polling at the state level suggested some trouble for the vaunted Clinton firewall. By the end of the week, though, the polls seemed to largely turn around and Clinton's lead returned to the several point margin that we'd seen before. The result was a reshuffling of campaign appearances by both candidates as the campaigns sought to exploit what seemed as if it was a shifting electorate in the final days of the campaign. The final capper to the week came yesterday when F.B.I. Director Comey sent another letter to Congress, informing them that they had completed their investigation into the new email he had previously referenced and found no reason to change the previous conclusion that there was no basis to change the conclusion from July that prosecution was not warranted based on the facts available.
Looking at the race from the national level one last time, it seems clear that Clinton is in the lead and that Trump's path to victory would be difficult at best. As always, we turn first to the RealClearPolitics polling averages. In a two-way matchup, Clinton now leads Trump 46.8% to 44.3% for an average lead of 2.5 points. This is actually slightly higher than where Clinton stood last week, and is also a notable improvement from where the average was even a few days ago after days of polling that was generally showing the race as tied or Clinton with a narrow lead of one or two points. In a four-way match, Clinton stands at 44.8% to 42.1% with Libertarian nominee Gary Johnson averaging 4.9% and Green Party nominee Jill Stein averaging 2.0%, giving Clinton an average 2.7 point lead over Trump. This is exactly where Clinton was a week ago, and is an indication of the fact that the movement in the four-way polls over the past week was far less volatile than it had been in the two-way matchup Pollster also shows improvement in Clinton's numbers in both a two-way and a three-way race  In the RealClearPolitics polling average of the Favorable/Unfavorable question for both candidates, where we might expect to see some evidence that the email story is having an impact, both candidates continue to be viewed unfavorably but Clinton remains in a far better position than Trump, For Clinton an average of 55. 3% of respondents saying they have an unfavorable opinion of her versus 41.5% who say they have a favorable opinion. This leaves her with an average deficit of -13.8 points.This represents a drop for Clinton and is likely a reflection of the revival of the email story for much of the week.   This compares quite favorably, though, to Donald Trump who stands at 57.8% unfavorable and 38.6 favorable and an average deficit of -19.2points. This is a slight statistical improvement for Trump. In both cases, this may be attributable to the fact that people who have made up their mind about one candidate or the other have become more favorable toward that choice.
Here's the chart for the two-way race: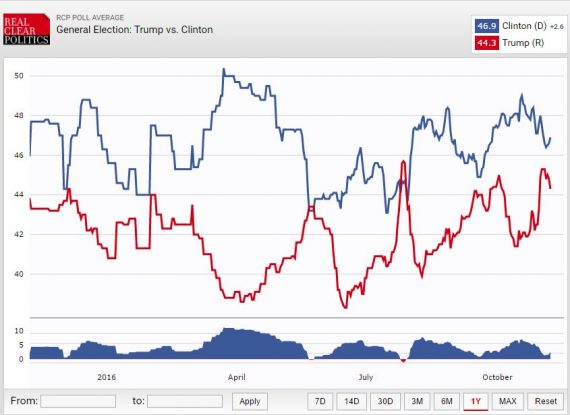 And the four-way race: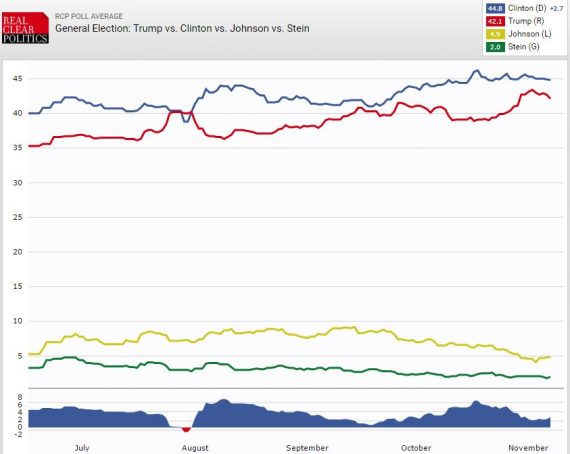 Nowhere else is the tightening of the polls we saw over the past week seen more than at the state level, where several states that had been put in Clinton's column slipped into the Toss-Up category thanks to the fact that polling was showing the race closer than it had been. Several of these states, though, include states that Clinton seems very likely to win tomorrow including Virginia, Michigan, Colorado, Pennsylvania, and New Mexico. As a result, the RCP Electoral Map currently gives Clinton 203 Electoral Votes to 164 Electoral Votes for Trump and 171 Electoral Votes from fourteen states and one Congressional District in Maine listed as toss-ups. The advantage obviously still lies with Clinton since she has more apparent paths to victory than Trump does. Without toss-ups, Clinton has 301 Electoral Votes to 237 for Donald Trump. In reality, I tend to think that Clinton's win in the Electoral College will be larger than this but this still represents a sizable victory for Clinton that could end up being apparent well before the end of the night on Tuesday.
The projections, not surprisingly still predict a Clinton win, albeit by a narrower margin than before. Nate Silver's polls-only forecast, for example, projects a 66.4% likelihood of a Clinton victory and a 36.6% chance of a Republican victory while the 'Polls-Plus' forecast gives Clinton an 66.7% chance of winning versus 33.2% for Donald Trump and the "Now-cast," which purports to project would happen if the election were held today, showing a 66.7% chance of a Clinton victory and a 33.3% chance of a Trump victory. Silver's numbers have consistently been far more conservative than those of other forecasters throughout the campaign and it's no different now that we're just one day before Election Day. This has led to some degree of controversy and criticism directed at Silver by those who feel that he's 'cooking the books,' but Silver has defended his modeling as the most appropriate way to approach the numbers at this time. Additionally, keep in mind that 538's forecast numbers can change throughout a given day as they factor newly published polls into their forecast model, these numbers represent what was displayed at the time the post was written. These are all slips for Clinton over last week, which isn't surprising given the extent to which the race tightened in the polls. As was the case last week, Clinton fares slightly better in Sam Wang's forecast and in Larry Sabato's forecast. The New York Times, meanwhile, gives Clinton an 84% chance of winning the race while DailyKos gives Clinton a 88% chance of winning. These are largely consistent with Clinton's position last week.
It's been a bumpy week for Clinton, but it's ending largely in a very good position for her heading into tomorrow. In addition to the numbers above, the early voting numbers from states such as North Carolina, Florida, and Nevada were very favorable for Democrats all last week, suggesting that Trump would have to have a massive turnout in his favor tomorrow in order to pull of victories in those states. While that's certainly possible, that is also the kind of thing that would require the kind of ground campaign that Trump doesn't seem to have. Indeed, in all three of these states Clinton's ground operation appears to be manifestly superior to Trump's, but we'll have to see if that holds up tomorrow.
Previous Posts:
With Eleven Weeks To Go, Hillary Clinton Appears To Be Unstoppable
Ten Weeks Out: The Presidential Race Tightens A Bit, But Clinton Still Lead
With Nine Weeks To Go, Clinton's Post-Convention Bounce Seems To Have Disappeared
With Eight Weeks To Go, A Tighter Race But It's Still Advantage Clinton
Presidential Race Continues To Tighten With Seven Weeks To Go
Presidential Race Remains Tight Heading Into First Debate
With Five Weeks To Go, Clinton Appears To Have Momentum
Clinton Keeps Pulling Ahead Heading Into Second Presidential Debate
With Three Weeks To Go, Clinton's Momentum Appears To Be Surging
It's Two Weeks Until Election Day, And Things Are Looking Very Good For Hillary Clinton
With One Week To Go, The Presidential Race Tightens But Clinton Still Has The Advantage