With Three Weeks To Go, Clinton's Momentum Appears To Be Surging
With twenty-one days to go until Election Day, things are looking very good for Hillary Clinton.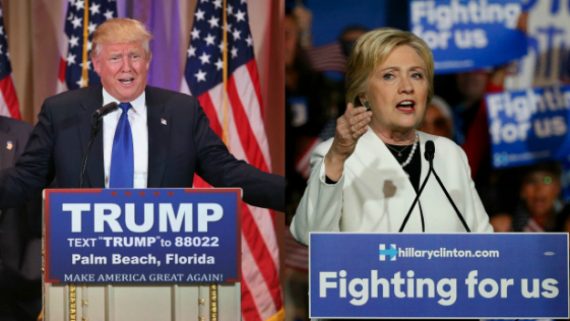 Three weeks from today, Americans will head to the polls to pick the 45th President of the United States, bringing to an end a process that began nearly two years ago when candidates on both sides of the aisle began positioning themselves for a run for President that, in the end, would be unsuccessful for all but two of them. To say that it has been one of the most unique Presidential races in recent memory would be, if anything, an understatement. In addition to the spectacle that has been the Donald Trump campaign, we've seen Republicans rally, at least for a time, around a retired neurosurgeon who, while he may seem amiable and well-meaning, obviously had no understanding of important public policy issues while Democrats spent part of their time rallying behind a  75 year old self-described socialist from Vermont whose campaign platform included ideas that would have cost trillions of dollars but lacked any viable way to pay for them. There will be plenty of time after November 8th for political scientists and historians to evaluate what the 2016 campaign meant, and regardless of how it turns out it now seems clear that one of the nation's two major political parties faces an identify crisis that could take years to resolve. For the meantime, the focus of this race remaining on Donald Trump and Hillary Clinton, and the current trends seem to clearly indicate that this race is turning decisively in Hillary Clinton's favor.
To a large degree, the campaign news of the week followed the same pattern that we found ourselves in last week, with Trump obsessively responding to the accusations made against him regarding comments about the appearance of a former Miss Universe contestant as well as continuing fallout from the tape of him making lewd comments about women to Access Hollywood'si Billy Bush.  This led Trump to begin attacking Clinton with stories regarding her husband's past affairs as well as the accusations of sexual assault made against him in the past. Additionally, Trump was forced to deal with accusations of inappropriate conduct on his own part as several women came forward to accuse Trump of inappropriate conduct that essentially amounts to sexual assault dating back to at least the late 1980s. All of this led Republicans to continue to distance themselves from Trump in obvious acts of self-preservation while the Clinton campaign essentially stayed on the sidelines and let Trump bury himself. The week was also highlighted by the second Presidential debate, a rather lackluster affair that seemed at the time to be unlikely to blunt Clinton's momentum. Indeed, as we'll see below, it appears that the pattern that saw the race turn in her direction has only become stronger and that we could be close to the point where it's fair to say that there is no realistic chance that Donald Trump will win this election.
Turning first to the national polls, we've seen a number of new polls in the past week showing Clinton seemingly pulling away from Trump rather dramatically, including polls from NBC News, Monmouth, and CBS News that gave Clinton double digit leads in both a head-to-head match with Trump and a four-way race that includes Gary Johnson and Jill Stein as well as other polls that showed her with a solid single-digit leads outside the margin of error. This gave Clinton a significant boost in the RealClearPolitics National Poll Average where she now has a 7.1 point lead over Trump in a two-way race and leads him 48.9% to 41.1%. This is a significant improvement over the 4.6 point lead that she had last week, not to mention the 3.8 point lead she had two weeks ago and the 2.3 point lead she had three weeks ago. In a four-way race, Clinton (45.9%) has a 6.9 point lead over Trump (39.0%). Libertarian Party nominee Gary Johnson, meanwhile, has fallen to an average of  6.5% nationally and the Green Party's Jill Stein has fallen to 2.4% in what may be a sign that voters who have been telling pollsters that they support one of the third-party candidates are starting to coalesce around the Democratic or Republican nominee as they have in the past. For Clinton, this is a significant surge compared to the 2.6 point average lead she had last week as well as the 1.5 point lead she had three weeks ago and the 1.1 point lead she had a month ago. Once again, Pollster shows similar improvement in both a two-way and a three-way race. Another indication of Clinton's improvement can be seen in the Favorable/Unfavorable polls. In the RealClearPolitics polling average of that question, Clinton remains in negative territory, with an average of 52.3% of respondents saying they have an unfavorable opinion of her versus 43.2% who say they have a favorable opinion. This is leaves her with an average deficit of -9.1 points. This compares quite favorably to Donald Trump who stands at 60.9% unfavorable and 34.5% favorable and an average deficit of -26.4 points.
The charts make Clinton's surge even more apparent, especially the two-way chart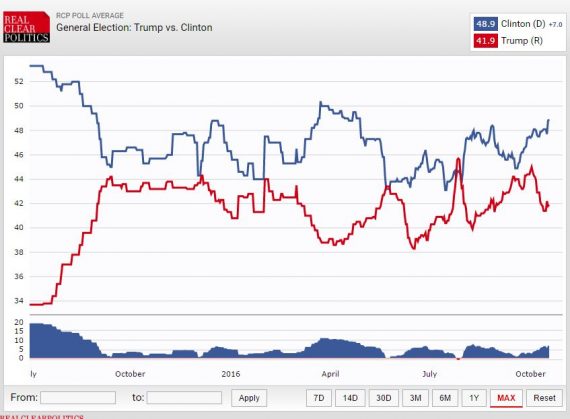 And you can also see signs of that surge in the four-way chart: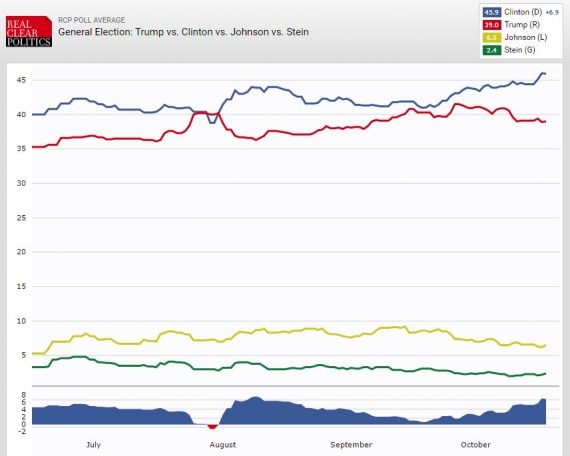 The race remains somewhat more volatile at the state level, with Trump continuing to be competitive in states such as Ohio and Florida as well as expanding his lead in states such as a Georgia. Meanwhile, Hillary Clinton appears to be advancing in states such as North Carolina, Arizona, and Nevada. As a result, the RCP Electoral Map currently gives Clinton 256 Electoral Votes, with Donald Trump garnering 170 votes, and ten states totaling 112 Electoral Votes listed as toss-up states, meaning that the polls show the candidates with RCP averages inside the margin of error. Without toss-ups, Clinton has 322 Electoral Votes to 216 for Donald Trump. This is a slight improvement for Trump over last week, but given the significant changes in the national polls, it seems as though it would only be a matter of time before we start seeing the same thing at the state level
In the projections, Clinton's turnaround continues to be reflected there as well. Nate Silver's polls-only forecast, for example, projects a 87.6% likelihood of a Clinton victory and a  12.4% chance of a Republican victory while the 'Polls-Plus' forecast gives Clinton a  84.6% chance of winning versus 15.4% for Donald Trump and the "Now-cast," which purports to project would happen if the election were held today, showing a 89.4% chance of a Clinton victory and a 10.6% chance of a Trump victory. These are all significant improvements over where Clinton was over the past two weeks. As was the case last week, Clinton fares slightly better in Sam Wang's forecast and in Larry Sabato's forecast. The New York Times, meanwhile, gives Clinton a 91% chance of winning the race while DailyKos gives Clinton a 95% chance of winning. These are also an improvement over Clinton's position last week.
All of this points to significant momentum in favor of Clinton at this point that, if it lasts, will likely propel her to victory on November 8th. It also seems to confirm that the revelations that have come out about Trump's personal life over the past two weeks, as well as the manner in which he has reacted to those reports, have had a significantly negative impact on his fortunes and threaten to derail his campaign at the worst possible moment in the weeks before voters actually head to the polls. Before that happens, though, we've got one more debate on Wednesday evening. If the past two debates are any indication, though, Clinton is likely to do just fine while Trump will continue to struggle. That being said, it isn't beyond possibility that the race will tighten one more time before Election Day. If it does, it would be mimicking the pattern we've seen in several recent elections. There would have to be significant tightening for Trump to actually catch up to Clinton, not to mention surpass her sufficiently to have a credible chance at 270 Electoral Votes. The odds of that happening seem quite low, though, so right now I'd continue to put my money on a Clinton win on November 8th.
Previous posts:
With Eleven Weeks To Go, Hillary Clinton Appears To Be Unstoppable
Ten Weeks Out: The Presidential Race Tightens A Bit, But Clinton Still Lead
With Nine Weeks To Go, Clinton's Post-Convention Bounce Seems To Have Disappeared
With Eight Weeks To Go, A Tighter Race But It's Still Advantage Clinton
Presidential Race Continues To Tighten With Seven Weeks To Go
Presidential Race Remains Tight Heading Into First Debate
With Five Weeks To Go, Clinton Appears To Have Momentum
Clinton Keeps Pulling Ahead Heading Into Second Presidential Debate