Second Debate Unlikely To Halt Clinton's Momentum
Last night's debate was indeed the low point everyone anticipated it would be, but it seems unlikely to change the status quo.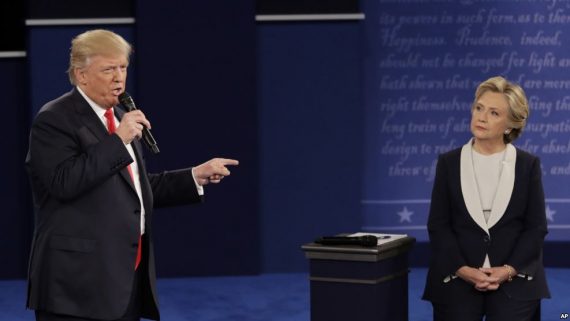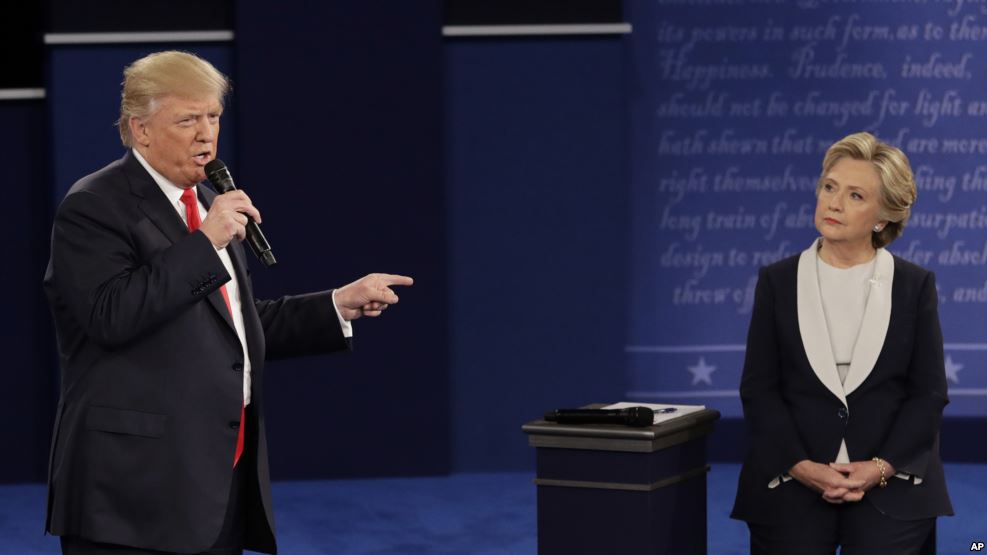 As a general rule, I've never been a fan of the town-hall style "debate" format that was used for last night's second Presidential debate ever since it was first used during the 1992 Bush v. Clinton v Perot race. For one thing, it's often been the case that producers, or moderators, or whomever it is who ends up deciding which questions from the audience get asked don't really do a very good job of vetting the questions from the audience, meaning that we need up with poorly drafted questions that basically let the candidates answer however they wish. The addition of question from online sources, in last night's case Facebook, didn't help the situation very much. That perhaps why the two moderators seemed to stray from the traditional "town hall" format by asking questions of their own, although that was dictated in no small part because it was necessary to do so in order to address the 800 pound gorilla in the room in the form of the audio tape made public on Friday that showed Donald Trump making lewd remarks about women and insinuating that he has engaged in what can only be described as sexual assault in the past. What resulted was some of the worst moments in modern American political history, with Trump not only denying he had really done what he said on the tape he did but also digging up twenty year old arguments against former President Bill Clinton even though it's Hillary Clinton who is running for President while at the same time tearing into his opponent in a way that we really haven't seen in modern American politics. James Joyner refers to the entire affair as bizarre, while The New York Times referred to it as bitter and personal, and they're both right:
Donald J. Trump and Hillary Clinton collided in an almost unremittingly hostile debate on Sunday night, a 90-minute spectacle of character attacks, tawdry allegations, and Mr. Trump's startling accusation that Mrs. Clinton had "tremendous hate in her heart."

In a remarkable political maneuver, Mr. Trump said Mrs. Clinton had smeared women who accused her husband, Bill Clinton, of sexually assaulting or harassing them, seeking to salvage his presidential candidacy after explosive reports about his past lewd comments about women.

Tense at first, and then increasingly angry as he grew more comfortable on the attack, Mr. Trump noted that three of Mr. Clinton's accusers were sitting in the audience. It was one of several moments when Mr. Trump aimed to energize his most conservative supporters and drive a wedge between them and the elected Republican officials who have been abandoning him. He even threatened that if it were up to him, Mrs. Clinton would "be in jail" for her use of a private email server as secretary of state.

Both candidates were visibly uneasy throughout the debate, even refusing to shake hands at the beginning, as the town hall event unfolded on a small stage in a highly charged atmosphere. It was a deeply ugly moment in American politics, featuring the sort of personal invective rarely displayed by those who aspire to lead the nation.

"Bill Clinton was abusive to women. Hillary Clinton attacked those same women — attacked them viciously," Mr. Trump said, arguing that the accusations against Mr. Clinton were "far worse" than Mr. Trump's own remarks in 2005 that he could grope women because he was "a star."

Mr. Trump apologized for those comments but also repeatedly minimized them as "locker-room talk," and even tried to blame Mrs. Clinton for raising them in light of Mr. Clinton's behavior.

"She brings up words that I said 11 years ago — I think it's disgraceful, and she should be ashamed of herself, to tell you the truth," Mr. Trump said to scattered applause.

Mrs. Clinton did not specifically rebut his charges about her husband, saying only, "So much of what he just said is not right."

Instead, she broadened her indictment of Mr. Trump beyond the 2005 recording, assailing him for refusing to show contrition for his many inflammatory statements.

"He never apologizes to anybody for anything," Mrs. Clinton said. She unfurled a litany of his provocations, including his mocking a Gold Star family, accusing a Hispanic judge of being biased by virtue of his ethnicity, ridiculing a reporter who has a disability, and falsely claiming that President Obama was not born in America.

"Yes, this is who Donald Trump is," Mrs. Clinton said about his 2005 remarks. "The question for us, the question our country must answer, is that this is not who we are."

After a tumultuous political weekend, the debate was watched extremely closely by Republican members of Congress, who are deciding whether to join dozens of elected officials who have broken away from the party's nominee.

Mr. Trump's performance was sure-footed enough that no more Republican officials disavowed him in the immediate aftermath of the debate, and it prompted his running mate, Gov. Mike Pence of Indiana, to assure him via Twitter he would remain on the ticket after Mr. Trump's "big debate win."

Mr. Trump's attacks on the Clintons — including a promise that, as president, he would appoint a special prosecutor to investigate Mrs. Clinton's email practices — were striking even in a presidential campaign that has often seemed like a race to the bottom because of Mr. Trump's no-holds-barred assaults on his rivals.

But no single answer by Mr. Trump seemed sufficient to put to rest the controversy over his 2005 remarks. As much as he apologized, he did not confess or reveal anything new about his treatment of women over the years. Instead, Mr. Trump alternated between sounding chastened or defensive and trying to energize his base, which remains deeply hostile to Mrs. Clinton.

(…)

Mr. Trump appeared more confident and aggressive than he had in the first debate, often dismissing Mrs. Clinton's arguments out of hand and painting her as a politician "for 30 years" who had no record of accomplishment.

"It's just words, folks; it's just words," he said about Mrs. Clinton's policy proposals. Forty-five minutes later, he added, "It's all talk and no action."

Mr. Trump made little, if any, effort to appeal to moderate voters, instead hurling a series of insults at Mrs. Clinton. At one point, an audience member pressed him about whether he could be a "devoted president" for all Americans, and he said emphatically that he could be, without acknowledging that his comments over the past year had been extraordinarily divisive. Instead, he attacked Mrs. Clinton.

"She calls our people 'deplorable,' a large group, and irredeemable," Mr. Trump said, invoking a comment that Mrs. Clinton made last month disparaging what she said was half of Mr. Trump's supporters.

Mrs. Clinton's response reflected a strategy of hers throughout the town hall-style debate: trying to engage directly with the undecided voters in the audience who asked some of the questions, and showing her empathetic side.

"Mr. Carter," she said, naming the man who asked the question, "I have tried my entire life to do what I can to support children and families. You know, right out of law school, I went to work for the Children's Defense Fund. And Donald talks a lot about, you know, the 30 years I've been in public service. I'm proud of that."

Mr. Trump, however, was far less concerned with connecting with the voters seated in front of him than with attacking Mrs. Clinton in ways that would rally his voters behind him, and against the Republican officials who have been coming out against him.

"She's lied about a lot of things," Mr. Trump said, contending that Mrs. Clinton's shift to opposing the Trans-Pacific Partnership trade deal was a falsehood. Moments later, he painted her in some of his most vicious language of the campaign.

"She has tremendous hate in her heart," Mr. Trump said. "She has tremendous hatred."
Perhaps the lowest point in the debate, though, came when Trump got his chance to address a question regarding Clinton's use of a private email server while serving as Secretary of State and the recently revealed fact that her subordinates had deleted some 33,000 emails deemed to be personal even after being aware of a Congressional investigation during which Clinton's email was clearly a factor. With little regard for nuance, Trump accused Clinton of a Nixonian style cover-up, and said that if he were elected President he would make sure that a special prosecutor was appointed to investigate the matter further and that she ended up in jail at the end of the investigation. These are comments that are likely to play very well with Trump's core group of supporters, many of whom have had an animus toward the Clinton family dating back to the 1992 election, and they're already being emphasized and praised by many of the 'news' outlets that appeal to those voters, such as Breitbart. It's also likely to play well with the Fox News Channel and talk radio crowd that has been pushing this meme about Bill and Hillary Clinton ever since the two of them first appeared on the national political landscape. What impact it has outside those groups, though, is another question entirely, and it's unclear this morning just how successful Trump was in stopping the hemorrhaging that he had been experiencing since Friday.
According to post-debate polls, which are admittedly of questionable value even when conducted scientifically, the public perceived in the immediate aftermath of the debate that Hillary Clinton had 'won' the debate, although it's not clear what impact the entire affair will have on the state of the race going forward. Politico's Eli Stokols, meanwhile, suggests that Trump did well enough to stay alive and that Clinton had failed to deliver a 'death blow', but notes that the GOP remains in panic mode:
The ugliest presidential debate in the country's history began with the two candidates taking the stage without shaking hands and will be remembered for Donald Trump's threat to put Hillary Clinton in jail, his statement that she has "hate in her heart" and by his stunning decision to put three women who have accused Bill Clinton of sexual abuse in the front row.

But the sad spectacle did more to cement the broader 2016 campaign in the annals as a low point for the nation's political discourse and civility than to alter a race between the two most unpopular nominees ever that is hardening as it enters the final stretch.

With 29 days left, Clinton is a heavy, heavy favorite to become the country's first woman president. But she did not deliver a final death blow to her reeling opponent, who has been hemorrhaging Republican support after Friday's publication of video in which he bragged about getting away with sexual assault.

"I don't see that anything changed tonight," said Curt Anderson, a GOP strategist in Washington. "In fact, Clinton really botched the debate in that she had a chance to put him away with a good performance. The past few days have revealed Trump's lack of character for all to see, and tonight this debate is a reminder of just how lousy a candidate Clinton is."

Trump, who has effectively squandered his chance of becoming president due to a bumbling, gaffe-marred two-week interim between the first debate and Sunday's showdown in St. Louis, was the aggressor for much of the debate. But his marginally successful attacks over Obamacare and Clinton's email controversy were aimed mainly at his own base, as were his hot-tempered hyperbole and gruff stage presence—he actually seemed to stalk Clinton, standing behind her, scowling as she answered questions posed by undecided voters in a town hall-style setting. Interim DNC Chairwoman Donna Brazile joked in the spin room afterward that Trump "got in his 10,000 steps. All he did was pace and pace and pace and pace."

That Trump is still appealing to an angry conservative base at this late stage of the election may be the most glaring indication of the hard ceiling on his overall support and, as a result, where this race stands. Clinton's national lead over Trump has stretched to five points, according to the Real Clear Politics average of polls, and she is surging past him in swing states like Florida and North Carolina that had been more competitive just weeks ago—all as a result of her winning over undecided voters and some Republican women.

These polls don't take into account the public's reaction to the 2005 videotape in which he bragged that his celebrity enables him to "grab [women] by the pussy." But private polling is already showing a devastating effect on Trump and down-ballot Republicans, which is driving much of the fallout with dozens of GOP elected officials un-endorsing Trump over the weekend and the possibility of more to come with a congressional GOP conference call set for Monday morning.
Nate Silver isn't sure that Trump helped himself, though:
[S]uppose that we call the debate a draw. Suppose, furthermore that the tape the Post published didn't damage Trump. Instead, let's say the polls look about the same a week from now as they do today, with Clinton holding a 5 or 6 percentage point lead. Maybe Clinton's numbers were a little inflated after the first debate and Trump has even gained a point or two, somehow.

That's still a fairly awful position for Trump with time running out, undecided voters getting off the sidelines, early voting already taking place in many states and little or no ground game to help provide a strong finishing kick. There's the third debate, but without an extremely strong performance in that one, Trump is probably left hoping for an "October surprise" or a big polling error (not impossible, but it would have to be larger than the 4-point margin by which Brexit polls missed).

Or, obviously, things could get worse for Trump. And some "October surprises" — such as further leaks of tax returns or embarrassing comments caught on tape — could work against him. (They also wouldn't be that surprising.) His attempt to make an issue of Bill Clinton's past, which his campaign seems determined to pursue, could also backfire.

In the end, your assessment of Trump's chances comes down to the same consideration as with a falling stock: How sound are the fundamentals? Is Trump the equivalent of a beleaguered blue-chip that still has lots of hard assets? In Trump's case, the most valuable asset is probably possession of the Republican Party ballot line, which theoretically ought to be worth something given the circumstances of the race. Or was the whole business a sort of confidence trick, which was bound to implode once people began to lose faith in it?
In the end, I tend to agree with Silver. It's possible that Trump's performance last night will be enough to stop the bleeding from Friday's revelations, but one gets the feeling that it's going to be too little, too late. In addition to the fact that early and absentee voting has already begun in many important battleground states, we're at the point now where many voters are apt to begin making up their minds as far as the election is concerned. Because of that, Friday's revelations came at the worst possible time for Trump and that last night's performance, even if viewed in the best possible light for Trump, was hardly enough to change public perceptions about him that have been set in stone for quite a long time now. Add into this the rumors about additional tapes with even more shocking comments from the Republican nominee are out there and ready to drop in the coming weeks, and it seems clear that Trump did not hit the home-run he would have needed to change the subject. Clinton, on the other hand, seemed to do fairly well enough last night to keep her momentum moving forward. There were some flubs on her part, of course,, such as when she tried to address the recent leaking of portions of some of her speeches to Wall Street investment firms for which she was quite well-paid after leaving Foggy Bottom, For the most part, though, Clinton did a fairly good job of getting her points across and not losing her cool even on the several occasions in which Trump was clearly baiting her.
In the end, of course, it will be the voters who will decide what impact all of this will have on the election. We'll get some idea of that when post-debate polling comes out later this week, but my guess is that Clinton will continue moving forward, shoring up her majority in the states where she already leads, and cutting into Trump's lead in other states. In that respect, it may be the case that this election will be over at the Presidential level much sooner than polling just two weeks ago was leading one to suspect..