With Nine Weeks To Go, Clinton's Post-Convention Bounce Seems To Have Disappeared
It's the traditional start of the campaign season, and the race for President is getting close, at least at the national level.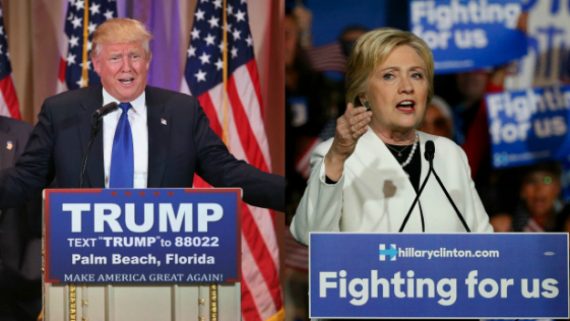 With Labor Day behind us, we're entering what has traditionally been the final stretch of the election season, which has been going on at least since March 23rd, 2015 when Texas Senator Ted Cruz became the first major candidate to announce he was entering the race, although in reality it began long before then and has seemed at times like it was never going to end. In the past, Labor Day marked a significant point in the election cycle since it was traditionally when most candidates would begin campaigning aggressively in anticipation of an election that now stands just two months away. In some of the more recent cycles, that Labor Day starting whistle was more obvious due to the fact that the party conventions had been moved, for some inexplicable reason, to the end of August and away from the mid-summer time frame when they had been held for decades before. This year, both parties returned to the old format and held their primaries at the end of July so we've been subjected to the General Election campaign for the past month or so. The Labor Day Weekend is still fairly significant, though, since its the occasion for parades and other gatherings that several of the candidates and their surrogates appeared at over the weekend, and because it means that we're now just weeks away from the start of the Presidential debates, early voting in many important swing states, and what will likely be the time period during which voters will start to make up their minds. In other words, every day from now until November 8th is crucial for both campaigns, and how they spend it will go a long way to determining how the election goes.
As for the past week, in many ways it felt like a continuation of the previous week. Donald Trump, for example, started out with a trip to Mexico City to meet the President of Mexico during which he again sounded like he was prepared to moderate his position on immigration reform to some degree. Only hours later in a speech in Arizona, though, Trump was back to his old self and his immigration proposal, including the wall that Mexico will supposedly pay for, the proposal to vastly expand the number of people subject to deportation, and the announcement that only illegal immigrants who left the United States and applied for immigration at their local U.S. Embassy or Consulate would ever be eligible for an opportunity to obtain legal status. Additionally, Trump's campaign was forced to deal with surrogates who drew controversy to the campaign, including an African-American Pastor who tweeted an image of Hillary Clinton in black face and a top Latino supporter who warned that electing Hillary Clinton would mean 'a taco truck on every corner.' For the most part, though, Trump once again managed to avoid the kind of over the top demagoguery that has gotten him in trouble in the past. Hillary Clinton's campaign, meanwhile, found itself dealing yet again with another batch of emails, this time related to the relationship between the Clinton Foundation and the State Department while Clinton was President and the release last Friday of the Federal Bureau of Investigation's notes regarding its investigation of her use of a private email server while serving as Secretary of State. On the good side of the ledger, it was reported that Clinton had raised  $143 million for her campaign and the Democratic National Committee in just the month of August. No doubt, this will go a long way toward helping fund the fall ground campaign.
In the polls, the numbers have continued to tighten, although the averages continue to show Hillary Clinton in the lead.
Nationally, the news this morning is dominated by the release of new polling from CNN and ORC International that shows Donald Trump leading Hillary Clinton among likely voters by two points, 45% to 43%, in a four-way race that includes Libertarian Party nominee Gary Johnson, who gets 7% in the new poll, and Green Party nominee Jill Stein, who gets 2%. In a head to head match Trump's lead drops to one point, 49%  to 48% in a two-person race. While both results are within the margin of error, the results are potentially significant in that they show that Clinton has largely lost the large post-convention lead that she had over Trump in the wake of the party conventions and because it's the first poll outside of one of the tracking polls to show Trump leading in quite some time. At the same time, the new NBC News/Survey Monkey poll continues to show Clinton in the lead with a six point lead (48% to 42%) in a head to head match up and a four point lead in a four-way race that puts Clinton at 41%, Trump at 37%, Gary Johnson at 12%, and Jill Stein at 4%. Finally, in a third poll conducted on behalf of Franklin Pierce University and the Boston Herald, Clinton lead in a four-way race 44% to 41%, with Johnson at 8% and Stein at 3%.  In the RealClearPolitics average, which does not include the Franklin Pierce/Boston Herald poll, Clinton continues to lead in a head to head match Trump with an average of 46.2% to Trump's 42.9%, giving her a 3.3 point advantage. Clinton also still leads the pack in a four-way race with 41.4% to Trump's 39.0%, giving her a 2.4 point advantage, with Gary Johnson now averaging 8.1% and Stein averaging 3.0%. Obviously, this is a lower margin than what we saw last week or two weeks ago and reflects the overall tightening in the race itself that suggests that Clinton's post-convention bounce lasted roughly a month, at least at the national level.
You can see evidence for that tightening in the RealClearPolitics chart for a two way race: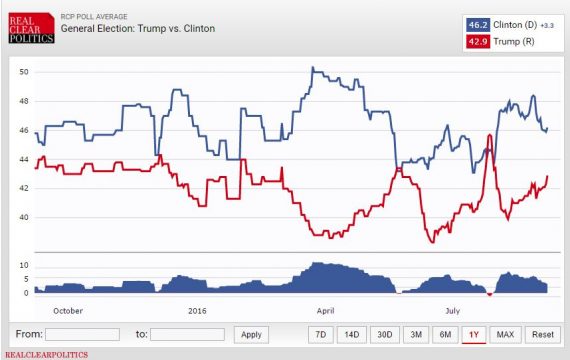 And, to some degree, the four way race: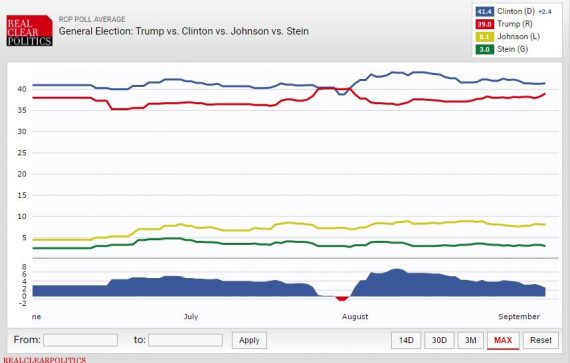 On the state level, there's been tightening in several battleground states that has had an impact on Electoral College projections. Specifically, we've seen tightening polls in Wisconsin, Virginia, and Pennsylvania that have caused each of these states to fall from the "Leans Democratic" category and back into being listed as a Toss-Up thanks to the closeness of margin between Clinton and Trump. Clinton continues to lead in all three of these states, as she does in most of the Toss Up states, albeit her margin has shrunk in much the same manner as it has shrunk nationally. The exception to that rule can be found in Arizona, Georgia, and Iowa, where Donald Trump regained narrow leads in the polling over Clinton, although those leads are razor thin in most cases. Understandably, this has lead to changes in the RealClearPolitics Electoral Map, which now shows Hillary Clinton with 229 Electoral Votes to 154 for Donald Trump and 11 states plus Maine's First Congressional District making up the 155 Electoral Votes that are considered Toss-Ups. Without toss-ups, though, Clinton has a comfortable lead with 340 Electoral Votes to 198 for Donald Trump. In other words, Clinton still has a comfortable lead in the Electoral College, which is where the election will be decided, but there are signs in the state polls of the same tightening that we saw nationally starting last week. Whether this is an anomaly or the beginning of a trend is something only time will tell but with the aggressive campaigning just beginning and the first debate still some three weeks away, it seems as though we're in a time in the race where the polls are going to be pulling closer together.
In other projections, Nate Silver's FiveThirtyEight projection models show Clinton as the favorite in each of the models that site uses. The polls-only forecast projects a 68.5% likelihood of a Clinton victory and a 31.4% chance of a Republican victory, for example, while the 'Polls-Plus' forecast gives Clinton a 66.7% chance of winning versus 33.3% for Donald Trump and the "Now-cast," which purports to project would happen if the election were held today, showing a 66.9% chance of a Clinton victory and a 33.0% chance of a Trump victory. These all represent increases in Trump's favor thanks largely to the tightening in the polls and the fact that a handful of traditionally red states have, at least for the moment, slipped back into his column. There have been no significant updates to either Sam Wang's or Larry Sabato's Electoral Projections over the past week.
As we sit here just nine weeks out from Election Day, what seems clear is that the race has tightened significantly, and it's possible we'll see further tightening between now and at least the end of the month prior to the first debate. While this may surprise many people given the identity of the Republican nominee and the expectation that Hillary Clinton would be able to make quick work of him, what we're seeing instead is an election that isn't entirely dissimilar from the type of election we've seen since at least the 2000 election. In each of those elections, there have been fluctuations in the national polls that at least gave the appearance that either candidate could win the election. In reality, it was generally the case in each of those races, one candidate or the other maintained at least some advantage in the Electoral College that ultimately became impossible to overcome. This was especially true for President Obama in 2008 and 2012 and, at least for now, seems to be true for Secretary Clinton. This is still her race to win or lose, and I'd still say that Clinton remains the favorite to win. That's not going to change unless Donald Trump makes bigger inroads at the state level than he has so far.
Previous Posts:
With Eleven Weeks To Go, Hillary Clinton Appears To Be Unstoppable
Ten Weeks Out: The Presidential Race Tightens A Bit, But Clinton Still Leads