Trump Surrogate: Without Donald Trump There Will Be 'A Taco Truck On Every Corner'
A Trump surrogate warns of a "taco truck on every corner" if Trump loses. That sounds like more of a promise than a threat if you ask me.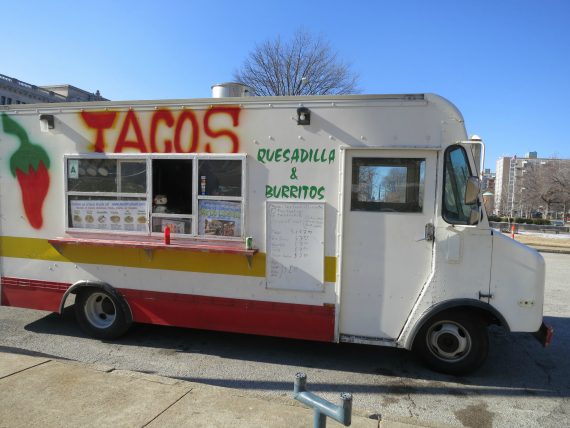 The founder of a group called 'Latinos For Trump' made a very odd, and yet revealing argument in favor of his candidates position on immigration last night:
A founder of the Latinos for Trump group on Thursday warned that without Donald Trump in the White House, there would be "taco trucks on every corner" in America.

"My culture is a very dominant culture," the Mexican-born Marco Gutierrez said on MSNBC's "All In With Chris Hayes." "It is imposing and it's causing problems. If you don't do something about it, you're going to have taco trucks on every corner."

oy Reid, who was guest-hosting Hayes' show, cut him off, saying, "I don't even know what that means, and I'm afraid to ask," before going to New York state Sen. Adriano Espaillat, a Dominican, for a reaction.

"I'm offended," Espaillat said.

Gutierrez defended himself, saying, "We have a lot of good things that we're bringing to the United States, but we also have problems."

The exchange caused ripples among political watchers on social media, and comes at a time when the immigration debate is roiling the presidential election. Republican nominee Donald Trump on Wednesday visited Mexico before making a major immigration speech in Phoenix, Arizona. He also sought to clarify some of his fluctuating immigration positions earlier Thursday.
Here's the video:
As @JoyAnnReid guest hosts @allinwithchris, guest warns of "taco trucks every corner" without #Trump's plan https://t.co/4vnpZXKBYY #inners

— AM Joy w/Joy Reid (@amjoyshow) September 2, 2016
To a large degree, the response to Gutierrez's comment has been widely ridiculed on line with even many conservative pundits joking that if voting for Hillary Clinton meant that there indeed would be a "a taco truck on every corner" then they may have to vote for her after all. Others suggested that the Clinton should adopted this as a campaign slogan, mirroring the slogan that Republicans adopted in the 1928 Presidential election when Herbert Hoover promised 'a chicken in every pot and a car in every garage' (in other words, economic prosperity) if he was elected. Of course, given the fact that Hoover's election was followed just nine months later by a stock market crash that proved to be the beginning of the worst economic downturn in American history, perhaps it's wise that the Clinton campaign avoid the analogy. In addition to treating it as a joke, several Latino organizations have called on Gutierrez to apologize for what they perceive to be an offense comment. So far, though, there is no response from either Guitterez, his organization, or the Trump campaign.
Beyond the jokes and the demand for an apology, though, these comments reveal one of the primary arguments of the anti-immigration movement, specifically the fact that what the people who hold to these are ideas are frequently revealing is a fear of change. Guitterez's appeal to the idea of "taco trucks on every corner" reflects the long standing fear of the xenophobe that immigrants will change American culture. The answer to that fear, of course, is that yes, they will change American culture. This is how immigration has always worked in the United States. From the founding of the nation, and even prior to ratification of the Constitution, waves of immigrants from different parts of Europe influenced American culture in countless ways that have enriched and changed what it means to be an American. They've impacted everything from our customs (many of the Christmas traditions we now see as common came from German immigrants), our language (pretty much every large scale group of immigrants has helped add words to the what we consider common English), and even the kinds of food we eat (need I mention pizza, sushi, hamburgers, Chinese food, and, of course, tacos?) Newer immigrant groups are also adding their own flavor to the American stew, which is why you can find restaurants serving food from India, Ethopia, Korea, Japan, China, Vietnam, Thailand, the Middle East, and Central and South America in most major American cities and their suburbs. This is what the idea of the "melting pot," which isn't really an accurate description of what happens when American and immigrant cultures meet, is all about. Immigrants become American and, at the same time, they influence and add their own flavors to what it means to be American. It's why pizza, sushi, hamburgers, hot dogs, and, yes, tacos, are as much "American" food as the things Americans ate in 1776. Trump supporters and other anti-immigrant xenophobes don't like this because they view America something static and demand that immigrants must change to become "American." This isn't what the immigrant experience is about in America, though, and its arguably one of the reasons why assimilation of immigrants has been more successful here than it has been in most of Europe, where the idea of changing what it means to be "French" or "German" to include the immigrant experience seems to be a foreign concept. That's never been America, though, and one hopes it never will be because the day we stop being willing to adapt to immigrants as much as they adapt to us is the day what it means to be American dies.
Nick Gillespie at Reason has more to say:
What Trump and Guiterrez don't seem to appreciate is that people like immigration because it brings new possibilities into the country. Latino or Mexican culture isn't any more "dominant" than past immigrant cultures. The clearest markers of a culture are language and food. It turns out that Spanish-speaking immigrant households are learning English in precisely the same generational pattern that held for Jews, Italians, Poles, and previous newcomers. Eighty percent of third-generation folks from Spanish speaking households speak English as their dominantlanguage while 0 percent speak Spanish, says Pew Research. As for food, today's Mexican food is as American as apple pie, pizza, hamburgers, hot dogs, sushi, and chop suey. As Gustavo Arrellano argued in a June 2012 Reason magazine cover story, it might even be more American.

Precisely who, other than direct competitors with bricks-and-mortar restaurants, doesn't like food trucks? That's not simply because, as we've documented endlessly here at Reason over the years, they are bringing tasty and delightful food to underserved areas from Los Angeles to downtown Washington, D.C. It's because the food-truck revolution, every bit as much as Uber or Airbnb or Tesla or any other hipper and more cutting-edge business, exemplifies something primal in America's cultural DNA. They are small businesses first and foremost, typically run on shoestring budgets, sweat equity, and family-based micro-loans. They experiment and mongrelize and are desperate to please customers. They are mobile and fast-changing, they take risks and they live with booms or busts. Forget the Okies driving pickup trucks across the barren plains in the Dust Bowl era or even the garlic-and-bagel eaters disembarking at Ellis Island in the late 19th- and early-20th centuries. These days, if you want to see not just the American Dream made flesh, but the American future incarnated, head down to wherever food trucks congregate and take a bite of the best this goddamn country has to offer. Typically on some sort of once-weird bread or pasta or pastry—pizza dough, pita, tortilla, bao, whatever—and crammed with odd-ball meats, vegetables, and sauces.

As someone who is the grandchild of immigrants from old Europe who has lived all over the country (New York City, New Jersey, Philly, Buffalo, Los Angeles, Texas, small-town Ohio, D.C.), I can tell nativists that however much you fear immigrants, you don't want to live in a part of the country where they are few and far between. They take less welfare, they cause less crime, they start more businesses, they breathe new life into a tired body politic, and more. You will lose more than elections, amigos. You will lose out on being able to enjoy a vibrant America that will be different from the one you grew up in, yes, but also better and more future-oriented.
So yes, let's have a taco truck on every corner, along with the pizza joint, the Chinese place, the Jewish Deli, and whatever else the market will support It's part of what makes America great, not something to be feared.