Donald Trump Doubles Down On Hard Line Immigration Policies
After some two weeks in which it seemed like he might be moderating, Donald Trump doubled down on the most anti-immigrant portions of his immigration plan.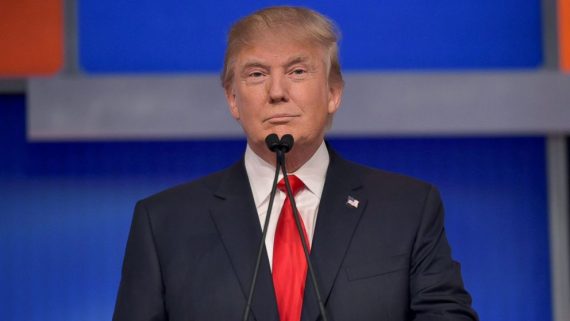 After more than a week of seeming to suggest that he was softening on several parts of his immigration plan, including an apparent flip-flop on the issue of deporting people in the country illegally only to revert to his previous position, Donald Trump doubled down on his largely unrealistic immigration plan in a speech in Phoenix, Arizona that followed a day trip to Mexico City and a private audience with the President of Mexico:
Donald Trump, who has made maligning illegal immigrants from Mexico a cornerstone of his presidential campaign, met with Mexican President Enrique Peña Nieto on Wednesday — striking a remarkably subdued and cooperative tone as he faced a world leader who forcefully opposes his signature proposals.

Yet just hours later in a major speech on immigration in Phoenix, the Republican presidential nominee had returned to the aggressive tenor that has defined much of his campaign. Repeatedly raising his voice to a yell, he said that "anyone who has entered the United States illegally is subject to deportation," and he vowed to crack down especially hard on illegal immigrants who have committed other crimes.

With less than 10 weeks until the election, Trump increasingly has tried to adjust his pitch to appeal more to moderate voters, as polls show he has fallen solidly behind Democratic rival Hillary Clinton nationally and in battleground states. However, the visit here and the speech in Phoenix could provide a jarring contrast for voters and send a confusing message about the kind of president he would be.

Trump said at the joint news conference in Mexico that he and Peña Nieto didn't discuss who would pay for his proposed wall along the U.S.-Mexico border, despite his long-standing vow to compel Mexico to foot the bill. He and Peña Nieto avoided direct confrontation in front of the cameras, airing their differences on immigration, border security and trade in cordial tones.

But later, Peña Nieto tweeted: "At the beginning of the conversation with Donald Trump I made it clear that Mexico will not pay for the wall." The Trump campaign did not immediately comment on the apparently conflicting accounts.

Trump spokesman Jason Miller issued an opaque statement Wednesday evening saying the meeting "was not a negotiation. . . . It is unsurprising that they hold two different views on this issue, and we look forward to continuing the conversation." Peña Nieto spokesman Eduardo Sanchez said that the president told Trump, "Mexico won't pay for the wall," but that his comments did not spur a discussion.

The address in Phoenix was considered a chance for Trump to clarify whether he still wants to forcibly deport all of the nation's estimated 11 million illegal immigrants after sending mixed signals recently. He left that question unanswered — dismissing it as irrelevant — while also strongly suggesting that he would push to deport as many people as possible.

"The truth is, the central issue is not the needs of the 11 million illegal immigrants," Trump said, arguing that "only the out-of-touch media elites think the biggest problems facing American society today is that there are 11 million illegal immigrants who don't have legal status."

He said that undocumented immigrants seeking legal status would first have to leave and try to return lawfully — a process that can take many years under current procedures. Trump said that he would have "zero tolerance" for illegal immigrants who have committed crimes beyond their immigration violations.

"We will issue detainers for illegal immigrants arrested for any crime whatsoever," he said, going further than other Republicans who have called for felons to be deported. Later, he said he would create a "deportation task force" to deal with "the most dangerous criminal illegal immigrants" who have "evaded justice."

He also proposed an"ideological certification" test to ensure that immigrants share Americans' values, and promised not to issue visas to people coming from parts of the world where "adequate screening cannot occur."
Oddly enough, the one thing that seems to be have been left unresolved during Trump's meeting with Mexican President Nieto was the central premise of Trump's immigration plan, the supposed border wall that Trump's claims he will build and which, he says, Mexico will pay for. It has been a highlight of nearly every Trump stump speech since he entered the race, and is clearly popular among his supporters, although not so popular among the American people. When asked about the issue of the wall at the conclusion of the meeting, Trump answered seemingly rather meekly at a joint press conference with Nieto that the issue of the wall and who would pay for it had not come up during the hour-long meeting between the two men, and Nieto did not contradict him publicly at that point. Given the fact that the wall has been central to Trump's proposals for more than a year now, and that the issue of the wall and Trump's claim that Mexico would pay for it has been a point of controversy in Mexico since it first became public, this seemed implausible, though. That's why it wasn't surprising that, after the joint press conference ended, President Nieto stated that the wall and payment for it had been among the first things that he had discussed with Trump:
Donald Trump's outwardly friendly visit with Mexican President Enrique Peña Nieto hit a wall on Wednesday evening as the two sides issued contradictory accounts of the meeting.

The dispute centered on Trump's campaign pledge to force Mexico to pay for a barrier along their shared border. After his private sit-down with Peña Nieto, Trump told reporters at a joint press conference that they had set the issue aside in favor of a conversation on trade, immigration, and security.

"We did discuss the wall; we didn't discuss payment of the wall," Trump told reporters at a brief press conference alongside Peña Nieto after their meeting. "That will be for a later date."

Peña Nieto declined to address Trump's statement from the podium, but his office rushed to counter Trump's version of events after the press conference ended, creating confusion about the content of their discussions.

"At the start of my conversation with Donald Trump I made it clear that Mexico will not pay for the wall," Peña Nieto tweeted in Spanish from his official account afterwards. "After that, the conversation moved on to other topics and unfolded in a respectful manner."

Trump's spokesman Jason Miller issued a follow-up statement saying the joint meeting "was not a negotiation" over the wall and that such talk would have been "inappropriate," but he added no further details corroborating or denying the Mexican president's revised account.
In his speech, though, Trump went back to the old script, and made it clear that any talk of softening should be forgotten:
In Phoenix, Mr. Trump responded to Mr. Peña Nieto with the hectoring language that has long been part of his strategy to whip up his crowds.

"Mexico will pay for the wall, believe me — 100 percent — they don't know it yet, but they will pay for the wall," Mr. Trump said. "They're great people, and great leaders, but they will pay for the wall."

Mr. Trump had billed the Phoenix speech as a major address on immigration, and many Republican leaders and voters had hoped for more clarity about his positions. Mr. Trump outlined several steps that he would take to deport criminals and those who overstayed their visas and end so-called sanctuary cities, while saying that "the one route and only route" for others to obtain legal status would be "to return home and apply for re-entry."

"We will treat everyone living or residing in our country with great dignity — so important," Mr. Trump said, noting that the status of most illegal immigrants was no longer a "core issue" for him.
The rest of the speech was standard Trump fare as far as immigration is concerned. So-called 'sanctuary cities' would be eliminated, he claimed, even though Court rulings have made it clear that there is little that the Federal Government can do to force local jurisdictions to enforce Federal Law. There would be a 'Deportation Force" in the form of a vastly expanded ICE force inside the Department of Homeland Security, although it's unclear where the money for this will come from. At least in the beginning, Trump claims, deportation proceedings will concentrate on people who have committed the most violent crimes but he also didn't leave out the possibility that people who have not broken the law would also be deported. Indeed, according to one estimate, even the most conservative interpretation of Trump's deportation policy would mean the deportation of more than six million people. Finally, Trump made clear that under his plan that the only way people in the country illegally could ever hope to gain legal status would be if they left the country, returned to their country of origin, and applied for legal status there. In other words, after weeks of a very public debate about whether or not he would be moderating either his tone or his policies when it comes to immigration, Donald Trump doubled down on his previous position last night and made clear that there would be no moderation going forward.
Among other things, last night's speech makes one wonder what the last two weeks were really all about. During that period, it seemed as though Trump was actually beginning to recognize the political, international, and practical obstacles to the immigration red meat he had been throwing to crowds since entering the race for the Presidency. Principally, of course, it seemed as though he was recognizing reality in at least some sense of the word and, perhaps, listening to the advice of supporters who warned that his hard line tone on immigration was hurting him with Latino voters, which is putting his campaign in jeopardy in states such as Florida, Virginia, Georgia, and Arizona. Instead of moderating, though, Trump has chosen to double down on his previous position, and it's unlikely he'll change position from here with less than ten weeks to go until the election. Already, there has been some negative blowback, with several Latino Republicans who had endorsed Trump now saying they are likely to pull their support in the wake of Trump's speech last night.
Several major Latino surrogates for Donald Trump are reconsidering their support for him following the Republican nominee's hardline speech on immigration Wednesday night.

Jacob Monty, a member of Trump's National Hispanic Advisory Council, has resigned, and Alfonso Aguilar, the president of the Latino Partnership for Conservative Principles, said in an interview that he is "inclined" to pull his support.

"I was a strong supporter of Donald Trump when I believed he was going to address the immigration problem realistically and compassionately," said Monty, a Houston attorney who has aggressively made the Latino case for Trump. "What I heard today was not realistic and not compassionate."

He withdrew from the board following Trump's speech in Phoenix, which was heavy on calls for border security and emphasized that all immigrants in the country illegally were subject to deportation.

"When we met [earlier in August] he was going to approach this issue with a realistic plan, a compassionate plan, with a plan that was not disruptive to the immigrants that were here that were not lawbreakers," said Monty, one of the Latino leaders who met with the candidate at Trump Tower recently, a gathering at which Trump reportedly softened his tone toward undocumented immigrants already in the country. "He didn't deliver any of that."

Aguilar was once a Trump critic who earlier this summer set aside his qualms about Trump's rhetoric toward Hispanic people, and organized a letter of support signed by himself and other prominent Latino conservatives. Since then, he has repeatedly defended Trump in media appearances, as has Monty. Neither plans to support Hillary Clinton.

"It's so disappointing because we feel we took a chance, a very risky chance," Aguilar said. "We decided to make a big U-turn to see if we could make him change. We thought we were moving in the right direction … we're disappointed. We feel misled."
If this is typical of the reaction of Latino and moderate voters, then Trump may end up losing more from the past two weeks of seeming moderation than he might have gained. As I noted earlier this week, polling indicates that most Americans do not support the more militant elements of Trump's immigration position, and yet it was those positions that he doubled down in his speech in Phoenix. How this impacts Trump's campaign is something we'll just have to wait and see.