Trump Flip Flops On Immigration Again
Over the course of twenty-four hours, Donald Trump has had three separate positions on how he'd deal with illegal immigrants already in the country.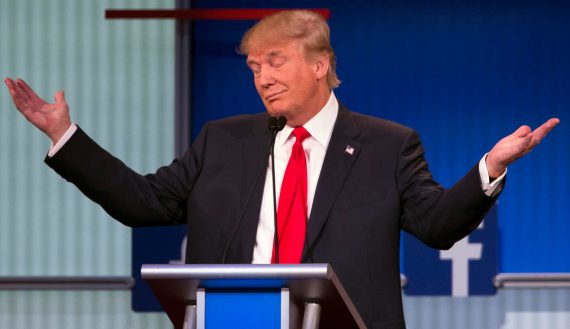 Less than twenty-four hours after seeming to suggest during a Town Hall on Fox News Channel that he was open to the idea of allowing some portion of the people who are in the United States illegally, Donald Trump appeared on CNN and essentially contradicted himself completely and reversed his position back to where it has been from the beginning of his Presidential campaign:
Washington (CNN)Donald Trump ruled out Thursday a pathway to legal status for undocumented immigrants in the United States, walking back comments he made earlier this week in which he appeared open to the idea.

But the Republican nominee declined in an interview with CNN's Anderson Cooper to clarify whether he would still forcibly deport the estimated 11 million undocumented immigrants in the US — a major tenet of his immigration platform — after he suggested this week he was "softening" on the idea.

"There's no path to legalization unless they leave the country," Trump said after an event in Manchester, New Hampshire. "When they come back in, then they can start paying taxes, but there is no path to legalization unless they leave the country and then come back."

Trump said that on his first day in office, he would authorize law enforcement to actively deport "bad dudes," such as those who have committed crimes, which he said numbered "probably millions." But he declined to flatly say whether he would round up other undocumented immigrants, stressing that once the initial deportations occur, "then we can talk."

"There is a very good chance the answer could be yes," Trump said when asked if he would deport those who have lived here peacefully but without papers. "We're going to see what happens."

Trump's comments are the latest turn in a now-daily recalibration of his position on immigration, which Trump said he would crystallize in a speech next week. During the primary, Trump advocated unequivocally for deporting undocumented immigrants, and the shifts he has hinted at would be a highly-scrutinized flip on a trademark issue.

Trump had said earlier this week that he would be open to a "softening" on immigration, and made a series of comments that indicated a path to legalization was likely as long as they paid taxes accumulated from their time living here illegally. Yet Trump now seems to be reverting to his original plan — one derided as a "touchback" policy in which those without proper papers must return home before re-entering the country.

Yet it was now unclear to what length Trump would go to execute those deportations.

"It's a process. You can't take 11 at one time and just say 'boom, you're gone,'" he told Cooper, floating the idea that as many as 30 million people could be living here illegally, a projection well beyond most analysts' figures. "I don't think it's a softening. I've had people say it's a hardening, actually."

On Wednesday, Trump suggested he would allow exceptions to let some undocumented immigrants to stay in the US, vowing he wouldn't grant them citizenship but telling Fox News, "there's no amnesty, but we work with them."

Trump continued: "No citizenship. Let me go a step further — they'll pay back-taxes, they have to pay taxes, there's no amnesty, as such, there's no amnesty, but we work with them," Trump told Sean Hannity when asked if he would allow for exceptions to his long-held position.
Trump's current articulation of his policy, which could obviously change depending on the whims of the candidate and the venue he happens to be speaking in front of, is different from both his original policy and the change he suggested the other day in the wake of speculation that he was softening his tone on immigration. Originally, Trump said that, in addition to constructing the border wall that Mexico would pay for, one of the primary pillars of his immigration plan would be the deportation of all eleven million or so people believed to be in the country illegally. When asked how he would accomplish this seemingly impossible task, Trump on more than one occasion mentioned the idea of a "deportation force" that would round up illegal immigrants and their family and expedite their return to their countries of origin. This suggests, of course, a massive increase in the number of Border Patrol agents or the creation of some new law enforcement agency specifically devoted to illegal immigrants. In any case, the details of that plan, most notably how Trump would deal with the fact that current law requires that people being deported be giving the opportunity for a hearing and all the protections of due process under the Constitution, were never quite clear but then again that's been largely true of every other Trump policy idea. In any case, with the rumors of a policy shift on immigration fresh in the air, Trump appeared to abandon that idea entirely on Wednesday when he suggested that some portion of the people in the country illegally would be allowed to stay in the country. Now Trump appears to be back to suggesting mass deportation, or at least the idea that the only way that someone here illegally could hope to obtain legal status would be return to their country of origin, either voluntarily or involuntarily, and get in line for legal status, a process that could take years to be processed.
I said yesterday that voters would be "would be foolish to accept this change at face value," so I'm not at all surprised to see Trump changing his position yet again on what has been the central issue of his campaign, What I didn't entirely expect was that he would change his position so soon after his comments on Wednesday night, although given Trump's tendency to randomly go off on tangents, often in the middle of a speech on a completely different topic. As was the case with his comments on Wednesday, the campaign seems to be trying to downplay Trump's answer in the CNN interview, but it's right there in his own words along with the video of his Wednesday interview where he took a diametrically opposed position on the same issue so it's next to impossible for them to deny that he said what he said. More importantly, if Trump does try to come up with some more nuanced position on immigration in the coming weeks, one need only point to his flip flops now to argue that his new position simply isn't believable and that it's safest to assume that his true position is the restrictionist, anti-immigrant, xenophobic position he built his campaign on.