Child Of Illegal Immigrants Allowed To Become A Lawyer, May Not Be Allowed To Work
An excellent argument for immigration reform can be found in the case of one Californian named Sergio Garcia.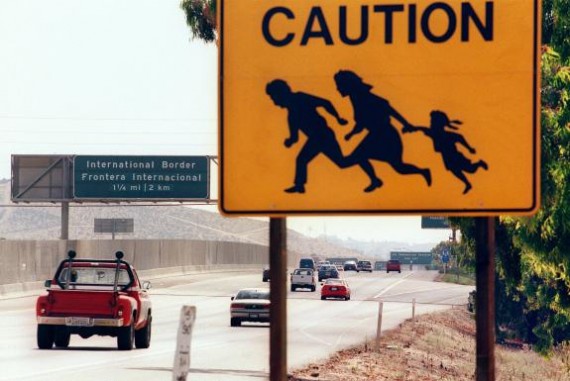 In what appears to be yet another example of how our immigration laws have placed the children of illegal immigrant, a California court has ruled that a man who has been in the country illegally since his parents brought him here as a child may become a member of the California Bar, but it's unclear if he'll ever actually be able to work as an attorney:
LOS ANGELES — As a teenager in Northern California, Sergio Garcia worked in the almond fields and in a grocery store, earning his way through college and then law school. He passed the California bar exam on his first try, something just half of all candidates do.

But when it came time to apply for his law license, Mr. Garcia encountered a formidable hurdle: Because he had come from Mexico illegally, he could not become a lawyer.

That changed Thursday when the California Supreme Court ruled unanimously that a law passed last fall by the Legislature allowed Mr. Garcia, 36, to be admitted to the state bar and practice law. What it did not do is address the fact that under federal law, no law firm, business or public agency can legally hire him.

The strange turn of events demonstrates the complicated patchwork of immigration laws that is emerging as Congress remains stalled on an overhaul of the immigration laws and states and courts are stepping in and deciding what rights should be granted to the estimated more than 11 million immigrants living illegally in the country.

Courts in Florida and New York are grappling with similar cases involving immigrants seeking to become lawyers, and Robert M. Morgenthau, the former district attorney of Manhattan, has urged New York's governor and Legislature to pass a law like California's.

And while California has gone farther than many others, several states have begun to expand opportunities for immigrants living here illegally, after a wave of laws passed several years ago in Alabama, Arizona and Georgia and other states to crack down on illegal immigration. Unauthorized immigrants can receive in-state college tuition in several states, and 11 states and the District of Columbia now allow such immigrants to obtain some kind of driver's license, according to the National Immigration Law Center.

Mr. Garcia, in a telephone interview, said he felt that despite the ambiguities, he would be free to open his own practice. "I can finally fulfill my dream and also leave behind a legacy so that an undocumented student 20 or 30 years from now will take it for granted that they can be an attorney," he said. "There's a lot to celebrate. I can open my own law firm, and that's exactly what I intend to do. There's no law in this country restricting entrepreneurs."

In its ruling, the court said that California had paved the way for Mr. Garcia's admission to the bar in October when the Legislature overwhelmingly passed a bill saying qualified applicants could be admitted to the state bar regardless of their immigration status. The court went on to suggest that immigration status should not be considered any differently from, say, race or religion.

"We conclude that the fact that an undocumented immigrant's presence in this country violates federal statutes is not itself a sufficient or persuasive basis for denying undocumented immigrants, as a class, admission to the state bar," Chief Justice Tani Cantil-Sakauye wrote in her opinion. "The fact that an undocumented immigrant is present in the United States without lawful authorization does not itself involve moral turpitude or demonstrate moral unfitness so as to justify exclusion from the state bar."

But in its lengthy ruling, the court appeared to leave aside the issue of employment, saying only that "we assume that a licensed undocumented immigrant will make all necessary inquiries and take appropriate steps to comply with applicable legal restrictions and will advise potential clients of any possible adverse or limiting effect the attorney's immigration status may pose."

Although the federal government argued in a brief that Mr. Garcia could not work as an independent contractor, several immigration lawyers said that he would legally be allowed to open his own practice and charge clients willing to pay.
 The Los Angeles Times has more:
University of San Francisco law professor Bill Hing estimated that at least two dozen immigrants without green cards graduate from California law schools each year. He said many immigrants were sworn in to practice before the State Bar began asking about immigration status in 2008.
"California now is the only state that has said specifically that undocumented immigrants can practice law," Hing said. "The hero in this whole saga is the state Legislature and Jerry Brown for acting so swiftly."

Garcia, a resident of Chico, Calif., came to the U.S. with his family when he was 17 months old. He returned to Mexico when he was 9 and reentered the U.S. without authorization when he was 17. His father, an agricultural worker who obtained U.S. citizenship, applied for a green card for his son in 1994. The federal government accepted the petition in 1995, but Garcia is still waiting for the card.

Under federal rules, the number of visas issued each year is limited and based on an immigrant's native country. Garcia has had to wait in line behind a large backlog from Mexico. The court said it may take Garcia at least two years and "perhaps many more" to be scheduled for a visa interview.
Garcia graduated from a California high school, attended Butte College, Cal State Chico and Cal Northern School of Law. He received his law degree in May 2009 and passed the California bar examination that same year. He has been working as a motivational speaker.

In its ruling, the court said there was no disputing that Garcia could practice law free of charge and outside the U.S. But, the justices noted, there was disagreement about whether someone like Garcia legally could work as an independent contractor and charge fees.

The U.S. Justice Department has said that would not be allowed. The State Bar has said it was permissible. The court did not rule on the question Thursday.
"We assume that a licensed undocumented immigrant will make all necessary inquiries and take appropriate steps to comply with applicable legal restrictions and will advise potential clients of any possible adverse or limiting effect the attorney's immigration status may pose," the court said.

The bar's investigation "establishes that Garcia is a well-respected, hard-working, tax-paying individual who has assisted many others and whose application is supported by many members of the community, by past teachers, and by those for whom he has worked, but the record also reveals that Garcia's conduct has not been entirely flawless," the court said.

When he was 17, Garcia provided a false "alien registration number" to a grocery store where he worked and inaccurately claimed he was a lawful permanent resident, the court said. Garcia did not initially disclose that falsehood to state bar investigators examining his moral fitness to practice law, according to Thursday's ruling.

The bar decided to overlook the transgression because Garcia had relied on poor legal advice in not immediately disclosing the incident, the court said. Garcia also acknowledged "the wrongfulness of his conduct" and blamed it on his youth, imperfect understanding of English and a moment of panic when the store asked him to complete the form, the court said.

He also once was cited for driving without a license or insurance, the court said. He paid a fine and stopped driving until he obtained a license from Oregon, which at the time did not require proof of lawful residency, the court said. Bar examiners decided that Garcia believed in good faith that he had met the requirements for an Oregon license, although it was not clear whether he had lived in the state for the required six months, the court said.
The first thing worth noting is that while it is unusual for someone with any kind of serious criminal record, or depending on the state almost any kind of criminal record, to be admitted to practice law, it is also not unprecedented. In nearly all such cases, though, the procedure that is followed is usually an investigation by the relevant State Bar's "character committee," or whatever it may be called to determine if that person should be admitted to the bar notwithstanding their past record. Beyond that committee, the applicant has multiple levels of appeal all the way up to the Supreme Court of the relevant state. This is what happened in the Garcia case, which has been pending for several years now apparently as the Bar and the Courts deal with what remains a relatively new question for State Bars and Courts to consider, but one that is likely to continue popping up until there is some kind of resolution to the status of people living here illegally. In Garcia's case, obviously, the question is whether his status as an illegal immigrant, albeit one who holds that status because of choices made by someone other than himself, should by itself be sufficient reason for him to be forbidden to be admitted to the Bar. There are the other two incidents noted above, of course, but they both flow directly out of his, arguably involuntary illegal status so one could presumably argue that they are all part of the same illegal conduct. The California Supreme Court, though, determined that merely being an illegal immigrant was not, by itself, sufficient to establish the kind of moral turpitude that would require that their application for admission be denied:
We conclude the fact that an undocumented immigrant is present in the United States without lawful authorization does not itself involve moral turpitude or demonstrate moral unfitness so as to justify exclusion from the State Bar, or prevent the individual from taking an oath promising faithfully to discharge the duty to support the Constitution and laws of the United States and California. Although an undocumented immigrant"s presence in this country is unlawful and can result in a variety of civil sanctions under federal immigration law (such as removal from the country or denial of a desired adjustment in immigration status) (8 U.S.C. §§ 1227(a)(1)(B), 1255(i)), an undocumented immigrant"s unauthorized presence does not constitute a criminal offense under federal law and thus is not subject to criminal sanctions. Moreover, federal law grants federal immigration officials broad discretion in determining under what circumstances to seek to impose civil sanctions upon an undocumented immigrant and in determining what sanctions to pursue. (See, e.g., Arizona v. United States, supra, 567 U.S. ___, ___ [183 L.Ed.2d 351, 366-367].) Under current federal immigration policy it is extremely unlikely that immigration officials would pursue sanctions against an undocumented immigrant who has been living in this country for a substantial period of time, who has been educated here, and whose only unlawful conduct is unlawful presence in this country.16 Under these circumstances, we conclude that the fact that an undocumented immigrant"s presence in this country violates federal statutes is not itself a sufficient or persuasive basis for denying undocumented immigrants, as a class, admission to the State Bar.17

(…)

The record of the Committee"s moral character investigation discloses that no individual raised any concern with respect to Garcia"s moral fitness. Numerous individuals who worked with, taught, and participated in community activities with Garcia over many years had nothing but the highest praise for the applicant. For example, an attorney for whom Garcia worked as an unpaid intern during law school stated that "I know with absolute certainty that Mr. Garcia [is] among the most honest, forthright, and moral individuals that I have ever met." A law school professor described him as "an exemplary student" who "was always prepared and always conducted himself with the utmost integrity. . . . I know I speak for the faculty and administration when I say it has been our honor to play a small part in his education." And an administrative law judge, who became acquainted with Garcia in connection with Garcia"s volunteer activities in Chico, stated that Garcia "has selflessly and effectively worked in a broad range of projects which address the needs of those included within diverse ethnic, social, cultural, and language groups," and further declared that he "is both honest and reliable," "circumspect in his judgment and conduct," and "a credit to his family and community. If allowed, he will be a credit to the State Bar. He carries my highest recommendation." Although, as noted earlier, the Committee"s investigation of Garcia disclosed one or two problematical incidents in his past (see, ante, pp. 5-6, fn. 5), the Committee investigated the applicant"s entire background very thoroughly and concluded that, taking into account his entire life history and conduct, Garcia met his burden of demonstrating that he possesses the requisite good moral character to qualify for a law license. From our review of the record, we agree with that determination.
Having read through the opinion, set forth below, I think the California Court has mostly gotten the decision right here. Garcia became an illegal immigrant because of actions not his choice that were made when he was a minor. He's lived in California all his life, done well in public school, college, and law school, and he passed the California State Bar Exam. Yes, he made a couple dumb mistakes when he was younger but these themselves were purely due to an immigration status that was thrust upon him by his parents and not by his own choices. Given all of that, it would seem unfair to punish him for the choices that his parents made. As both of the article I quoted above go on to note, gaining a license to practice law is really only half of Garcia's battle. Under current Federal Law it is by no means clear that it would be legal for him to work as an attorney in any capacity whether it's for the government, a corporation on other business, as part of a law firm, or even under his own name. Federal Law makes it illegal for anyone to hire an illegal immigrant, so it would appear that being employed by a third party as an attorney is completely out of the picture for him. As for hanging out his own shingle and soliciting clients, the bar on hiring an illegal immigrant would also seem to extend to an individual or business hiring Garcia as a private attorney working for himself. The best he could do with his law license legally, it seems, is work pro bono and that doesn't exactly pay the bills. If nothing else, it strikes me that cases like this are an excellent example for why we need immigration reform that deals not just with issues like border security and other matters, but also with the millions of people who are here illegally. Because of his age, Garcia is not eligible to take advantage of the special exemptions that President Obama put in place last year for a certain class of children of illegal immigrants, which means he's in the same pot as the approximately 11 million other people who are here illegally, trying to contribute to the country and make a life here, but left in limbo because of their illegal status. If the Senate Immigration Bill or something like it were passed, Garcia and people like him would be able to obtain sufficient legal status to at least be able to work and contribute to the economy. Instead, he's stuck in some kind of bizarre legal limbo that makes absolutely no sense. Not everyone agrees with the California Supreme Court, or me, though. Consider this from Jazz Shaw:
Look… I get that there are plenty of people with opposing views on so called "comprehensive immigration reform" and the idea of loosening up the borders. I also understand that there are people who rightly claim that we can't simply find, round up, detain and deport more than 20 million people in a rapid, reasonable manner with the resources we have available. But give me a break here, media… surely we can catch THIS GUY. Are there no police officers left on the job? Are the ICE offices completely empty? (Some of you will probably blame sequestration.) But cut us a break. Garcia is showing up at major, televised court appearances and doing interviews on CNN. I think we know where he is. And he's here illegally by his own admission. Who has the responsibility to show up and inform him that he needs to go for a quick ride and get out of the country?
I certainly understand this side of the immigration debate, but I have to wonder whether it's the right way to approach the issue. As in any other area of law enforcement, the people charged with enforcing immigration laws have limited resources with which to do their duties. Taking that into account, do we want them going after the Sergio Garcia's of the world, who other than being here illegally through no choice of their own have committed no real crimes, or do we want them going after the people who are both living the the shadowy world of illegal immigrants and involved in violent criminal activity? It strikes me that the second category is what we ought to being going after the second category and the repeat offenders, rather than people like Garcia who, given the opportunities could be productive contributors to society.
Here's the opinion: