Donald Trump's Immigration Flip Flop
Donald Trump is signaling a big shift in his immigration position.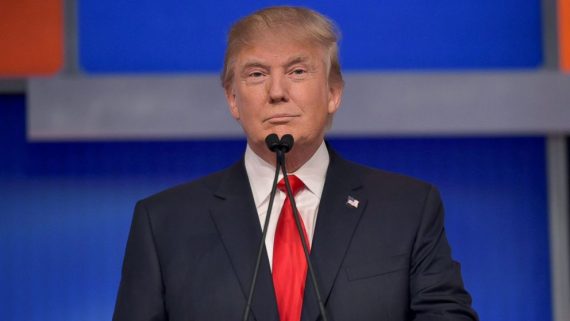 Following through on something that's been hinted at for the better part of a week now, Donald Trump appears to have significantly changed position on a major part of his immigration policy with just seventy-five days left to go before Election Day:
In what would be a stunning reversal on an issue central to his candidacy, Donald Trump floated a possible process to allow undocumented immigrants to remain in America in a town hall that aired Wednesday.

"No citizenship," Trump told Fox News' Sean Hannity in an interview taped Tuesday afternoon in Austin, Texas. "Let me go a step further — they'll pay back-taxes, they have to pay taxes, there's no amnesty, as such, there's no amnesty, but we work with them."

Trump said he was moved by concerns from fans who opposed his previous calls for a "deportation force" to remove all of the estimated 11 million undocumented immigrants in the country.

"When I look at the rooms and I have this all over, now everybody agrees we get the bad ones out," Trump said. "But when I go through and I meet thousands and thousands of people on this subject…they've said, Mr. Trump, I love you, but to take a person that has been here for 15 or 20 years and throw them and the family out, it's so tough, Mr. Trump."

While Trump's comments on legalization were inconsistent in the years leading up to his presidential run, he maintained during the primaries that all undocumented immigrants must be removed throughout his campaign.

At one point he proposed expelling all 11 million undocumented immigrants within two years — a goal that experts say would require a brutal and expansive deportation regime to carry out.

But Trump has a tendency to flip flop on policies, sometimes issuing detailed white papers only to contradict them in public or abandon them entirely later on. He recently disavowed a tax plan he released earlier in the race and is currently hedging on whether his plan to ban all Muslim travel, a signature campaign proposal that is still on his website, remains his current position.

He sounded unsure of his own immigration position on Tuesday, at one point turning to the audience to survey them on the issue.

"Look, this is like a poll, there's thousands of people in this room," Trump said. "Who wants those people thrown out?"

He later asked "Who does not want them thrown out?" and concluded "there weren't that many for the number two, but the few people that stood up, I get that."

But while Trump fell far short of making any concrete pronouncement, his open discomfort with his prior call to remove all undocumented immigrants and not just "bad ones" who committed serious crimes was a jarring shift for a candidate who had outflanked 16 Republican rivals on the issue during the primaries.

The "back taxes" line in particular leapt out to observers. A common plank of various immigration reform proposals to provide a path to legal status for undocumented immigrants is a requirement that they pay back taxes in the process.

The bipartisan "Gang of Eight" bill that passed the Senate in 2013 before dying in the House included such a provision in addition to requirements that qualifying immigrants pass a criminal background check, learn English, and live in the country on a trial basis for 10 years before becoming a permanent resident and eventual citizen.

Trump's "no citizenship" pledge, while counter to the "Gang of Eight" bill, nonetheless echoed other immigration proposals from other Republicans that Trump had explicitly denounced as "amnesty" for entertaining legal status for some undocumented immigrants.

Former Florida Governor Jeb Bush, for example, co-authored a book outlining an immigration reform plan that would grant earned legal status to undocumented immigrants but permanently bar them from citizenship. Texas Senator Ted Cruz also floated a possible compromise involving legal status short of citizenship during the 2013 immigration debate. While Cruz later renounced the idea and denied having seriously considered it in the first place, Trump attacked him over the proposal without hesitation.

"Ted was in favor of amnesty," Trump told CNN shortly before the Iowa caucus earlier this year.

Any move by Trump towards legalization would risk alienating his more hardline supporters. At outlets like Breitbart, whose president Steve Bannon recently took over as CEO of Trump's campaign, Republicans who support a path to legal status are frequently attacked as "amnesty" supporters who sold out the conservative base. Alabama Senator Jeff Sessions, one of Trump's closest advisers, is also a leading opponent of such efforts.

"There's nothing Trump can do that won't be forgiven," Trump supporter Ann Coulter wrote in her new book "In Trump We Trust: E Pluribus Awesome." "Except change his immigration policies."
As noted, there isn't very much difference between the position that Trump suggested last night and those taken by Republicans that he spent the better part of the past year bashing during his campaign for the Republican nomination. At various times Marco Rubio, Jeb Bush, and Ted Cruz, just two name three such candidates, have all advocated an immigration proposal remarkably similar to what Trump is now saying he could support. In some cases, such as Rubio's support for the 2013 Senate immigration bill, Trump doesn't go quite as far because he says he wouldn't allow any of the 11 million people here illegally to become citizens (although who's to say he wouldn't change position on that question in the future too?). In others, though, there are almost no differences between what Trump is talking about now and what he was criticizing just a few months ago. Jeb Bush, for example, finally settled on a reform plan that would allow undocumented immigrants to legalize themselves as long they did not have violent criminal records and paid back taxes, but which would have foreclosed them from becoming citizens in the future. During the debate over the 2013 plan in the Senate, Ted Cruz proposed a similar plan although he ultimately abandoned it and later claimed that he only proposed the plan as part of a legislative tactic to try to block the Senate from voting on the so-called 'Gang of Eight' plan. Immigration proposals put forward by other candidates had similar positions, and Trump's position isn't all that different from the immigration reform plan that Hillary Clinton has outlined during the course of her campaign. Now, Trump appears to be saying that he's ready to change position himself, adopt the position of his opponents on how to deal with the people in the United States illegally after spending the better part of a year talking about how they would be required to leave the country, and to try to convince people who previously opposed him to change their minds and back the "new" Donald Trump.
Voters would be foolish to accept this change at face value, though.
First of all, one has to recognize that this is Donald Trump we're talking about. Not only can't we assume that he's actually serious about making such a drastic change to something that has been a central tenet of his campaign from the day he announced until he makes it, but there's no real guarantee that he won't change his mind before Election Day. Heck, there's no guarantee he won't change his mind before lunch time today, especially if it seems apparent that his base supporters are reacting negatively to the idea that their hero might be "going soft" on the issue. Additionally, the meat of Trump's plan is fundamentally flawed in several significant respects, most notably the idea that the group of people we're talking about should be permanently barred from becoming citizens. As I've noted in the past, that would essentially mean creating an underclass of immigrants who would be saying in advance could never be "real Americans." That's an attitude utterly incompatible with the way we've treated immigrants, documented and undocumented, in the past.
Additionally, as Politico's Sarah Wheaton and Tyler Pager note, much of what he's talking about now doesn't really make much sense:
Donald Trump may be "softening" his incendiary language on immigration, but those versed in the complexities of immigration law say his plan has gone from unrealistic to downright incomprehensible.

Trump's campaign insists that he hasn't changed his views. But as the Republican nominee ramps up his outreach to minorities, his latest talk on immigration has created a muddled mess, with Trump insisting in one breath that he's open to "softening" laws that deal with undocumented immigrants, and pledging to be "100 percent" behind his wall in the next.

(…)

"We've followed every candidate over the last year-and-a-half and he's definitely the most difficult to pin down exactly what he's meaning at times," said NumbersUSA executive director Roy Beck. The group pushes for stricter immigration laws, and Trump's "revisions and new information raises some concerns about where he's headed."

Beck said there's "no sign," however, that Trump is moving toward offering work permits to the millions of undocumented immigrants currently here.
And that's another flaw in Trump's proposed revised "plan." If you can't ever become a citizen and you wouldn't be able to work here legally, then what incentive would someone who is here illegally have to turn themselves in and comply with the provisions that would lead to their legalization? Additionally, if they do comply with those steps, then why shouldn't they be permitted to work in the United States? These are only some of the problems with the revised plan that Trump is talking about.
The real question, of course, is what impact Trump's change in position, assuming it is for real, would have on the election, which really involves two questions. The first, of course, is what impact such a change will have on Trump's die hard supporters who have been part of the campaign from the beginning. Already, we've seen some conservative commentators who have spoken positively of Trump in the past, such as Mark Levin and Ann Coulter, react quite negatively to last night's developments. Whether that would be true of the mass of supporters out there is unclear, although interviews with people who were in the audience for last night's "town hall" event with Sean Hannity seem to indicate that these people are so far in the tank for Trump that it doesn't seem to matter that he's changed position on one of the central elements of his campaign. That, of course, is the sign of a cult of personality, which is a danger in and of itself. The second question is whether a change this late in the campaign would cause voters who have rejected Trump up until now to change their mind. While we won't know the answer to that question unless and until Trump actually announces this as new policy and wait to see what impact it has on the race, my guess is that a change like this isn't going to have much impact on people on who are already strongly negative on Trump. For them, a year of anti-immigrant rhetoric isn't going to be changed by one speech, especially since it's common knowledge that Trump is just as likely to jump back to his old position as he is to stick with the new one.
If nothing else, fishing for a new position this late in the campaign is yet another example of how the Trump campaign is grasping at straws trying to stop a slide in the polls that threatens to turn the Presidential election into a fait accompli long before November 8th. Whether it succeeds or not remains to be seen.
Update: Morning Joe had a great closing video this morning showing the "evolution" of Trump's immigration views:
The evolution of Trump's deportation policy https://t.co/3G1nl4Hl9l

— Morning Joe (@Morning_Joe) August 25, 2016