Is Trump About To Flip-Flop On Immigration?
A report over the weekend raises questions about whether or not Donald Trump is changing positions on a central tenet of his campaign.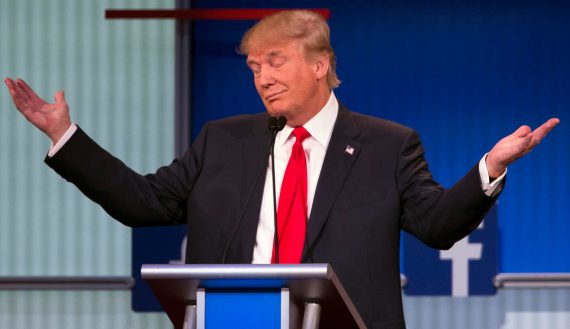 Yesterday's news was full of speculation that Donald Trump was on the verge of flip-flopping on the issue that, more than any other, has defined his campaign for President:
Donald Trump's campaign wavered Sunday on whether he would continue to call for the mass deportation of 11 million illegal immigrants from the United States, the latest in a series of sometimes-clumsy attempts to win over moderate GOP voters without alienating millions who have flocked to his hard-line views.

After insisting for more than a year that all illegal immigrants "have to go," Trump met with a newly created panel of Hispanic advisers on Saturday and asked for other ideas — making clear that his position is not finalized, according to two attendees. Any shift would represent a remarkable retreat on one of the Republican nominee's signature issues.

The meeting prompted attempts by Trump advisers on Sunday to clarify his position. Campaign manager Kellyanne Conway said on CNN that Trump's stance on mass deportations was "to be determined" but that he will be "fair and humane for those who live among us in this country." Sen. Jeff Sessions (R-Ala.), a close Trump adviser, said on CBS that the nominee is "wrestling" with the issue but has not changed his position yet.

"People that are here unlawfully, came into the country against our laws, are subject to being removed," Sessions said. "That's just plain fact."

The remarks were the latest in a series of moves by Trump or his aides in recent weeks to alter or shade his position on issues that have been central to his appeal — an effort that has accelerated as he fades in the polls behind Democratic rival Hillary Clinton. The shifts appear aimed at shoring up support among white GOP moderates who have been reluctant to support extreme positions staked out by Trump during the Republican primary, including a massive U.S.-Mexico border wall, deportation of illegal immigrants and a "total" ban on foreign Muslims.

At the same time, any oscillation carries the risk of alienating Trump's most loyal supporters, many of whom adore his willingness to buck "political correctness" by laying out brash proposals. Trump has thrived in part by staying vague on most of his policy positions, vaccillating between extreme rhetoric and assurances of reasonableness.

(…)

At the heart of Trump's campaign is fierce opposition to illegal immigration. Trump has proposed building a mammoth wall along the southern border — so tall that no ladder could ever reach the top, he has said — and then to deport the millions of immigrants illegally in the country but allowing them to apply to reenter legally.

"They have to go," Trump said on NBC's "Meet the Press" last year.

This June, Trump expressed hesitation in using the term "mass deportations," although his aides would not say whether his position had changed. In the meeting Saturday with his Hispanic advisory panel, Trump asked to hear policy ideas — although the campaign said that should not be taken as a sign that Trump has changed his position.

"He addressed the immigration issue himself and said, 'Look, I know it's an issue. The biggest problem is the 11 million that are here.' He asked for our input on how to deal with them," said Jacob Monty, a Houston-based immigration attorney who handles complex immigration issues for large corporations, including the New York Yankees.

Conway — who was just hired last week amid a campaign shake-up — was asked during an interview Sunday on CNN's "State of the Union" whether Trump still wants "a deportation force removing the 11 million or so undocumented immigrants."

"To be determined," said Conway, who in the past has supported creating a pathway to citizenship for the millions of immigrants illegally living in the United States.

"What he supports is to make sure that we enforce the law, that we are respectful of those Americans who are looking for well-paying jobs and that we are fair and humane for those who live among us in this country," she said earlier in the interview.

Conway said the candidate will reveal the specifics of his immigration plan "as the weeks unfold." Trump is expected to give an immigration policy speech on Thursday in Colorado.
In an interview this morning, Trump is saying that he's not changing anything:
Donald Trump on Monday insisted his immigration policy is not changing, as the Republican nominee embarks on a week intended to explain and expand upon his proposals, which up until this point have focused on the construction of a wall between the United States and Mexico and the mass deportation of undocumented immigrants.

BuzzFeed News reported on a meeting Saturday between Trump and Hispanic leaders in which the Manhattan businessman was said to have indicated an openness to legalization for undocumented immigrants. The Trump campaign subsequently disputed that account, emphasizing that Trump had said nothing different.

Eric Trump offered a similar line of defense on Monday.

"Listen, I don't know where the article came from. Actually, my father's speaking about immigration all week, so I won't steal his thunder and his fire," Eric Trump said on "Fox & Friends," teasing out the week's theme. "But you know, my father's immigration plan is pretty simple. He wants secure borders. You have to know who's coming into the United States of America. You can't let people come in unchecked. We have 100 million people in this country that are out of the workforce. Right? I mean we have manufacturing jobs in this country have gone down one-third since 2000. We're losing jobs across the board, yet people are walking in unchecked and we don't know who they are. And they could be ISIS."

Trump said his father "wants a safe country, and he also wants Americans to have jobs."

"I mean, they should come first. You were born in this country. You were born here legally. You're here legally. I mean, wages have been stagnant for the last 15 years and it's because you have, you know, Syrian refugees coming in," Eric Trump continued. "It's because you have, you know, thousands of people coming over the border. I mean, and Americans are suffering because of it and that's his point. So he's speaking to Hispanic and Latino leaders and he's having really amazing conversations. He's also speaking to law enforcement, he's speaking to border patrol. And you know he's going formulate a really, really great plan that's humane and ethical and that treats everybody well. But we have to solve the problem. It's a real problem for this country."

Asked his reaction to the idea that his father is flip-flopping, Eric Trump was firm.

"My father hasn't flip-flopped on anything. This was all the auspices of one article that came out that didn't really — wasn't grounded in any substance," Trump explained. "But again, my father is giving a big speech on this on Thursday so he'll be talking a lot about the specifics."
It's worth noting that Trump has always been kind of vague about what would happen to the people who were in the country illegally were he to become President. At times he has suggested that they would all been rounded up — men, women, and children — and forced to return to their country of origin. When its been pointed out just how logistically difficult this would actually be, he has waivered and suggested that there would be some sort of "revolving door" in his wall that would allow the deported immigrants to return quickly provided they don't have criminal records. He's also suggested that there would be a "Deportation Force" of some kind that would round people up, although he's never addressed how his plan would address the fact that the Supreme Court has ruled on several occasions that people in the United States have the same due process rights under the 14th Amendment as citizens. (See Yick Wo v. Hopkins, Wong Win v. United States, Plyer v. Doe, and Zadvydas v. Davis) At other times he has hinted that the "revolving door" he's talking about would be a figurative one and that many of the people here illegally won't be required to leave at all.
In subsequent statements, Trump has denied that he's changing his position on what has become a signature issue but his campaign continues to point to the upcoming policy speech in response to questions about where the campaign is going as it adjusts to the new leadership under Conway and former Breitbart CEO Steve Bannon, who has been a strong backer of more restrictive immigrant policies. It's not unusual for a candidate for President to adjust their message in a General Election as opposed to a primary, of course, although it is typically a tough course to maintain. In Trump's case, what we're talking about here, though, wouldn't just be a change in tone on his part, it would arguably be a rejection of one of the central themes of his campaign and oa policy proposal that has been part of his campaign from the day he entered the race. Trump making such a fundamental change in his position on immigration would be roughly the same as Ronald Reagan deciding in August 1980 to abandon the position he'd taken on lower taxes or a stronger national defense. Even if you could make a rational argument for abandoning policy positions this late in the campaign, the risk is that you look as though you're pandering. In this case, it seems incredibly unlikely that, after everything Trump has said, Latino voters would change their mind about him in the short period of time between now and the election, and many of them are likely to see any effort to moderate tone on immigration as an effort to pander to them. At the same time, if Trump does switch positions drastically on this issue, he risks angering supporters who have stood by him throughout the long campaign.