Tim Conway, Versatile Comedian, Dead At 85
Legendary Comedian Tim Conway has died at the age of 85.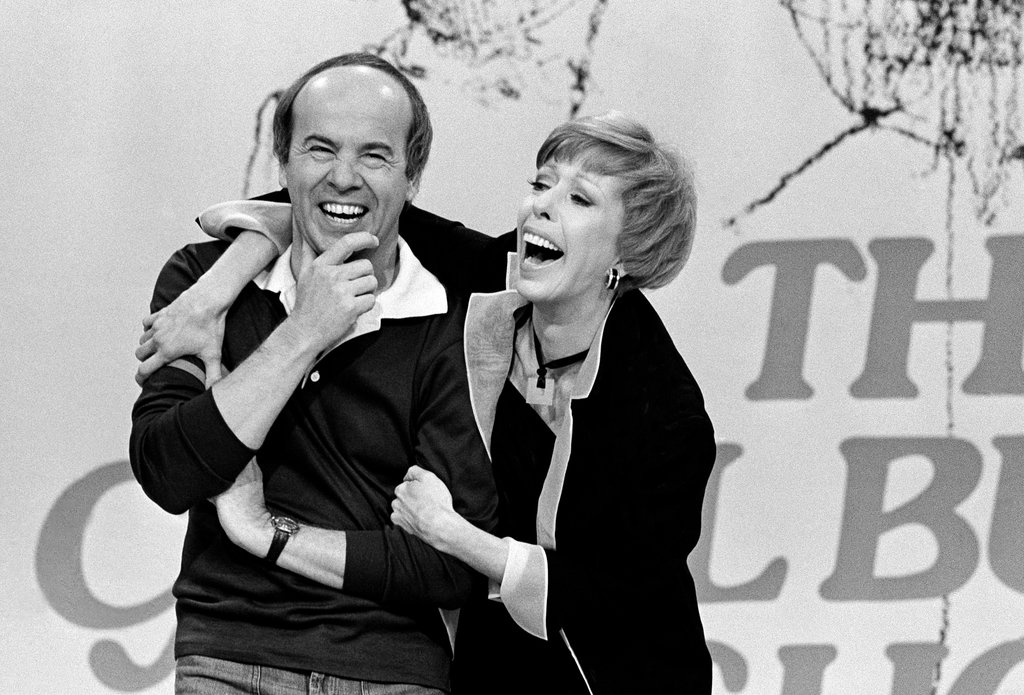 Tim Conway, a comedian who came to fame in no small part due to his appearances on Carol Burnett's long-running variety show, has died at the age of 85:
Tim Conway, whose gallery of innocent goofballs, stammering bystanders, transparent connivers, oblivious knuckleheads and hapless bumblers populated television comedy and variety shows for more than half a century, died on Tuesday in Los Angeles. He was 85.

His death was confirmed by his publicist, Howard Bragman.

With a sweetly cherubic face, a deceptively athletic physicality and an utter devotion to foolishness and slapstick, Mr. Conway was among Hollywood's most enduringly popular clowns. The winner of six Emmy Awards and a member of the Television Academy Hall of Fame, he was a leading non-leading man, a vivid second banana whose deferential mien and skill as a collaborator made him most comfortable — and often funniest — in the shadow of a star.

For Mr. Conway, those stars were, most notably, Ernest Borgnine, with whom he appeared on the popular early-1960s series "McHale's Navy,"and Carol Burnett, on whose comedy-variety show Mr. Conway was regularly featured from 1967 to 1978.

Mr. Conway's career had a serendipitous beginning. After mustering out of the Army in the late 1950s, he was working for a television station in Cleveland, writing, directing and occasionally performing, creating characters for comedy spots on a show devoted to movies. The actress and comedian Rose Marie, best known for her later role as a comedy writer on "The Dick Van Dyke Show," happened to be passing through Cleveland and watched Mr. Conway work; she arranged for him to audition for Steve Allen, who was impressed. Mr. Conway made several appearances in sketches he wrote for himself on Allen's prime-time variety show.

"I had no professional training at all," he said. "I had a sense of humor and had been in front of a microphone, but as far as doing movies or series work or anything like that, I had no idea."


That show, broadcast from 1962 to 1966, concerned a PT boat crew in the South Pacific during World War II who, led by Lt. Cmdr. Quinton McHale (Borgnine), flouted Navy regulations at every turn and considered the war a chance to enjoy an island vacation. Mr. Conway played Ensign Charles Parker, an enthusiastic officer with a young career already blighted by mishap who is assigned by McHale's superior officer and frustrated nemesis, Captain Binghamton (Joe Flynn), to infiltrate McHale's crew and report back on their transgressions.

Parker's twin qualities of incompetence and sweet-temperedness end up making him more of an ally than an adversary, and the role allowed Mr. Conway to develop and deploy the arsenal of pratfalls, double takes, facial tics and other hyperbolic depictions of physical and emotional distress that served him for the rest of his career.

In 1967, Mr. Conway was cast in the title role of a western comedy series, "Rango," about a Texas Ranger who, assigned to a desolate ranger station, manages to attract trouble where there hadn't been any. It was the first of several shows starring Mr. Conway that did not last long, among them two variety series, "The Tim Conway Comedy Hour" (1970) and "The Tim Conway Show" (1980-81).


Mr. Conway was not unaware that as a headliner he wasn't exactly money; he once had a vanity license plate reading "13 WKS."


Mr. Conway reached the height of his supporting fame on "The Carol Burnett Show" with characters like Mr. Tudball, an office martinet with an awful toupee, a vaguely Scandinavian accent and a flummoxing secretary (Ms. Burnett); and the Old Man, who moved so slowly that he couldn't perform in any of the occupations (sheriff, butcher, fireman) he found himself in.


His sketch work showed him to be a superb comic collaborator, especially with Ms. Burnett and Harvey Korman. He was also known for including ad-libs that forced his cast mates out of character into not entirely suppressed hysterics.

He won four Primetime Emmys (including one for writing) for his work on the Burnett show, which is widely considered one of the enduring high points of television comedy, screwball division, in league with "Your Show of Shows," "The Honeymooners" and "I Love Lucy."
More from Variety:
Tim Conway, the agile comedian who was a core member of the "The Carol BurnettShow" troupe and starred in a string of Disney film comedies in the 1970s, died Tuesday morning in Los Angeles. He was 85.

A rep for Conway tells Variety he died from water on the brain.

Over his long career, Conway was nominated for 13 Emmys and won six. For "The Carol Burnett Show," he was nominated six times as a supporting performer in a variety or comedy series, winning in 1973, 1977 and 1978. He was also nominated as part of the writing staff for the show, drawing three nominations and winning in 1978. In addition to those four Emmy wins, he won in 1996 for outstanding guest actor in a comedy, "Coach," and in 2008 for guest actor in a comedy for "30 Rock."

"I'm heartbroken. He was one in a million, not only as a brilliant comedian but as a loving human being," said Burnett in a statement obtained by Variety. "I cherish the times we had together both on the screen and off. He'll be in my heart forever."

On "The Carol Burnett Show," Conway was so side-splittingly hilarious that he often caused co-star Harvey Korman to begin laughing in the middle of a skit. He was known for ad-libbing bits that would challenge Korman and other co-stars including Vicki Lawrence and Lyle Waggoner.


"Hysterical, crazy, bold, fearless, humble, kind, adorable… all synonyms for Tim Conway," said Lawrence in a statement. "I am so lucky to ever have shared a stage with him. Harvey and Tim are together again…the angels are laughing out loud tonight."


Conway appeared as many characters on the show, but the two most famous were the Old Man and Mr. Tudball. The Old Man shuffled along at an agonizingly slow pace vastly insufficient to the occupations in which the show's writers would place him. His inability to get things done usually resulted in slapstick, and Conway would ad lib a good deal.


Mr. Tudball was a businessman who aimed to run a "ship-shape" office, but such intentions would always go unfulfilled because of the bored indifference of his secretary, Mrs. Wiggins (Burnett). The character was widely thought to be Swedish, but Conway actually imitated the accent of his Romanian mother.


"Carol Burnett" ran for 11 seasons on CBS from 1967-78. Conway appeared on a single episode in 1967 and then became a regular member of the comedienne's troupe from 1975 until the show's end.


In later years, Conway had success with his "Dorf" series of comic how-to videos in which he played a bumbling, diminutive Scandinavian character by standing on his knees. He also lent his versatile voice to a slew of animated productions ranging from "SpongeBob SquarePants," to "Scooby Doo," to the Christian video series "Hermie and Friends."

(…)

Asked in a 2011 interview about comedy today, Conway replied: "I hang onto the oldies. Jonathan Winters calls me about three times a week, and I never answer the phone. I have all of his messages recorded. He always calls with a different character and he wants me to do something or appear somewhere or go to an Army-Navy store for something. I have hundreds of these on the answering machine, but I never talk to him. Once in a great while I will pick up and talk to him."


"I kind of fall back on that. But Bob Newhart and I, and Mike Connors, Steve and Eydie, get together every Tuesday night and have dinner, just to sit and talk. Most of the conversations have already been told 20 or 30 times. But we just keep in touch like that."

Of today's comedy he went on to say, "I don't really know about who is really doing it these days."


Thomas Daniel Conway was born in Willoughby, Ohio in 1933. Conway attended Bowling Green State University, where he majored in speech and radio, and served in the Army. He started his career in show business working for a radio station, eventually writing for the promotional department. There was already an actor named Tom Conway, so he became Tim.


After his Army service ended, Conway returned to Cleveland to work with Ernie Anderson on KYW-TV in 1958-59 and on WJW-TV from 1960-62 on a weekday morning film showcase (under the Ernie's Place banner); Conway wrote material for the comedic skits shown in the film intermissions. He also recorded a comedy album with Anderson.
Comedienne Rose Marie discovered Conway and arranged for him to audition for "The Steve Allen Plymouth Show"; Allen was so impressed with Conway that the comedian became a regular on the show in 1960. Conway was also a regular on Allen's next series, "The New Steve Allen Show," in 1961.


The following year he was signed to play Ensign Charles Parker on "McHale's Navy."


After that he starred in ABC's brief comic Western series "Rango" as the title character, a bumbling Texas Ranger, but the show ran for only 17 episodes in 1967. He got his own series in 1970, but CBS' "The Tim Conway Show," in which he played an inept pilot at a fly-by-night airline, lasted only a single season.


It was his hilarious work on "The Carol Burnett Show" — memorable decades later to those who watched the show, and immortalized on YouTube — that was his real gift to audiences.



Like most people, I am mostly familiar with Conway's work thanks to Carol Burnett's show, which was still running in prime time when I was a kid in the 70s and has been featured in reruns for years afterward, including through today. While the show obviously avoided some of the hardcore type of comedy that has become well-known today, it still managed to be funny in ways that were obviously suggestive in nature, and the duo of Conway and Korman (who died in 2008) was simply hilarious together. He'll be missed.
Here are some of Conway's best known skits from the Carol Burnett years: