Mexican President Cancels Visit To U.S. After 'Testy' Phone Call With Trump About Border Wall
Mexico's President canceled a visit to the United States for the second time since Donald Trump became President due to a continued disagreement over who will pay for Trump's border wall.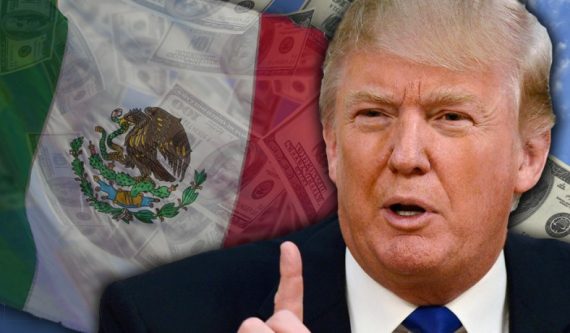 Mexican President Enrique Peña Nieto has canceled a scheduled visit to the United States after a testy phone call with President Trump in which Trump once again brought up the absurd idea that Mexico would be paying for the border wall that was a cornerstone of her campaign for the Presidency:
Tentative plans for Mexican President Enrique Peña Nieto to make his first visit to the White House to meet with President Trump were scuttled this week after a testy call between the two leaders ended in an impasse over Trump's promised border wall, according to U.S. and Mexican officials.

Peña Nieto was eyeing an official trip to Washington this month or in March, but both countries agreed to call off the plan after Trump would not agree to publicly affirm Mexico's position that it would not fund construction of a border wall that the Mexican people widely consider offensive, said the officials, who spoke on the condition of anonymity to discuss a confidential conversation.

Speaking by phone on Tuesday, Peña Nieto and Trump devoted a considerable portion of their roughly 50 minute conversation to the wall, and neither man would compromise his position.

One Mexican official said Trump "lost his temper." But U.S. officials described him instead as being frustrated and exasperated, saying Trump believed it was unreasonable for Peña Nieto to expect him to back off his crowd-pleasing campaign promise of forcing Mexico to pay for the wall.

Both accounts confirm it was Peña Nieto's desire to avoid public embarrassment — and Trump's unwillingness to provide that assurance — that proved to be the dealbreaker.

A physically slight man, Peña Nieto has been loath to put himself in an environment in which the more imposing Trump could play the bully. Peña Nieto's style is exceedingly formal, and he is averse to verbal combat, making his carefully scripted public events the opposite of Trump's often freewheeling appearances.

With Mexico heading into a July presidential election, any action by Peña Nieto that could be seen as kowtowing to Trump or buckling under U.S. pressure risks damaging the prospects for his Institutional Revolutionary Party.

The two presidents' public posturing over the wall — Trump demands that Mexico pay for it; Peña Nieto insists that it will not — has harmed their personal relationship and jeopardized the alliance between their neighboring countries.

"The problem is that President Trump has painted himself, President Peña Nieto and the bilateral relationship into a corner," said Arturo Sarukhan, a former Mexican ambassador to the United States. "Even from the get-go, the idea of Mexico paying for the wall was never going to fly. His relationship with Mexico isn't strategically driven. It's not even business; it's personal, driven by motivations and triggers, and that's a huge problem. It could end up with the U.S. asking itself, 'Who lost Mexico?' "

Still, negotiations between their respective administrations continue apace on the North American Free Trade Agreement and other issues. And both governments have strived to portray their ties as strong and the exchanges between their leaders as smooth.

"We enjoy a great relationship with Mexico and the two administrations have been working for a year to deepen our cooperation across a range of issues including security, immigration, trade and economics," Michael Anton, the top spokesman for Trump's National Security Council, said in a statement.

Mexican Foreign Secretary Luis Videgaray called the U.S.-Mexico relationship closer under Trump than in previous administrations.

"I think in many ways the relationship today is more fluid," Videgaray said earlier this month in Mexico City alongside Secretary of State Rex Tillerson. "It's closer than it was with previous administrations, which might be surprising to some people, but that's a fact of life.

(…)

Earlier this month, a delegation of Mexican officials led by Videgaray met at the White House with senior adviser Jared Kushner — the president's son-in-law, who is charged among other things with managing the U.S.-Mexico relationship — national security adviser H.R. McMaster and other Trump administration officials to work out the parameters for a Peña Nieto visit, officials said.

The Mexican officials left the Feb. 14 meeting believing they had an agreement with the U.S. side that Trump would not embarrass Peña Nieto by bringing up his desire for Mexico to fund the wall — a proposition Peña Nieto's government considers humiliating.

One Mexican official describing his country's position said, "You cannot talk about the bloody wall." This official said Videgaray left Washington believing Trump would not broach the wall during Peña Nieto's visit.

Trump and Peña Nieto made plans to speak by phone Feb. 20, and, assuming the call went well, their staffs would finalize an itinerary for the Mexican president's White House visit.

But the call did not go smoothly, according to officials from both governments. Trump said he would not be bound by any such agreement and could not commit himself to not talking about the wall.

"That was a dealbreaker for us," the Mexican official said, adding that Peña Nieto and his administration were concerned in particular about a reporter asking a question about funding for the wall at a news conference and Trump answering it.

Instead of announcing a date for a meeting in Washington, the statements issued by both governments summarizing the call were vague and said only that they had discussed their bilateral agenda on trade, security and migration issues. The statements also said the two presidents exchanged condolences for the high school gun massacre in Parkland, Fla., and the military helicopter accident in Jamiltepec, Oaxaca.
This isn't the first time in Trump's Presidency that a visit between the two men has been canceled over arguments about funding for Trump's wall. Last January,  Peña Nieto canceled a planned visit to Washington after a phone call with Trump just a week into the Trump Administration. According to a report published in The Washington Post back then, Trump and Peña Nieto clashed over both the entire concept of constructing a wall on the border with Mexico and most especially on the rather absurd idea that Mexico would pay for that wall. Just days prior to this phone call, Trump reiterated his claim that Mexico would end up paying for the wall in an interview with ABC News even as Mexico's President reaffirmed his pledge that his nation will not pay for the wall at all. Before that, Trump had clashed with the Mexican President over the issue when he visited Mexico City as a candidate back in the summer of 2016. The issue of funding came up at that time too, and Trump's comments about the substance of his talks with Peña Nieto were perceived by many Mexicans as making their nation look weak and humiliated, which is one reason why public opinion about Trump in Mexico is so exceedingly negative.
The fact that President Nieto has canceled his trip for the second time in as many years. President Trump has been an exceedingly unpopular person in Mexico ever since he equated Mexican immigrants with rapists and criminals and accused the Mexican Government of deliberately sending criminals to the United States, a claim he made in the speech he gave in June 2015 when he announced his candidacy for President. When he later introduced the idea of constructing a border wall that Mexico would pay for, things only got worse. Nieto and other Mexican politicians, including perhaps most loudly former President Vincente Fox, responded by denouncing Trump and stating repeatedly that Mexico will never pay for the wall. As it was, Nieto, who was already unpopular at home, faced considerable political blowback and pressure from both his own party and the opposition to denounce Trump and what Mexicans perceived as insults to their national pride and their country. With an election coming up later this year in Mexico, Nieto remains under pressure to stand up to Trump even though he isn't on the ballot due to being term-limited. As a result, it's no surprise that Neito canceled his visit.
As I noted on Twitter this morning, Mexico and Canada are perhaps the two nations in the world with whom the United States has had the best diplomatic relationships with over the course of the past several decades at least. This has been due both to the fact that we share long and peaceful borders with both nations, and have had trade relationships with both that have benefited all parties even long before the North American Free Trade Agreement. This is one reason why a newly elected President has often made a visit to one or both countries among his first foreign trips as President. While Trump has generally not managed to mess up our relationship with Canada, at least not yet, his positions on Mexican immigrants and the border wall have done real damage to our relationship with Mexico that is clearly having an impact on Mexican public opinion and on our relationship with one of our closest neighbors. Add into all of this the negative things that Trump has said about NAFTA, which in reality has been quite beneficial to the United States over the past two decades, and it's hard to see how that relationship is going to be healed anytime soon.