Donald Trump Is Running For President, And Nothing Makes Sense Anymore
We live in a random and chaotic universe.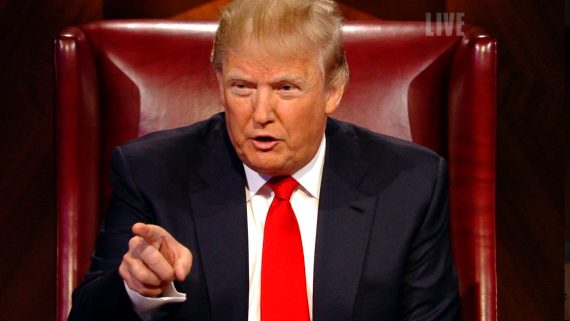 In what can only be described as a 45 minute long steam of consciousness that will likely go down in history as the most bizarre Presidential announcement in American history, Donald Trump told the world today that he was running for President of the United States:
Donald J. Trump, the garrulous real estate developer whose name has adorned apartment buildings, hotels, Trump-brand neckties and Trump-brand steaks, announced on Tuesday his entry into the 2016 presidential race, brandishing his wealth and fame as chief qualifications in an improbable quest for the Republican nomination.

Mr. Trump declared his candidacy in the atrium of Trump Tower, the luxury skyscraper on Fifth Avenue in New York City, saying, "We need somebody that can take the brand of the United States and make it great again." Proclaiming that he will be "the greatest jobs president that God ever created," he said he will restore America's economic primacy as he repeatedly assailed the behavior of China.

Mr. Trump, 69, has long toyed with running for president, boasting of his credentials as an entrepreneur and mocking the accomplishments of prominent elected officials. He has used the platform of a reality television show, NBC's "The Apprentice," to burnish his pop-culture image as a formidable man of affairs.

It seems a remote prospect that Republicans, stung in 2012 by the caricature of their nominee, Mitt Romney, as a pampered and politically tone-deaf financier, would rebound by nominating a real estate magnate who has published books with titles such as, "Think Like a Billionaire" and "Midas Touch: Why Some Entrepreneurs Get Rich — And Why Most Don't."

But Mr. Trump, who has never held elected office, may not be so easily confined to the margins of the 2016 campaign. Thanks to his enormous media profile, he stands a good chance of qualifying for nationally televised debates, where his appetite for combat and skill at playing to the gallery could make him a powerfully disruptive presence.

(…)

Mr. Trump and his allies insist that he is serious about this race. He intends to release a financial statement sketching out his net worth in broad, perhaps generous terms, although it is unclear whether he will make a more complete disclosure of tax returns as required of candidates. Associates say Mr. Trump is willing, even eager, to spend his fortune in the race, and has hired staff in the early nominating states.

"He has said a couple of times that he could easily put $100 million into the race and that he feels that would not impact him financially," said Christopher Ruddy, a friend of Mr. Trump's.

Mr. Ruddy, who is chief executive of Newsmax, the conservative magazine and website, said Mr. Trump would bring an unaccustomed level of glamour to the Republican field.

"He's got that celebrity status," Mr. Ruddy said. "Republicans sort of crave that, because we don't have it, generally."\

Geraldo Rivera, the veteran broadcaster who was a finalist on the reality show "Celebrity Apprentice," said Mr. Trump would quickly leave a mark on the race thanks to his ability as a showman.

"Right now, Jeb Bush is announcing," Mr. Rivera said Monday afternoon. "Who would you rather watch, him or Trump?"
Politico has details on the speech:
Speaking from New York City's Trump Tower office building after descending an escalator to the sounds of Neil Young's "Keep on Rockin' in the Free World," the billionaire real estate mogul on Tuesday launched into an aggressive and quixotic speech that spanned trade, foreign affairs, America's current economic situation, Washington lobbyists, his own riches, his golf courses, and his repeated assertions that he's a nice guy.

He was not shy about what he would bring to the job. "I will be the greatest jobs president God ever created," Trump proclaimed.

"This is beyond anybody's expectations," Trump said when he reached the stage. "When was the last time anybody saw us beat, let's say, China, in a trade deal. They kill us." Trump said. "I beat China all the time. All the time."

He also mentioned Japan and Mexico as examples of countries "beating" the U.S. in international trade and voiced opposition to the Trans Pacific Partnership trade deal currently being negotiated among 12 countries.

"I'm totally against the trade deal," Trump said, adding that he believes in trade only when it's negotiated by smart negotiators. Obama "doesn't have a clue," he said, citing the Bowe Bergdahl prisoner swap with the Taliban and the emerging Iranian nuclear deal as examples of the president's inability to negotiate.

In one of his most pointed attacks, Trump blamed Washington for its inability to control immigration, saying that Latin Americans and, likely, people from the Middle East are coming in droves and damaging the country.

"When Mexico sends its people they're not sending their best," the billionaire businessman said. "They're sending people who have lots of problems," he claimed, adding that he believes many immigrants are drug dealers, rapists and other types of criminals.

Trump pitched himself as a Washington outsider and well-connected, expert deal-maker. The current political class, he said, is beholden to lobbyists, including some representing Trump.

"They will never make America great again," he said of the other candidates. "They don't have a chance."

Trump spent a significant portion of his speech outlining his finances and net worth of what he claimed to be more than $8 billion in real estate holdings, licensing deals and other investments.

"I'm really rich," Trump told the crowd. And that, he said, will help him make the country rich. "I'm not being crass."
Much as was the case during the 2012 election cycle, I don't believe that anyone really thought Trump was serious about running for President. Even when he formed an exploratory committee and hired staff in New Hampshire, Iowa, and elsewhere, most reporters and pundits assumed that this was another one of Trump's feints designed more to draw media attention to himself than anything else. Even right up to the moment he took the stage — after having arrived via escalator while Neil Young's "Keep On Rockin' In The Free World" played on the sound system — nobody was really clear on what he was going to do or say. Once he got past uttering the words, though, the speech really got fun, and political reporters on Twitter had fun with it. We got a rambling, Fidel Castro-esque discourse that covered everything from real estate in New York City to immigration, China, and his fellow Republican candidates. And, the classic line "I'm really rich" when Trump tried to explain why he would be immune from the pressures of lobbyists and special interests if he were to become President.
There's not really any point in trying to analyze the policy ideas in Trump's speech, because, well, there really weren't any. At one point he said that he would build a wall at the Mexican border, and that he would make Mexico pay for it. He said that he would essentially blackmail American manufacturers into bringing all of their overseas factories back to the United States. He had something to say about health care, but I honestly can't explain it because I could not understand what he was saying. At various points in the speech, he would go off on bizarre tangents about how bad things are in the United States today, capping off his speech with the line "The American dream is dead." I may not be a high paid political expert, but that doesn't really sound like a winning campaign message. Perhaps the most fantastic thing, though, was the press release from the Democratic National Committee, which noted that Trump adds "much-needed seriousness to the race" and looked forward to "hearing more about his ideas for the nation." It was, without question, the weirdest thing I've seen in quite a long time.
No matter how bizarre it may be, though, it does appear that we are going to have to take Donald Trump at least somewhat seriously. In the national polls, he is currently polling better than candidates such as Rick Perry, John Kaisch, Lindsey Graham, and George Pataki and he's solidly in the middle of the pack in Iowa and nearly pulling 10% in New Hampshire. As of today, he is polling well enough to be included in the early Republican debates, which will undoubtedly make those events all the more of a spectacular train wreck. Donald Trump will not be the Republican nominee, of course. As Harry Enten points out today, he enters the race as the most disliked person ever to seek the nomination of a major party. At the same time, though, the very fact that he is Donald Trump guarantees that he will get media attention for as long as he's in the race. And if today's speech, which was apparently completely extraneous and departed completely from the text of a prepared speech that had been given to the press, is any indication, it's going to be quite a spectacle.
Strap yourself in America, this is going to be unlike anything you've ever seen before.
Update: Here's the video of the speech, which simply must be watched, and the transcript: