Trump's New NAFTA Is Much Less Than Meets The Eye
President Trump's much-hyped replacement for NAFTA doesn't really amount to much and won't amount to anything unless he can get Canada, and the U.S. Congress, on board.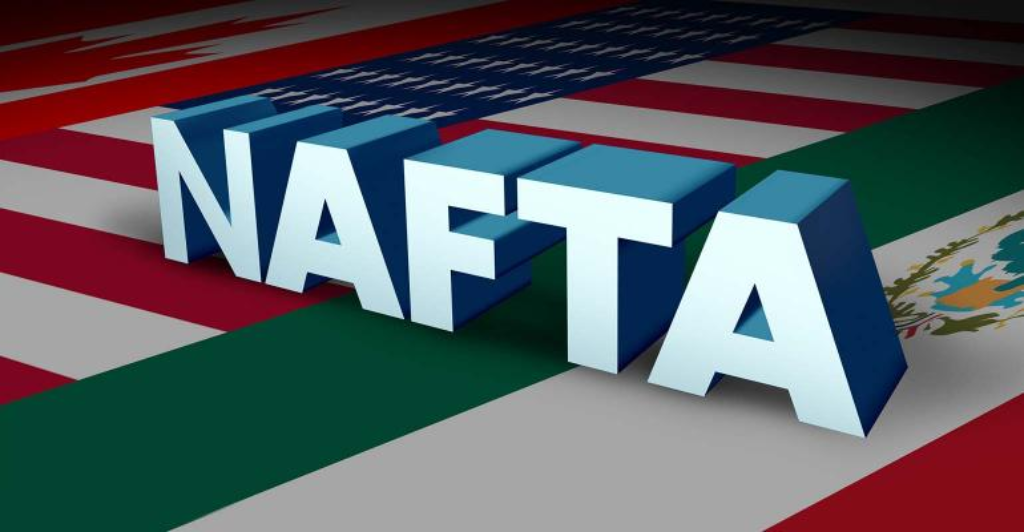 While much of the news yesterday was about the reaction to the death of Senator John McCain and the manner in which the White House responded to it, President Trump sought to distract attention with a much-hyped announcement of an alleged replacement for the North American Free Trade Agreement that, at least for the moment, leaves out one significant part of North America and currently appears to be much less than what the White House is claiming it to be:
WASHINGTON — President Trump said on Monday that the United States and Mexico had reached an accord to revise key portions of the North American Free Trade Agreement and would finalize it within days, suggesting he was ready to jettison Canada from the trilateral trade pact if the country did not get on board quickly.

Speaking from the Oval Office, Mr. Trump promoted the preliminary agreement with Mexico as a deal that could replace Nafta and threatened to hit Canada with auto tariffs if it did not "negotiate fairly."

"They used to call it Nafta," Mr. Trump said. "We're going to call it the United States-Mexico Trade Agreement," adding that the term Nafta — which he has called the "worst" trade deal in history — had "a bad connotation" for the United States.

Yet while Mr. Trump may try to change the name, the agreement reached with Mexico is simply a revised Nafta, with updates to provisions surrounding the digital economy, automobiles, agriculture and labor unions. The core of the trade pact — which allows American companies to operate in Mexico and Canada without tariffs — remains intact.

Now, the question becomes whether a trilateral pact becomes a bilateral deal — or Mr. Trump's threats pressure Canada to return to the negotiating table and accede to many of the United States' demands.

The president's apparent willingness to move on without Canada prompted confusion and concern among lawmakers — who said it may not be legally permissible, let alone smart — and businesses whose supply chains depend on a deal encompassing all three countries.

"Because of the massive amount of movement of goods between the three countries and the integration of operations which make manufacturing in our country more competitive, it is imperative that a trilateral agreement be inked," Jay Timmons, the president and chief executive of the National Association of Manufacturers, said in a statement.

Mexican officials said on Monday that they wanted to have Canada back in the process and were working toward a trilateral deal by the end of the week. President Enrique Peña Nieto of Mexico, who joined the White House announcement via phone, said, "It is our wish, Mr. President, that now Canada will also be able to be incorporated in all this."

But later in the day, Luis Videgaray Caso, Mexico's foreign minister, signaled that Mexico might be willing to move forward without Canada.

"There are things that we don't control, particularly the political relationship between Canada and the U.S., and we definitely don't want to expose Mexico to the uncertainty of not having a deal," Mr. Videgaray said in an interview. "Not having a trade agreement with the U.S., that's a substantial risk to the Mexican economy. Literally millions of jobs in Mexico depend on access to the U.S. market."

Both the Mexicans and the Americans have been eager to reach a fully revised deal by the end of August, a date that would give the Trump administration enough time to notify Congress that a deal had been finalized and still have that deal be signed by the outgoing Mexican administration of Mr. Peña Nieto.
The Washington Post has some of the details:
The agreement announced Monday will run for an initial 16 years, with an option to revisit issues in six years, and extend for another 16 years.

It would increase the percentage of each car — to 75 percent from the current 62.5 percent — that must be made in the United States or Mexico to qualify for duty-free treatment.

The two sides agreed to a provision that would require a significant portion of each vehicle to be made by workers making at least $16 per hour — a significant increase for Mexico.

The White House and Mexican officials were unable to reach an agreement about the steel and aluminum tariffs Trump imposed several months ago, and those discussions are ongoing. "That's the issue we still have to deal with. It's not dealt with," Lighthizer said.

And there were fundamental questions marks about the role of Canada and the future of a regional trade agreement. Peña Nieto, speaking with the president on speaker phone, mentioned several times that he wanted Canada to be involved.

Marcelo Ebrard, who has been chosen as Foreign Minister in the new Mexican administration, also said in a statement that while the agreement was a "positive step" Canada was "indispensable for being able to renew the treaty."

But Trump said there were negative associations to the earlier trade agreement. "NAFTA has a lot of bad connotations for the United States because it was a rip-off," Trump said.

He said that he would terminate "the existing deal" although it was unclear whether Trump has the power to do so unilaterally.
As is the case with nearly everything this President announces, there is much less to this than the President has claimed, and the future of this supposed agreement with Mexico remains very much up in the air for a number of reasons. Off the top of the list, there is the fact that, notwithstanding the fact that the President has disdain for the name "NAFTA" a deal like this will not be workable unless Canada is brought into the agreement along with Mexico. So far at least, the Trump Administration has essentially tried to bypass Ottawa by engaging in one-on-one discussions with Mexico and presenting the agreement they have reached as some kind of a done deal that the Canadians either have to agree to by the end of the week or be shut out of completely. Toward that end, the Canadian Foreign Minister and her trade negotiators are scheduled to be in Washington starting today to resume discussions that have apparently been going on separately from the discussions with Mexico, but it is by no means clear that getting Canada on board will be as easy as the Administration believes, or that the agreement will have any future at all if Canada is not a participant. In this regard, it's worth noting that total American trade with Canada was roughly $670 billion in 2017, compared to roughly $615 billion in international trade with Mexico during the same period. Additionally, the United States ended 2017 with a trade surplus with Canada of roughly $8.4 billion while our trade deficit with Mexico for the same period was $63.6 billion. Given this, leaving Canada out of the equation of a trade deal would be utterly insane.
The other complicating factor here for the Trump Administration is Congress. As things stand, it seems rather clear that the President lacks the unilateral authority to withdraw the United States from the NAFTA agreement that was negotiated in the 1990s and that he most certainly lacks the unilateral authority to agree to an entirely new deal regardless of whether or not Canada is included. In order for either to happen, Trump will need Congressional consent, and it's unclear that this deal could be pushed through Congress in the short amount of time left between now and the midterm elections. Additionally, the signs from Capitol Hill make it clear that Congress is unlikely to sign off on a deal that does not include Canada. Given that, these negotiations could end up being much ado about absolutely nothing.
As for the details, the editors of The Wall Street Journal are less than impressed:
The new deal has many problems, however, not least that it excludes Canada. U.S. Trade Rep Robert Lighthizer used the desire of Mexican President Enrique Peña Nieto to sign a deal before he leaves office to raise the negotiating pressure on Canada. Mr. Trump implied Monday that either Ottawa signs on or he'll slap a 25% tariff on cars made in Canada.

Canada handled that threat with prudent restraint, praising the U.S.-Mexico "progress" and offering to rejoin trilateral talks this week. Mr. Trump griped Monday with cause about Canada's dairy protection, but Canada is right to want to retain Nafta's Chapter 19 provisions that provide a way to settle trade disputes by a special tribunal.

Another problem, a large one, is that the bilateral deal strips current protections from most U.S. investors in Mexico. Oil and gas, telecom and power-generation investors will retain what they now have. Others will be protected only against physical expropriation.

But countries other than Venezuela are smart enough not to send in the police to occupy a plant or hotel. They'll use regulation to favor domestic competitors. Believe it or not, this was a Trump-Lighthizer demand: They figure that if U.S. companies are more vulnerable to foreign abuse, CEOs will keep their money at home. This is economic nonsense since American workers prosper when their companies prosper—abroad and at home. Why make it harder for U.S. firms to court customers abroad?

The deal also imposes new red tape and costs on the auto industry to punish imports. The deal says that to get tariff-free treatment cars sold in North America must have 75% of their content made here, up from 62.5%, and at least 40% of the content must be made with workers who earn $16 an hour.

This is politically managed trade, and its economic logic is the opposite of Mr. Trump's domestic deregulation agenda. Ford and GM seem to have made their peace with this intrusion into their management, but car makers with assembly plants in Tennessee, Alabama and other GOP-leaning U.S. states could suffer if they import more than 25% of their parts.

This auto gambit is part of the Trump-Lighthizer strategy to blow up global supply chains, and it is a political strategy to get a revised deal through Congress. That also explains the deal's new labor provisions that go far to imposing U.S.-style labor laws on Mexico. The details still aren't clear, but Mr. Lighthizer said Monday those rules will be "enforceable" on Mexico as part of the new deal.

(…)

[B]y waiting so long to strike a new deal, Mr. Lighthizer may have made himself hostage to Democrats. Under trade-promotion law, there isn't enough time to vote on the revised deal during the current Congress. The deal would go to the next Congress, which could be run by Nancy Pelosi and Chuck Schumer. Are they really going to support a Donald Trump trade deal? The President will need their votes because free-trade Republicans and U.S. businesses are likely to be a hard sell.

The deal announced Monday has moving parts and there is still time to make improvements before it is signed and sent to Congress. We're glad to see Mr. Trump step back from the suicide of Nafta withdrawal, but on the public evidence so far his new deal is worse.
As even several of NAFTA's strongest supporters have said in recent years, there is little question that we are probably long past the time when the deal deserves a second look. Much has changed about the size, scope, and nature of the trading relationship between the United States, Canada, and Mexico over the twenty-four years since the deal went into effect in the early years of the Clinton Administration. Many of the issues that were of concern to the respective nations at the time that the agreement was negotiated are no longer applicable, and they have been replaced by other concerns that aren't completely addressed by the agreement that exists now. This includes concerns such as intellectual property issues as well as other legal concerns that aren't directly addressed by NAFTA in its original form, as well as external factors such as the rising influence of China. The second issue, of course, could have been addressed had the President not withdrawn the United States from that agreement, but that's water under the bridge at this point.
In any case, as things stand right now, this agreement with Mexico isn't nearly as revolutionary as the President is claiming it to be and it's unclear that it can go anywhere without agreement from Ottawa. Additionally, the details of the agreement itself make it clear that this is more of a patch job on the existing NAFTA framework than it is a wholesale renegotiation of the agreement. That last point is not a bad thing, of course, given the fact that contrary to what Trump and other NAFTA critics have asserted there is no question that, on balance, NAFTA has benefited the United States, Mexico, and Canada immeasurably and has been of particular benefit to American farmers and manufacturers. In that respect. I suppose it's a good thing that Trump appears not to be following through on his previous pledges to completely walk away from NAFTA. That, without question, would be a disaster for all parties.