Aretha Franklin, The Queen Of Soul, Dies At 76
RIP. Queen Of Soul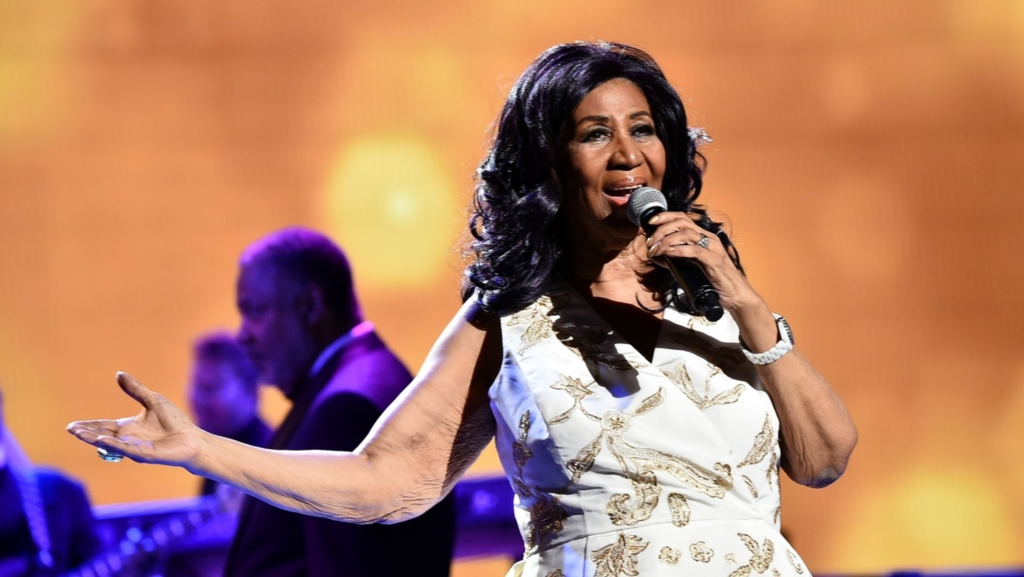 Aretha Franklin, who started out as a young gospel singer from Detroit and went on to become the undisputed Queen Of Soul, has died at the age of 76:
Aretha Franklin, universally acclaimed as the "Queen of Soul" and one of America's greatest singers in any style, died on Thursday at her home in Detroit. She was 76.

The cause was advanced pancreatic cancer, her publicist, Gwendolyn Quinn, said.

In her indelible late-1960s hits, Ms. Franklin brought the righteous fervor of gospel music to secular songs that were about much more than romance. Hits like "Do Right Woman — Do Right Man," "Think," "(You Make Me Feel Like) A Natural Woman" and "Chain of Fools" defined a modern female archetype: sensual and strong, long-suffering but ultimately indomitable, loving but not to be taken for granted.

When Ms. Franklin sang "Respect," the Otis Redding song that became her signature, it was never just about how a woman wanted to be greeted by a spouse coming home from work. It was a demand for equality and freedom and a harbinger of feminism, carried by a voice that would accept nothing less.

Ms. Franklin had a grandly celebrated career. She placed more than 100 singles in the Billboard charts, including 17 Top 10 pop singles and 20 No. 1 R&B hits. She received 18 competitive Grammy Awards, along with a lifetime achievement award in 1994. She was the first woman inducted into the Rock & Roll Hall of Fame, in 1987, its second year. She sang at the inauguration of Barack Obama in 2009, at pre-inauguration concerts for Jimmy Carter in 1977 and Bill Clinton in 1993, and at both the Democratic National Convention and the Rev. Dr. Martin Luther King Jr.'s funeral in 1968.

Succeeding generations of R&B singers, among them Natalie Cole, Whitney Houston, Mariah Carey and Alicia Keys, openly emulated her. When Rolling Stone magazine put Ms. Franklin at the top of its 2010 list of the "100 Greatest Singers of All Time," Mary J. Blige paid tribute:

"Aretha is a gift from God. When it comes to expressing yourself through song, there is no one who can touch her. She is the reason why women want to sing."

Ms. Franklin's airborne, constantly improvisatory vocals had their roots in gospel. It was the music she grew up on in the Baptist churches where her father, the Rev. Clarence LaVaughn Franklin, known as C. L., preached. She began singing in the choir of her father's New Bethel Baptist Church in Detroit, and soon became a star soloist.

Gospel shaped her quivering swoops, her pointed rasps, her galvanizing buildups and her percussive exhortations; it also shaped her piano playing and the call-and-response vocal arrangements she shared with her backup singers. Through her career in pop, soul and R&B, Ms. Franklin periodically recharged herself with gospel albums: "Amazing Grace" in 1972 and "One Lord, One Faith, One Baptism," recorded at the New Bethel church, in 1987.

But gospel was only part of her vocabulary. The playfulness and harmonic sophistication of jazz, the ache and sensuality of the blues, the vehemence of rock and, later, the sustained emotionality of opera were all hers to command.

Ms. Franklin did not read music, but she was a consummate American singer, connecting everywhere. In an interview with The New York Times in 2007, she said her father had told her that she "would sing for kings and queens."

"Fortunately I've had the good fortune to do so," she added. "And presidents."
More from The Washington Post:
She was born March 25, 1942, in Memphis but moved to Buffalo, then Detroit, at a young age when her father changed pulpits. A rock star among preachers, C.L. Franklin was known as "the man with the million-dollar voice." His sermons, often delivered beneath a neon-blue crucifix, were broadcast on the radio and released on vinyl by Chess Records.

Aretha's mother, Barbara Siggers, was called one of the top gospel singers in the country by Mahalia Jackson, a family friend and gospel great.

Siggers never pursued a career in music beyond performing in church, but Jackson encouraged Aretha to sing. So, too, did Clara Ward, another gospel legend who visited the Franklin home regularly.

The Franklins often had celebrity company (jazz pianist Art Tatum and singer Sam Cooke were frequent guests), and Aretha was becoming a minor sensation herself. But her childhood was rocky.

Her parents separated when she was 6, and her mother moved back to Buffalo — although Ms. Franklin, in her autobiography, "Aretha: From These Roots," disputed the widely repeated story that she and her siblings had been abandoned.

"In no way, shape, form or fashion did our mother desert us," she said, calling the story "an absolute lie." They communicated by phone, and there were regular visits, too. "She was extremely responsible, loving and caring."

Still, according to biographers, family friends always swore that the upheaval deeply affected Ms. Franklin, who had been a confident and outgoing child but became introverted and insecure after her mother moved away.

Then, when Ms. Franklin was 10, her mother died after a heart attack. "The pain of small children losing their mother defies description," Ms. Franklin said in "From These Roots." Jackson, the gospel singer and family friend, would say that "after her mama died, the whole family wanted for love."

Ms. Franklin continued to sing in church and signed a deal with Checker Records. In 1956, at the age of 14, she released her first album — a collection of hymns and spirituals recorded during services at New Bethel Baptist.

Her burgeoning career — she was also a gifted pianist — was placed on hold when Ms. Franklin twice became pregnant as a teenager and dropped out of school. She had two sons, Clarence and Edward, by the time she was 15. (The father — or fathers — has never been identified, leading to wild speculation.)

When Ms. Franklin returned to music, she shifted her attention to secular songs, with her father's blessings — and guidance.

Her father advised his daughter against signing a contract with the local start-up that would eventually come to produce the sound of young America. And so Motown, which was scooping up talent all around the neighborhood, with everybody from Diana Ross to Smokey Robinson, missed out on Aretha Franklin.

"The studio was only a few blocks from where my dad's home was, where we lived," Ms. Franklin told The Washington Post in 2008. But "it was still a fledgling label. And my father wanted me to go to Columbia Records because of the national and international distribution he knew they had."

Still just a teenager, she signed with Columbia in 1960 after the famed talent scout John Hammond became convinced he'd found the greatest voice since Billie Holiday.

Ms. Franklin spent six years at the label and recorded a series of jazz and pop albums that produced some minor hits but never really caught on.

Some of Ms. Franklin's associates blamed her confrontational husband-manager, Ted White, whom she'd married in 1961. Hammond lamented that "Columbia was a white company who misunderstood her genius."

Still, Ms. Franklin told The Post in 2008 that her Columbia years were "wonderful" and boasted that her early '60s recordings won some critical acclaim. "Artistically, it was great music," she said. "But it wasn't commercial."

When Jerry Wexler came calling on behalf of Atlantic Records in 1966, everything changed.

"He provided the vehicle to allow me to perform and express myself," Ms. Franklin told the Wall Street Journal. In his autobiography, "Rhythm and the Blues," Wexler said: "I had no lofty notions of correcting Columbia's mistakes. My idea was to make good tracks, use the best players, put Aretha back on piano and let the lady wail."

For her first Atlantic session, Ms. Franklin traveled to FAME Studios in Muscle Shoals, Ala., to record a smoldering blues ballad with an all-white group of studio musicians known as the Muscle Shoals Rhythm Section. The song, "I Never Loved a Man (The Way I Love You)," written for Ms. Franklin by Ronnie Shannon, detailed a woman's devotion to a no-good man.

The session wasn't without drama, as White got into a fistfight with one of the musicians before a B-side could be cut. But Ms. Franklin had already knocked it cold.

Playing piano as well as the addicted victim of love ("Don't you never, never say we're through!" she wailed), she struck gold: "I Never Loved a Man" became her first No. 1 R&B hit, cracked the Top 10 of the crossover pop chart and put the world on notice that a major talent had at last been unleashed.

"I was not an overnight sensation by any means," she told Jet magazine.

If there was a major award to be won or honor to be received, chances are that Ms. Franklin got it: the Presidential Medal of Freedom, Grammy's Lifetime Achievement Award, the National Medal of Arts, a Kennedy Center Honor. In 1987, she became the first woman inducted into the Rock and Roll Hall of Fame.

She won 18 Grammy Awards for her recordings, many of them in a category created in 1968 seemingly to acknowledge her singular greatness: Best female R&B vocal, an award won by Ms. Franklin — and nobody but — the first eight times it was given.

Ever since, just about every powerhouse songstress worth her weight in sequins — from Mariah Carey and Jennifer Hudson to Annie Lennox and Whitney Houston — has been measured against Ms. Franklin.

Her muscular, melismatic style, in which she warped and bent single syllables by moving up and down the scale, has been perpetuated on "American Idol" by singers desperately seeking the emotional pitch of her most famous work.

When Rolling Stone ranked Ms. Franklin as the greatest singer of the rock-and-roll era, another of her acolytes, Mary J. Blige declared, "She is the reason why women want to sing."

Ms. Franklin had plenty of success in her professional life, but her personal life was filled with turbulence. She and White divorced in 1969, in the midst of her historic run at Atlantic. Her second marriage, to actor Glynn Turman, also ended in divorce.

Her personal life occasionally seemed to unfold like a 12-bar blues — the dark and gloomy kind. In 1979, her father was shot in his home by a burglar; he was comatose for five years before dying in 1984. In September 2010, the second of her four sons, Eddie, was severely beaten at a gas station.

"I call her 'the Lady of Mysterious Sorrow' because that sadness seems to be her underlying condition," Wexler told "60 Minutes" in 1989. "I say it's mysterious because you can't identify what may be causing it on any given day. It's probably an accumulation of a lifetime of bad breaks, disappointments and just plain unpleasant experiences."

Ms. Franklin may have brought some of those unpleasant experiences on herself, according to the co-author of her 1999 autobiography, David Ritz, who published an unvarnished (and unauthorized) biography of the singer in 2014. Ritz highlighted Ms. Franklin's struggles with alcohol and depression and her highhanded, intimidating manner toward agents, musicians and even members of her family.

According to Ritz, Ms. Franklin was dismissive of other singers and occasionally blocked her sisters' attempts at singing careers. When she recorded a gospel album with Mavis Staples, she reportedly had Staples's voice turned low in the studio mix.

In another instance, Ritz wrote that Ms. Franklin considered suing the group Steely Dan over the 1980 song "Hey Nineteen," with its reference to a teenager so young "she don't remember the queen of soul."

She was known to cancel concerts or recording sessions without notice and for years refused to travel by airplane, severely limiting her public performances. Yet, despite — or because of — her diva tendencies, Ms. Franklin remained an object of curiosity, if not outright adoration, and her devoted audience never abandoned her.

She continued to make new recordings and to appear at high-profile events, sometimes reaching beyond the soul songs made her a star to embrace other genres. Her 1972 live gospel album, "Amazing Grace," was a bestseller, and she explored other idioms from disco to pop and even classical. At the 1998 Grammy Awards, Ms. Franklin performed "Nessun Dorma," the Puccini aria, as a last-minute stand-in for an ailing Luciano Pavarotti. Writing in the New York Times, music critic Jon Pareles said she gave a "gutsy, triumphal performance."

Ms. Franklin's relationship with Atlantic ended at the end of the 1970s, after a string of disappointing releases, which the Rolling Stone Album Guide later described as "bland, sometimes discofied albums in which she often sounded bored or exhausted." She signed with Arista Records around the time of her showstopping turn in "The Blues Brothers," the 1980 Hollywood musical in which she sang her classic "Think."

Under the direction of Arista chief Clive Davis, Ms. Franklin's career rebounded, with pop-rock hits including "Who's Zoomin' Who?" and "Freeway of Love."

During the second half of her career, Ms. Franklin toured intermittently, hampered by a fear of flying that she developed in 1982 after a turbulent flight from Atlanta to Detroit.

Even as her hits slowed, Ms. Franklin was no museum piece in the latter stages of her career. She was a force of nature onstage and she won three Grammys in the new millennium — the final one in 2008, when she and Blige were awarded the Grammy for best gospel performance for "Never Gonna Break My Faith."

Accurately, if immodestly, Ms. Franklin accepted the regal moniker "Queen of Soul."

"It's an acknowledgment of my art," she once said. "It means I am excelling at my art and my first love. And I am most appreciative."
There's very little else that can be said about Aretha Franklin beyond the tributes that are contained in these and numerous other obituaries as well as the numerous tributes that are likely to pour in from across the music world over the coming days. As with many of the other great singers who have left us over the years, hers was a unique and powerful voice that will long outlive her memory, and she will no doubt always be remembered as one of the greatest singers of her generation. As is always the case in these situations, though, the best way to remember her is through her music, so that's what we'll do.
And finally, you may remember her performance at Barak Obama's Inauguration in 2009: