Bailing Out "Detroit" Didn't Save Detroit, But It's Not Clear Anything Can
Just as the auto industry has, painfully, had to learn to adapt to a new world, the city will as well even if that means becoming a shadow of its former self.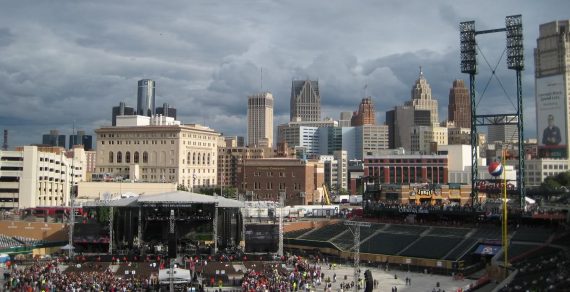 In the wake of the Chapter 9 Bankruptcy filing by the City of Detroit, which remains in something of a legal limbo until next week or later thanks to the ruling of a single Circuit Court Judge in Michigan, many Republicans have been having a little fun at the President's expense by pointing to several speeches he made during the course of the 2012 campaign in which he was taking credit for not "letting Detroit go bankrupt." This, of course, was an obvious reference to the auto bailout, a bailout which ultimately proved unsuccessful and forced both General Motors and Chrysler into Chapter 11, and an Op-Ed that Mitt Romney had written back in December titled, not by him, "Let Detroit Go Bankrupt." With the City of Detroit now having filed for Bankruptcy Court protection, many on the right apparently think they have some kind of rhetorical point they can score against the President.
As David Weigel correctly pointed out yesterday, though, it was rather obvious that when Obama and Romney were referring to "Detroit," they were referring specifically and exclusively to the auto industry, not the city:
You take your political shots when you can, but conflating "Detroit" and Detroit when it comes to bankruptcy is just a confusion-maker. The bankruptcy option on the table for the car companies, in 2008, was some sort of managed Chapter 7 process that would have stopped cold elements of the parts industry. Detroit's now going through a Chapter 9 process. And it's not like Obama was the only politician who told Michigan that Detroit could escape its turmoil without Chapter 9.
But that's politics, and it's to be expected I suppose. The more interesting question, as Brad Plumer notes is why saving "Detroit" hasn't saved Detroit:
From 1910 to 1950, Detroit's economy was synonymous with car manufacturing. The city was filled with dozens of factories churning out everything from Cadillacs to Studebakers — plus auto-parts plants, steel mills, foundries… Detroit's population swelled to 1.8 million as workers came from all over the country in search of good-paying jobs.

Even then, much of the auto industry's industrial base wasn't in the city proper. "From the very start, auto manufacturers preferred to locate in the suburbs—often as a tax dodge," explains Kevin Boyle, a historian at Northwestern University and native of Detroit. Ford's giant River Rouge Complex, which employed 100,000 people at its peak, was outside city limits. Even so, enough workers lived in the city to keep Detroit booming.

But starting in 1950, automakers began moving more and more of their operations further away. They looked for space in Detroit's suburbs and exurbs to build bigger plants as they began automating operations. ("You couldn't build those automated factories inside the city," Boyle explains.) They opened up plants in other states to be closer to customers. They shifted production overseas, to Mexico and Brazil, in order to save on costs.

Detroit's auto jobs kept vanishing as the Big Three lost market share to foreign automakers starting in the 1970s. At the same time, many of the autoworkers themselves were leaving the city to live in the suburbs, further weakening the city's tax base.

All told, the number of manufacturing jobs in Detroit proper fell from 296,000 in 1950 to just 27,000 in 2011. "There might not even be 10,000 auto jobs in the whole city today," says Sean McAlinden, chief economist at the Center for Automotive Research. "That's not much more than in Flint, Michigan, which has had a terrible fall."

Today, there are only two auto factories left in Detroit. GM has its headquarters downtown (the company was required to stay as part of the auto bailout in 2009) and assembles the plug-in Chevy Volt at its Poletown plant, employing nearly 3,000 people in all. Similarly, Chrysler has moved some of its offices downtown and employs more than 4,000 people in its Jefferson North Assembly plant, which produces the Jeep Grand Cherokee.

But that's it. Most of the Big Three's main operations remain outside city limits. Chrysler's suburban headquarters, where 10,000 people work, is in Auburn Hills, about 30 miles from the city proper. Ford is based in nearby Dearborn and hasn't manufactured cars inside the city since it was cranking out Model Ts in the 1910s.

That's why the U.S. automakers can be thriving — earning $13.5 billion last year amid booming car sales, according to Bloomberg — while the city has been drowning in $18.5 billion in debt and finally declared bankruptcy this week.

Ever since GM and Chrysler received a bailout from the federal government in 2009, the automakers have been expanding at a healthy clip. Michigan has added more than 35,000 auto jobs, up 34 percent since its nadir. GM has invested more than $1.5 billion in new production facilities around North America. But few of those jobs are going to the city of Detroit.

"Occasionally some operations get moved in and out of the city, since the auto industry is constantly making shifts," said Boyle. "But I don't think there's ever been any sense that [Ford, Chrysler, or GM] is going to invest to a large extent in the city itself." Indeed, the last new auto factory built in the city was GM's Poletown plant in the 1970s and 1980s — and that was hugely controversial in the neighborhood.
In other words, "Detroit," in the sense it refers to the American auto industry isn't really located in Detroit any more, and hasn't been for a long time. Indeed, if you factor in the large number of foreign automakers who now manufacture at least some portion of their U.S.-sold cars in the United States, Michigan itself now accounts for a much smaller portion of the auto manufacturing capacity of the country than it ever has before. One could argue that the auto companies could make out like bandits by buying up land in Detroit and opening new manufacturing plants, but it's not quite as easy as that. For one thing, building an auto plant is a massive investment of capital that can really only be justified if there is going to be demand for the vehicles that will be built there. Given that much of the demand for American vehicles is growing overseas, it makes far more sense for a company like G.M. to build a new factory overseas to meet that demand, something that has been happening recently in China where it has built factories for cars that will be sold exclusively in the Chinese marketplace. Moreover, building a factory inside Detroit is only going to do so much to help the city. If the people who work there aren't going to live there, but instead decide to live in the suburbs and commute to work, for example, then that's not going to help to build the city's tax base.
In the end, it's hard to see what's going to "save" Detroit, or indeed if anything can. Which is why I think this observation from Dave Schuler is likely spot-on:
I think it's clear that we can't afford to spend enough to save every American city. States must take a more active role in monitoring the fiscal health of their cities on a real-time basis and be prepared to step in early in the process later when the harm has already been done.

Now, with the harm already done, what Michigan needs most is an orderly process for decommissioning a city. Detroit needs to shrink and either be divided into viable pieces if there are viable pieces or allow large portions to return to nature. The city doesn't have the incentives, the power, or the finances to do that. It's up to the state of Michigan and, with the White House indicating that federal help will not be forthcoming, the state of Michigan alone.
It's a sad thing to say about a once great American city, but in the end I think Dave is basically right here. Trying to maintain the illusion that Detroit is going too return to what it once was is to deny reality, and the cost of maintaining it in its present form is quite plainly proving to be untenable. One can argue that the state and Federal Government should step in, but all that is likely to do is put a temporary band-aid on a long term problem. The wound is going to continue to fester and the pain will just get worse while conditions for those who continue to live and work in all but the most exclusive and well-protected parts of the city will just get worse and worse. There have been suggestions over recent years that all or part of the city be absorbed into the surrounding county. To some degree that simply means passing off the problems from one political entity to another, but there really doesn't seem to be any other option at this point. Detroit as it once was, whether that means the auto industry or the city, is no more and it isn't coming back. Just as the auto industry has, painfully, had to learn to adapt to a new world, the city will as well even if that means becoming a shadow of its former self.