The Identity Politics of Identity Politics
Who gets to claim Latino heritage?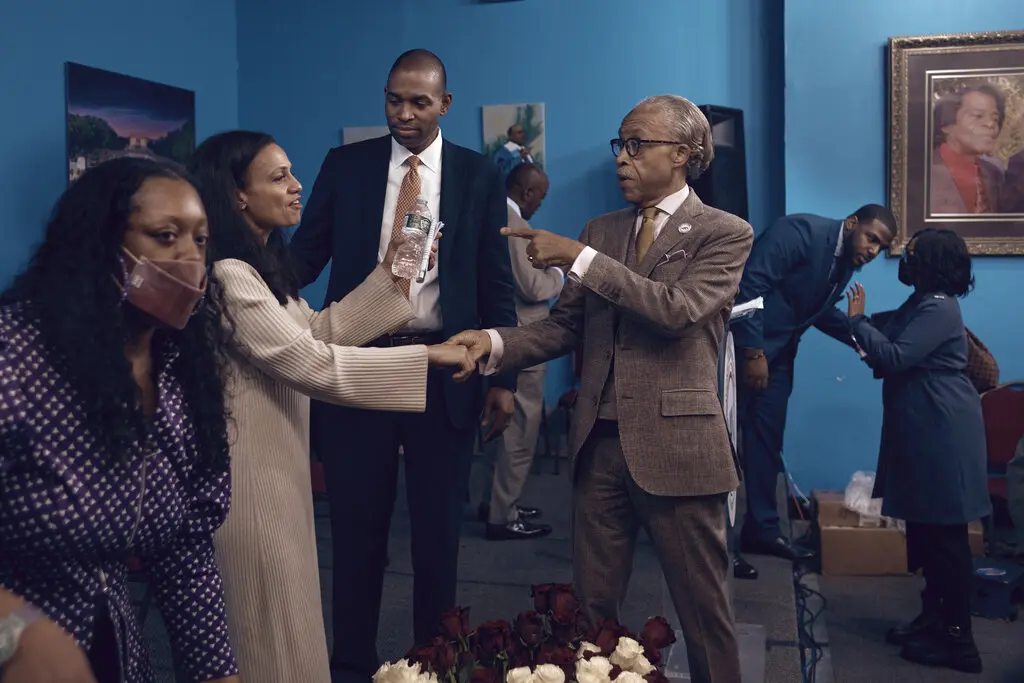 As I get back in gear as my cold wears off, I wanted to touch on a NYT report ("Hochul's Lt. Governor Pick Says He Is Afro-Latino. Some Latinos Object.") that I didn't get to over the weekend.
Here's the setup:
In New York's Democratic primary for lieutenant governor, one goal had unified two outsider candidates, Diana Reyna and Ana Maria Archila: vying to be the first Latino elected to statewide office.

Achieving that objective has now gotten more complicated.

This month, Gov. Kathy Hochul named Representative Antonio Delgado as her new lieutenant governor and running mate, replacing Brian Benjamin, who resigned in April after being indicted on federal bribery charges.

In announcing the choice, Ms. Hochul heralded Mr. Delgado's Afro-Latino ethnicity, and noted his membership in both the Black and Hispanic congressional caucuses.

Prominent Latino Democrats, who lobbied Ms. Hochul on the decision and have long pushed for greater representation in state government, were quick to celebrate an appointment that, once it becomes official, will make Mr. Delgado the first Latino to hold statewide office in New York.

But as the congratulatory statements began to circulate, so did questions about Mr. Delgado's background, putting a spotlight on issues of ethnicity, self-identity and representation in advance of the June 28 primary.
Even though he is a Member of Congress, I had never heard of Antonio Delgado before he was tabbed to be New York's lieutenant governor. But, judging from the photo, he appears Black. And his name is "Antonio Ramon Delgado." By the standards used in the United States as long as I've been paying attention to such things, he would seem to check the necessary boxes to claim Afro-Latino heritage.
Apparently, things have gotten more complicated.
Asked about his Afro-Latino heritage at the news conference where he was introduced as Ms. Hochul's choice for lieutenant governor, Mr. Delgado gave a winding answer. He said people had surmised that he was Afro-Latino because of his name, or perhaps because he briefly lived in Puerto Rico, where he played semipro basketball. He then seemed to suggest that his Latino heritage stemmed from his family's ties to Cape Verde, a small island nation off the west coast of Africa that was once a Portuguese colony.

The answer mystified some of his supporters, and created an opening for his opponents to scrutinize his claims of being Latino.

Luis A. Miranda Jr., a founding partner of the MirRam Group, a political consulting firm, posted celebratory comments on Twitter about Mr. Delgado's appointment when it was announced. But after hearing his remarks at the news conference, Mr. Miranda said he was "puzzled by his explanation on ethnicity."
So, yeah, Cape Verde is African, not Latin American. But, then again, the people speak Portuguese. Which, while originally the language of European colonialists, has become so overwhelmingly associated with Brazil that Portugal has adopted the Brazilian offshoot as its official language. Does that change anything? Hell if I know. Further, while it doesn't convey ethnic status, he did play professional basketball in Puerto Rico for a bit. Presumably, this deepened his affinity for the culture.
Mr. Delgado, in an interview with The New York Times, described the complexity of how he views his ethnicity. He said his mother grew up at a time when she felt safe identifying only as Black or white, but eventually embraced the Mexican, Colombian and Venezuelan ancestry of her father, whom she did not know.

"She became someone who identifies as a proud Black woman with Latino roots," Mr. Delgado said in the interview. "And as I've tried to orient myself and my sense of identity through her, that is the entry point."

Asked how he identified himself, Mr. Delgado said: "I am a Black American man with Cape Verdean roots and Latino roots. When it pertains to my Latino roots, that comes from my mom's side, whose own story around her identity is multifaceted and complex."
Presuming his maternal grandfather is of Mexican, Colombian, and Venezuelan origin, surely Delgado is within his rights to claim partial Latin origin?
Ms. Archila, who has been endorsed by Representative Nydia M. Velázquez, the first Puerto Rican woman elected to the House, and Ms. Reyna said they understood why Ms. Hochul would want a Latino running mate. Latinos are the second-largest ethnic group in the state and make up 19 percent of the population. But the two women questioned Mr. Delgado's rationale for describing himself as Latino and cast Ms. Hochul's decision as a political ploy.

"Gov. Hochul is being extremely opportunistic and simplistic," said Ms. Archila, who immigrated to the United States from Colombia and whose running mate is Jumaane Williams, New York City's public advocate. "I think he should say more than, I have an ancestor who once was born in Colombia."
I mean, in fairness, there are only so many times one can be born in Colombia.
Ms. Reyna, whose running mate is Representative Thomas R. Suozzi, said at a recent campaign event that a "last name does not make you Latino." The first statewide Latino official should be "authentic," have "lived experience" and a record of helping Latino communities, she told Encuentro New York, a Latino advocacy group.

"She tells us that her lieutenant governor is a member of the Latino community," Ms. Reyna, who is Dominican, said of the governor. "This is not about identity politics. This is about being truthful."
I have no idea how Latin Delgado's "lived experience" is. His father (Wikipedia tells me he went by "Tony Delgado" and does not list his son as a "Jr.") had a Latin surname and passed it on to him. He tells us that his mother increasingly identified with her father's Latin roots and passed that on to him; I have no reason to doubt him. Regardless, while it's perfectly reasonable—and certainly politically expedient for his more deeply Latin opponent—to challenge just how Latin Delgado is, it's absurd to call him a liar given that he clearly meets any technical definition of Afro-Latino one can conjure.
Ms. Hochul and her campaign have said little about the questions surrounding Mr. Delgado's ethnicity. They referred to him as Afro-Latino in the third line of a news release announcing his appointment; an email sent out the next day about a fund-raiser did not mention his ethnicity.

"He identifies as Afro-Latino," Jerrel Harvey, a spokesman for Ms. Hochul's campaign, said.
So, he's not even flogging it. Which makes sense to me: he's extraordinarily accomplished regardless of his heritage. He's a Rhodes Scholar and Harvard Law graduate. Somewhere along the way, he played semi-pro ball. He's in his second term in the House and knocked off an incumbent Republican to win the seat the first time.
Regardless, opponents and activists are doubling down:
The focus on Mr. Delgado's ethnicity adds a new wrinkle to the primary for lieutenant governor, which was upended after the resignation of Mr. Benjamin, the presumptive favorite. For weeks, it appeared that he would remain on the primary ballot despite the criminal charges, but state lawmakers ultimately passed a bill allowing him to remove himself.

It was then that Ms. Hochul chose Mr. Delgado to succeed Mr. Benjamin.

Camille Rivera, a Democratic political strategist who identifies as Afro-Latina, said Ms. Hochul had missed an opportunity to energize an important voting bloc that could help decide the general election. Among the issues Latino leaders say they want state government to address are affordable housing, child care and inequalities in health care.

"You have no statewide Latino representation, right?" Ms. Rivera said. "Here was an opportunity to actually lift up Latinos in a real way."

There has been little scrutiny of Mr. Delgado's Latino heritage. Several news articles over the years have identified him incorrectly as Puerto Rican. Some articles from 2018, when he defeated John J. Faso, the Republican incumbent, to claim the House seat representing the Hudson Valley and Catskills regions, referred to him as Black.

Asked whether he had ever corrected the record about being Puerto Rican before the news conference where he was introduced as lieutenant governor, Mr. Delgado said in a statement that he was "raised as a blend of heritages," including "Latino roots."

"That's the background I grew up with and how I identify," he said in the statement. "My mom's maiden name is Gomez and she grew up identifying as having Latina roots."

Racism and colorism may also play a role in how Mr. Delgado's description of being Afro-Latino is being received, said Representative Ritchie Torres of the Bronx, who identifies as Afro-Latino.

"I find it curious that those of us with Black skin often have our Latino identity questioned," said Mr. Torres, who supports Mr. Delgado. "As an Afro-Latino, I have been told repeatedly that I do not look Latino, whatever that means, and therefore, I must be less authentically Latino than those with lighter skin."

Zaire Z. Dinzey-Flores, an associate professor of Latino and Caribbean studies at Rutgers University, said she understood why some Latinos were upset about the appointment. Being Afro-Latino in the United States, she said, involves a complicated mix of race, language and culture.

"Experience informs what you see, how you perceive things, how you bring in issues that might go unseen or unrecognized," Professor Dinzey-Flores said. Choosing someone from an Afro-Latino background so that constituency is represented in government, she added, should be about "authentically" capturing that experience and not "checking a box."

Melissa Mark-Viverito, a former New York City Council speaker who was born and raised in Puerto Rico, concurred, saying that Mr. Delgado's claim of Latino heritage "raises the question and the concern of people loosely taking on certain identities and not being completely honest."

"That concerns me because as someone who fully embraces the importance of representation, we have two qualified Latinas running and a chance to make history," Ms. Mark-Viverito said, referring to Ms. Reyna and Ms. Archila. "Yet it feels like we are being duped. It's all very messy."
To paraphrase Eddie Murphy, I come from a predominantly white family. I don't have a dog in this fight and am not well-positioned to arbitrate in these disputes. But historically, we've accepted someone with a Latin surname as "Hispanic" or "Latino." Maybe that's a bad thing and we should let the community judge authenticity, in the way we do with Native tribal membership. But that strikes me as more divisive than useful. (We're also seeing a lot more of this in the Black community, with some questioning whether, for example, those with Afro-Caribbean ancestry who didn't live through slavery and Jim Crow are truly members of the community.)
Days after Ms. Hochul named him as Mr. Benjamin's successor, Mr. Delgado gave a 15-minute speech at the Harlem headquarters of the Rev. Al Sharpton's National Action Network. Mr. Sharpton said he was surprised that Mr. Delgado did not address the confusion about his Afro-Latino identity.

"I think it's something he can't ignore," Mr. Sharpton said in an interview after Mr. Delgado spoke that day.

Instead, Mr. Delgado reminisced about growing up in a Black Baptist church and drew hearty amens and nods of approval from the mostly Black crowd. He talked about why he pursued a career as a rapper after graduating from Harvard Law School, an issue opponents tried to use against him when he first ran for Congress.

"I know the power of the culture," Mr. Delgado said. "I am the culture."
I'm not sure what "I am the culture" means. Regardless, Delgado seems like a talented fellow with a range of interests and a complex family history. Latino voters in the Democratic primary who are interested in voting for a member of their community who share their lived experience are of course free to judge his authenticity. But I would sure hope that this would just be a small part of how they evaluate Delgado or any of the other candidates on the ballot.