Trump Spreads Lies And Conspiracy Theories About Deaths From Hurricane Maria
President Trump is apparently a Hurricane Maria Truther.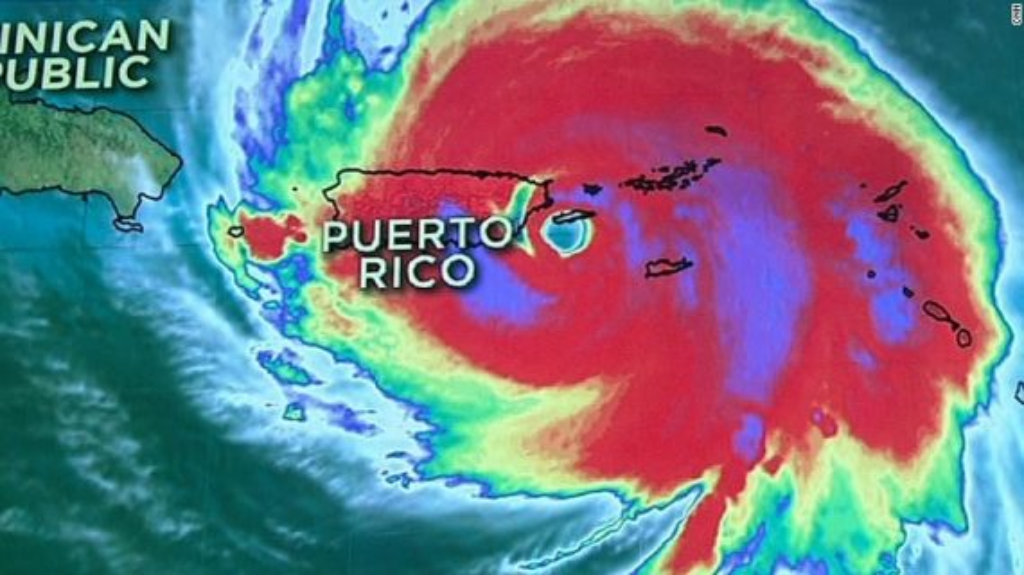 As a major hurricane that forecasters believe will lead to historic flooding in the North and South Carolina bears down on the United States, Donald Trump took to Twitter this morning to dispute, without evidence, independent studies that place the death toll in Puerto Rico from Hurricane Maria last year at nearly 3,000 people:
President Trump on Thursday falsely accused Democrats of inflating the death toll from Hurricane Maria in Puerto Rico last year, rejecting a government assessment that the storm had claimed nearly 3,000 lives.

Mr. Trump inaccurately stated that only six to 18 people died "after" the storm hit the island and said Democrats padded the death toll by including, for example, a person who died of old age "in order to make me look as bad as possible."

The president's comments came as the government prepared for Hurricane Florence, whose high winds were already beginning to batter the coast of the Carolinas.

Hurricanes typically provide a platform for elected officials to display leadership and strength. And a poor response, such as the government's during Hurricane Katrina in 2005, can do significant damage to approval ratings. The federal government's response to the storm that hit Puerto Rico has been viewed as inadequate — full power was restored to homesjust this month.

Mr. Trump took to Twitter this week to warn residents in the path of Hurricane Florence to follow the advice of local officials and to be prepared.

And on Wednesday, Mr. Trump repeated his assessment that his team got high marks for the responses to hurricanes in 2017 and called the mayor of San Juan, who has been critical of Mr. Trump, "totally incompetent."

Mr. Trump was criticized last year for a slow response to Puerto Rico, where the distribution of supplies, gas and food lagged and power outages lasted for months, particularly compared with a swift and efficient response to an earlier hurricane, Harvey, that hit Texas. It was six days after Hurricane Maria hit the island before he pledged to go there, even as he traveled to Texas four days after Hurricane Harvey made landfall.

The death toll in Puerto Rico had been officially recorded as 64 for nearly a year, despite convincing evidence that the figure was too low because official death certificates had failed to take into account the long-range impacts of the storm. In August, after a thorough review, Puerto Rican officials accepted a revised estimate of the dead as 2,975.

Mr. Trump's Twitter screed was the latest in a string of callous remarks he has made about the deaths in Puerto Rico, which have caused even some of his allies to cringe. In an interview on Wednesday, Thomas Bossert, Mr. Trump's former homeland security adviser, conceded that the president's self-congratulation about his handling of the storms in Puerto Rico should have been tempered with compassion.

"The missing part was empathy," Mr. Bossert said. "I wish he'd paused and expressed that, instead of just focusing on the response success."
Here are the President's Tweets about Puerto Rico from yesterday and this morning:
We got A Pluses for our recent hurricane work in Texas and Florida (and did an unappreciated great job in Puerto Rico, even though an inaccessible island with very poor electricity and a totally incompetent Mayor of San Juan). We are ready for the big one that is coming!

— Donald J. Trump (@realDonaldTrump) September 12, 2018
3000 people did not die in the two hurricanes that hit Puerto Rico. When I left the Island, AFTER the storm had hit, they had anywhere from 6 to 18 deaths. As time went by it did not go up by much. Then, a long time later, they started to report really large numbers, like 3000…

— Donald J. Trump (@realDonaldTrump) September 13, 2018
…..This was done by the Democrats in order to make me look as bad as possible when I was successfully raising Billions of Dollars to help rebuild Puerto Rico. If a person died for any reason, like old age, just add them onto the list. Bad politics. I love Puerto Rico!

— Donald J. Trump (@realDonaldTrump) September 13, 2018
Philip Bump at The Washington Post points out why the President's claims are obviously untrue:
Shortly after the storm struck the island, The Post spoke with University of Delaware professors Joe Trainor and Benigno Aguirre, who work with the school's Disaster Recovery Center. We wondered how difficult it would be to determine the actual number of deaths from the storm, and Trainor and Aguirre confirmed that it was far from trivial.

"The reality is, we probably will never know" precisely how many people were killed by the storm, Trainor said. The government itself doesn't tally this number, relying on death certificates filed by coroners in local jurisdictions. Leon's death, for example, wasn't attributed to Maria; it was initially attributed to "diabetes" until the family requested that the document be corrected.

"If the hurricane happened on day one and the death happens two or three days after or during it, it's more likely those deaths will be counted as a result of the hurricane," Aguirre said. "On the other hand, if it happened two or three weeks afterward, then you have the problem that perhaps it's not the case there's a relationship." Leon's case is more obvious than others. If someone has a chronic illness and misses a medication, what's the cause?

This is in part why the Puerto Rican government accepted the George Washington University research. It assessed how many more deaths there were on the island relative to a normal year for the six months after the storm, reaching that figure of nearly 3,000 additional deaths. It's not a precise figure, instead representing the most likely value from a range of possible death tolls.

That six-month period of research was longer than normal, incidentally, with researchers anticipating that, by the end of that period, death rates would revert to normal. In lower-income areas, they said at a news conference, those rates were still elevated six months later. That they looked at six months of data is precisely why their analysis was available only "a long time later."

This is also why Trump's argument that those who died of old age were just "add[ed] onto the list" is wrong. There is no list. There is a comparison between the number of deaths on the island in the period after Maria and the number of deaths during a normal equivalent period on the island.

(…)

Trump is taking advantage of the uncertainty, of that gray area for a different sort of political benefit. He wants to undercut questions about the government's handling of the storm and, having established death toll as a metric for doing that by comparing Maria to Hurricane Katrina — in which more than 1,000 fewer people are estimated to have died — during his visit to the island, he wants to make that death toll seem artificial. It is an estimate. It is not an estimate determined by Democrats.

It's also worth noting that, in his visit to the island, Trump was told explicitly that the official toll at that point was 16. His tweet suggesting it was as low as six by the time he left makes clear that he is not interested in presenting an accurate picture of the effects of the storm on the island.

We don't know exactly how many people were killed as a result of the storm and there's probably no way to know that figure with precision. Trump's implication that the estimate of deaths was wildly overstated for political reasons is the mirror opposite of reality.

Trump is clearly wildly understating the death toll for political reasons.
Almost immediately, the President's tweets this morning faced push back on Twitter from pundits, American citizens, and perhaps most notably the Mayor of San Juan, Puerto Rico, who had sparred with Trump in the aftermath of the storm last year:
Mr President no matter how much you try your "true colors" come shining thru. Unfortunately you just can't help it. You just can't get it. pic.twitter.com/nWzznCsCag

— Carmen Yulín Cruz (@CarmenYulinCruz) September 13, 2018
Mr Trump you can try and bully us with your tweets BUT WE KNOW OUR LIVES MATTER. You will never take away our self respect. Shame on you! pic.twitter.com/KlMzClvzkA

— Carmen Yulín Cruz (@CarmenYulinCruz) September 13, 2018
Thousands of americans, our diaspora & latinos that came to PR to care for us and become advocates for our people deserve better than this. pic.twitter.com/OPaPx6oo1d

— Carmen Yulín Cruz (@CarmenYulinCruz) September 13, 2018
Damn it: this is NOT about politics this was always about SAVING LIVES. pic.twitter.com/SjwywKN3Jh

— Carmen Yulín Cruz (@CarmenYulinCruz) September 13, 2018
And Daniel Larison adds this:
Trump cannot grasp that the massive loss of life in Puerto Rico is far more important than his political reputation, and so he has to make all of it about him and his political enemies. He also apparently can't understand that the greatest loss of life from natural disasters can sometimes take place after the initial event. The official death toll in Puerto Rico remained artificially low for such a long time because the government there would not certify a death until the body had been seen by the medical examiner, and for the thousands of victims that was not possible when transportation and communications around the island had been made difficult or impossible by storm damage. Many people were losing their lives on account of the shortages in medicine, loss of power, lack of clean drinking water, heat, and lack of medical care. Those deaths weren't being registered, but they happened nonetheless, and they happened as a result of the hurricane. Even before these studies were released, there were reports of more than 900 deaths following the hurricane. As it turned out, the loss of life was far worse.

Because the official death toll was a low number, Trump seized on it as vindication. He clings to it even now because he still thinks that the inadequate federal response was an "unsung success," as he said earlier this week. As usual, he is incapable of acknowledging and taking responsibility for the government's failures that took place under him, and so he tells stupid, easily refuted lies instead.
All of this comes in the wake of a report that examined deaths and other statistics from Puerto Rico in the wake of Maria and found that the official death toll, which stood at just 64 up until just a few weeks ago, was wildly inaccurate because it did not include deaths resulting from the damage from the storm, including things such as long-term power loss and a lack of clean water that has taken nearly a year to fully address. That report put the actual death toll at 2,975 people, a number that the Puerto Rican government has officially accepted, and which makes Maria one of the worst natural disasters to hit the United States in our history. An earlier report using slightly different methodology put the toll even higher, estimating that the actual death toll from the storm is somewhere in the range of 4,600 people. Whatever the number, it is most assuredly higher than the 64 total deaths that had been the official death toll and the "6 to 18 deaths" that the President seems to officially acknowledge in his tweet.
As if denying the reality of the deaths of nearly 3,000 American citizens, the President used his tweet to spread the idea that these new death toll figures are part of some conspiracy against him. In addition to the callous disregard this shows for the people who died, it provides yet another glimpse inside the mind of this President, and what we see isn't pretty. This is a man who sees conspiracies around every corner, denies any possibility of wrongdoing or mistakes on this part or the part of his Administration, and who is willing to blatantly lie for political purposes. I'd say that it's shocking but, considering who we're dealing with, it's not shocking at all.
The person quoted at the end of the excerpt I posted from The New York Times hit the nail on the head. Any human being with the slightest degree of empathy would not have said what the President did this morning. Most assuredly, they would not say it at the same time that another serious and potentially historic storm bears down on the East Coast of the United States. That's exactly the point, though. Going back to long before he was a candidate for President, Donald Trump has demonstrated quite aptly that he has no empathy whatsoever for his fellow human beings. The only thing he cares about is what others can do for him or for his benefit and if it is necessary to walk over the graves of people to benefit himself politically, personally, and financially, then he's perfectly willing to do just that. Perhaps he cares about his immediate family, but given the way he has treated his former wives and the well-documented hands-off approach he took to parenting, one has to wonder about that as well. Taking all that into account, the fact that he would respond to the catastrophe in Puerto Rico in such an insane and self-centered way, while it is shocking, cannot be seen as being all that surprising. It's vintage Donald Trump, and it's what the 62 million people who voted for him in 2016 signed up for. If they're complaining or outraged now, they have only themselves to blame.