With Eleven Weeks To Go, Hillary Clinton Appears To Be Unstoppable
It's eleven weeks --- just 77 days --- until Election Day, and things are looking pretty good for Hillary Clinton, and pretty bad for Donald Trump.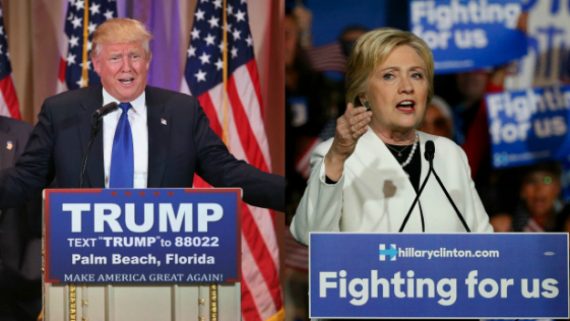 Election Day now stands just seventy-seven days, eleven short weeks, away and its already been quite an eventful General Election campaign. We've seen Donald Trump sink in the polls in the wake of a Republican National Convention that was widely seen as something of a mess and a week in which he engaged in a seemingly irrational war against a mother and father who lost a son in Iraq, suggested that "Second Amendment people" may need to act if Hillary beats him, called President Obama the "Founder" of ISIS, alleged that the only way he could lose is if Democrats cheated, attacked the media yet again, and dealt with chaos inside his campaign that led to the kind of campaign shakeup that is seldom good news when we're this close to Election Day. And all of this happened before Labor Day, which is supposed to mark the traditional beginning of the Presidential campaign. Hillary Clinton, meanwhile, has had a somewhat better time of it, although even in her case things have not gone entirely smoothly. A successful Democratic National Convention led to a significant bump in the polls for the Clinton campaign that has manifested itself at both the national and state level in the polls, but at the same time she is still dogged by questions regarding her use of a private email server and, more recently, allegations that donors to the Clinton Foundation were given preferential access to the State Department while Clinton was Secretary of State, as well as questions about what exactly would happen to the Foundation if she were elected President. So far, it doesn't seem as though those questions have harmed Clinton in the polls, but their persistence has been a problem for the campaign that just won't go away.
In any case, with eleven weeks to go before the election it seems as good a time as any to see where the trends are headed and what that might tell us about how the election is likely to turn out.
Looking first at the national level, we see that Clinton continues to dominate the race just as she did in the week after the party conventions. According to RealClearPolitics, Clinton (47.0%) with a 5. 5 point lead over Trump (41.5%). In a four way race that includes Libertarian nominee Gary Johnson and Green Party nominee Jill Stein, Clinton's lead dips slightly to 4.4 points and the average shows Clinton checking in at 41.6%, Donald Trump at 37.3%, Johnson at 8.9%, and Stein at 3. 4 %. The Pollster numbers for a head-to-head match and a three-way race that includes Johnson but not Stein are roughly comparable. These numbers have been relatively stable in the roughly three weeks since the party conventions, with some fluctuations in both Clinton's and Trump's numbers, but nothing significant in either direction for the past week or so, as the RealClearPolitics chart for the two-way race shows: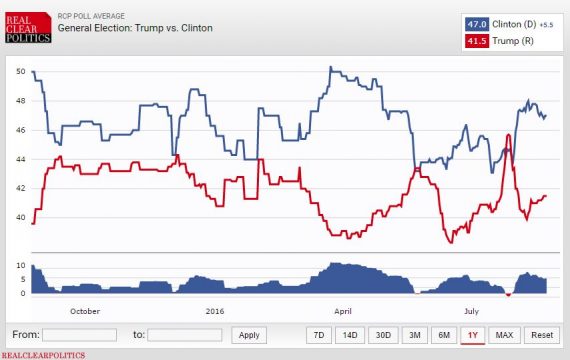 As can be seen, Trump has bounced back a little bit from the depths his numbers fell to in the wake of the Democratic convention and finds himself at roughly the same level he was at prior to the conventions themselves. The problem with that is that we are now a month closer to Election Day and that, even after leveling off to some degree, Clinton's numbers are significantly higher than they were before the convention and show little sign of deteriorating. One sign in favor of that trend continuing is the fact that, notwithstanding the recent revival of the email and Clinton Foundation stories, Clinton's favorable/unfavorable numbers are both better than Trump's favorable/unfavorable numbers and her numbers have shown signs of improving as time goes on while his remain currently mired in the cellar and seemingly immune from being repaired. In any case, what all these national numbers tell us is that, notwithstanding Donald Trump's dominance of the polls throughout the race for the Republican nomination, the General Election race has been all about Hillary Clinton and, so far at least, there's little sign that this is going to change.
While they are a generally good guide to the state of the race at a given point in time, national polls aren't really where the election is decided, of course. That happens at the state level and in the Electoral College. If anything, though, Clinton seems to be in a far better position there than she is in the national polling, as this map from RealClearPolitics shows: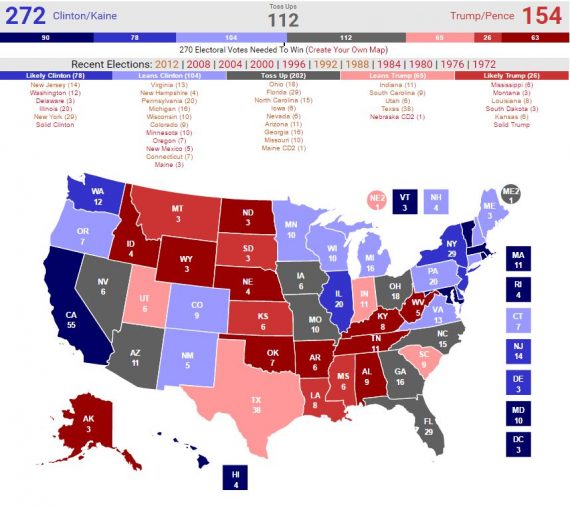 Based on this map, the election would essentially be over if today were Election Day even before any of the states still considered toss-up states, represented by those colored gray, are decided. The bad news for Trump is that Clinton has seemingly cut off not only the Virginia-Ohio-Florida option for Trump, but she has also cut off what is likely his only other path to 270 Electoral Votes. In Virginia, for example, the current RCP average has Clinton ahead of Trump by 12.8 points in a head-to-head race and 11. 6 points in a four-way race thanks in no small part to several recent polls showing Clinton with a double digit lead, including one released today by Roanoke College that shows Clinton up by 19 points in a head-to-head race and 16 points in a four-way race. This is far above where President Obama stood at this same point in the race in either 2008 or 2012. Clinton also leads strongly in states in the industrial Midwest, including Wisconsin, Michigan, and Pennsylvania, which are four states that Trump's campaign hopes it can create an alternate path to 270 Electoral Votes that doesn't necessarily require winning in states such as Virginia and Florida. Worse for Trump, though, is the fact that Clinton appears to be becoming competitive in states that Mitt Romney won in 2012, including North Carolina, Georgia, Arizona, and Missouri. Trump still maintains modest leads in most of these states, but they are far below where Romney was four years ago, or where John McCain was eight years ago. This is a classic sign that Trump's own Republican base is eroding, and that it may no longer be possible for him to get to 270 Electoral Votes at all absent a drastic turnaround in this race that, for the moment at least, appears unlikely.
Looking at the same map with toss-ups given to the candidate who is currently leading in each state even modestly, we see that Trump's position is even more precarious than all the other numbers make it appear: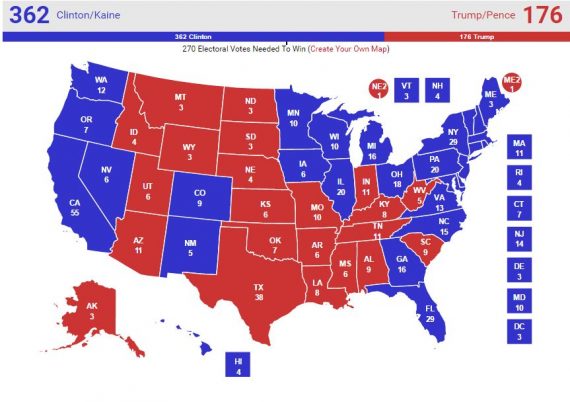 With the exception of Georgia and Indiana, this map is very similar to the results we saw in the 2008 race between President Obama and John McCain. The difference is that these numbers are showing up eleven weeks before Election Day at a time when it still appears as though the Trump campaign is struggling to find a new direction that could plausibly lead to victory. Absent a significant change in the very near future, it seems unlikely that Trump is going to be able to turn things around quickly enough to have a plausible chance at victory once we actually do get close to Election Day. Yes, things could change, but right now this is Hillary Clinton's campaign to lose and, for now at least, her campaign is making far fewer mistakes than Trump's, and Trump can't afford to make many more mistakes at this point.