Donald Trump's Attacks On The Media Are Irresponsible And Irrational
Donald Trump has spent more time recently attacking the news media than anything else. He ought to be condemned for it.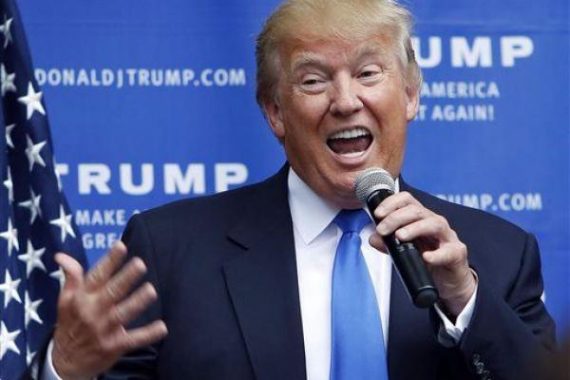 Donald Trump is spending more time lately attacking the media than attacking his opponent or promoting his own campaign:
Donald Trump's presidential campaign is taking an even sharper aim at one of its biggest foes — the news media.

In recent days, Trump and his campaign have slammed the media harder than ever. The candidate labeled reporters the "lowest form of humanity" in Pennsylvania on Friday and claimed that the media is piling on him and doing the bidding of Democratic nominee Hillary Clinton.

(…)

The barbs come after a week in which Trump asserted that President Obama is the

"founder" of the Islamic State

 militant group, a false claim he intensified and then backed away from by deeming it sarcasm. He also appeared to encourage

gun owners to take action if Clinton is elected

and appoints judges who favor gun control. Trump also saw his poll numbers drop — a Washington Post-ABC News poll released last Sunday showed that Clinton has widened her lead to eight points over Trump nationally. A 

Wall Street Journal-NBC News-Marist poll

released Friday shows that Clinton has opened a wide lead over Trump in the battleground states of Colorado, North Carolina and Virginia. Trump also trails Clinton in Florida, according to the poll.

"I'm not running against crooked Hillary Clinton," Trump said in Fairfield, Conn., on Saturday night. "I'm running against the crooked media."

Trump's campaign has recently started emailing stories and screen shots of websites overlaid with the words "media bias offender" in large red letters.

In an interview on CNN's "State of the Union" that aired Sunday, Trump campaign manager Paul Manafort claimed that the media, and interviewer Jake Tapper, deliberately did not cover a speech Trump made on economic policy last week and instead focused on attacking and undermining him. Manafort said that only local media covered Trump's rallies in swing states the past week and that the media did not report on newly released emails that provided additional evidence that Clinton Foundation donors got access at the State Department. Clinton also made an economic policy speech in Michigan last week.

"The media chose to take her, Clinton — the Clinton campaign narrative — and go on attack on Donald Trump," Manafort said. "Donald Trump in the course of this week was very substantive."

Tapper said Manafort's claims that CNN did not cover Trump's economic speech or the release of the new Clinton emails are patently false.

"These things, just because you say them, they're not — they're not true," Tapper said.

Tapper pointed out that it wasn't just the news media that questioned Trump's claims about gun owners and Clinton, but also fellow Republicans and Trump supporters. Manafort chided him for covering that story for days and spending only one day on Trump's economic policy speech.

"Mr. Trump bears no responsibility for his campaign being off-message?" Tapper asked.

Manafort said Trump's point about the Second Amendment is that people who support gun rights should be concerned about Clinton's candidacy.

"It was not meant at all to be a threat," Manafort said.
As with most claims about "media bias" Trump's complaints are largely utter nonsense. Contrary to his campaign's claims, for example, Trump's economic policy speech last Monday in Detroit was covered extensively both before and after it occurred by both CNN and MSNBC, and it was broadcast live on both networks with only minimal interruption. It was Donald Trump who, a day later, stepped all over his own news cycle when he made his comment that 'Second Amendment people' could stop a President Hillary Clinton from appointing judges with the 'wrong' view of the Second Amendment, a line which many interpreted as suggesting that someone might want to consider shooting Clinton either before or after she was elected. A day after that, he was calling President Obama and Hillary Clinton the "Founders" of ISIS and insisted that he was being literal when he did so, only to turn around two days later and claim that he was being sarcastic the entire time and that it's the news media's fault for not realizing that. By the end of the week, he was asserting that the only way he was going to lose Pennsylvania, where polling currently places him behind Hillary Clinton well outside the margin of error, is if the Clinton campaign cheated. In the midst of all that, Trump was battered by reports nearly every day last week about new polls showing him falling further and further behind Clinton nationally and in battleground states, as well as reports from inside the campaign about Trump's own unwillingness to do what needs to be done to run a competent, professional campaign. At least in the past week it was Trump himself, and his campaign, that managed to step all over the news cycle with outrageous, stupid, and baseless comments that provided an opening to the Clinton campaign and his critics, and it was Trump himself who doubled down on those comments, especially the comment about President Obama being the founder of ISIS, even when given the opportunity to restate what he meant in a more reasonable manner, and this past week is typical of how things have gone for Trump since becoming the Republican nominee.
All of this is nothing new, of course. Complaints about so-called 'media bias' have been common on the right for some forty years and, while there has been some substance to some of the complaints that reporters and news organizations have not given entirely fair coverage to conservative and Republican candidates, for the most part most of the complaints about bias end up being complaints that the news media reported something that actually happened that made the GOP look bad. What differentiates Trump's brand of the 'media bias' argument different, though, is that there is clearly a far more vindictive and confrontational tone to his comments about the press than you typically hear from politicians and pundits on the right. Several times over the past year, for example, Trump has banned certain news organizations, including Buzzfeed, The Des Moines Register, and The Washington Post from receiving credentials to cover Trump campaign events. During his speeches he frequently refers to the reporters that are in the room with him as "disgusting" to the point where several reporters have reported Trump supporters turning their anger on individual reporters, who have often had to be escorted out of Trump events at their conclusion by police or Secret Service agents. More than one of these reporters has reported feeling as if they were in danger from the crowd due to Trump's violent rhetoric. It's enough to make one wonder how he would act toward the media in the exceedingly unlikely event that he were to become President.
This behavior by Trump should not be tolerated, of course. It's one thing to complain about what you think might be unfair media coverage, or for a Presidential candidate or his campaign to push back on what they think is unfair coverage. It is quite another to ban reporters and entire news organizations from your events and engage in rhetoric that encourages your supporters to appear to threaten members of the media. This is especially true for a candidate who would not be where he is today if it were not for the free media coverage he has gotten from all three cable news networks over the course of the past year.